Helly Hansen Odin Minimalist Rain Jacket

The Odin Minimalist Rain Jacket has been discontinued. It was replaced by the Helly Hansen Odin Minimalist 2.0 Jacket.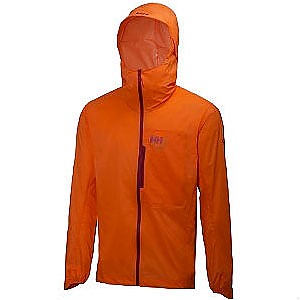 For under 6 ounces, this rain shell makes a lightweight addition to a pack. Used as an emergency layer, it breathes as well as a waterproof jacket can and layers easily with a down jacket in the cooler months.

This three-season minimalist jacket used for hiking or biking packs small, but the small size, light weight, and durability comes at a higher price than others, though will be enticing to UL backpackers.
Pros
Lightweight (< 6 oz.)
As breathable as a waterproof jacket can be (w/o pit zips)
Waistline and hood drawcord adjustability
Packable into its own chest pocket, compact
Surprisingly durable considering the light weight
Thumb loop on cuffs useful when riding bike
Cons
Lack of pockets (only one, chest pocket)
Expensive, especially when compared to other [emergency] jackets/ponchos
Weak main zipper
Preface: I was lucky enough to win this jacket in a Facebook contest back in August for the Odin, which is to be released in spring 2015. I have kept the jacket and continue to use it.
Helly Hansen's Odin Minimalist Rain Jacket is marketed as an emergency layer. From my experience since summer 2014 through the first freeze of the winter, I feel that this is an option only for three-season use and have evaluated my review focusing on this type of use. When considering the price and features, I feel that UL backpackers would enjoy this jacket.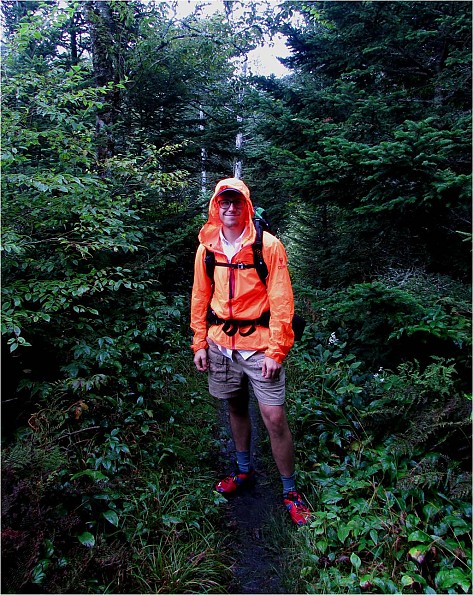 Sizing/Weight
At  5'9", 150 lbs, athletic build, I typically purchase size medium tops. This jacket is actually a large, but I feel it fits very well. I like having my tops with a waist line to be right at the waist band of my pants all around. The Odin has a sloping design, rising higher in the front and covering more of the backside. The differential is about 2".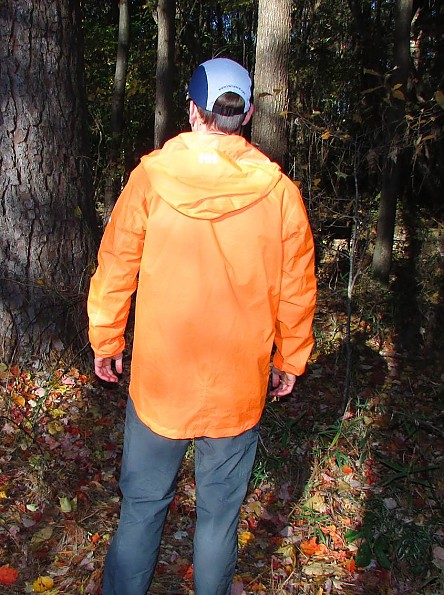 With rain jackets, I also prefer for that layer to be longer than those underneath. The longer length of the large was also preferred because once wearing a pack I found any size smaller would ride up too much once my hip belt was tightened.
The Odin is also marketed by Helly Hansen as weighing less than 6 ounces. I do not have a digital scale to verify this, but it does feel remarkable light, especially when compared to my inexpensive Gander Mountain or ~$100 Mountain Hardwear shell. One thing to remember is that this is considered an emergency layer so I'd expect it to weigh less. The Odin also has fewer features (pockets, vent zips), so that would also reduce the weight.
Comfort/Fit
Personally, I sized up to a large, especially as I wanted to layer this shell. The Odin has what I would consider to be an athletic cut; the sleeves are slightly narrower than what I've experience in my two other shells, but don't hinder any movement. I prefer athletic cut gear as I like to trail run and keep a good pace while hiking, I like to have my range of motion.
When layered with my Spyder Dolomite Down Jacket.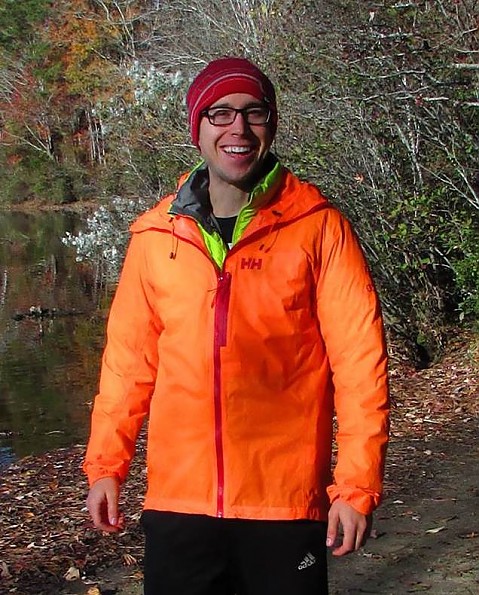 I do not climb or go caving where consistently wearing a helmet would be necessary. I cannot speak to the hood's fit while wearing a helmet, but I feel there should be sufficient space. See the picture below and judge for yourself. I didn't wear my hood while on my friend's bike, but will update the next time I get a chance.
There are two areas of adjustability: (1) the waistline and (2) the hood.
The waistline has a single drawcord toggle on the inside waistline. The large measures a 45" waistline, not adjusted. I have a 32" waist and I have not felt the need to adjust the waist at all so far, though I do appreciate having that option there if needed. Perhaps other outdoor activities or excessive wind would deem it necessary to tighten it up a bit.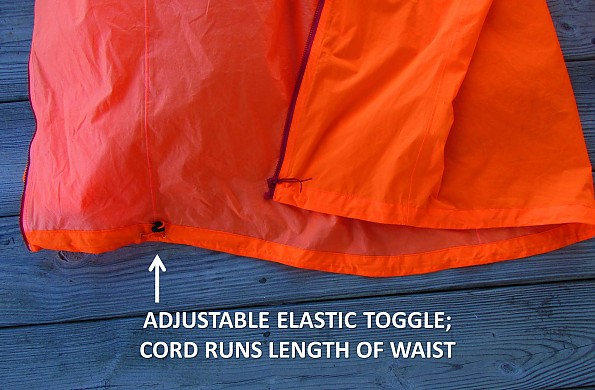 The hood has two ways to adjust (truly making three different points of adjustment). There is a drawcord on the back of the hood as is typically found, this tightens from front to back. I have used this and it holds well. There was some stiff wind and rain at a trip in the Smokies and tightened the toggle so the wind wouldn't catch my hood like a boat sail. The second is an elastic pull that tightens vertically, from head to chin. This is only a pull and no toggle to lock the drawcord in place.  I have not found any use for this on my hikes and runs.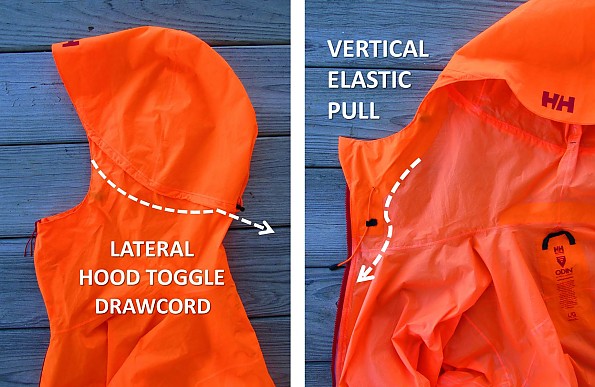 Durability
The shell is made from HellyTech Pro material, 100% polyamide. Looking this material up, I found that many 3D printers use polyamide for the process. Oddly in those cases I read that it (when used in 3D printing) is not for outdoor use, though can be treated to be made watertight. Same material, but undoubtedly different process. Just a cool FYI.
Shell's interior, sealed seams. No weaknesses noted or leaking at the seams.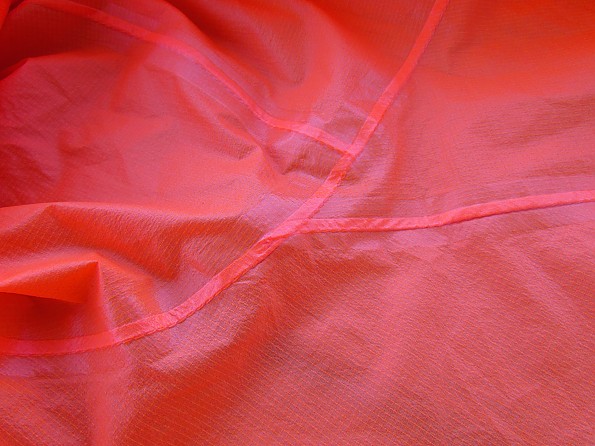 The texture is soft, grid lined like rip stop, and not as rigid as other shells, though my first worry is 6 oz. = not durable.  I have not found this to be the case and it is surprisingly durable. Helly Hansen markets this as "incredibly durable" and I have found this to be the case.
In addition, unlike many other shells, especially my Gander Mountain jacket, the Odin is actually quite springy. This is something that eases the mind when it comes to potential punctures of the shell ripping due to it getting caught. I'm looking to more gear, maybe pants being made from polyamide.
The main zipper feels like it could be a weak point in its construction. It does not stay as much on the teeth tract as I would prefer. Without the ability to zip up the jacket, that'll defeat the purpose of a waterproof shell.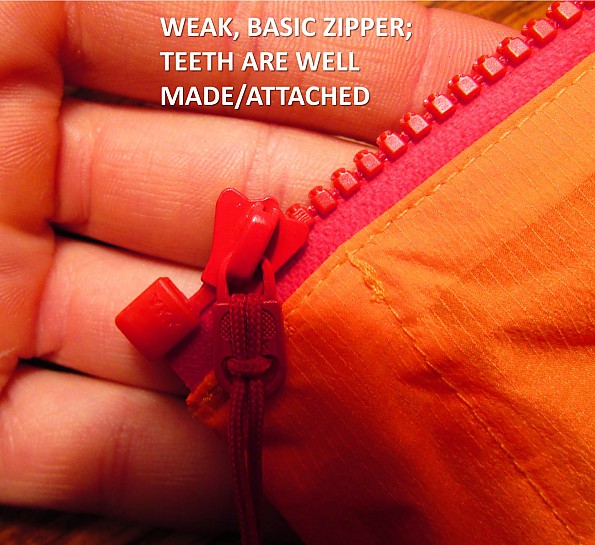 Water Resistance & Breathability
Helly Hansen's claims the Odin Minimalist as being "fully waterproof with sealed seams…breathable." I went to college in the mountains of N.C. and lived in rain/sun/rain/repeat for undergrad and grad school. Going back to the mountains, I gave the shell its most constant rain test. I've worn it on several day and overnight trips, but my trip to the Smokies saw four days of on and off rain and humid temps while hiking and playing disc golf for part of the first day.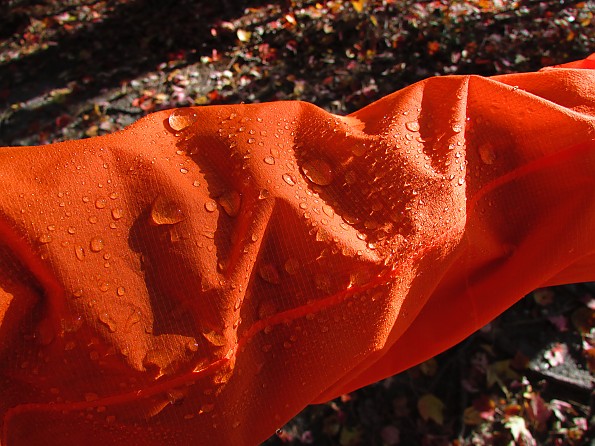 The shell has worked perfectly with its seams and has not shown any wear or absorption around higher stress areas such as around shoulder straps. If I ever have issues, I'll proof with Nikwax. As for the bigger claim of breathability, I found the Odin to be the best breathable shell I have worn. 
The picture below shows my trip to the Smokies and my friend who is wearing the same Mountain Hardwear shell I own.  I think his rolled up sleeves speak more than words.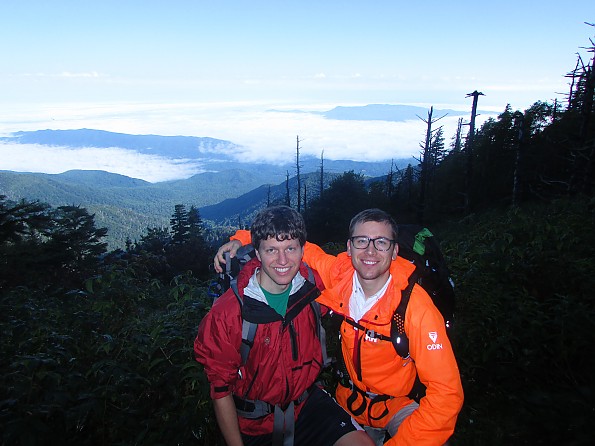 Pockets
To be more appropriate, this topic should be titled "Pocket" as the Odin only includes one, a chest pocket. This check pocket has a sealed zipper and doubles as the storage bag for the jacket. The pocket is about 8" deep and 4" wide.
Below is a video and pictures on the packability using this pocket. Notice that I have no reservations on how aggressive I am packing the shell, again, a testament to its durability. No need to be light handed. 
Extra Features
Thump Loops
The sleeves include the option to use thumb loops to keep the sleeves in place. The palm side of the sleeve has an elastic cuff. As such, I have not felt any need to use this while hiking.  I have worn this jacket while on a friend's road bike and the thumb loops did well when the wind resistance was a factor.
Typically sleeves with thumb loop options are longer than sleeves without this feature. I have found the Odin's sleeves were not excessively long or baggy when I wore the cuffs around my wrist and did not use the thumb loops.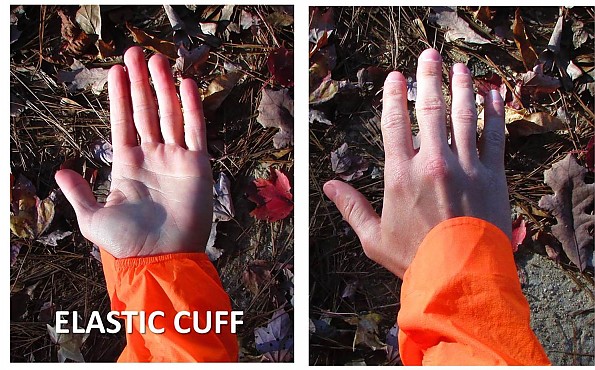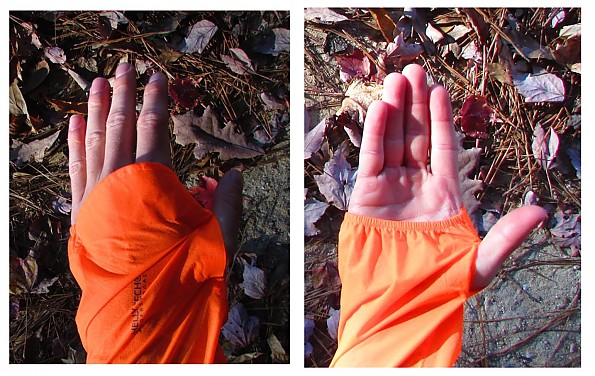 Pocket Hang Loop
As can be seen in the video on packing the jacket, the pocket has a hang loop on the inside. This can be used to hang the packed jacket. When I first used this loop hooked on the outside of my pack, I took the lead one the trail. I wanted to make sure the loop's sewing wasn't compromised and *boop* the jacket is lost. The sewing on the pocket loop (and on the inside neck to hang up) is well done and I now have no worry, even when it is jostling on my pack.
Hang loop located just inside the pocket, next to the zipper.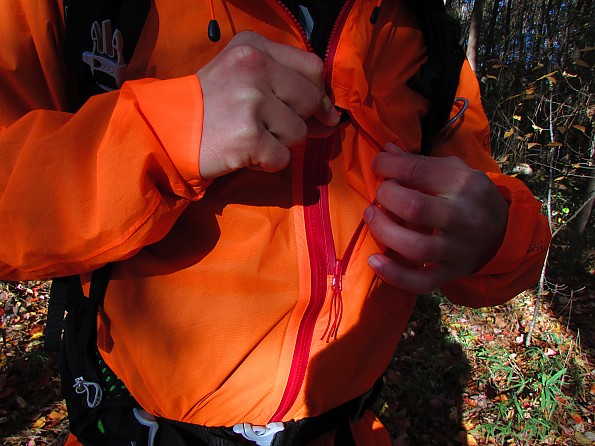 I've even found it useful to hooking keys with my mini caribiner to make sure it doesn't accidentally fall when using the pocket as a pocket.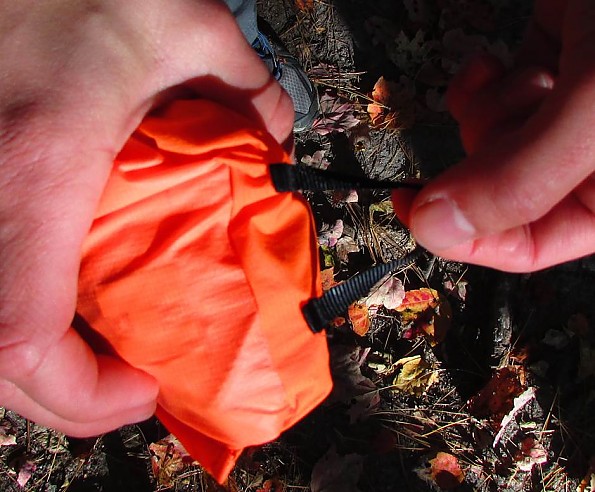 Packable size next to my Gander Mountain which is twice the weight (with the inner mesh lining removed) and has a separate external storage bag.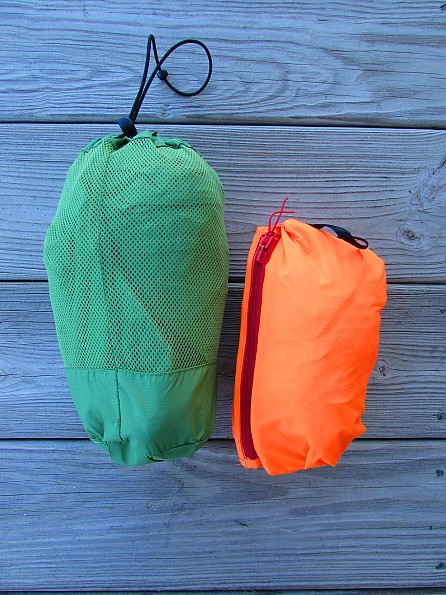 Trip Experience

Most of my experience has focused on trips and runs I have taken during August through October as that's when our area gets the most rain outside of the spring. Will update when I use more consistently during our 40-degree rains.
Smokies/AT: 4 days including Newfound Gap past Davenport Gap, intermittent downpour every day and humid as it was still early in the season. Wore it about 80% or so while on the trail until each shelter.

Uwharrie National Forest: 4 days Dutchman's Creek and Uwharrie Trail "loop" wore partly, normal light rain, cooler temps. Another

 2 days, Uwharrie Trail only end to end, normal light rain again, cooler temps.

Raven Rock State Park: multiple outings. This is where I trail run with my wife. Generally light rain at the park when used because of the dense foliage and even wore a few times with little to no rain.  Here I focused more on its breathability since I'd be running or out with the family walking and not in the backcountry with my pack. Most of my experience comes from my hikes and runs at the park.

Otherwise kept in my trunk and used with my work clothes whenever needed, packing and unpacking after dried. 
Conclusion
If I had an option to repel any three-season rain, I'd choose the Odin Minimalist jacket out of the others in my closet. Keep in mind this a "no frills" emergency jacket, but does have a chest pocket which doubles as its storage bag.
Expected at $220 MSRP when released in spring 2015, the cost can definitely detract people from buying, but at less than 6 ounces I am very confident with my experience of the Odin's durability to last. Other options may be cheaper or have more features, but if you ever find this jacket on sale (if I didn't win it in a contest, I wouldn't buy it at full price), it'd would make a great addition to an UL backpacker's gear. 
Source: received it as a sample, freebie, or prize (Helly Hansen [Facebook contest])

Your Review
You May Like