Hyperlite Mountain Gear Prism Pack

The Hyperlite Mountain Gear Prism is a 40-liter alpine-focused pack with attachments designed to carry your axes, pickets, tools, crampons, screws, skis, etc. It carries heavy loads well, boasts a woven Dyneema face fabric on high wear areas so it's incredibly durable, and can be stripped down to be an ultralight climber's dream.

Mountaineers, ski tourers, ice and rock climbers will all appreciate the level of design put into this pack. My one criticism is I am not a huge fan of the G hooks (not a fan of G hooks in general, so there's nothing wrong with these ones in particular, I just don't like the style of securing a lid).
Pros
Durability
Weight
Side pockets
Value
Organization
Comfort
Cons
Personally not a fan of the G hooks
FIT AND COMFORT
I am right on the edge of torso sizing (19-inch torso which borders Medium and Large) for most brands, HMG included. I usually prefer to go with the lower end and order the medium, same here. I do have previous knowledge that helped me in this decision as I own the medium torso HMG Ice pack and it fits me well.
The Prism comes in four torso size options so it should be fairly easy to find a size that fits you:
Small (15.0 - 17.0" torso)
Medium (17.0 - 19.0" torso)
Large (19.0 - 21.0" torso)
Tall (21.0"+ torso)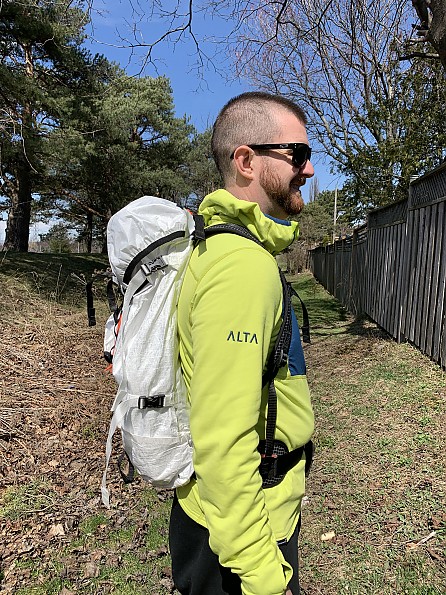 The shoulder straps have nice padding and an S-shaped curve to them.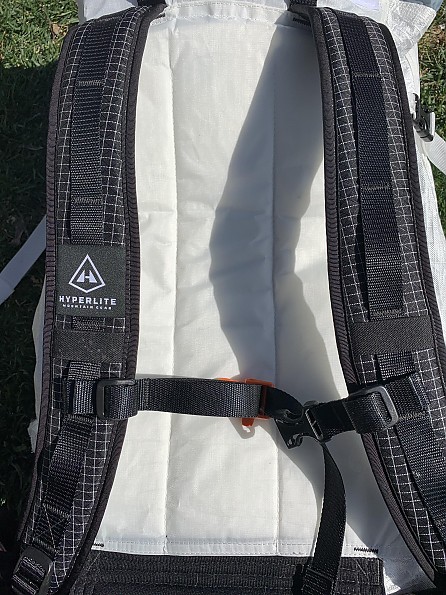 There is a nice large grab handle on the rear to help in humphing (technical term) it on your pack when fully loaded.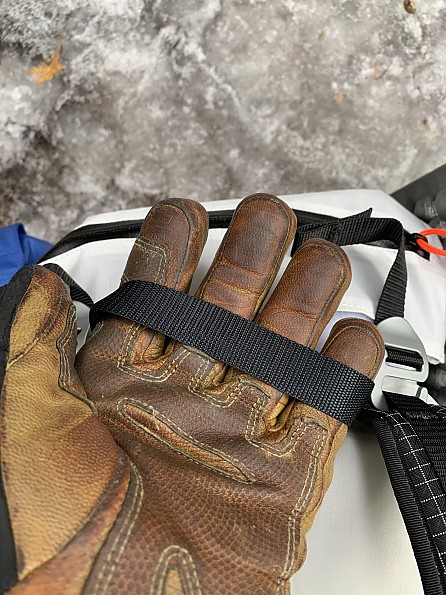 Large enough for four fingers, even with gloves on.


RIDE AND COMPRESSION
The Prism is designed to carry a heavy climbing load in comfort. I personally have carried 42 pounds at the heaviest in (relative) comfort. I say that because carrying an extra 42 pounds is never fun regardless of the pack. At least this one makes it comfortable!
It utilizes an aluminum stay (which is removable) and a plastic stiffener to support those loads. I have never removed the stay as I feel it adds a lot of comfort, but if you're looking to save a little extra weight you could do so.
The belt wraps nicely around the hips and transfers the load evenly. It can also be removed for climbing.
Another feature that shows the attention to detail is the offset buckle on the hip belt which reduces clutter around the midpoint when tying in and avoids interfering with your harness. The pack doesn't impede any arm, hip, or head movement, all equally important when climbing with the pack on.
Getting the correct fit is important on a pack like this as there are no load lifters or torso adjustments available to be made. As mentioned above, the pack comes in four size options (15 to 21+ inch torso size), so as long as you measure yourself properly it shouldn't be an issue.

from hyperlitemountaingear.com


There are multiple ways to compress the pack down from the 40-liter size. There are two side compression straps on each side, a top strap, as well as the lid. I'm not sure of the exact size it goes down to, but it's at least in half. The fabric itself is inherently stiff, so even with very little in it, the pack still carries well and keeps its shape.
CAPACITY
The Prism is a 40-liter pack when the extension collar is fully extended. The lid provides an additional 3.5 liters for a total of 43.5 liters when fully loaded. I've found it the perfect size for any all-day activities—ice and rock climbing, mountaineering, or multi-day trips if doing a hut-to-hut style trip.
Considering that there is dedicated space (besides your screws, more on that below, and see my review of the Prism Ice Screw Case) for all your climbing gear, the entire interior is usable. A small bivy, sleeping bag, stove, and a day or two of food fit comfortably.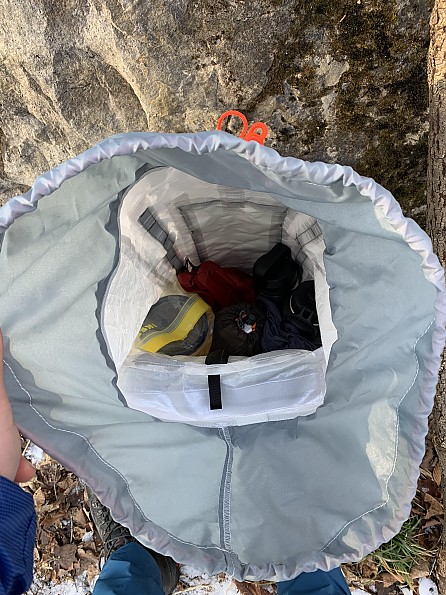 ORGANIZATION AND ACCESSIBILITY 

There are a couple of significant changes between the Prism and the Ice pack, which is still available and is not being replaced by the Prism. 
First and foremost, the addition of a lid, top pocket, brain, whatever you want to call it. Some people need it, swear by it, won't buy a pack without it, while some end up removing it and storing it, eventually losing it and not caring. There is usually no in between. I say that because I have been on both sides of this debate.
Prior to using both the Ice Pack and the Summit from HMG I questioned why these pack wouldn't have some organizational ability. After using both for more than four years now, I'm a convert to the roll top—to the point that the Prism lid has been more hassle than convenience to me. I think that is mostly due to the use of G hooks (made of aluminum) used to secure the lid to the daisy chain.
Clearly this is designed to be easier to operate using gloves, but I much prefer the easy access of the two buckles on the roll top. I find I need to remove bulky gloves for the toggle, and two are used on the extension collar anyway, so this is a small negative for me. The G hooks also can be hard to access when there is any sort of ice tool attached as the handle sits right in front of the hooks.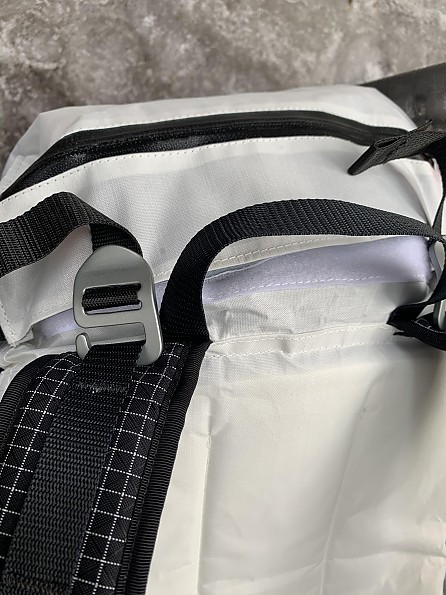 G hooks attach to the shoulder straps on back.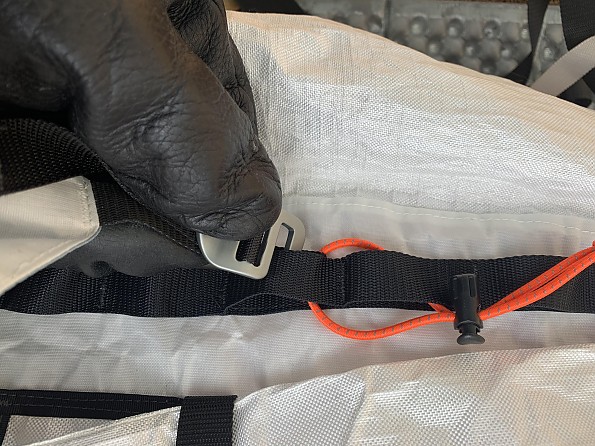 And down the daisy chains on the front. They are easy to use with large mitts though, I'll give them that!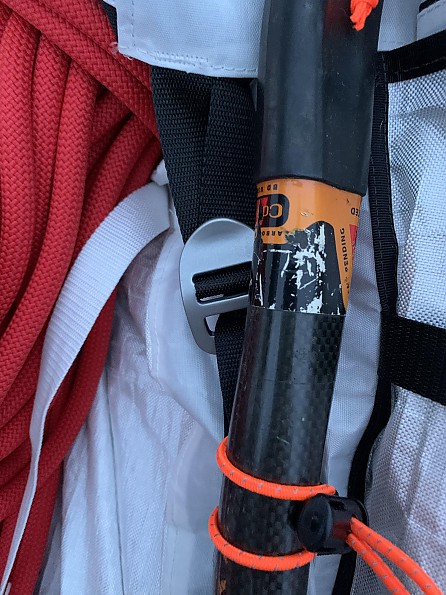 One of my main frustrations...you can see how they are often blocked by the handle of the axe.


Underneath the lid there are two drawstrings which can be used to secure your worldly belongings if not using the lid—one below the extension collar and one on the top. The extension is only 210D nylon so it is likely the weakest part of the pack, however it should also see the least sharp items. 
The Prism also adds side pockets (and incredibly well designed ones at that) to aid in organization. Water bottles, wands, pickets, tent poles, anything long that didn't really have an ideal spot on the Ice Pack now has a dedicated space. The pocket is cut asymmetrically (the back is higher and the area closer to the user is cut lower) to help get items out without having to remove the pack. There is also a small grommet meant to act as a drain in case you have any melting snow or leaking water.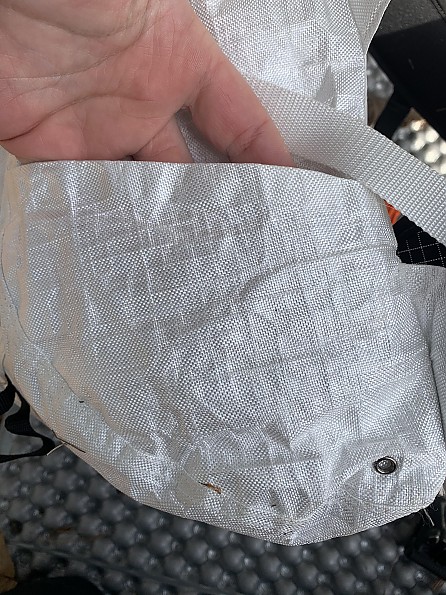 Pocket size, average male hand for reference.
There are however no interior pockets as they've been removed. I did find it handy on the Ice Pack, however there weren't the same number of other storage options on it (side pockets, two lid pockets). It's not make or break but I did find it useful to ensure small items didn't fall to the bottom of the pack, never to be seen again. This has probably been left off the Prism as the small pockets on the lid are meant as an alternate option for small objects.
CLIMBING SPECIFIC ORGANIZATION
The above is a general look at this pack, but the Prism clearly is designed, and marketed, towards the alpine crowd—ice, rock, mountaineering, and ski touring—so let's dive a little deeper into that. I can speak to three of those four categories (every time I strap on either skis or a snowboard it's a yard sale).
First, in my opinion, the primary intended market, ice climbers. This pack has given every possible tool, piece of equipment, or protection, a dedicated location. 
ROPE: A rope can be carried underneath the lid with the top compression strap. Secure the G hooks (optional, works fine even without the lid) and you're good to go. 
ICE AXES: One of my favourite upgrades from the Ice pack is the new diamond pocket for axes. The Ice pack has a tubular sleeve which doesn't work as well, especially for steep curved tools like the Nomics, for example. The Prism, as it sounds, has a diamond shape "pocket" which allows the head of the tool to sit without any wiggle or bounce, regardless of the angle of the head. The shaft of the tool is then secured with a bungee with a quick release tab, pretty standard.
A mountaineering ax can be stored with the bottom loop, which also can be useful for things like trekking poles. The bungees are made large enough that multiple axes can be secured should you be travelling with both.
View of the shape of the diamond pocket as well as the loop for a mountaineering style axe.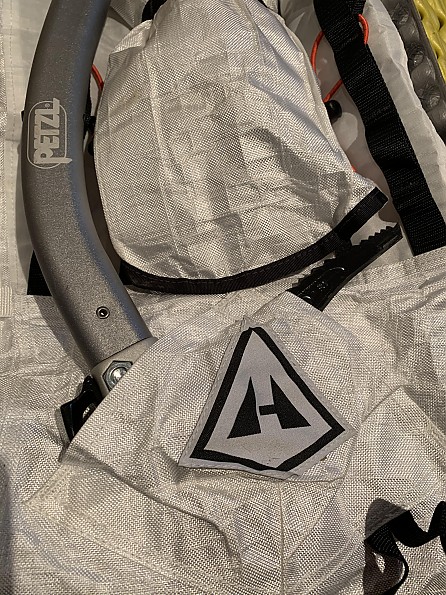 Every tool I've tried fits well, Petzl Quark shown here.
Older Black Diamond Cobra with a large adze...no problem.


Petzl mountaineering axe in the loop (to be honest I don't remember the size, but it is a longer one, 68 centimeters I believe)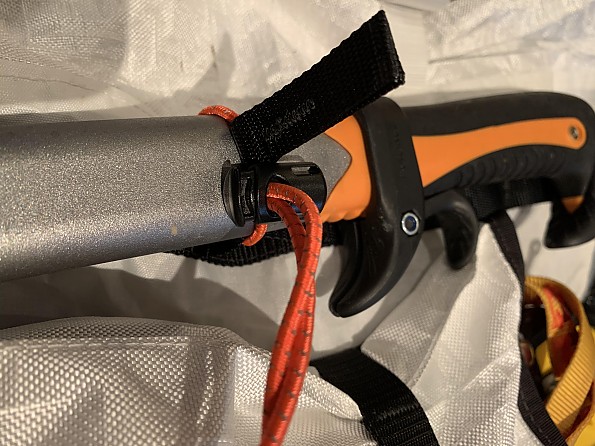 Top bungee for the handles with a quick release tab.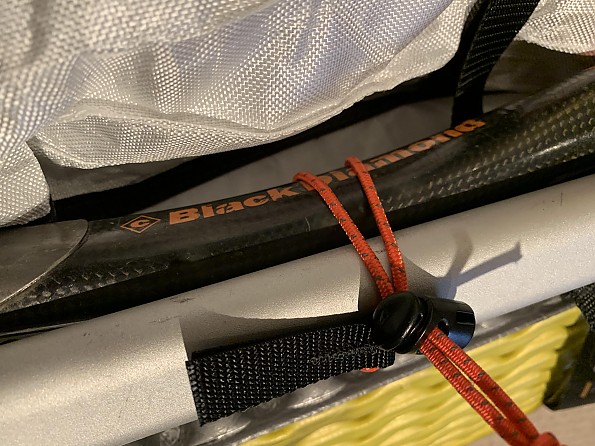 Bungee can stretch large enough if carrying two tools.


CRAMPONS: Pretty self-explanatory here...the crampon pocket. It's easy to access and fits the different crampons or traction devices that's I've tried in it (Grivel, Black Diamond, Hillsound). There are small cutouts in the fabric to allow any water out, and I've never worried about my crampons falling out. The one cinch strap is enough to secure around the wide top of the crampon.
This pocket works great for other uses as well—easy access to a water bottle (if the dedicated side pockets are being used for other things) or an exterior carry option for those stinky climbing shoes in the warmer months.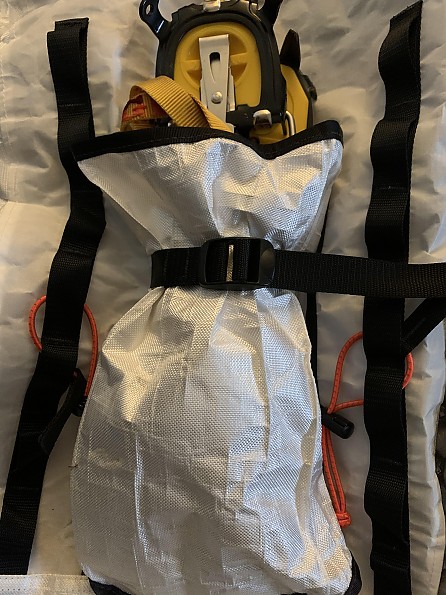 More than enough space for my crampons.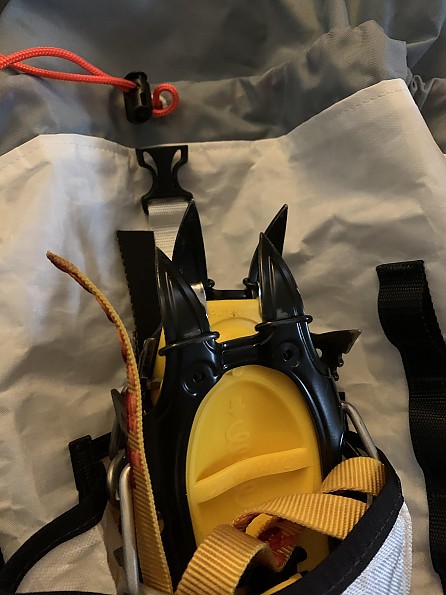 I like to put them in upside down so you don't have these jagged front points exposed...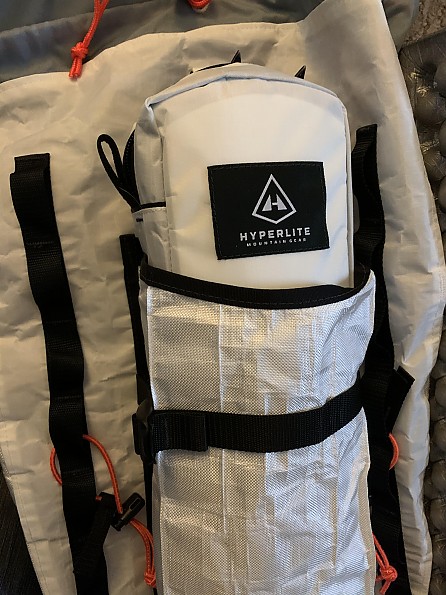 Crampon pocket fits the HMG Prism crampon bag.


SKIS: I can't comment on this as I am a terrible skier and value my ACL's; however HMG mentions that skis can be carried A-frame style.
HIP BELT: The hip belt has two gear loops and two ice clipper slots if going full alpine mode.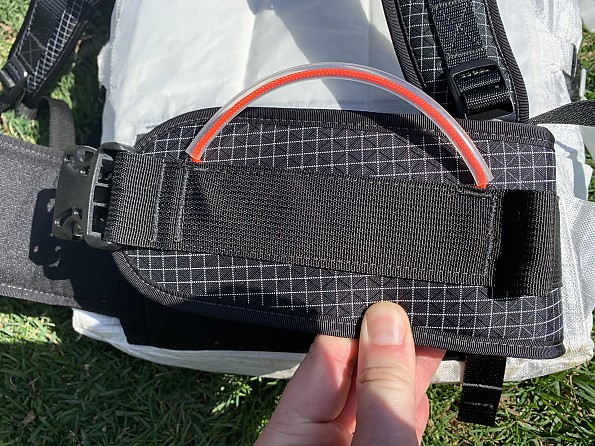 OTHER: Any long skinny piece of gear can go in the side pockets—wands, tent poles, pickets, probe, shovel handles—and be secured by the side compression straps. Having this addition is highly useful for these things that didn't really have a great place on the Ice Pack. The only issue with these side pockets is they have no stretch to them, so when the pack is fully loaded it can be tough to get things in or out.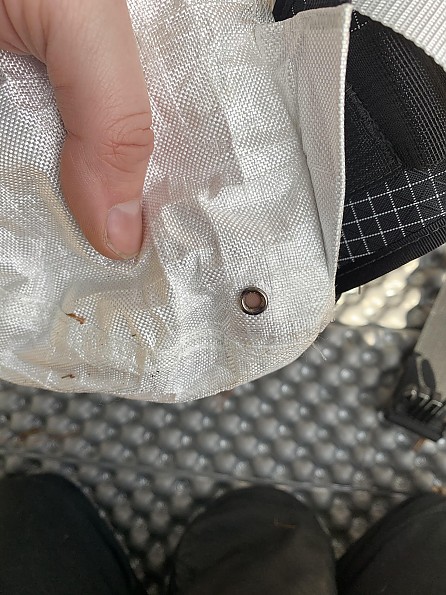 Closer view of the woven Dyneema as well as the drain hole.


CONSTRUCTION AND DURABILITY
The main reason for the increased price of this pack over a similar pack in nylon, for example, is obviously the fabric used. The Prism is made out of two variations of Dyneema Composite fabrics—DCH150 and 375-Denier DCHW (for more info about DCF fabrics in general, Hyperlite does a great job explaining their various fabric technologies here.)
For a comparable nylon reference, something like the Black Diamond Mission 45 is a pretty similar design and comes in at $220, so the Prism is almost double. The main reason I believe that the HMG Prism pack is a good value is I believe it will outlive the lifespan of two Missions. I have shredded many a nylon pack, mainly because once you get even the tiniest cut in the nylon fabric, it will quickly deteriorate from there.
There is very little tear resistance in nylon; there is a large amount in the DCF fabric. If you've ever seen a hardline fabric (usually looks like a checkerboard with the fabric and then white lines through it), the white lines are Dyneema and they are there to stop any tears from continuing outside that square. Now imagine an entire pack with that strength. I've mentioned this before but I made a video testing out the Dyneema fabric; it can be seen here,
I still use that exact Summit pack today with zero damage to it. It is more than four years old. I plan on updating that review shortly if you are interested to see how well this fabric holds up after an extended testing period.
If there is a weak point on the Prism pack it is probably the extension collar which is made of 210d nylon. That would be a fairly small and inexpensive fix though.
It's also worth noting that Hyperlite makes all of its products in Biddeford, Maine, so it is able to maintain a very high level of quality control, as well as customer service (should you need it).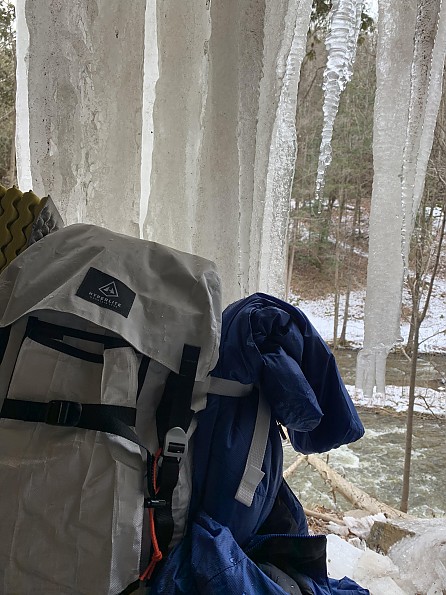 CONCLUSION
The Hyperlite Mountain Gear Prism pack is a clear winner (in my opinion) for anyone looking for a highly durable climbing pack—ski tourers, mountaineers, or climbers (both ice and rock). It carries a heavy climbing load well, it securely organizes and protects your climbing kit, and it will be durable enough to deal with the abrasion and contact with sharp objects inherent with a climbing pack. My only dislike is the use of the G hooks, but that is just a personal preference.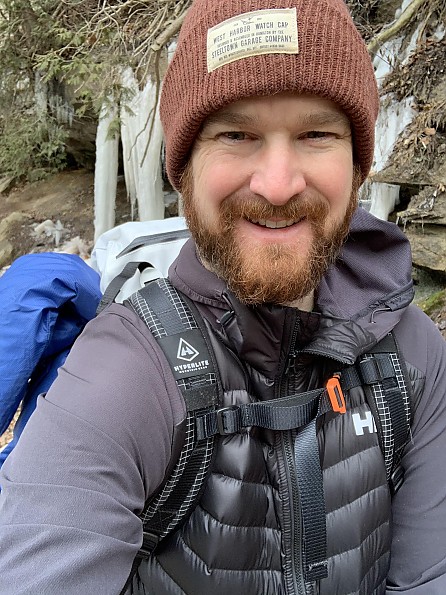 Background
I have been testing the entire HMHG Prism alpine climbing collection since November 11, 2019. The Prism pack has been used for ice climbing and winter backpacking for a total of approximately 40 days, and I believe it will be a great rock pack when the weather warms. It has been used in Ontario and Quebec where we had an unseasonably warm winter—above average temperatures meant being exposed to large amounts of precipitation. I have tested and owned many climbing packs from both HMG (Dyneema Ice Pack), as well as others (Lowe Alpine, Wild Things Gear).
Source: received for testing via the Trailspace Review Corps (Sample for testing and review provided by Hyperlite Mountain Gear)

Your Review
Where to Buy
Help support this site by making your next gear purchase through one of the links above. Click a link, buy what you need, and the seller will contribute a portion of the purchase price to support Trailspace's independent gear reviews.
You May Like
Specs
Price
MSRP: $395.00
Current Retail: $425.00
Historic Range: $395.00-$425.00

Weight
1.82 lbs / 29.1 oz / 827 g

Load capacity
Up to 50 lbs

Internal Volume
2400 cu in / 40 L

Removable Lid Volume
214 cu in / 3.5 L

Top Circumference
38 in / 96.5 cm

Bottom Circumference
28 in / 71.1 cm

Height (fully extended)
35 in / 88.9 cm

Back Width
11 in / 27.9 cm

Body
DCH150 White + 375-Denier DCHW

Bottom
375-Denier DCHW

Crampon Pouch + Diamond Pocket
375-Denier DCHW

Lid
DCH150 (White) + 210D Nylon Gray

Extension Collar
210D Nylon Gray

Recently on Trailspace