InstaFire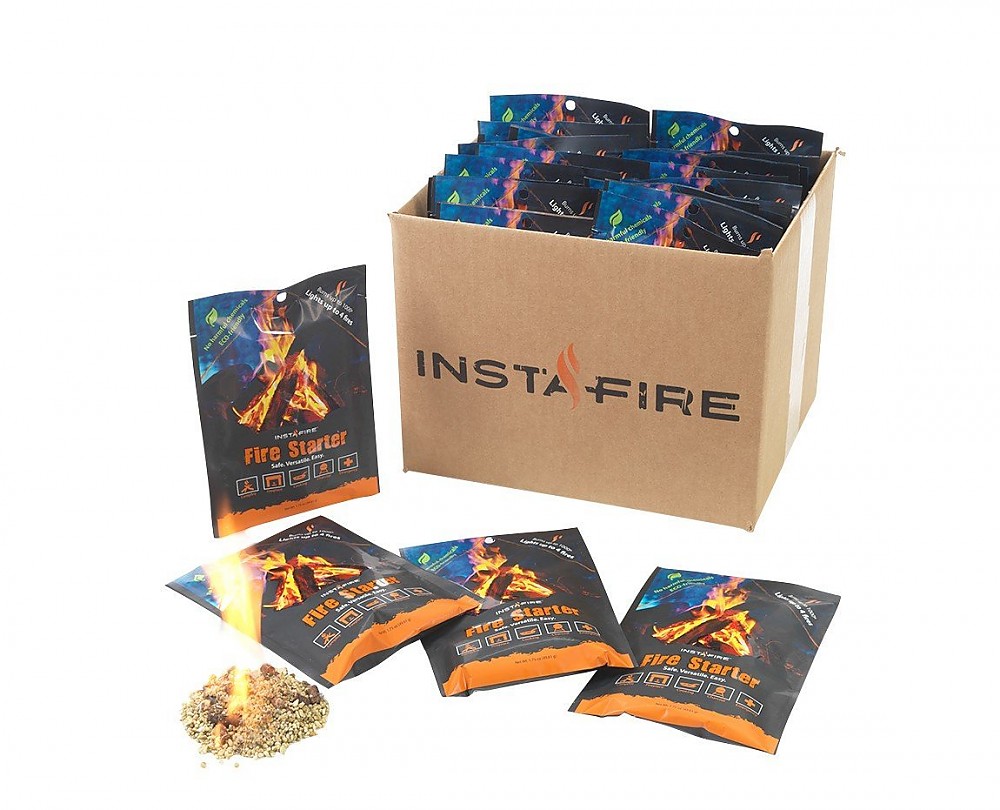 InstaFire is an easy-to-use granulated firestarting material and fuel which lights readily with a match or lighter, burns cleanly, and doesn't blow away in wind too easily. It comes in sealed pouches which stow easily in a backpack or pocket.
Pros
Very simple to ignite with matches or lighter
Waterproof packaging keeps firestarter dry until needed
Burns cleanly, with little smoke or soot
One package is enough to start a half-dozen fires, while weighing in under 2 oz
Cons
Does not catch firesteel sparks
Packaging is not re-sealable
Requires frequent stirring for optimal flame
Not waterproof
Best For: Backpackers traveling in areas without abundant tinder material, or in very wet areas where dry tinder cannot be found. Anyone who does not or cannot spend the time to look for dry tinder. InstaFire would make a great addition to any emergency kit.
Performance
I found InstaFire to be a very capable firestarter. In most instances, a pile no larger than an inch in diameter will give a potential wood-fueled fire a very good chance of starting. For areas with more wet kindling, using a quarter of the pouch will suffice to start all but most poorly-built fires.
If one needs to get a fire going immediately—to fend off hypothermia, signal a rescue, or any other reason—then pour out the entire pouch, put burnable things on top of it, and light; a fire will be burning very soon.
InstaFire, 1/4 of a pouch with standard Bic lighter for scale: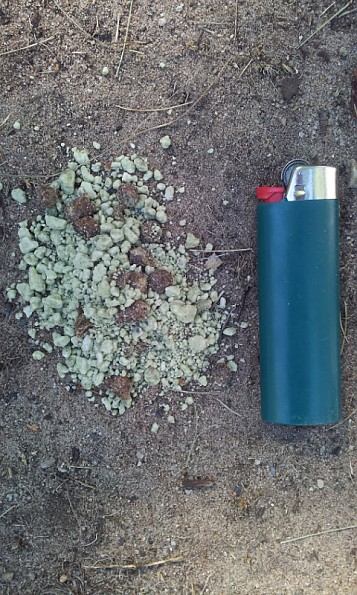 InstaFire is also useful as the main fuel for a fire, with each pouch able to sustain approximately 15-20 minutes of flame. As a fuel material, attention should be paid to the shape of the pile made, as changes to the pile affect changes in the flame pattern. A typical cone-shaped pile generally works best, but if one is planning to use the fire to heat water in wide-bottomed pot it may be beneficial to spread out the InstaFire a little more.
The flame produced from just a quarter of one pouch reaches 3-4 inches high and burns for about 5 minutes, making InstaFire extremely useful if one needs to heat of couple of cups of water for disinfection or a meal.
About 1/4 of a pouch, just lit: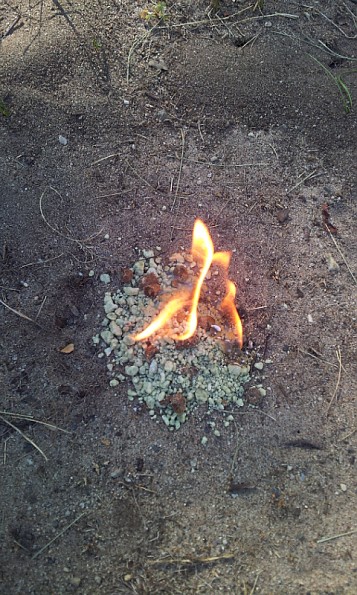 Like many firestarters, InstaFire's effectiveness is sensitive to environmental moisture: if you get it soaking wet, it will not light. I wouldn't say the granules absorb water quickly—indeed, they seem to be a bit hydrophobic—but they certainly aren't waterproof either. This note is of especial importance because one's success in igniting InstaFire, and the rate at which it burns, will be somewhat dependent upon factors like relative humidity, condensation, and whether it's day or night.
Ease of Use
Lighting InstaFire requires no special technique or procedure: pour it out into a pile, and touch a flame to it. While I could not get it to light using a firesteel, when using a flame source it lit readily every time, and the flame spread out to encompass the entire pile within seconds.
The granules vary in size, creating a pile that is very dense, and consequently, resistant to blowing away in the wind. This same density, however, means that the flame itself cannot readily consume the pile; in order to facilitate the best burn, it is helpful to stir the pile very few minutes so that fresh, unburned material is brought to the surface.
As such, InstaFire may not be the best material to burn inside a small wood-burning stove like the Vargo Hexagon, Trail Designs Inferno, or similar, as the frequent stirring will reduce the efficiency of such stoves.
1/4 of a pouch, 1 minute after lighting: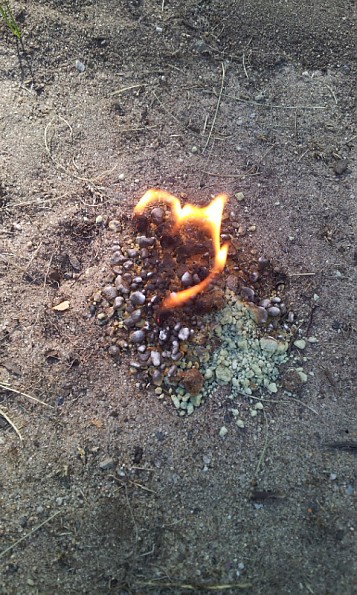 InstaFire seems to be an acceptable fuel for cooking/boiling water. It burns cleanly, producing little smoke, almost no soot, and no offensive odor. Under extended use, I do not think it would blacken one's pot any more than esbit or wood. The packaging notes that the product does not contain any Benzene.
The pouch in which InstaFire is packaged is a very durable, puncture-resistant plastic. It slips away into almost anywhere in your backpack, and can be forgotten about until camp is set up and a fire is desired. One drawback to the packaging is that it's not resealable, so once the pouch is opened, any remaining granules can be readily exposed to environmental conditions. I came to prefer re-packaging InstaFire into zip-top style baggies; in this way I could better ensure it stayed dry, while being able to take exactly the amount I thought I might need for a given trip.
Disposal and Clean-Up
When stirred optimally during use, InstaFire burns completely down to ash, which could then be disposed of just as one would with a wood fire. When allowed to smolder, or when quenched prematurely, some of the larger InstaFire granules may not burn completely, and one might be left with a bit of left-over creosote-like material. Due to the generally small size and even consistency of the InstaFire granules, they are quickly and effectively quenched by both water and soil in those instances where the fire needs to be put out before it has completely expended its fuel.
Conclusion
InstaFire is a stupid-simple firestarter. Like the name implies, if you have InstaFire, you're always seconds away from a fire. Depending on how much you use, it will get even the most sodden kindling going, giving your fire a very good chance of sustaining itself. If there is no usable wood around, a single pack of InstaFire can provide you with a potentially life-saving fire for a full 20 minutes. Repackage it in a zip-top bag and you can grab as much or as little as you need, providing a wide variety of uses while being pretty darn light weight.
Testing Conditions:
Location: Porcupine Mountains State Park and Hiawatha National Forest, Michigan's Upper Peninsula
Average mid-summer conditions for the UP, with temperatures in the upper 80s and lower 90s during the day, dipping into the 60s at night.
Source: received for testing via the Trailspace Review Corps

Insta-Fire Fire Starter is product that did not live up to its claims. This user was provided a package of Insta-Fire that was suppose to light up to four fires. However, I was unable to light even one in wet conditions.

Cons
Could not get a fire going
Let me start by saying my fire building skills are probably less than PillowThread's. That is why my rating is so different from his. Let me go back to the beginning...
I wouldn't call my neighbor Carrie a "groupie," but she sure loves to bring me stuff to try in the outdoors. This fall she showed up at my front door with a packet of Insta-Fire and said, "Let me know when your review is done!" (Carrie, if you are reading this, I would really like to test a cuben fiber tarp some time.)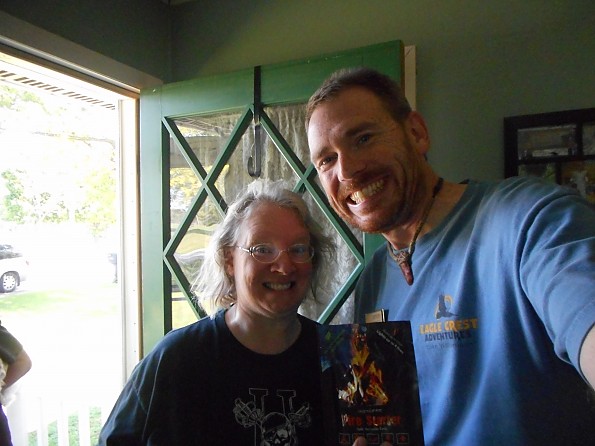 Carrie bestowing another gift on me.
Insta-Fire Marketing Claims
Insta-Fire is very adamant that its product will light in the wettest conditions. The back of the package says...
Lights wet wood (Burns at nearly 1000 degrees)

Burns on snow, water and ice

Long burn time (10-15 minutes)
Furthermore, you will find this picture on the front page of their website.

Testing Conditions
My 13-year old son and I went on an overnight hike in Shawnee National Forest on December 28-29. Heavy rains 24 hours earlier had left both the ground and wood damp. Temps hovered around 33°F at sunset. Winds were calm (3mph).
While instructions call for using a match or lighter, I first attempted (successfully) to light it with an MSR Strike Igniter. After it went out, I switched to a lighter.
More details follow the video...
As you can see, I was unable to get a fire going with the Insta-Fire, even after using a full package (1 package is enough for 4 fires.).
In each case, I was able to get the Insta-Fire to light. But I could not keep it lit. I was very careful not to smother the fire as I added small twigs.
I was very surprised my homemade fire starter outperformed this product.
In Conclusion
I have no doubt that a good number of people reading this review could have worked with this product to get a fire going. However, those same folks probably wouldn't need something like this in the first place. As a guy who is merely adequate in fire building, the product failed.
And, really, am I not the target audience for Insta-Fire—the idiot in the woods whose going to freeze to death if he can't get a fire started? (For the record, this idiot usually forgo fires when he's solo camping. So I shouldn't freeze to death.)
Based on my experience, I simply can't recommend this product to others.
Source: received it as a personal gift

This product sucks. Total waste of money and they're hickory??? Particle board knockoff blows!!! Horrible!
Hahaha! What a joke...
Experience
None and never again
Source: bought it new
Price Paid: Too much...waste of money

Your Review
Where to Buy
Help support this site by making your next gear purchase through one of the links above. Click a link, buy what you need, and the seller will contribute a portion of the purchase price to support Trailspace's independent gear reviews.
You May Like