Kahtoola FLIGHTboot

The FLIGHTboot has been discontinued. If you're looking for something new, check out the best overboots for 2023.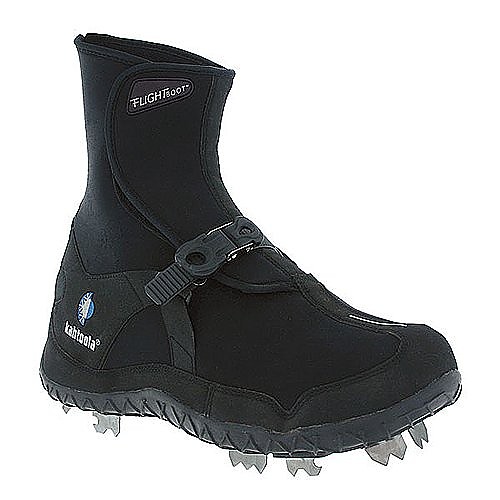 The Kahtoola FLIGHTsystem, integrated overboots (FLIGHTboots) and snowshoe decks (FLIGHTdecks), offers winter trail runners and hikers a warm, dry, and binding-free alternative to traditional snowshoes. The system is designed for running and hiking primarily on snow-packed trails.
The FLIGHTsystem starts with the neoprene FLIGHTboots, which convert your running shoes or light trail shoes into waterproof winter footwear. These overboots boast serious traction and a snug, but flexible, fit. Available in seven unisex sizes, they zip up the back and have a Velcro cuff and ratcheting buckle on top.
Squeezing your running shoes into the FLIGHTboots requires some force and manipulation. While the instructions show running shoes being put inside the boot by hand, I found it easier to shove my shoes in while they were already on my feet. I could then kick my toe into the ground to work my shoe in that last inch. Be careful not to step down on the zipper during this process or you risk damaging it. Either way, the process became much easier and faster (or at least I became less cautious) after putting the boots on once or twice.
Once your shoe is inside the FLIGHTboot, fitting it becomes very simple. Just zip up the back zipper, close the Velcro opening on top, and tighten the ratcheting buckle. I felt no rubbing or pressure points and the overboot's fit was great. After all, I was already wearing my own running shoes. Unlike many traditional snowshoes bindings, there was no need for further adjustments or retightening after a few minutes of running or hiking.
At 2 pounds 12 ounces per pair, the FLIGHTboots struck me as a bit heavy and cumbersome for running, but that weight is the trade-off for warmth and traction. The boots covered my legs high enough to keep out the snow I encountered on packed trails and the neoprene kept my feet warm and dry, even after stepping through several ice-covered puddles.
Each FLIGHTboot has 10 stainless steel cleats, located at the forefoot, midfoot, and heel. These provide aggressive traction on trails with packed snow, loose snow, or icy spots. The FLIGHTboots, designed with serious traction in mind, easily handled an icy patch covered with snow on which I wiped out running with my Yaktrax Pros before.
When fresh snow calls for more flotation, add the FLIGHTdecks, integrated snowshoes, for a full FLIGHTsystem. (See my review of the FLIGHTdecks.)
Removing the FLIGHTboots is significantly easier than putting them on, although it can be tough to keep your running shoes on in the process.
Kahtoola FLIGHTsystem
I used the FLIGHTsystem running and hiking on trails that were flat to moderately steep, trails that had packed snow, and trails that had several inches of fresh snow. Initially the Kahtoola FLIGHTsystem struck me as being an overly specialized product. I wondered if the integrated system offered enough versatility for its relatively high price ($334 for boots and decks). However, every time I used the FLIGHTsystem I was pleased with its overall performance—the fit, the traction, the warmth—if not its ease of entry (for the boot).
I liked that the FLIGHTboots allow you to hike or run year-round in your now waterproof and warm trail runners. Provided you like your running shoes, the fit is great, and the added traction was excellent.
The Kahtoola FLIGHTsystem has some trade-offs. Since FLIGHTdecks only work with FLIGHTboots, you can't share snowshoes with anyone who doesn't already have their own FLIGHTboots (or who doesn't fit into yours). And while it's easy to switch between using the boots alone or with the decks as conditions change, the cleats are permanently affixed to the boots and can't be removed, like crampons or traction devices, if you encounter low snow cover, pavement, or bare sections of trail. However, in the right snow conditions they work very well.
If your winter running and hiking takes you over packed and snowy trails the Kahtoola FLIGHTsystem may be right for you. While obviously suited for running, I liked it best as a lightweight hiking system. What felt overly heavy for running (a combined Gypsy FLIGHTsystem weighs 5 pounds 4 ounces), felt light, warm, and fast for winter hiking with my trail runners.
This information originally appeared as part of a Trailspace review of the Kahtoola FLIGHTsystem. For information on the decks, visit the Kahtoola FLIGHTdecks product page.
Fabric: 3 mm waterproof Neoprene reinforced with Hypalon, stainless steel traction cleats at forefoot, midfoot, and heel
Source: received for testing via the Trailspace Review Corps
Price Paid: Sample provided by Kahtoola

Your Review
You May Like
Kahtoola says its unique FLIGHTsystem is "what snowshoes wanted to be when they grew up." The FLIGHTsystem is made up of an insulated FLIGHTboot with built-in traction and a FLIGHTdeck step-in snowshoe deck. The system is designed to adapt to conditions ranging from packed powder to deep snow to icy terrain, whether you're walking, running, or hiking.
The FLIGHTboot is an insulated overshoe that stretches to fit over sneakers, light hikers, or other footwear and is secured by a ratcheted strap. The boot offers warmth, waterproof protection, and quiet travel without snow kick-up. Stainless steel cleats in the forefoot, midfoot, and heel provide traction when hiking and running on snow-packed trails or walking on icy surfaces.
Specs
Price
MSRP: $149.00
Historic Range: $49.48-$148.95

Sizes
7 unisex sizes accommodating shoes from women's size 5 up to men's 14

Weight
2.75 lbs (1280 g) per pair

Materials
3 mm waterproof Neoprene reinforced with Hypalon, stainless steel crampons