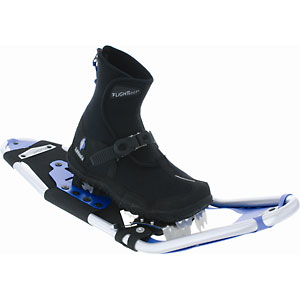 The Kahtoola FLIGHTsystem, integrated overboots and snowshoe decks, offers winter trail runners and hikers a warm, dry, and binding-free alternative to traditional snowshoes. The system is designed for running and hiking primarily on snow-packed trails and depending on your current snowshoe setup may be a lighter option overall.
FLIGHTboots
($149)
The FLIGHTsystem starts with the neoprene FLIGHTboots, which convert your running shoes or light trail shoes into waterproof winter footwear. These overboots boast serious traction and a snug, but flexible, fit. Available in seven unisex sizes, they zip up the back and have a Velcro cuff and ratcheting buckle on top.
Squeezing your running shoes into the FLIGHTboots requires some force and manipulation. While the instructions show running shoes being put inside the boot by hand, I found it easier to shove my shoes in while they were already on my feet. I could then kick my toe into the ground to work my shoe in that last inch. Be careful not to step down on the zipper during this process or you risk damaging it. Either way, the process became much easier and faster (or at least I became less cautious) after putting the boots on once or twice.
FLIGHTboot
Sizes: seven unisex sizes accommodate shoes from a women's size 5 up to a men's 14
Weight: 44 oz (1280 g) per pair
Materials: 3 mm waterproof Neoprene reinforced with Hypalon, stainless steel traction cleats at forefoot, midfoot, and heel
MSRP: $149
FLIGHTdeck
Two Sizes: Gypsy (8" x 23") and Gemini (8.5" x 24")
Gypsy Weight: 40 oz (1134 g) per pair
Gemini Weight: 43 oz (1219 g) per pair
Materials: aluminum frame, Hypalon decking, Pebax plastic, stainless steel traction cleats, adjustable heel block
MSRP: $185
Once your shoe is inside the FLIGHTboot, fitting it becomes very simple. Just zip up the back zipper, close the Velcro opening on top, and tighten the ratcheting buckle. I felt no rubbing or pressure points and the overboot's fit was great. After all, I was already wearing my own running shoes. Unlike many traditional snowshoes bindings, there was no need for further adjustments or retightening after a few minutes of running or hiking.
At 2 pounds 12 ounces per pair, the FLIGHTboots struck me as a bit heavy and cumbersome for running, but that weight is the trade-off for warmth and traction. The boots covered my legs high enough to keep out the snow I encountered on packed trails and the neoprene kept my feet warm and dry, even after stepping through several ice-covered puddles.
Each FLIGHTboot has 10 stainless steel cleats, located at the forefoot, midfoot, and heel. These provide aggressive traction on trails with packed snow, loose snow, or icy spots. The FLIGHTboots, designed with serious traction in mind, easily handled an icy patch covered with snow on which I wiped out running with my Yaktrax Pros before.
Removing the FLIGHTboots is significantly easier than putting them on, although it can be tough to keep your running shoes on in the process.
FLIGHTdecks
($185)
When fresh snow calls for more flotation, add the FLIGHTdecks, integrated snowshoes, which come in two sizes (Gypsy and Gemini). Either model can be adjusted to fit any FLIGHTboot by moving the deck's heel block into one of three positions. It's not an easy adjustment though. I struggled to lift and slide the heel block per the directions. Once in place though, you won't need to reset the blocks unless you change boot sizes.
The FLIGHTdecks are a cinch to put on. Just line up your FLIGHTboots and decks (there are alignment marks on both) and step down to click in. Stepping in really was as easy and hands-free as Kahtoola claims and it was nice not to futz around with binding straps and buckles in the cold, or have to remove gloves to make adjustments. Once you're clicked in, you're done. No retightening. No bending over. No cold fingers.
At 40 and 43 ounces, the two FLIGHTdecks weigh in around the middle for running snowshoes (Tubbs's Catalyst weighs a hefty 49.6 ounces, Atlas's Run 43.3 ounces, Redfeather's Race 36 ounces, and Atlas's Race just 32 ounces). However, the FLIGHTdecks' weight doesn't take into account the obligatory 44 ounces for the FLIGHTboots, plus the weight of your running shoes.
For comparison's sake, a pair of waterproof, insulated boots like Merrell's Thermo 6 Waterproof weighs 45 ounces for the men's, 40 ounces for the women's. However, the FLIGHTboots offer traction. So determining whether the FLIGHTsytem is a lighter-weight option depends on your current choice of snowshoes, footwear, and gaiters, and personal preference.
The FLIGHTdecks are designed for light flotation when running on packed-snow or a few inches of fresh snow. They're suitable for any snow-packed trail, but you won't want to go into the depths off-trail with them. When I took the smaller Gypsies into a foot of fresh powder I sank right in.
When it's time to remove the FLIGHTdecks a ripcord on the deck releases the deck from the boot. The concept is simple, but you need to pull the ripcord's T-shaped plastic handle straight out from the side of the deck, which can be awkward to do while you're wearing the decks. Sometimes I had to pull multiple times before the ripcord released the boots and one time the ripcord wouldn't disengage the boots at all no matter what I tried with the T-handle, the reset tab (at the other end of the ripcord), or removing excess snow and ice. Once the decks and boots warmed up at home, they came apart easily.
Sans bindings, I found the relative simplicity of the FLIGHTdecks appealing. I carried the FLIGHTdecks with me on several hikes and runs when the FLIGHTboots alone were sufficient for packed trails, and the decks packed flat for easy transport.
FLIGHTsystem
Initially the Kahtoola FLIGHTsystem struck me as being an overly specialized product. I wondered if the integrated system offered enough versatility for its relatively high price ($334 for boots and decks). However, every time I used the FLIGHTsystem I was pleased with its overall performance—the fit, the traction, the warmth—if not its ease of entry (for the boot) or exit (for the deck).
I used the FLIGHTsystem running and hiking on trails that were flat to moderately steep, trails that had packed snow, and trails that had several inches of fresh snow. I liked that the FLIGHTboots allow you to hike or run year-round in your now waterproof and warm trail runners. Provided you like your running shoes, the fit is great, and the added traction was excellent. And the effortless act of stepping into the FLIGHTdecks was a nice change from what can be a colder and lengthier process with traditional snowshoe bindings.
The Kahtoola FLIGHTsystem has some trade-offs. Since FLIGHTdecks only work with FLIGHTboots, you can't share snowshoes with anyone who doesn't already have their own FLIGHTboots (or who doesn't fit into yours). And while it's easy to switch between using the boots alone or with the decks as conditions change, the cleats are permanently affixed to the boots and can't be removed, like crampons or traction devices, if you encounter low snow cover, pavement, or bare sections of trail. However, in the right snow conditions they work very well.
If your winter running and hiking takes you over packed and snowy trails the Kahtoola FLIGHTsystem may be right for you. While obviously suited for running, I liked it best as a lightweight hiking system. What felt overly heavy for running (a combined Gypsy FLIGHTsystem weighs 5 pounds 4 ounces), felt light, warm, and fast for winter hiking with my trail runners.