Keen Newport

Top 25 in Sport Sandals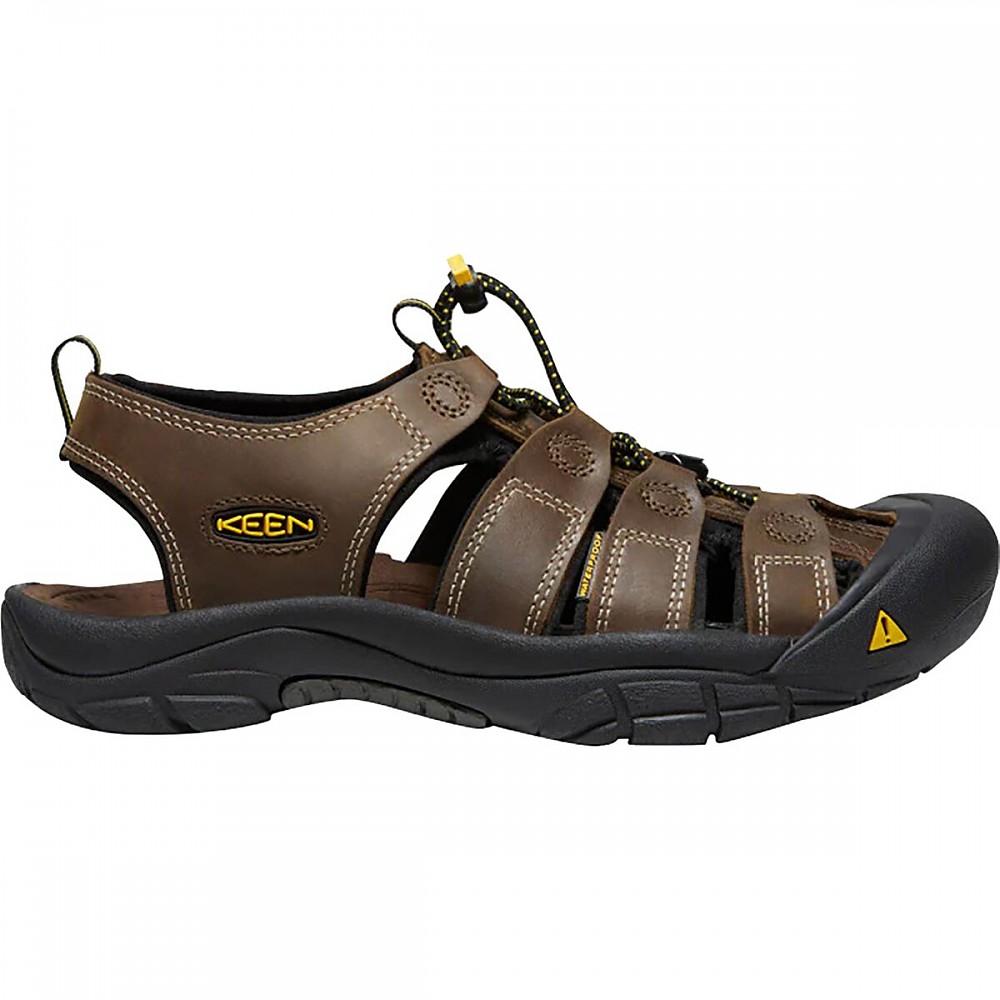 Is this a design classic, yet?

Comfort, protection, durability—an archetype, of summer footwear.
Pros
The Keen last, footbed, and sole
Comfy, secure straps
Cons
Not the lightest option
Not quick drying
As a long-term Teva wearer, I was looking for a summer shoe with more protection and more grip for river and beach wear. I was already well acquainted with the broad-fitting Keen last and excellent, grippy, and tough sole unit, so the Newports were an easy choice.
I knew that the rubber toe protector and extensive forefoot enclosure would be an improvement on former purchases when fording rivers or wading in rock pools. This has been amply demonstrated in a relatively short time. The Keen sole unit seems softer and grippier than some alternatives, but my experience with walking and office shoes with the same sole tells me that softness does not equate to rapid wear. I expect a lot of service from this product.
Straps are leather backed with padded nylon. Closure is elastic, with a cinched cord, to tailor the fit. Instantly comfortable out of the box on concrete, asphalt, mud, stone, and sand.
The footbed is something my feet have grown accustomed to. Firm padding, soft synthetic leather top, more arch support than most competitors. An all-day sandal—slower to dry than all-synthetic alternatives, but for my taste, more comfortable to wear for long periods. I have not been anywhere with plus 25-degree temperatures recently, so would not like to comment about the Keens' performance in such weather. 
Shoe fit and performance is very personal and we each ask different things from our footwear. Some folks would find Keens too heavy and too slow to dry for their needs. Others might find them dirt magnets, or smell traps, compared to more minimalist designs. I've never had stinky feet (thank goodness) and I'm happy to throw my sandals in the laundry—or in a bucket of soapy water—if they get grimy. 
The Newports handled my "care regime" without fuss. They are my favourite all-day and performance sandals this year. They paid for themselves the first time I wore them beachcombing in my slippery local rock pools and again when I had to search around in a shallow riverbed for my friend's lost spectacles.
Experience
I've only had the Newports for a year. I have worn their shoes and boots since 2008, so I wasn't surprised by their comfort and utility. I still like Tevas for lots of situations, but the extra toe protection of the Newports is a boon in more demanding environments. I was teaching my buddy's grandkids some bouldering skills last week—and the climbing shoes never made it out of my bag.
Source: bought it new
Price Paid: £80

My most durable and trusted footwear, so far! DURABLE!! BULLETPROOF!! FUNCTIONALITY!!

These are the original "Hummer" of sandals. Safe transportation through difficult terrain that challenges/kills other sandals. Built to help keep the human inside safe.

I've had these exact sandals for about 13 years now and still use them every day. Comfortable, rugged, waterproof materials (including leather), sure footed on wet rocky stream crossings. Highly recommended for humans. Do they make them for water dogs too?
Pros
Comfortable, excellent support, sure footed on wet rocks
Excellent design and materials
Very well made with excellent quality stitching and AMAZING DURABILITY
Rubber cap saves your toes in rocky river crossings and hides toenails.
Tenacious sole grip rubber and tread pattern on slick wet surfaces
Cons
So durable you might get tired of their color over the years
Relatively expensive (but actually a bargain due to function and durability)
Keen Newport Sandals are among my most trusted footwear for Utah exploring trips. They have got me safely down slot creek carved canyons and into Moab's Fiery Furnace, and back out. Here my friend Brent, at Woodsounds Flutes, took a video of me playing one of his custom Native American Style flutes in the Firery Furnace (over 40,000 YouTube views now, humbling!).
While at a Native American Flute Festival in Zion National Park we were to go up a slot river canyon the next morning. My buddy saw my Tevas and said "man you are going to kill your feet".  So ...
Cars have bumpers to protect them, why not feet?  The rubber toes are a distinctive feature of Keen footwear. On sandals these heavy duty ones really protect my feet from rocks I can't see in creeks. The tread pattern grips mossy, otherwise slick, rocks. And the heavy duty waterproof leather protects against abrasion of the sides of my feat, and wears like iron! But the leather is rich and soft feeling, and has a flexible, stretchy protective fabric liner between the leather and my feet.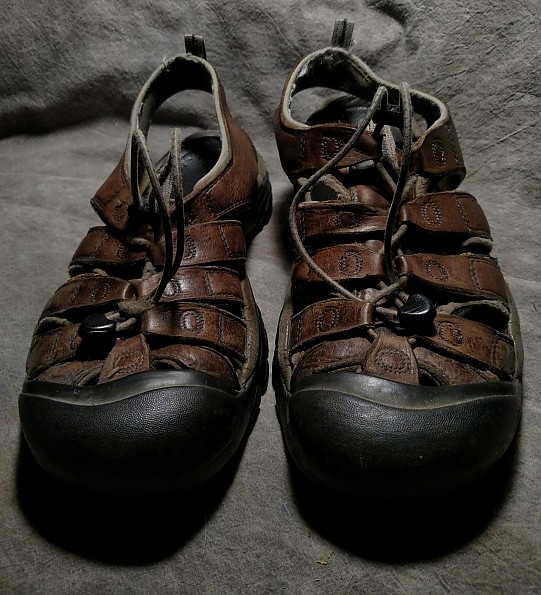 Note the round stitching pattern at the lace ends of the leather strips. It's highly unique to see in footwear. It makes it hard to pull on the stitching and snap the thread. NO stitching has come loose on my sandals.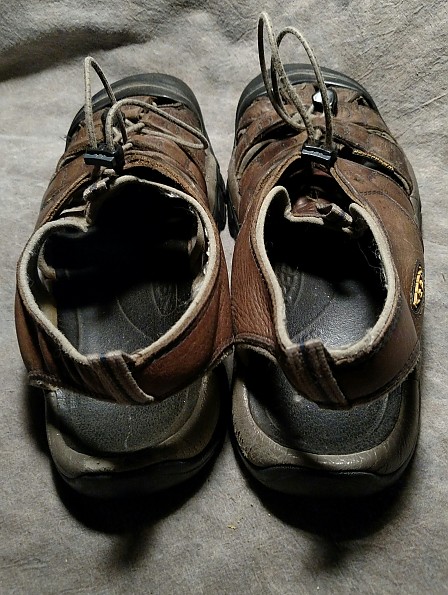 Source: bought it new
Price Paid: $80, list price at time

These are the first sandals that I liked and wanted to wear. As far as sandals go they have great arch support, a nice even footbed, not a lot of movement when you tighten the laces up. Great pair of sandals.
Pros
Full toe coverage
Arch support
Stiff sole, and side to side stiffness, doesn't feel like a sandal.
Dries really fast, doesn't smell, (you would think they would smell because of the leather, but they don't)
With a good pair of wool sox I wore these well into fall.
Cons
Small rocks get in under your foot and you have to take them off to get them out. Sometimes you can move your foot in the current and it will come out, but not always.
FIT: Great, with sox or without. Feels a lot like a shoe or boot when you tighten up the laces, but you still have the airflow of a sandal.
COMFORT: No real break-in, comfortable from the first time I tried them on.
SUPPORT: More than i would have thought. good arch and side to side. Tread is think enough that you can't feel the stones and rocks under foot. Sole is stiff enough to keep your feet from flexing side to side.
WATER RESISTANCE: These are sandals, but the leather is listed as waterproof, they don't seem to get soaked or water logged. They dry faster than my shower shoes.
TRACTION: As good as my Vasque MX2 boots. Treads not quite as sticky as approach shoes but close. Tread design seems to work well in the water on rocks and in fast water on gravel.
TEMP CONTROL: Sandals, nuff said.
EASE OF USE: Put them on pull the bungee lace and slide down the keeper. Any easier and someone would be putting them on for you.
FEATURES: Full toe coverage, this is why I got them. I've spent to much time in the woods to walk around with open toe sandals. Scratched and gouged up to many pairs of boots to do it. Got them to use while canoeing and kayaking on creeks and rivers here in the Midwest. Way too many things in the water (re-bar, old fence, nails, tires, scrap metal of all kinds) to go into the water with no toe coverage.
Bungee laces with a keeper, you can't loosen them up without pushing the release.
CONSTRUCTION AND DURABILITY: Spent a spring, summer, and a fall canoeing and kayaking in these before they went to Afghanistan with me. Used them as winter shower shoes in northern Afghanistan without any problems.
Spring came and every day I woke up these were the first pair of shoes I put on. The talcum powder like dust didn't bother them, the heat didn't dry them out. never a problem. Many times these were my go-to shoes for those easy nonchalant drives through Afghanistan.
Notice the shoes/sandals, and yes, I am wearing sox under them.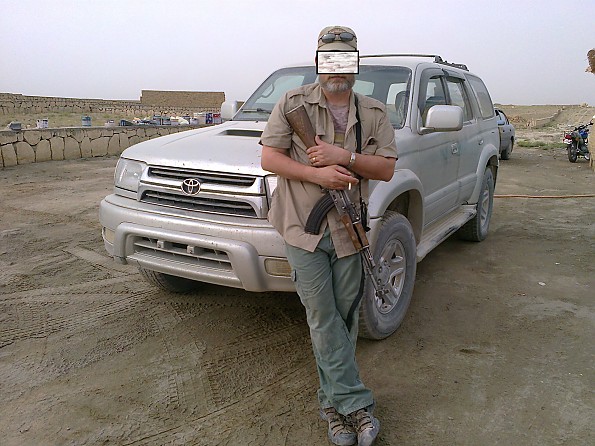 CONDITIONS: I got these in the spring of 2010 wore them all through the spring and summer and into the fall canoeing and kayaking. They went with me to Afghanistan for 11 months. Used them daily for everything from shower shoes to work boots. Mud, dust, water, dirt, rocks, and even some shrapnel didn't faze them.
I know this was a bit long but they are great sandals, in my opinion you can't go wrong with these.
Thanks. 
Source: bought it new
Price Paid: 85-95$

Great product. These sandals proved themselves when I first got them. Right out of the box I hiked 100 miles through Shenandoah National Park. I wore them with and without socks. Wet and dry. By the end of the trip everyone's feet looked like ground beef while mine remained without a single blister.
Whether or not you believe this is up to you. I have yet to get any sort of blister from these. I love them. I can honestly say that I would much rather hike in these than a pair of boots.
The only problem is they offer no ankle support whatsoever. The heel is also exposed and I have banged it up on a few rocks here and there but not very often. Otherwise they are totally amazing. I would recommend them to any person who is looking for a sport sandal. My friends have Tevas and get blisters from them.
No blisters, no rubbing, no irritation. No matter the condition. If you buy them, buy them from LL Bean because they have a life-time warranty. I had to return one pair after using them heavily for a year and they sent me a new pair with no questions asked. Got to love it. Have fun and never get lost.
Use: 100-mile hike, day hikes, around town, swimming
Price Paid: $70-80 - llbean

If you have a wider foot AND ankle AND don't sweat, this is for you.
Cons
No ankle adjustment
smelly footbed
If you have narrow ankles, you probably will not like this shoe as your feet will slide around and give you blister. I have worn with socks and that looks dorky, but is very comfortable.
I wish someone would make a sandal like the Teva Psyclone for kids, only with adult support and durability.
Source: bought it new

Great everyday sandals.
Cons
Don't dry fast
Stretch a bit
I have had these Keens for four years now. They have been absolutely wonderful! However, unlike their brother the Newport H2, these guys are not for the trail. They do not dry nearly as fast as the nylon on the others do, debris gets caught and then ground into the leather footbed while out on the trail. I honestly stopped using them for outdoor activities long ago.
However for an outdoorsy feel while you're running around town, they are perfect! The footbed is very comfortable and has molded to my foot, that I enjoy a lot. However I did get some stretching on the backstrap that caused me to have a bit of a backless shoe feeling.
Overall, outdoor shoe->no, everyday comfy shoe->yes.
Source: bought it new
Price Paid: $90

I really like the Newport sandal but I would go with the H2 instead. I own both and the regular Newports don't keep their shape very well. After six month or so of solid use they became stretched out and now cause me blisters on longer hikes. I have demoted them to hanging around the house and take my H2s into battle.
Despite the "Antibacterial" odor resistant footbed these puppies will stink after a long hike. Also not a problem with the H2s. The solution to the stinking problem is to spray them with rubbing alcohol before and after you wear them. If you are going to buy get the H2.
Use: Hiking, fishing, lounging, after hike shoe
Price Paid: around $90

Your Review
Where to Buy
Help support this site by making your next gear purchase through one of the links above. Click a link, buy what you need, and the seller will contribute a portion of the purchase price to support Trailspace's independent gear reviews.
You May Like
Specs
Men's
Price
MSRP: $135.00
Current Retail: $101.16-$135.00
Historic Range: $27.00-$135.00
Reviewers Paid: $80.00-$90.00

Weight
15.2 oz / 430.9 g

Materials
washable waterproof leather upper / non-marking rubber outsole with razor siping /compression molded EVA midsole / hydrophobic mesh lining / microfiber footbed cover

Women's
Price
MSRP: $95.00
Historic Range: $39.98-$129.95

Kids'
Price
Current Retail: $67.75-$124.50
Historic Range: $8.99-$134.95

Recently on Trailspace