Klattermusen Brede Jacket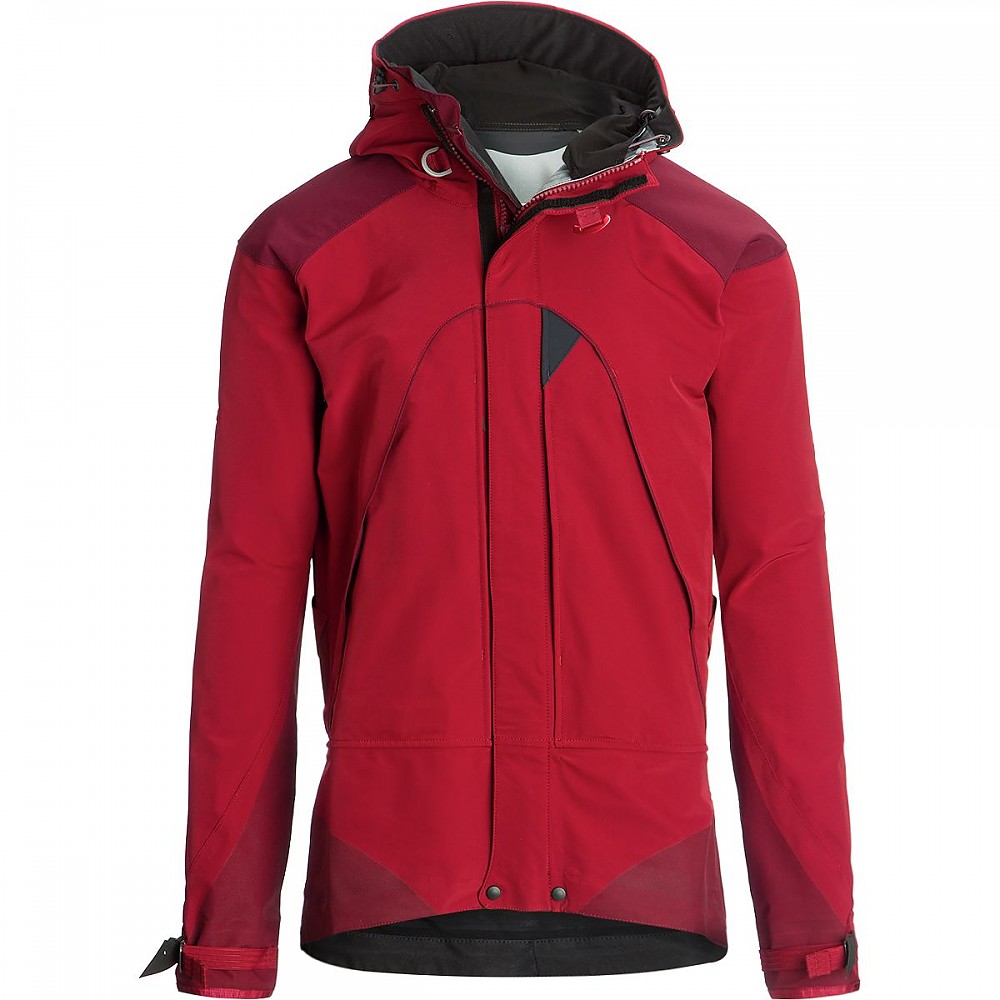 Hard shell for heavy use during autumn-winter-spring. If you don't mind the bits that fall off and want a jacket for many years, this might do the job. It's expensive but the material will hold for many years. On the other hand, you could buy every other year a new jacket at a fraction of the price and probably be better off.

I have a Brede that is starting to feel small and as odd as it might seem, I am considering buying a new brede, one size up so there is something to it. Deffinetly try it on before buying and take a look at it.. you'll love it ot hate it from the first second.
Pros
Tear and abrasion resistant, bombproof, not some flimsy "ultralight" material.
Well designed pockets and adjustments.
Recycled, low impact on nature.
Cons
Deffinetly overpriced.
Heavy (1kg)
Terrible customer suport (used the online formular that they provide a lot of times.. never heard of them)
It takes a long time to dry (my girlfriend's North Face jacket was dry 2 hours before mine).
Quality issues (bits fell off)
First off I have some experience with outdoors equipment. I hike both in Europe and US. I have an income well over the average and I tend to get attached to my gear and try to buy equipment that holds for many years.
1- first impression: I was in the market for a waterproof jacket mostly for paddling in the wilderness in Sweden and doing via ferrata on exposed clifs in the Alps and hiking in Lofoten. The most logical choice was a climbers jacket and I thought I'll eventually end up with an Arc'teryx but had yet to find the right model. One day I've seen the Klattermusen and the second I felt the material and tried it on I knew I am walking out of the store with it. It felt sturdy, not like all those ultralight use-it-one-time jackets that you would normally have "just in case it decides to rain".. it seemed to be something you could really use day in day out and abuse. I mean there is no question if it will rain or not in western Norway (it's guaranteed actually).
2- fitted like a glove (well thought adjustments), verry nice handcuff design and neck collar. Wide range of movement and it really feels that the maker had in mind the ice climbers. I've tested it during the spring in the Dolomites climbing the ferratas in exposed areas and it felt like I was inside a methal bunker, very confortable and cozy.
3- it is really waterproof and breaths very well but you still get wet from the sweat inside if you are sweaty like me. It seems to take forever to dry.. I believe that it might absorb some water. It might be because of the material that is made to be very abrasion resistant.. I don't mind this aspect but noticed it. The material looks like new even after backpaking in the Sierras, hauling canoes and gear in Sweden and after climbing in the Alps.. no sign of abrazion, notear, no nothing!! Looks like new after a rain (never washed it).
4- it's warm and cozy this much I know. I was out on a solo canoe trip in early March in Sweden and day 2 and 3 the weather tourned foul and I had my share of white-capping and spray and wind and in the end it decided to snow.. Thank god for my layering and for my jacket - they have turned a nightmare into a nice adventure! I have the jacket since about 3 years and used it even for biking to work and basically every time it rained and even during the winter (i don't have anything else waterproof, or a umbrella). The problem is that when I bought it , I was planing on losing some weight so I went for the size that would fit me best after the weight loss.. bad decision... I went up instead and now it's too small. I have problems when it is cold as I can't fit too many layers underneath.
The cuffs are adjustable and are always snug against the wrist. The velcro is not as large or as sticky as I would like it, specially when dirty, wet, frozen, etc
Pockets are very well thought. You have deep pockets (that can be used for ventilation too) you have passport pocket, RECCO, ski pass pocket and much more that in the begining seems overwelming. What I like best is that the pockets are huge... takes a big GPS, headlamp, knife, keys, firestarter, mittens, glases, the wallet, some gorp, you name it! And not only huge but they are easy to acces with both hands and away from the backpack belt and straps. Really a very good design.  And the jacket sits snug on the waist and no wind comes in..
5- other ways the jacket (mine is black) looks pretty inconspicuous and no one would suspect you payd 700$ on it. I rather like that as I don't like to look like I'm embarking on some kind of expedition when I go to have some quiet time in the nature. I really like the fit and even the looks. And probably the most important aspect, the material the jacket is made of is mostly produced with recyled materials and with green technologies. And Klattermusen will recycle the jacket and buy back the jacket when you have destroyed (for 20 bucks or so but still.. just that it doesn't get thrown somewere to become garbage it's more than enough).
6- unfortunately they had to hang a whistle on that zipper pulley (they seem to do this with every piece of gear nowadays. Well, the whistle is there anyway but guess what?! They had to lash on even a compass!! Yes, that's right, now I have a small compass on my knife, a compas on my mobile, one on the GPS , AND.... one on my handcuff on the jacket.. Well this time the "gadget" didn't stay on.. 2 weeks after buyng the jacket I noticed that the rubbery band that attached the Silva compass to my handcuff started to peel away att the stitching point and I could see the treads inside it.
I contacted the manufacturer as that was clearly a design problem but no response..2 weeks later the rubbery band came loose and I "got rid" of the compass. I was very dissapointed with the fact that Klattermusen didn't reply. I have previously had the pleasure of dealing with Hilleberg customer support and I expected the same from Klattermusen only to be dissapointed. I don't miss the rubbery band or the compass and the handcuff seems more normal without it. You wouldn't really think that there ever was someting on there.
All in all I think that I am going to buya new Klattermusen jacket (probably the same model) and I will deffinetly cut from day one the rubber bands and donate the compass to some boy scout. Just to get a head start. I think that the biggest problem for me is that it takes so long time to dry.. about 2 hrs more than the next high tech Goretex shell (that, by the way, costs half the price) but other than that, I am very happy with it.
I'm so sorry I didn't buy a larger size.. the jacket still looks like new and if the size was right I would have used it for ages. Now I need to buy another one and the first one I bought would only be a waste of money. Maybe I will still use (abuse) it during the warmer months when I don't need down insulation or that many layers but still it feels too heavy to take as a "just in case" waterproof shell.
About the rating: Well average would mean that any other jacket is just the same. That is definitely NOT the case. This is a extremly sturdy and well thought jacket and it uses good materials. It is very much like a Hilleberg tent, like a Trangia stove, like an Ally canoe. It is one of the best of the best. These people really focuse on making the best product over all and don't only focus on weight (which seems to be the latest hype but you get to use the product only once before it starts to brake apart).
The thing is that the price is out of this world. And if you adjust for that, the stars start to fade. And then again.. customer support, there is NO EXCUSE for that, none!! I couldn't care less about the silly compass that was probably meant to catch the eye but this kind of failure is unacceptable. I am only happy that the problem wasn't with something important as I would have received no help from the manufacturer.
The seller, by the way, offered himself to help me in this matter and wanted send the jacket back to Klattermusen for me but I didn't need a compass, as I said, and decided to save him the troubble.
Sorry for the spelling, I might reedit it later.
/Marian
Source: bought it new
Price Paid: around 6400 SEK

Your Review
You May Like
Specs
| | |
| --- | --- |
| Price | Historic Range: $359.95 |
Recently on Trailspace