La Sportiva Nepal Extreme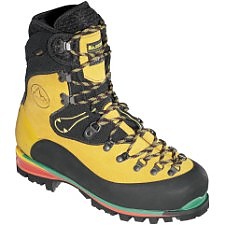 The standard by which other mountaineering boots are measured.
Pros
Beefy well made mountaineering boot
Rand around the boot
Cons
A little on the heavy side
I was surprised by the one-star review for this product, until I read the full review. As a person who has been mountaineering for over 37 years, I felt the need to comment.
I have to swallow hard these days when entering an outdoor store. Shops that were once the domain of self-reliant enthusiasts have been replaced by a "new" breed of outdoor consumer. They increasingly shop by online reviews, like this one, or by taking the word of a store associate who has "unknown" experience.
I am amazed at the level of trust that people assign to complete strangers. This is not like buying a tennis racket or a golf club. Mountaineering is an inherently dangerous sport. I have many dead friends to prove this statement. 
These boots are meant for general mountaineering and ice climbing. The leather construction makes them extremely durable but a little on the heavy side. The interior tongue can be moved to fill the volume in the boot and achieve a perfect fit. The lace locks create different tension from the top and bottom of the boot to allow articulation in the ankles when using 10 point crampons.
However as a single boot they have their limitations when the temperature drops. An insulated supergaiter or over-boot will help. However you will be better served with some of the warmer and lighter products currently on the market.
Source: bought it new
Price Paid: $390

Absolutely outstanding boots. Very rarely do I manage to find boots which fit me straight out of the box. Very warm, super comfy and the versatile lacing/tongue system allows for a varied configuration to achieve a prefect fit.
Pros
Comfortable: short break-in period
Versatile fitting: removable tongue/lacing lock-off
Very waterproof
Comfy for walking but stiff lower for climbing
Absolutely outstanding boots. Very rarely do I manage to find boots which fit me straight out of the box. After renting a pair from Cotswold Outdoor to test them, I went straight out and bought some from Go Outdoors.
With a little practice finding out the best placement for the tongue (which is removable and re-positionable) they fit me very well. After a couple of uses they are pretty much broken in, and provide enough flex in the upper that flat-footing is comfortable. As for step-kicking and general grip they are fantastic.
My one, small gripe is that they are a little on the heavy side, but they are an older design. Seemingly now superseded by the very pricey Evo GTX version.
If you're looking for the ideal winter mountaineering boot for Scotland (or summer alpinism) then look no further. Very warm (though obviously if you're going up K2 you'll need a bit more), super comfy and the versatile lacing/tongue system allows for a varied configuration to achieve a prefect fit (or as close as my feet will ever allow!)  
Source: bought it new
Price Paid: Price match from GoOutdoors - £250

If properly fit and broken in, you can mountain run in these babies... If you get the right gear, you can take them higher without freezing your feet off.
First off, add some Green Superfeet. Second, if you want to hike to break these in, be ready for some real pain even with a proper fit... These boots are so rigid, but once broken in are perfect.
Or, do the warm water bathtub trick to break them in.  I've broken in two pair of these, one by each method.  Hiking, it took about 30 miles with swaps to running shoes when I couldn't take it anymore. Otherwise, fit them the way you like, then stand in a bathtub full of warm water for like 10 minutes, then go for a half-mile walk in the boots still soaked. When done dry them out, then do your waterproofing regimen. You will be good to go.
Also, for colder conditions, I cannot recommend Mountain Tools Super Gaiters enough for these boots.. for warmth, fit, everything. But for extra, you will want to do toe box cut outs of closed cell foam to epoxy inside the toe box of the super gaiters. I cannot stress how awesome this setup is.
Experience
Great mountaineering boots
Source: bought it new
Price Paid: $350

Despite being called Nepal Extreme these boots are NOT suitable for use in EXTREME conditions in NEPAL or elsewhere. Two of our team wearing them suffered frostbite wearing these boots at 5930 metres in Nepal.
Despite the very misleading name, these boots are not recommended for use over 4000 metres. On a recent trip to Nepal at 5930 metres the only two people wearing these boots suffered frostbite requiring hospital treatment.
I have contacted the manufacturers who claim they are not recommended over 4000 metres although I cannot find this information on their website. I was taken in by the name and descriptions of suitability for "high altitude," "mountain terrain and ice" etc, but have suffered the consequences of frostbite.
Source: received it as a personal gift

These are the FINEST boots I've ever had on my feet, hands down - no comparison. None. They are extremely rigid, but flex perfectly at the ankles for French tech. So far, only worn around "town" - nothing in the hills, but would take them anywhere, anytime for nearly anything (not dancing). Walked about enough to expect blister(s), but nothing of the sort - right out of the box. Also, these were an unbelievable deal as they retail list for $420.00. The laces are a little short and LaSportiva USA has kinda been dragging they feet on replacements - "out of stock", etc. Have had several other less rigid boots on my feet (properly fitted by "certified" fitters - myself included) and nothing else even remotely comes close.
Materials: 3.2mm Leather-roughout
Use: Ice Climbing/Cold Weather
Break-in Period: Ha! None. Ready to go!
Weight: 4lbs 8oz's (+/-)
Price Paid: $249.99

I have asked to be buried in my Nepals when I die, if that's any indication how much I love them. Not always the most comfortable, but my feet are super-sensitve. I found the trick to be the right combination of liners and socks and tightening the laces just enough to make the boot snug, but not too tight. They are a touch narrow up front. I've worn them on long hikes (7+hours) at -20F and done alright. I don't think that's possible in any other single leather boot. The best thing is that they CLIMB. When other guys are stopping to put on crampons, I'm still cutting into hard, steep snow and able to keep moving. I'm looking for a pair of Nepal Tops now.
Break-in Period: Do they?
Price Paid: $200

I recently bought these puppies, and let me tell you- they are spectacular boots. I had envisioned several awefull months of breaking them in, but to my suprize-they treated me like an old friend on our very first ice climbing adventure. I think that this is were the Nepal Extremes really demonstrate their prowess. In snow and on the approach, these boots keep my feet very warm, with nary a wimper. And when we hit the ice, they are eager to front point and french technique all day long. I almost feel bad about putting them away at the end of the day... If your interested in a boot that was built for serious winter use and abuse, the Nepal Extreme is you tour de force!!
Materials: Leather
Use: Ice climbing and Alpine climbing/ Winter adventures
Break-in Period: uhhh-very little!
Weight: hmm, 6lbs.
Price Paid: $410 US

I purchased these boots, before the winter started, as I live in an exposed part of the United Kingdom. When I first got them, I thought they were going to be heavy, and difficult to walk in. To my surprise, the weren't. They took 2 weeks to break in, and are extremely warm.
I would recommend these boots to anyone. A++++
Update: April 12, 2000
When I purchased these boots, I thought that they might need some breaking in. But to my shock, the fitted like a glove from day one, and they are very comfortable to walk in.
Materials: Leather
Use: Mountain
Break-in Period: None
Weight: 2 kg
Price Paid: £190

There is no route I would not attempt in these alpinist's dream boots. The break in was short, very short. The fit was perfect in about ten minutes of fiddling with the system.
There is only one drawback to these boots: It is a profound mistake for a typical dirtbag climber to try these on as there is no way to resist their supple beauty and function; money will leak out of every pocket until there is none left. Try these on at your own peril...they will own you if you do!
Price Paid: $420 USD

Very warm and robust.
Pros
These boots adjust to fit so well. I have used them over 6100 metres in Himalayas and my feet where super warm and comfy throughout. Extremely robust and crampons felt great also. I've even used them for all grade 1 scrambles in UK and felt confident despite the acceptable lack of feeling under foot due to their extreme stiffness. Last most people a lifetime.
Cons
Restricting on ankle movement due their thickness.
Superb boots. Would highly recommend where a warm, comfortable, and robust boot is needed.
Experience
Stok Kangri.
Source: bought it new
Price Paid: £320

I initially bought these for a 5500m peak in Nepal, but have since used them for summer alpine use and Scottish winter. Utterly bomb proof, comfortable and warm- would never consider another brand.
Price Paid: £230

Superb boot -- a little on the heavy side these days but ultra well made and comfy. I use them primarily for water ice climbing and they are awesome.
Materials: Leather
Use: ice climbing, mountaineering
Break-in Period: couple of days
Weight: >2Kg a pair
Price Paid: €220

I am on my 2nd pair of Nepal Extremes and find them the perfect Alps or Scottish winter climbing boot. They fit great, take minimal bedding in, they're warm. The old style Vibram commando sole unit is the best of any boot I have ever used. On cold winter, the lack of a Gore-Tex lining is good as well, makes the boot better-breathing. Brilliant boots, buy some!
Price Paid: $250

Your Review
Where to Buy
Help support this site by making your next gear purchase through one of the links above. Click a link, buy what you need, and the seller will contribute a portion of the purchase price to support Trailspace's independent gear reviews.
You May Like
La Sportiva no longer offers the Nepal Extremes in North America, though they are available in Europe. If in North America, consider the Nepal Evo GTX or Nepal Cube GTX as replacements.
Specs
Men's
Price
Historic Range: $200.00-$420.00
Reviewers Paid: $200.00-$420.00

Weight
2.110 per pair

Upper
3+ mm water-repellent Idro-Perwanger leather

Lining
PrimaLoft Gold Insulation Eco

Lasting board
Insulating Ibi-Thermo 9 mm

Midsole
6 mm Polyurethane with crampon attachment on the toe

Sizes
38 - 48 (+1/2) (49 - 50 on request)

Sole
Vibram Impact Brake System, easy to resole. Suitable for step-in crampons.

Women's
Price
Historic Range: $300.00-$395.00