La Sportiva TX3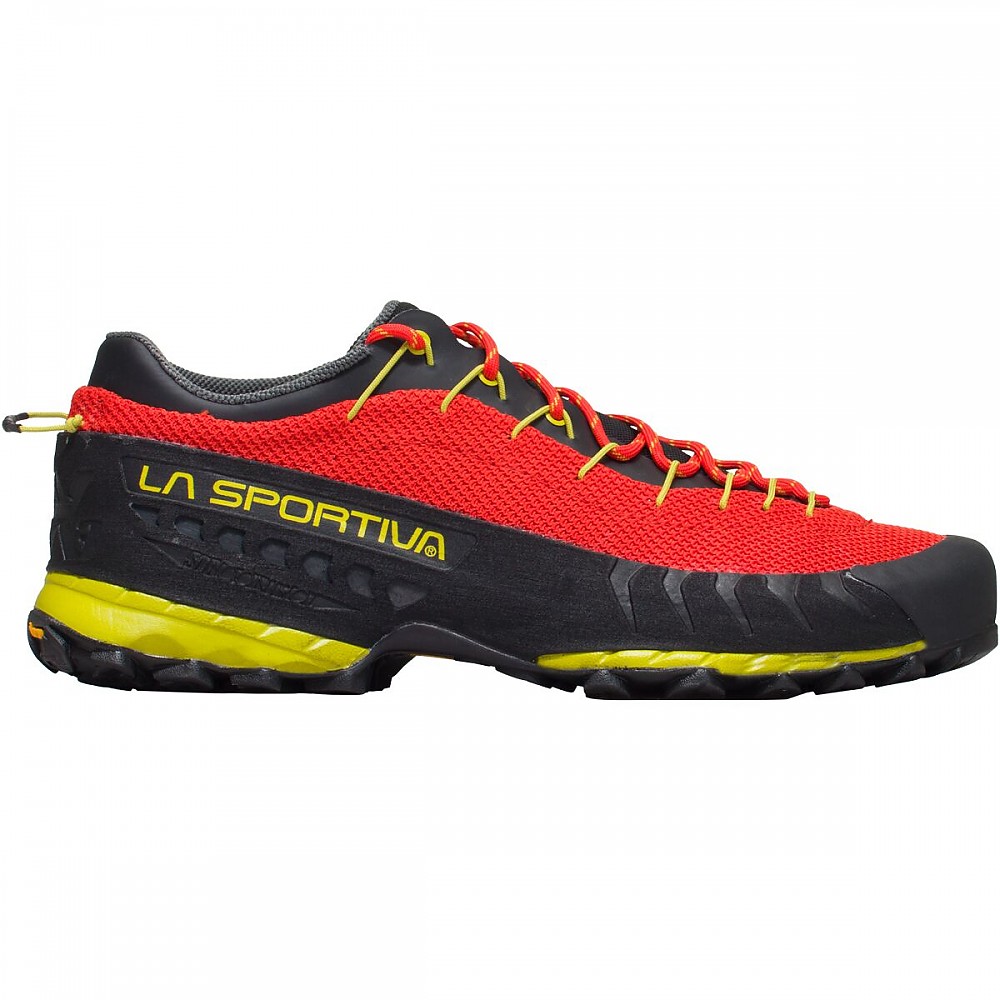 The La Sportiva TX3 is an approach shoe, which means that it is intended for both hiking and scrambling or light rock climbing. Like many of the best approach shoes, it has sole made from rubber that is very sticky and grippy on rocks, has the kind of close fit that rock climbers like, and a longer run of laces than a typical hiking shoe that helps them fit almost "like a glove."

At the same time, their mesh uppers, cushioned midsole, and healthy tread depth make them better than most approach shoes for hiking. If these shoes have any downside, the mesh could wear faster than leather from getting scraped on rocks—but you will see that hasn't been an issue for me. (Anything that spends a lot of time getting scraped by rocks tends to wear out faster, and mesh isn't generally as durable as leather.)
Pros
Sticky sole, yet good treads for mud
Lacing helps keep feet from sliding
Better than average cushioning, support
Breathability for hiking
Relatively lightweight
Wonderful on the rocks
Cons
Mesh upper could be prone to wear and tear
Support with the stock insole
One of the best all-around approach shoes I have worn. Highly recommended.
INTRODUCTION
The La Sportiva TX3, like all other shoes in this category, is a dual purpose shoe for both hiking and light rock climbing. As some of my photos show, I live near the Potomac River, in Maryland, and a lot of the hiking I do alternates between trails and river-smoothed rocks, scrambles, and slabs. The larger mountains in the Shenandoahs in nearby Virginia have a number of extended scrambles and exposed slabs.
Can you tackle the kinds of trails I often see in trail runners or light hikers? Absolutely, and both trail runners and light hikers tend to be more comfortable on trails than approach shoes. However, neither trail runners nor light hikers perform as well for light rock climbing. That's why I have, for several years, favored approach shoes for many of my local hikes that have meaningful sections that are more like easy rock climbing or scrambling.
This is the first pair of La Sportiva approach shoes I have worn, but it probably won't be the last. I have also used approach shoes from Five Ten, Treksta, and Oboz.
As I'll discuss in more detail below, approach shoes share some features that make them a better choice for light rock climbing: very sticky/grippy rubber soles, including a rubber toe cap and a flat front area for smearing; defined edges on the sole for edging; relatively thin midsoles to give you a good feel for the ground under your feet; and lacing that runs closer to the toe so you can really lock down the fit and avoid having your feet slide around. These are all features they share with dedicated rock climbing shoes, but no sane person would hike in a rock climbing shoe because they offer zero support and virtually no traction on normal trails—great for climbing, terrible for walking.
My size 12 pair fit well with a light hiking sock or thick running sock (more on that below). They run true to size.  (La Sportiva also makes the TX3 for women, with a last specifically for women.) The goal of an approach shoe is to wear one shoe that gets you to rocky trails, then enjoy the rocks without slipping and sliding. My pair weighs 26 ounces (one pound ten ounces). That's somewhat lighter-weight than other approach shoes I have worn, they tend to run at least two pounds per pair, and it is probably because these shoes have a mesh upper, whereas some approach shoes have an all-leather upper to help combat friction damage while rock climbing/scrambling. 
The TX3's upper is very breathable nylon mesh—super-hot orange on these, an extremely bright color. The sole of these shoes is made of sticky rubber, typical of this subspecies of shoe. The midsole of this shoe is closer to a low hiker than many approach shoes, and the combination of mesh and a softer midsole makes these particularly comfortable for long stints of walking and hiking. In this sense, they feel a bit like a pair of running shoes, though their soles are more firm and they have a much more locked-in fit. 
It's worth noting that I wore these with custom orthotics—I do that with every shoe I wear. However, in situations where I transitioned to climbing or scrambling, I stopped and swapped the orthotics out and put the stock insole in. I felt the stock insole, which runs the full length of the shoe, helped the shoes fit better near the ball of my foot for rock scrambling. On the other hand, I felt these shoes lacked some support for my flat feet while hiking unless I put in the orthotics. 
As you can see, the laces run fairly far down toward the toes, which is common on rock climbing and approach shoes to help ensure a tight, secure fit. The lacing system is interesting—speed laces toward the toe, and eyes combined with speed laces closer to the ankle. These are really easy to tighten. The soles have a well-defined edge, another feature of shoes made to ascend rocks using small protrusions, and a wide, flat area near the toes that helps provide extra friction. 
These shoes needed virtually no break-in time.  
The toes are covered with rubber—better to avoid dinging your toes and providing a little extra friction if you insert your toe into a crack while climbing. Also, they have loops behind each heel so you can clip them to a pack or climbing harness with a carabiner.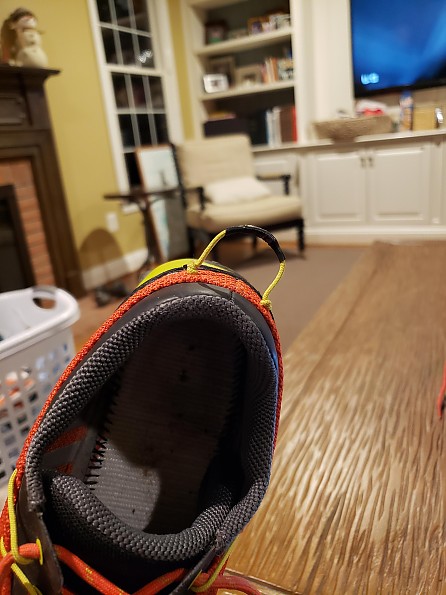 FIT
My feet have a normal heel and a wide forefoot. I wear wide sizes in some dress and hiking shoes, whereas shoes that run wider in the forefoot work well for me without width sizing. The TX3 has a wider forefoot. As I noted above, I wore these with 3/4 length orthotics for walking. For climbing, where you benefit from a tighter, closer fit, I swapped in the stock inserts for longer climbs or scrambles to add a little volume in the forefoot area.
Also, these have speed laces toward the toe. I thought the TX3 lacing system made them easy to get a good fit, no feet sliding around, with a number of different light-hiking socks, like Darn Tough's Hiker 1/4 Sock, Balega's Blister Resist Quarter sock, and FITS Light Hiker Quarter. The mesh upper is forgiving. I never blistered in these shoes.  
While many approach shoes tend to have stiff midsoles that make them better for climbing, the TX3 has a midsole that gets closer to some low-hiking shoes in terms of cushioning. That makes them more comfortable for hiking. Some climbers might prefer an approach shoe with a stiffer midsole and leather uppers that absorb abuse better while rock-climbing.
SUPPORT
These should be fine for people with a normal arch. If you are a larger person or tend to overpronate, think about using your orthotics or swapping the stock insoles for something with more support, like Superfeet or a custom orthotic.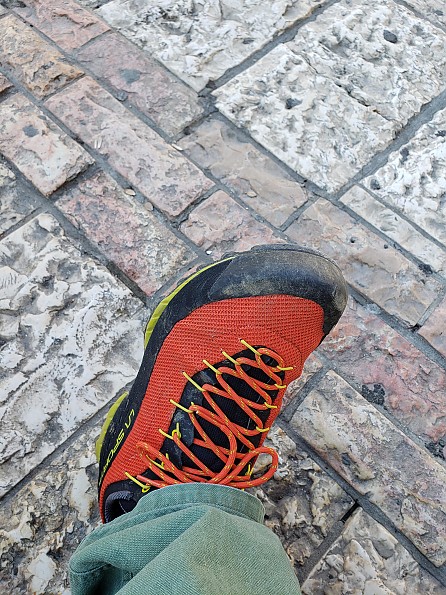 Better than average support, cushioning, and treads for hiking if you want an approach shoe that shines as more of a trail runner or very light, low hiking shoe. 
For rock scrambling and light climbing, these feel slightly less secure than stiffer, all-leather approach shoes. Nonetheless, I was surprised at the level of lateral support these had for such a light, breathable shoe.
WATERPROOFNESS/BREATHABILITY
These are fabulous in warmer weather—breathability is outstanding. They are designed to breathe, and I'm sure that is why La Sportiva makes these with a nylon mesh upper. If your feet sweat, moisture gets out of the TX3, so long as you're wearing a good pair of socks that wick moisture away from your feet. Many approach shoes are made from leather to protect them from getting damaged on rocks, and that means they tend to not breathe very well. These shoes are not going to make your feet feel damp or soggy due to lack of ventilation—quite the opposite. 
That said, whether they have synthetic or leather uppers, approach shoes as a class aren't waterproof. Rain makes rock and friction climbing highly treacherous. Leather approach shoes will get wet, soggy, and heavy when it rains; the TX3's very breathable mesh lets water right in. If you step in a deep puddle, wear them on a rainy day, or end up on muddy trails with the TX3, your feet are going to get wet.
I didn't treat these shoes with any kind of water-repellant, but I don't think it would make much difference. I use approach shoes on hikes when I expect to be scrambling and climbing up smooth rock slabs, which is pretty common near where we live, both on the trails by the Potomac River (rock smoothed by centuries of water flow) or the rocky trails and slabs in the Shenandoah in Virginia—neither of which are fun in the rain or when they're wet. The stickiest rubber in the world won't help much in wet conditions.
If you anticipate using these on wet or muddy trails to get you to your rock climb or scramble, bring an extra pair of socks.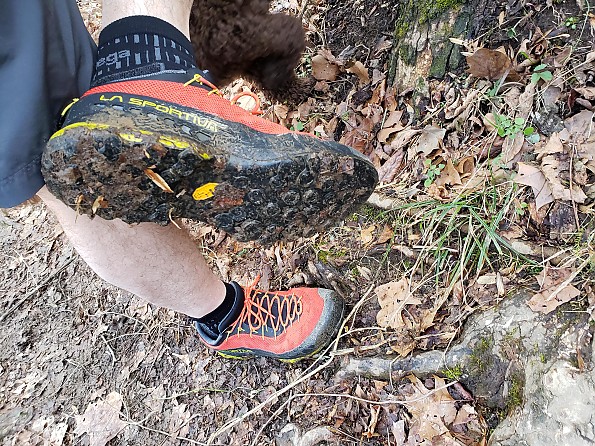 TRACTION
La Sportiva uses Vibram Megagrip rubber for the soles of all its approach shoes. It's a softer rubber compound that is very "sticky" on rocks, well-suited for climbing. These are quite grippy—among the better options I have tried, though most approach shoes are pretty good at traction on rocks.
The flat sole under the toes made these great for smearing my way up slabs on one of my favorite local trails. At the same time, the big, flat lugs and treads on the TX3 provide outstanding traction on rocks, gravel, even in mud. Check out the photo in the section above—that was a particularly muddy day, where I alternated between deep puddles and sloppy mud for a couple of hours. That's fairly unusual for an approach shoe—many shoes in this category sacrifice trail traction for more surface area and grip on smoother rocks.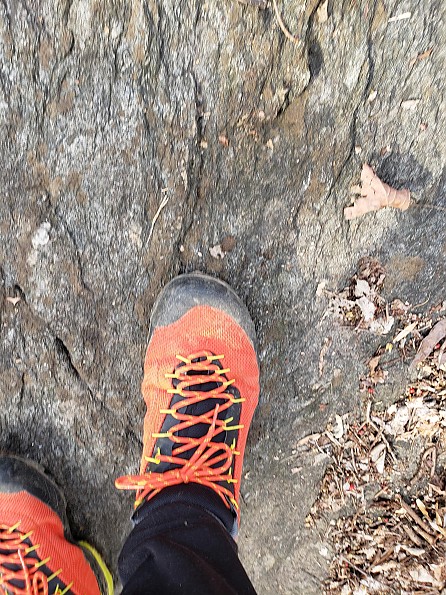 The rubbery toe cap and nice edges on the outside of these shoes also help provide better traction for climbing.
So, what sets these approach shoes apart from many competitors is the deeper lugs across the entire sole. These perform almost as well in mud and on dirty, gravelly trails as light hiking shoes as far as traction is concerned.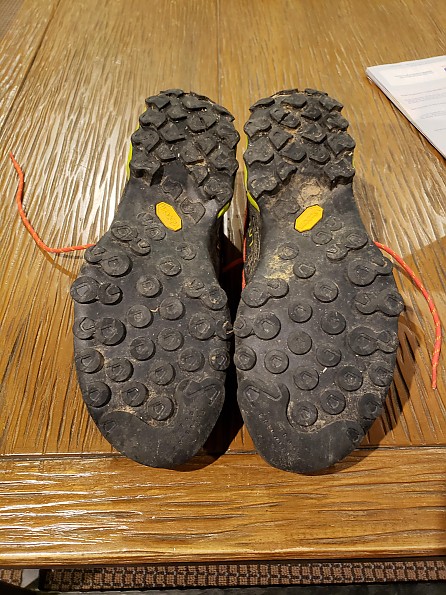 The inevitable trade-off with softer, grippy soles is wear. These have done well considering the amount of walking I did in them, but they'll wear faster than harder, more wear-resistant soles you find on most trail runners and light hikers.  
DURABILITY
I initially had concerns the mesh uppers would wear through; that hasn't happened. If someone uses these relentlessly on rocks, it's still a point to think about as compared to leather approach shoes. Still, give La Sportiva credit; these are well-made and have proved to be very durable so far. I had the same thoughts about the speed laces and heel loops. They look kind of thin and prone to wear. Still, despite a lot of hiking and scrambling in these over three months, none of that tore or was compromised in any way.  
TESTING CONDITIONS
I have used the TX3s for the past three to four months. Local trails I normally use are by the Potomac River and are a mix of sand, gravel, and rough and smooth rocks. A pretty good testing ground. I also brought them on a trip to the Middle East and used them for walking around Jerusalem and Tel Aviv, in parks, in the desert, on a half-day archeological dig, and in an oasis that alternated between water-smoothed and jagged rocks. On more than one occasion, our wet Mid-Atlantic winter meant I used these on some fairly wet, muddy trails as well. While I have not kept track of the mileage, I easily exceeded fifty miles in the TX3s.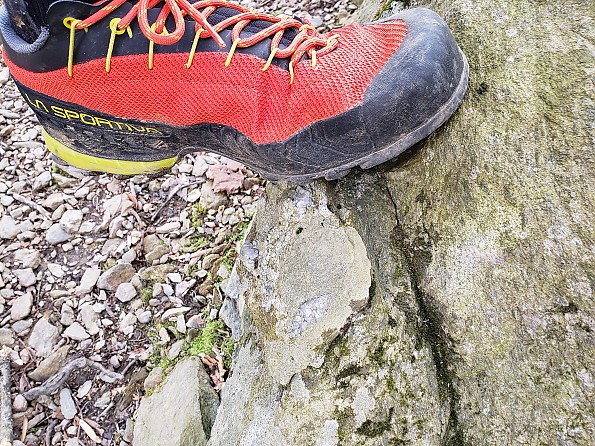 The most weight I carried in these was around 30 pounds. That's about as much weight as I will carry in a pair of low shoes with no ankle support. The soles and midsoles are thick enough to protect feet from most normal obstacles. I would choose a shoe with more ankle support and at least a partial shank for the most jagged hiking trails or for carrying any reasonably large backpack. 


SUMMARY
Approach shoes serve a fairly specific purpose—they combine the ability to get to a steep climb and great traction for light rock climbing and equivalent types of activity. This genre of shoe (not just the TX3—any approach shoe) lacks the cushioning of most trail runners and the support of most trail runners or light hikers. The TX3 is great for climbing, slabbing, and scrambling, and they are very comfortable for light hiking too.
I have worn three other brands of approach shoes over the years and have liked them all for various reasons. These have some crossover qualities you will find in a trail runner/low hiker that make them a better choice for the hiking aspect of their mission than most of their competitors—a little more cushioning, lighter weight, a more forgiving and breathable nylon mesh upper. They're as versatile and useful in multiple situations, as any other approach shoe I have tried.  
I gave them 4 ½ stars because they do so well at both hiking and climbing overall; for the climbing aspect, they are excellent.  
Experience
3-4 months of trail hiking and scrambling in the mid-Atlantic and a two-week trip in the Middle East (combination of city walking and hiking).
Source: received for testing via the Trailspace Review Corps (Sample for testing and review provided by La Sportiva)

Your Review
Where to Buy
Help support this site by making your next gear purchase through one of the links above. Click a link, buy what you need, and the seller will contribute a portion of the purchase price to support Trailspace's independent gear reviews.
You May Like
Specs
Men's
Price
MSRP: $135.00
Current Retail: $135.00-$159.00
Historic Range: $89.99-$159.00

Sizes
38-47.5 EU (half sizes)

Weight
12.50 oz / 360 g

Last
Traverse

Construction
Strobel lasted

Upper
PolyMesh / 1.5mm PU TechLite rand / Vibram rubber toe rand

Lining
Non-slip mesh

Midsole
Traverse injection MEMlex / STB Control System

Sole
Vibram Mega-Grip Traverse with Impact Brake System

Women's
Price
MSRP: $135.00
Current Retail: $135.00-$159.00
Historic Range: $69.99-$159.00

Sizes
36-43 EU (half sizes)

Weight
10.00 oz / 288 g

Last
Women's Traverse

Construction
Strobel lasted

Upper
PolyMesh / 1.5mm PU TechLite rand / Vibram rubber toe rand

Lining
Non-slip mesh

Midsole
Traverse injection MEMlex / STB Control System

Sole
Vibram Mega-Grip Traverse with Impact Brake System