MEC Tarn 3 Plus

The Tarn 3 Plus has been discontinued. If you're looking for something new, check out the best three-season tents for 2023.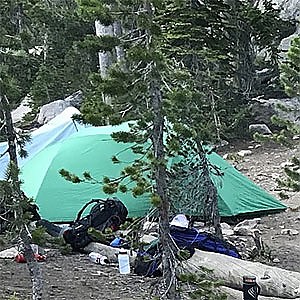 A great tent that I've been using for many years, and hope/expect to get many more years of use from it.
Pros
Large size
Solid when pitched
Decent vestibule
Holds up in wind (and rain, mostly)
Breathable
Story Time:
Okay, first off, I should mention how I came into possession of this MEC Tarn 3 Plus tent.
About 10-12 years ago, I frequented eBay quite a bit looking for great deals on lightly used mountain bikes and other equipment. One day, I came across a police auction site, propertyroom.com. It has since gone downhill a bit, but back then, it was a decent place to find nice mountain bikes and camping equipment, among other things. 
One day, I noticed a listing for some random camping gear, which included pictures of what appeared to be a wadded up tent and some other gear. However, one thing did catch my eye... a small bag with the MSR logo on it.  I couldn't tell what it was exactly, but based on the size and shape, I was guessing it was a backpacking stove, which I didn't own yet. So, based solely on the possibility of getting an MSR stove, I placed a bid of around $17, plus $12 for shipping, as I recall.  
When it arrived a few days later, I found I had hit a mini jackpot!  I found the following items in the box:
1. MSR Dragonfly stove—complete and operational (once I bought a fuel bottle).
2. Therm-a-rest sleeping pad—old Prolite version, well used, but still operational.
3. A small kids Coleman tent—I had no kids at the time, so I didn't have a use for it.
4. The MEC Tarn 3 Plus tent—never heard of this brand so didn't know right away what to think of this tent.
5. A couple other small random items.
Even though all of the equipment was used (some more heavily than others), after some research, I came to realize I had purchased over $300 worth of quality gear for only $30. To make the deal even better, I sold the kids Coleman tent for $25, bringing my net cost to less than $5!
Initial Impressions
So, after a google search on the MEC Tarn 3 Plus tent, it appeared MEC was the Canadian version of REI in the US. So, I figured the quality would be pretty good. I got it set up in the yard and quickly realized the quality was much better than the tents I was used to using when camping (think cheap Walmart-type products). The full-size rainfly was nice, and I noticed this vestibule, which I had personally never seen on a tent at the time (keep in mind I was in my early 20s, and really just getting started on my own with quality camping and backpacking gear).
It was pretty easy to pitch. It even seemed lightweight to me at the time (I've since come to realize differently). The tent was used, and had a bit of a funk smell to it, and a small tear in the rainfly had been repaired (appeared to be a very high-quality repair, with super-tight stitching on the outside and a taped on the inside to provide a water seal). But, it was a few years old, and a used tent. And I paid pennies on the dollar for it! So, overall, I was pretty excited about it!
Actual Use
So, fast forward a decade years, and I've had a chance to use this tent dozens of nights, from sleeping in the backyard with my kids, to car camping, to hauling it up into the High Uintas of Utah and Sawtooths of Idaho. I've been overall very happy with this tent!
Setup
The setup is relatively straightforward. Roll the tent out, stake it in, insert the poles into the corners, attach the color-coded clips to the poles, put the rainfly over it, and stake in the corners of the rainfly to create the vestibule. Sounds pretty much like most tents. The color-coded clips for the poles help to know the proper routing of the poles.
Stability
The tent is very stable, and has withstood high winds without problems. In fact, one night up in the High Uintas, we had what seemed to be a fairly breezy evening, but my brother and I slept in the MEC Tarn tent pretty well. Well, when we woke up in the morning, we found out my brother in law hardly slep at all throughout the night, as the wind was caving in one side of his cheap dome tent to the point he had to spend a portion of the night holding the poles up to keep the tent from collapsing. I realized how stable the Tarn 3 was when staked out, even though we hadn't even bothered with the additional guylines.
In the photo below, you can see the two different tents on that trip, with the Tarn 3 the green tent on the left.
Weather Resistance
I've also used the tent in some pretty heavy rainstorms. Only in one storm has water ended up inside the tent, and that was my fault. On another trip in the Uintas, we arrived just as it was starting to sprinkle a bit, but we heard thunder in the distance. We set up our tents quickly, and about an hour later, the main storm hit us. We hunkered in our tents for about an hour, while rain and hail took turns assaulting our camp. During that time there were four or five dops of rain that dripped from one spot. Then, I glanced over and noticed that water was three-four inches high on the outside of my tent. I looked at the floor of the tent, and there was a tiny bit of moisture seeping up through the bottom of the tent, but to the point it had started to absorb into our sleeping bags. 
I got out of the tent, stepping into about 4-5 inches of water, and realized there was a log that had blocked the runoff, and forming a low spot where we had pitched our tent, creating a small "lake" that our tent was in. I quickly dug out a spot for the water to exit, and the water poured out of the "lake". But, the damage had been done, our sleeping bags were wet due to our poor choice in location. My brother had left a pot out in an open spot, and we found there was nearly 4 inches of water in the bottom of it, in just over an hour of rain.
Despite some leakage, I was actually quite impressed with the tent. It withheld a deluge, and even survived as best as could be hoped for considering it was basically sitting in a lake 4 inches deep. With wet sleeping bags, we decided to just pack up and head back to the trailhead for the night. After that trip, I used some seam-sealer to try and help, but haven't encountered anymore storms to test it in.  
Here is a picture of the tent after I started taking it down. Most of the water currently inside it was actually from the rain that came after I took the rainfly off.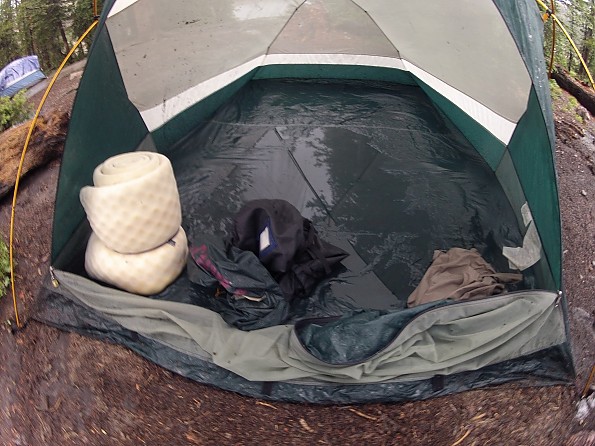 Ventilation
I've never had to deal with any condensation in this tent, but that could be a function of the normally very non-humid, desert conditions I have used it in. Or perhaps it just vents that well... after all, the majority of the upper tent body is mesh.
Room & Storage
As for the capacity of this tent, I've been very pleased. Sleeping two people is very comfortable, although I wouldn't mind another 6 inches in interior length. But that's just me. Plenty of width for just two. I've even been able to bring a change of clothing and other small items into the tent and keep it next to me without feeling like I was getting pushed up against my tent partner. I even put a queen-sized air mattress inside the tent, with just minimal squeezing at the foot.
The "3 Plus" would seem to indicate you could sleep 3 people. However, it would be a very tight squeeze to fit three adults in this tent. Could you do it in a pinch? Absolutely. But like pretty much any three-person tent, no one would be particularly comforable with the sleeping arrangements.
I have, however, used this tent multiple times when camping with two of my kids, and we all fit very comfortably. I sleep in the middle, and a child on each side, and I've never felt cramped. So, plenty of space for that arrangement.
There are a couple of interior stash pockets that I have used and been satisfied with. 
The vestibule is very nice to have, although it comes down at a fairly sharp angle, which can make accessing the zipper from the inside a bit of a long reach. It also reduces the overall usability of the vestibule space a bit. But, it has served me very well as a spot to put my boots, and I've even put a backpack inside it. Fitting two backpacks would not work so well.
I'm a bit torn on this aspect of the MEC Tarn 3 Plus. It is a 3 Plus person tent. It's not meant to be a lightweight tent. At about 7.5 pounds, it's not too bad for what it is, but it is still a bit on the heavy side, even when sharing the weight with one other person. It does pack up into a nice-sized bundle, with an oversized bag that allows for ease of packing, even when completely soaked.
A separate bag for the stakes and a separate bag for the poles allow for easy sharing of the weight.
Ease of Use
I've had no issues in this department. Zippers all work fine, poles attach as expected, fly fits great...
Contruction & Durability
Depending on how high your expectations are when it comes to durability could affect your thoughts about this tent, at least based on my experiences.
To caveat this, keep in mind that I bought this tent used. I bought it around 2006, 2007 timeframe. I don't know how old it was when I bought it, and I don't know how much it was used by the previous owner. Based solely on the fading of the rainfly, it appeared to me to have been used substantially prior to my purchase. I've now had the tent for 10-12 years, and used it probably about 40-50 nights.
With that said, I have had two issues related to durability since I've purchased it. First, one of the clips that attach to the poles has broken. It was not broken when I got the tent, but I don't remember when or how it broke. But, luckily it's a clip that has not really affected the overall use of the tent. I'm still able to pitch the tent easily.
Second, following that massive rainstorm I discussed above, when I got home I pulled out all my gear in the backyard so it could dry, but i left the poles collapsed. Well, it appears the sun damaged the bungee inside one of the poles as it no longer functions properly. I can still get the pole connected by manaully stuffing the bungee into the poles as needed, but it is a bit of a pain. But again, this could be more user error rather than a fault of the tent.
Overall
The MEC Tarn 3 Plus tent has been a great tent for my purposes. It's not the lightest tent. I've even considered buying a new, lighter-weight tent, that might even have a larger vestibule or other nice features. But, at the end of the day, it is spacious and comfortable for two people (or one adult and two kids), and I have no plans to get rid of it anytime soon. 
I also own a Eureka Spitfire 2 tent that weighs in at just under 5 pounds that is also pretty comfortable for two; however, over the years I have been more likely to reach for the MEC Tarn 3 Plus for its added space and vestibule.
Speaking of which, here are both tents, with Tarn 3 in the foreground with the Spitfire in the background.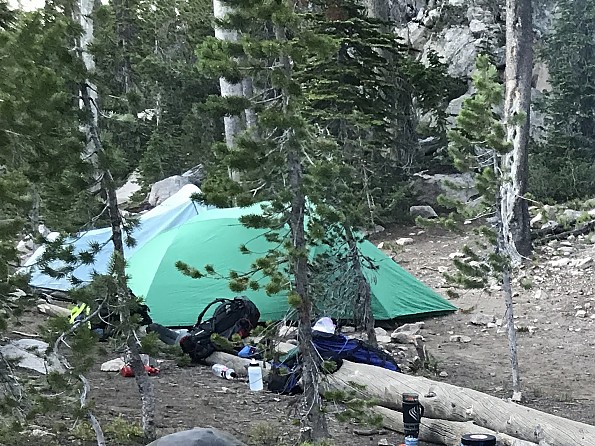 Source: bought it used

A roomy, lightweight tent at a fair price. However, a poor fly design. The fly fits the body of the tent poorly. Way too tight to the point it feels like it will rip while fastening to the bottom clips. As well, because the positioning of the poles, the vestibule cannot be tied back properly.
Overall, the Tarn 3 "Plus" was not thought out well when designing. This proved to be a great surprise considering it is manufactured by MEC.
Design: 3 season
Sleeps: 3
Ease of Setup: easy tent setup, laboring fly attachment
Weight: 3.17 kg
Price Paid: 255 can$

Your Review
You May Like