Meindl Nordic 3-Pin Backcountry Leather Ski Boots

The Nordic 3-Pin Backcountry Leather Ski Boots has been discontinued. If you're looking for something new, check out the best telemark boots for 2023.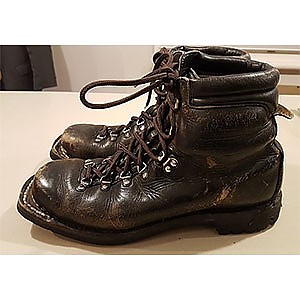 Telemarking is not dead and neither are these boots. Incredible value for money, these boots have lasted me over 30 years. Not much of my gear has done as well as these boots. But after 30 years I am ready for an upgrade.
Pros
Quality
Robustness
Comfort
Longevity
Cons
No longer made
Need treatment
Pin holes slightly elongated
Minor cracking
I bought these beautiful Meindl duckbill 3-pin or 75mm boots in the 1980s. They cost a lot of money back then. Pulled them out again this year for a short cross-country / back-country adventure and they still impressed. I never dreamed that they would last 30 (+) years, but they have.
Meindl have been making hiking boots since 1683, well over 300 years. I am surprised that they don't make these anymore or a modern equivalent. Since the 1990s much of the world has gone plastic, but nothing really beats the comfort of a leather boot. I read a website tonight that said that the "zealous faction of skiing tele still breathes and its pulse has never waned". But they will not last forever so I am starting to look around. And I am a bit scared to do an expedition in them.
Skiing in Australia
This has been a bumper year for skiing in Australia. Many are getting out old skis they have not used in a while.
The real question is what do I do next? I now have two pairs of XC skiis. My Meindl boots and 75mm bindings have served me well for a long time. These two are the survivors, quite a few others have failed:
(1) For back-country touring, a pair of Haga Telemark skis. They are probably 30 years old as well. Metal edges with an Edsbyn 3-pin classic 75mm binding. Despite the metal edges, they are pretty lightweight (60-54-57). They weigh half of my Völkl resort skis (2.9kg with bindings). 
(2) For carving telemarks at resorts I recently acquired a much heavier pair of "Völkl Vertigo G11" parabolic downhill skiis with Targa G3 cable telemark bindings. They do weigh a ton (4.8kg with bindings). Hence the need for a cable binding. I would not want to ski any distance with them. The famous Kiandra to Kosciuszko tour which is Australia's classic long-distance ski tour is totally out of the question. Australia is a hot place and you often have to walk a long way (10-20km) to complete the tour. There is rarely snow on Happy Jacks plain. 
My Meindl boots fit both skis. This is the dilemma I am now facing after 30 years.
Future Options
There are a gazillion options for XC ski boots and bindings. The NNN and SNS are principally for skate skiis, both are too light for back-country. 
Plan A - Go lighter. A step down is the lighter weight NNN-BC style binding. The cons are that I lose a bit of that telemark feel and edge control. Harder on hills, but better on undulating terrain. And that means buying new skis and bindings to match. The Alpina Alaska NNN-BC is the most expensive boot in this class. But unobtainable in Australia. The equivalent Fischer and Rossignol boots are not quite as solid but still very good. NNN-BC is not quite the same as 3-pin or 75mm. The NNN system is lighter duty and more comfortable for touring, but I am nervous about going lighter. 
Plan B - Stick with the classic 75mm style leather boot and current bindings. The best is the Alpina Alaska in a 75mm binding. This is definitely an upgrade. It is a well made leather nordic boot with a 75mm binding. The reviews are fantastic. But they are impossible to obtain in Australia. Fischer and Rossignol boots are sold locally but 75mm is getting rare. Most manufacturers seem to sell the same boots with both NNN-BC and duckbill options.
Plan C - Go heavy and plastic. I have considered upgrading to the Ti system (which I believe has been around since about 1992) or the even newer plastic NTN system with the duck-butt (circa 2006), I will need a couple of new bindings, boots, etc. And I am told that plastic boots are not good for any distance but I have never tried it. The Scarpa T4s sound like the best option, the others are too stiff.
I have never heard of anyone doing Kiandra to Kosciuszko especially the Happy Jacks plain in plastic boots. 
Not sure what I am going to do. Next year's dilemma. 
Source: bought it new
Price Paid: $200 in about 1986

Your Review
You May Like