Merrell Moab Mid Waterproof
Rating:


Source: bought it new
Price Paid: Nothing (used "free" coupon dollars)

Summary
The Merrell Moab Mid Waterproof upholds the manufacturer's good reputation, except for one major issue. They are very comfortable, relatively wear resistant (considering it is a lightweight boot), and provide excellent support and traction on the trail, but are not in my experience waterproof after the first 6 months.

I will continue to use my Moabs for fair weather fun, day hikes, and work, but will not rely on them for keeping my feet dry over multi-day trips.
Pros
Comfort
Price
Durability
Traction
Cons
NOT Waterproof
Not easy to clean
I got the Merrell Moab Mid Waterproofs basically for free (OK not really — we replaced an elliptical that was worn out with a new one two years ago and got "free" dollars to spend at the sporting goods store after dropping about 1K in there!). 
I had been considering dropping back from my heavy 10-year-old full grain leather (FGL) Asolos that have seen many hundreds of trail and work miles (I spend 2 days a week at least in the woods for work as well as playing in my off time). Going with the lighter boots (1 lb 15 oz total for the pair is the manufacturer's claim) seemed like a no-brainer since I didn't actually have to shell out any more cash, so I could gamble with an experiment of a lighter pair of "waterproof" boots for winter hiking (falling back to my FGLs for poor weather and snow). 
These lighter boots also run much cheaper than FGLs for the most part ($120-130 retail). The sporting goods store had limited selection, but did carry Merrell so I ordered these.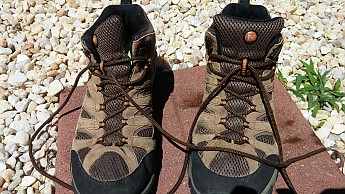 Note:  I wish I had taken some photos of these boots "in action" but in looking back saved the SD card space for views etc...all the photos in this review are of the boots today after two years of use described below.
I have worn these boots in a variety of situations over the last two years including:
Multiple 2-5 night backpacking trips in weather ranging from the low teens to mid 70s. Trips ranged from 15-20 mile short outings to 50+ miles over 5 days. 
Trail conditions included wide open, well maintained (Appalachian Trail and others), as well as rocky terrain, mud soaked over-used horse trails, and a significant amount of bushwacking through scrub areas with brush tearing at the boots.
An average of 3 days a week for work including office and field days along roadsides and in undeveloped areas through cutover timberland up to full forest.
Right out of the box they fit extremely well even though I have thin heels but a wide foot. The standard 11.5 size fit great from the get-go and it is still one of my most comfortable pair of shoes I will regularly wear for work.  I didn't actually weigh them when I got them because they felt so light and comfortable, but just put them on the scale and found that each weighs 1 lb 5 oz with Superfeet inside and probably a lot of trail dirt hidden around.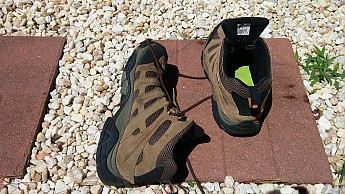 I added the Superfeet insoles to the boots immediately as I am used to wearing those, so can't speak to the support of the original manufacturers insole. Lacing is limited in its adjustability as only the last upper eyelet is an open hook (the rest are fabric loops). This deters your ability to switch between lacing patterns, which I prefer to do on my FGL boots that have hooks on the upper three pairs. However, the Moabs fit so comfortably I never really felt the need to adjust that much.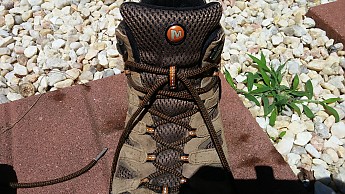 I did break them in around the office and home for a week or two before really putting them to the test, but I am not sure it was necessary. At first, I though they might "crease" a bit just below the toes, but the boots are so flexible this never really became an issue.
The gusseted tongue does a good job of keeping dirt and debris out of the boots, but I also tend to wear low gaiters on anything except completely open trail so it is difficult to really assess that. The tongue has lots of padding so even tight lacing did not irritate my bony feet.
Support was excellent when the laces were tight. When a little loose, the ankle support (which I prefer due to an old recurring soccer injury) was not as good as my FGLs. It did allow my weak right ankle to "tweak" a few times until I got the lacing right. The soles supported my feet well (note above the Superfeet insoles affect that analysis), and I feel there is a good balance between "feeling" the trail and protecting the feet in these boots.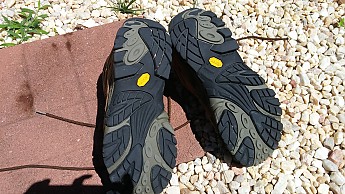 Traction was good — these are not super lugged soles but I can't recall slipping on anything that any other shoe or boot I have worn wouldn't do the same (slick rocks in creeks etc). I had full confidence in the traction on steep and rocky trails even when they were iced over in the winter, with the appropriate care in where I step.  Even after two years of use, including rocky trails and a lot of walking on roadside concrete and asphalt for work, the soles provide similar traction as they did new.
I feel the boots are a bit warm, and seem only slightly more breathable than my FGLs. However, I bought these for the cooler seasons so wasn't too concerned by this.
Another issue is the mesh and leather "patching" of the uppers makes it difficult to fully clean them. If this doesn't affect functionality I am not concerned, but I do wonder if that contributed to the wearing down of the "waterproofness" over time.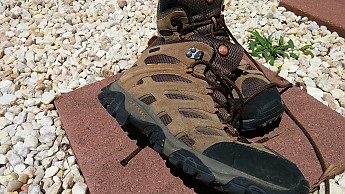 Construction seems a little cheap—mostly glued soles and toe protectors with lots of visible stitching along the uppers where the mesh-leather transitions back and forth, and a made in China label. That said, I expected these to last a very short time but have been proven wrong. There is no separation yet along the soles, and the uppers are in good shape even considering my tendency to bushwack which runs me into brush that scrapes along the boot.
Again, I consistently use gaiters so that may have provided a significant level of protection. Overall I am surprised but pleased by the durability considering a lot of other reviews say that they fall apart and have sole separation issues.
By far the biggest issue is that the "waterproof" label (literally on the side of the boot) is, in my opinion, false advertising. I tested this thoroughly in streams, rain, and wet grass. Merrell claims these have a "waterproof leather and mesh upper" using their M Select Dry technology.
Based on my testing this was true only for the first few months at best. Through rainstorms and mud soaked ankle-deep trails as well as stream crossings I was extremely pleased with how dry my feet stayed for the first six months or so.
At some point this began to wear off even with meticulous care of the boots (see photos after two years of full and regular use). Now walking through just wet grass allows moisture into the boots. A full rainstorm can be felt in the toes below where my gaiters cover. And to make matters worse, as expected the "waterproof" construction seems to prevent the boots from drying out quickly once they get wet. I would classify these boots as "Water Resistant".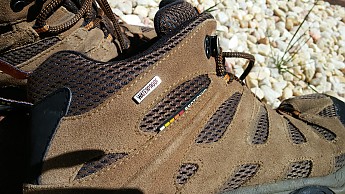 I would recommend trying the non-waterproof version of this boot, if you are looking for a light boot with support.  The additional money for the waterproof feature seems to be a bad investment. There are older versions that have the GoreTex label which may be better on the waterproof side, but just a quick check on the internet shows that some sources advertising this have the wrong construction. Look at the small grey tag (newer ones say "Waterproof" while older say "GoreTex") before spending the cash. If you can find a real Goretex pair, it may be worth the gamble to try them as in most other areas these are excellent boots.
If the Moabs were not advertised as "Waterproof" I would give them 4.5 stars, but the fact that Merrell clearly claims this feature led me to the significant drop in rating. I will continue to use them for good weather hiking and work as they are probably the most comfortable boot I have owned in 30 years, but will rely on my old FGLs or a different pair of ventilated but quick drying boots (stay tuned) for winter/summer hiking respectively.
Where to Buy
sponsored links
Help support this site by making your next gear purchase through one of the links above. Click a link, buy what you need, and the seller will contribute a portion of the purchase price to support Trailspace's independent gear reviews.