Morsel Spork XL

Top 50 in Utensils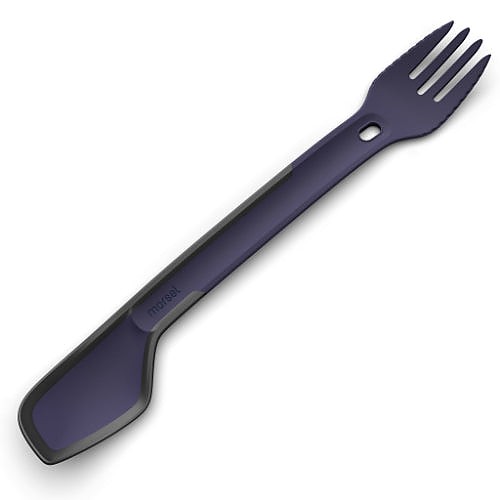 Specs
Price
MSRP: $12.95
Current Retail: $12.95
Reviewers Paid: $12.95-$30.00

Reviews
6

reviews

5-star:

1

4-star:

3

3-star:

0

2-star:

1

1-star:

1
This is the eating utensil that saves you from carrying a scraper and getting your hands dirty from reaching into a deep pot or pan—all while providing you with a sturdy fork and spoon combo (with a mild cutting edge, too) to shovel food into your hungry mouth with ease. Perfect for those who often rehydrate food, but not for use as a cooking utensil in hot pans.
Pros
Long handle provides easy reach into deep food pouches and pots
Sturdy, one-piece molded construction
Ingenious built-in scraper
Cons
Length doesn't stow within small cooking pots
Can't be used as a cooking utensil over heat
Morsel (XL)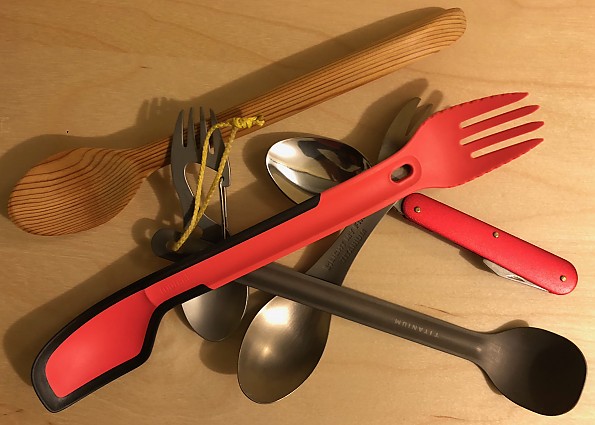 Confession: I probably have enough cooking and eating gear to outfit a small Scout troop. The last thing I need is more gear, yet I recently bought a pot and pan combo, an insulated coffee mug, and a Morsel. After all, I needed a pot big enough to hold my new stove and a canister of fuel, and I've been "needing" a winter coffee mug, and the Morsel...? Well, read on...
Full disclosure: the Morsel was the product of a recent, successful Kickstarter by Hadron Gear which I supported (for a grand total of USD $7, which got me the Morsel). It is part-spoon and part-fork, initially resembling a spork, but the key difference is the food-safe elastomer with a rubber-like texture that lines a long straight edge of the asymmetrical spoon bowl. This feature allows the Morsel to function as a scraper, too.
Features
The Morsel is designed and made in the USA. It is made of polypropylene that is molecularly bonded to a rubbery, food-safe elastomer during the Morsel's molding process. It comes in blue, red, green, midnight (dark blue), and grey and sells for a current MSRP of USD $12.95.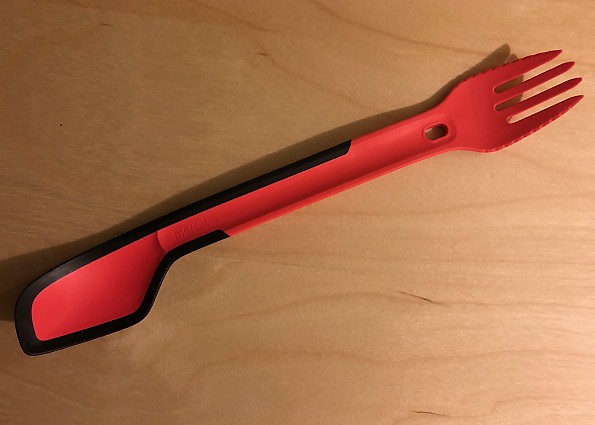 Stretching 10.5/ 26.7 cm long and weighing .85 oz/ 24 g, this utensil reaches easily into the depths of those cavernous two-serving freeze-dried meal bags.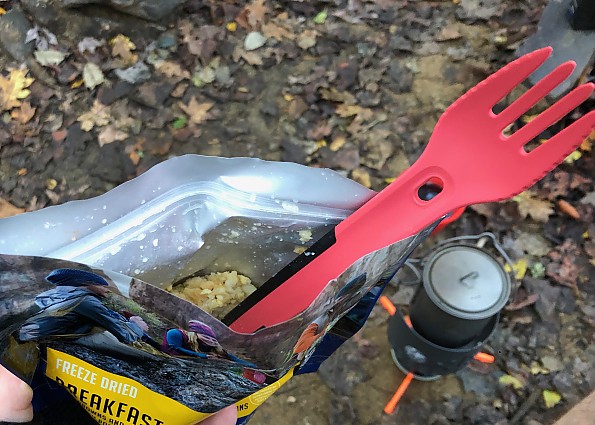 The fork points are sufficiently pointed to stab food yet rounded enough to avoid being dangerous. The central tines are subtly reinforced on the bottom with additional ribs, resulting in a very strong design.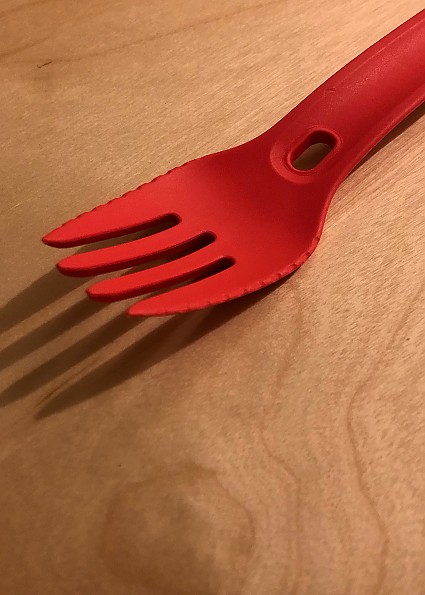 The polypropylene has a little flex in it, yet it inspires one with its strength. Even the edges of the fork, which feature indentations to aid in cutting, have a firm, strong feel. "Sawing" with a fork edge here to cut food won't result in broken fork tines.
The handle is fluted on the top and bottom which again creates subtle ribs to add strength to the Morsel's handle while providing a really nice hand feel (and possibly shedding unnecessary weight  too). A hole just beyond the fork allows one to attach the Morsel to the outside of a pack with a small carabiner or S-clip.
The rubbery elastomer extends 6.5 in/ 16.5 cm down the straight side of the handle and along the straight edge of the spoon's bowl. This permits scraping along this entire distance. In the past I've used my GSI Outdoors Compact Scraper, a useful little tool, but the Morsel provides me with a much long scraping length to accommodate deeper pots without getting my fingers or hand dirty from reaching inside.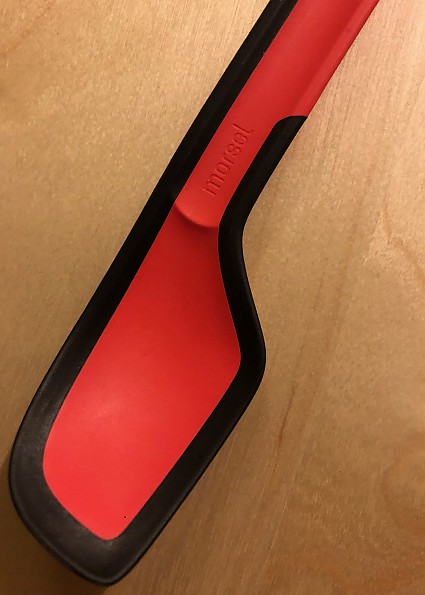 As Hadron Gear notes, the spoon bowl is designed to accommodate both the gently rounded curves of some pots and pans as well as the more squared off edges of others. It accomplishes this by being asymmetrical and avoiding an oval spoon bowl shape. The result is three different "corners" of the spoon, each with a distinct geometry to accommodate a different pot geometry and each provided with the rubbery elastomer for easy scraping. As a plus, the elastomer also has a nice mouth feel, as indeed does fork end, too.

The bowl of the spoon is angled slightly up from the handle, creating a really nice and natural position for the Morsel in the hand when one is using the spoon. Similarly, the fork end is also slightly upturned, too. Breakfast Skillet, anyone?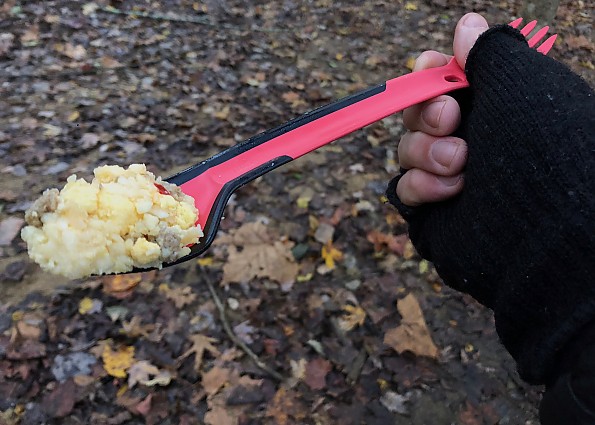 Functionality and Use
I began my utensil journey with a Boy Scout utensil set decades ago. Stainless, functional, and heavy. Over the years other utensils have come my way as gifts. Others I purchased. Somewhere along the way I graduated to the Light My Fire plastic sporks until I lost some and broke others. Then I bought their titanium version, which I still have (bottom, below).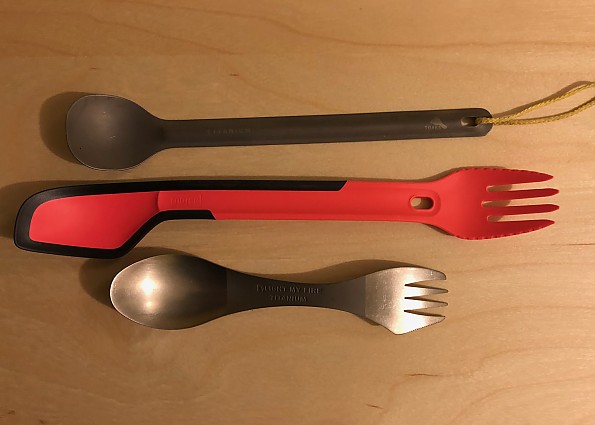 When I decided I needed a long spoon for freeze dried meal bags, I bought a long-handled TOAKS titanium spoon (top, above). Like the Morsel, its spoon bowl features edges intended to help get food out of the edges of pots, but it lacks the Morsel's rubbery elastomer. It is also shorter than the Morsel (or Morsel XL as it seems to be called in its post-Kickstarter iteration—a smaller Morsel and a Morsel XL spoon are also already available or in the works). The image above offers a size comparison.

The Morsel generally works better than each of these by virtue of its greater utility and—in some cases—greater strength. It digs deep into the corners of pots and pouches. Its spoon is certainly "mouth-sized" yet it is more capacious than either the Light My Fire spork of the TOAKS spoon. It has a more natural hand feel than the Light My Fire, which requires one to hold the upside-down spoon in order to use the fork.
With the Morsel one can use either end or even alternate ends. Ultimately, when the last bite of biscuits and gravy or Pad Thai is lurking in a cranny in a pot or pouch, the Morsel's scraper saves those delicious calories from being lost.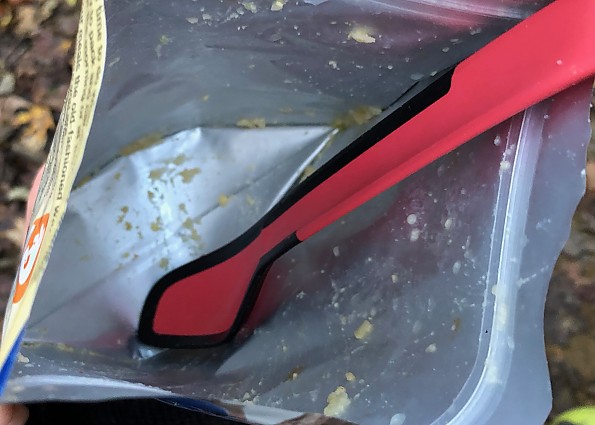 Cleanup is as easy as one might expect. In the field a good licking with maybe a splash of water sufficed; at home it is dishwasher safe.
Possible Drawbacks
First, as much as the size is a virtue to me, I could readily understand others rejecting the Morsel's length as being not practical to fit in a cook kit. It can be clipped via a carabiner to a bag, though, if one wishes to do so.
Second, while the Morsel can be used in a dishwasher and is boiling water-safe, it is not recommended for use in a pan over a heat source. I assume this is due to the materials and construction of the tool, and it is indeed a shame that you can't use it to stir food over a fire with the Morsel.
Conclusion
Ultimately, the Morsel is a useful tool for a backpacker or camper who intends to eat primarily rehydrated food. It saves one from having to pack a pot scraper while providing a robust spoon and fork combination. The long reach of the utensil and its unique design—part-polypropylene, part-elastomer—make it extremely useful for not only eating, but also cleaning pots and pans. Less food waste, more calories for the trail.  It is durable yet relatively lightweight, too. Its clever simplicity is appealing, but its functionality is solid, too. If it could be used as a cooking utensil, too, I would have given the Morsel five stars.
If you've broken a spork, dirtied fingers trying to reach a small spoon into a pot or bag, or longed for a scraper to capture the elusive last bite of something delicious, the Morsel (XL) might be just what you've been looking for.
Experience
I have used this utensil at home and on backpacking trips since receiving it a few months ago. In the field, it's been my go-to utensil for many freeze dried meals. It has floated around our kitchen often, too, as I've grabbed it to eat biryani and other dishes while pondering what foods I next want to take to the woods with me.
Source: Kickstarter pledge reward

Absolutely love mine.
Cons
Rubber edge is coming apart after less than a year
Absolutely love mine. I use it daily when I'm home for less dishes even. Can cook and eat with it no problem. I've since ordered three of them.
Only downside is it really isn't much of a knife and the rubber edge has cracked on one corner. 
Source: bought it new
Price Paid: $12.95

Fork it, Spoon it, Scrape it...is what you can do with Morsel Long Handle Sporks.
Pros
Long handle makes eating out of bags easier
Unique spoon shape adds versatility
Variety of colors
Cons
Packing a long handle spoon is not always convenient
Plastic can melt if near flame or intense heat
Like many camping sporks the Morsel product has a fork end and a spoon end. The fork end also has a slightly serrated edge to help slice pieces of your meal. A proper knife would work better on meat. The spoon end also has a uniquely shaped rubber or silicon edge that can be used as a spatula.
The sporks come in regular and long handle forms. I chose the long handle sporks to make it easier to eat out of my backpacking food bags. The long handle allow one to access your food while keeping your hand and fingers clean. It just makes eating your meal a more enjoyable experience.
The sporks also come in a variety of colors. This is handy when you are camping with a group so that each person can choose, use, and remember which spork belongs to them.
One of the truly unique features of the spork is the spoon/spatula end. The end of the spoon is shaped like a spatula and has a soft rubber or silicon edge. This edge makes it easy to scrape morsels of food from the corners of your pot, bag or plate. This ensures that you eat every last piece of food, but it also makes clean up of your pot, bag or plate easier.
I was a little concerned that the sporks might break, but they held up well. I packed the sporks in my food bag inside my backpack for the entire trip. Overall, I was very satisfied using the Morsel Sporks.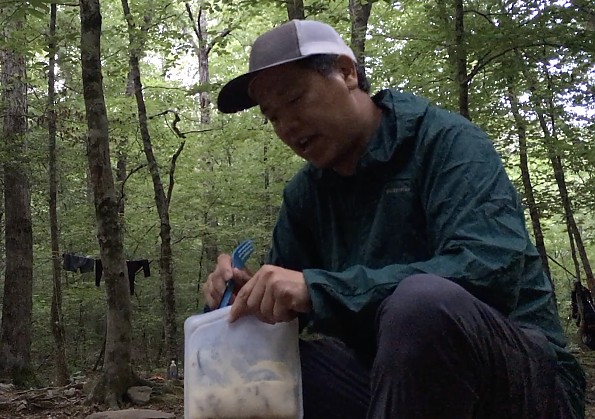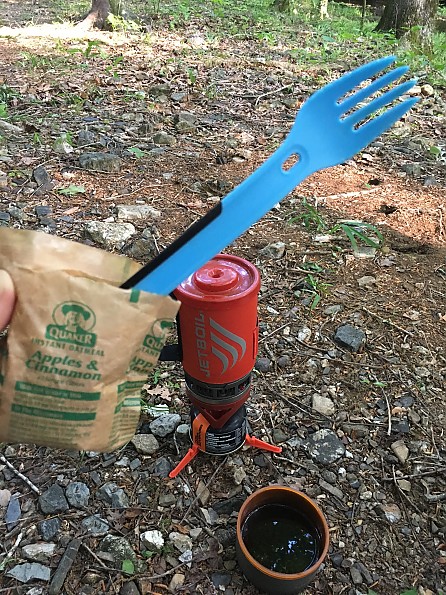 Experience
I used the Morsel Spork on a recent four-day backpacking trip on the Eagle Rock Loop. If performed as expected. I thought that the spatula part might be a gimmick, but it worked pretty well.
Source: tested or reviewed it for the manufacturer (I kept the product after testing.)

Disclosure: The author of this review received a sample of the product from the brand or its representative in exchange for a review.
Not meant for the backcountry.
This item is great and very functional in theory. I bought one as soon as I first saw it advertised. Unfortunately, it is not manufactured well, the scraping edge is a soft rubber that has separated from the plastic body after  4 or 5 uses.
When I saw it promoted in Backpacker and various outdoor retailers, I assumed it was built to perform for backpacking; it is not.
This wouldn't be an issue if one was just eating rehydrated food out of a pouch, but not everybody does. When you think about it, eating out of a bag would not require a scraping edge at all.
Any way you look at it, if this item was well made (a bonded silicone edge, for example) it would be a very useful piece of outdoor kit.
Experience
Backpacking, climbing, mountaineering
Source: bought it new
Price Paid: $12.95

Ordered on Kickstarter, the product never came.
The sporks never arrived and the company does not respond to emails.
Experience
Very poor
Source: bought it new
Price Paid: $30

Really gets to the food in those backpacking meals without getting your hands messy.
Pros
Long length
Variety of colors
We have been using the Morsel XL spork with our Scouts on several backpacking trips this summer and the unanimous opinion is a big thumbs-up.
We have used our Morsels with MRE's, and they truly outperform compared to the plastic spoon those meals provide. With backpacking dehydrated meals we are able to get out every little bit out of the corners of the bag without getting our hands messy. Bowls, cups, and plates—no problem getting to all the food, which makes cleanup after a meal easier.
The variety of colors is helpful as well, as we can give each scout a different color so no one confuses their Morsel with anyone else, and we can quickly figure out who dropped theirs or left it lying around. The Morsel Spork XL is now our go-to utensil for our backpacking adventures.
Experience
Used many different types of sporks and camping utensils, this is by far the best.
Source: tested or reviewed it for the manufacturer

The author of this review received a sample of the product from the brand or its representative in exchange for a review.
You May Like
Recently on Trailspace