Mountain Hardwear WayCool Arms

The WayCool Arms has been discontinued. It was replaced by the Columbia Freezer Zero Arm Sleeves.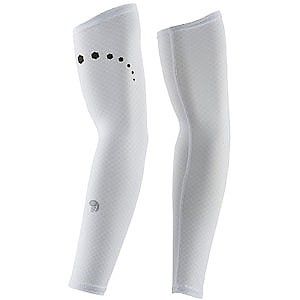 Version reviewed: Way2Cool
The Way2Cool sleeves are a rather unique product designed to help keep you cool. They are made with a fabric that Mountain Hardwear calls Cool Q ZERO using an applied "cooling agent" that really does cool you off when you sweat. Weighing in at only 32 g. for the pair I found these very packable sleeves offered comfort, unrestricted range of motion, and did help me stay cooled off. I would recommend these sleeves to runners, bikers, hikers, paddlers, or fly fishermen.

Pros
Actually cooler than bare arms.
Protection from the sun - UPF 25
Very light and packable
No restriction in range of motion
Excellent wicking
Cons
Only color available is white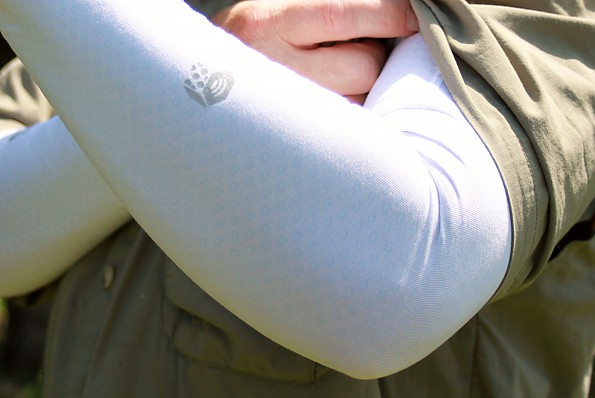 Living in the Southeast US I have always been one of those people who looked forward to cold weather, and dreaded hot weather. During summer I'm always looking for a shady spot, or a place to go for a quick swim, or complaining about all the direct sunlight beaming down on my head — and don't get me started about the humidity either!
So I was quite intrigued when I was given the opportunity to review three different pieces of clothing by Mountain Hardwear made with a new fabric technology they call Cool Q Zero which they claim helps to keep you cooler. Aside from the Way2Cool sleeves, I also tested the men's Chiller Long Sleeve shirt and the men's Way2Cool Tank. Mountain Hardwear offers shirts, hats, tank tops, and bandannas made from various fabrics using Cool Q Zero.
You may be asking "Why just sleeves?"  I must admit I thought that at first, but I was determined to remain objective and give them a go. After trying them out on several days with a short sleeve Tee, and doing a good bit of thinking, I have come to realize that there are at least three good reasons:
Unencumbered range of motion – The sleeves being separate from your shirt gives great freedom of movement, I found this noticeable while paddling, and fly fishing.

 Increased ventilation – Similar to pit zips in jackets, the gap between the Way2Cool sleeves and the short sleeves of my Tee shirt allowed for better ventilation than a regular long sleeve shirt. 

Easily removable like zip off pant legs – There were several times that I benefitted from being able to remove the sleeves without having to take off my pack or PFD like you would with a regular long sleeve shirt.
During testing I wore the Way2Cool sleeves along with a short sleeve synthetic Tee.
Watch this video for a basic overview of the Way2Cool sleeves.
Fit and feel
My Way2Cool sleeves arrived in the mail, and like all outdoor products I get in the mail I had to try them out around the house. I read all the tags and product literature and of course had to put them on, but not before taking my long sleeve shirt off.
I will admit that standing in front of a mirror wearing just a pair of sleeves with no shirt looked a little awkward, but then I put on one of my Columbia fishing shirts and that looked much better (made a lot more sense too).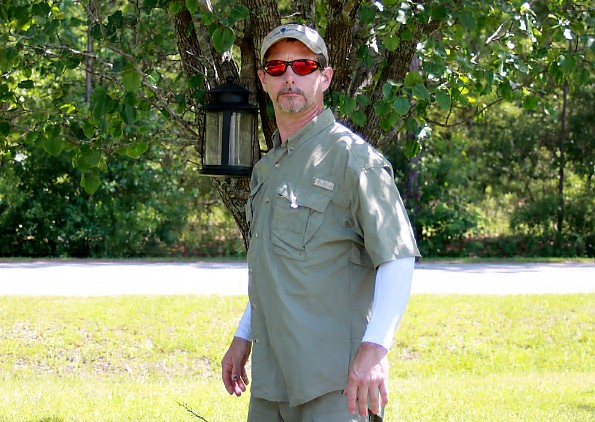 The size I received was a men's large in white (the only color currently offered, and fine with me), the fit was slightly tighter than I expected, but not uncomfortable.  The sleeves are made with a stretch fabric which Mountain Hardwear calls Stretch Softie Jersey and is made of  92% polyester and 8% elastane, it is very silky and soft…..and cool. I would compare them to a nice pair of silk weight dress socks. The fabric has good consistency to it.
The sleeves have a nice hem on each end with a single Flat Lock seam running the length of the sleeve and have reflective trim (logos) on the outer side of the arm. There is a left and right sleeve, when put on correctly the single seam should more or less line up with your thumb or forefinger and the reflective logos should be on the outside of each arm.
My sleeves had tags in the left sleeve which were easily removed by snipping two single stitches. You will want to do this otherwise the tags are irritating. The tags tell me that the sleeves can be washed separately in cold water, gentle cycle, no bleach – tumble dry low. I prefer to hang my synthetics up to dry and usually ignore the wash separately part, but that's just me.
I found the sleeves to be comfortable, stayed in place even when wet, and the seam work was not irritating. I find the easiest way to take them off is just to roll them down turning them inside out. The sleeves were quite packable taking up very little space and could be tucked away in just about any little pocket that I tried. Just yank them out and put them on.
Functionality
So I set out to see if this new fabric technology worked or not. I went on a two-day backpacking trip in the swamp, and two 3-day canoe trips on a local lake.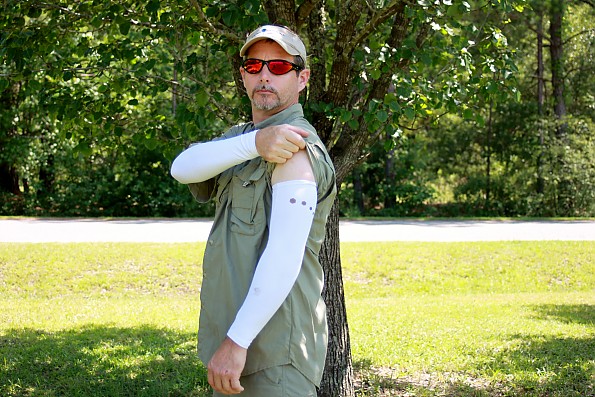 In the swamp I was not in direct sunlight, but it was hot and buggy. On the lake I was in direct sunlight while canoeing and partly shady while camping. I found that aside from cooling, the sleeves offered protection from sunlight and biting insects. The Way2Cool sleeves seem to offer the same protection from the sun I would expect from a regular long sleeve shirt.
I had treated one sleeve with Permethrin (insect repellent) but not the other. The untreated sleeve did seem to offer some protection from mosquitoes, but not black flies which were able to bite through the fabric occasionally. The sleeve treated with Permethrin did substantially better which is not surprising to me, and what I would expect. After inquiring, Mountain Hardwear says that using Permethrin on the Cool Q ZERO fabric will not harm it.
Even though the Cool Q ZERO fabrics have a cool sensation when you put them on, their cooling properties are really noticeable when you start to sweat. If you look at the fabric closely you will see small circles, it is in these small circles that the magic happens.
According to Mountain Hardwear:  "Its tiny circles are filled with a lightweight, sweat-activated cooling agent that lowers the overall temperature of the fabric, accelerates the wicking process and helps your body minimize heat and maximize energy."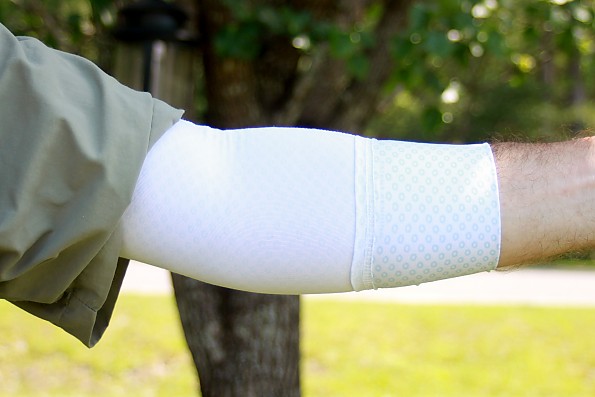 Here you can see the blue circles on the inside of the fabric.
I don't know exactly what's in the circles, but it does work. Obviously, the bigger principle at work here is Evaporative Cooling. As water on our bodies evaporates it carries heat away with it leaving with you a cooling sensation which is even more noticeable with a nice breeze. This water can be sweat, from a water bottle, or rain, or from a dunk in a pool. We've probably all enjoyed this cooling effect whether we understood the principle behind it or not. When it is cold outside this is the same principle that can lead to hypothermia.
It seems that Mountain Hardwear is using this "cooling agent" to leverage the effects of evaporative cooling a little farther.
I want to be clear here, the cooling effect I got from the Cool Q ZERO fabric was not jaw dropping. It didn't feel like I had been iced down, but it was definitely a noticeable and welcome cooling sensation that did help me to stay cooler, and therefore I was able to maintain a longer period of physical exertion before I felt over heated.
While paddling my canoe I was able to keep the sleeves wet with water from the lake, and with the freedom of movement I got from the sleeves, paddling was more enjoyable in the heat and direct sunlight on the open water.
While backpacking I found that my body's own sweat was adequate to allow the sleeves to do their thing, but an occasional dousing of cool water from my water bottle gave me a nice boost that was most appreciated.
When I wore the sleeves while fly fishing the freedom of movement was great, and it was then that I realized this particular benefit the most. Even though I have several fly fishing shirts with a loose fit and short or roll up sleeves, the Way2Cool sleeves gave better freedom of movement while still providing protection from the sun and biting insects. So this gives me yet another option for clothing combinations when weight or bulk become a factor when I'm packing for a trip.
Although outside of their intended use (and maybe unfair criticism but part of my experience) I found the sleeves will easily snag on stickers and briars, this is where I would give the edge to a loose fitting shirt.                                                                                              
Construction quality
The Stretch Softie Jersey material used to make the sleeves is….well, soft and stretchy. It is not a heavy duty fabric, if it was it would feel stuffy and you don't want that when you're hot & sweaty. I found it necessary to use a bit of care when putting the sleeves on, or taking them off. They contain elastane after all and I didn't want to "stretch them out" so to speak. The stitching used in the single Flat Lock seam and hem on each end of the sleeve is impressive and looks like a triple cover stitch or something very similar.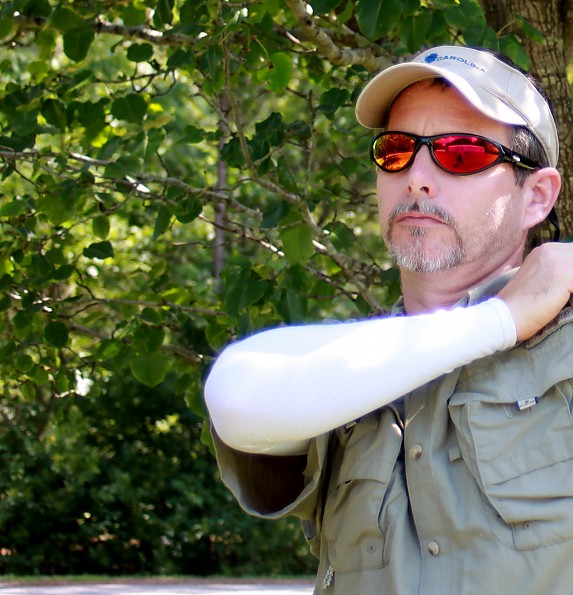 The fabric stretched and moved with me with no binding or loosing it's shape.                                                                                                                                                                 
The stitching and seam work was consistent, with no loose threads hanging, and I had no problems with any of it coming loose or the material fraying. After several washings the reflective trim, which is printed on not stitched, is still intact and just as reflective.
Overall my impression is that the construction is of good quality given the weight and type of material used.
Testing information
Testing of this product was done in the outer coastal plain of South Carolina on three separate outings.
Locations:
Wambaw Swamp in the Francis Marion National Forrest – this was an 11 mile (total) weekend   backpack and fly fishing trip.
Lake Moultrie – two separate 3 day canoe trips camping on two different islands where I went day hiking away from camp exploring the islands.
Conditions: 
The daytime temps were in the high 80's with one day in the low 90's.  
Night time temps were in the 50's  
The swamp was mostly shady, but stuffy and buggy.
The lake islands were windy with direct sunlight while canoeing.
Humidity was around 60% to 70% most of the time.
Thanks for reading and go get out there!
Source: received for testing via the Trailspace Review Corps (Sample provided by Mountain Hardwear for testing and review)

I love these sleeves—the only reason I'm giving them 4 stars is they stretch out with time and they are $30/pair.

Worth it to me—I have 3 hours. But, I could not find them on any of the sites listed above, even on the Mountain Hardwear site, and the chat advisor could not find them either!!! I bought them locally in Knoxville at Riversports.
Pros
Comfortable
Really cool my arms
Provide the sun protection I need
Cons
Stretch out with wear (ok, 2 years, maybe I expect too much)
Expensive at $30/pair
I really love these for all the reasons listed above.
Background
Cheaper ones are not as comfortable and made me warmer
Source: bought it new
Price Paid: $30

Your Review
You May Like
Specs
Price
MSRP: $30.00
Historic Range: $14.90-$30.00
Reviewers Paid: $30.00

Weight
1.1 oz / 32 g

Recently on Trailspace