Mountainsmith Circuit 5400

The Circuit 5400 has been discontinued. If you're looking for something new, check out the best expedition packs for 2022.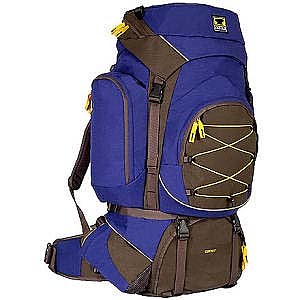 Specs
Price
Historic Range: $129.95
Reviewers Paid: $85.00-$149.00

Reviews
3

reviews

5-star:

0

4-star:

3

3-star:

0

2-star:

0

1-star:

0
I've been using the Circuit 5400 for two years now in all four seasons. It is reliable, comfortable, and has a couple of unique features that I have grown to love.
Pros
Plenty of stow room
Large pockets
Easily adjustable
Removable lid
Large water bottle pockets
Side storage for fishing pole or trekking pole
Price
Fit:
The pack fits as I would expect a pack to fit. The straps allow the user to adjust hip, shoulders, and torso like most standard packs. The weight can be distributed quite evenly. I'm not sure if the circuit is unisex or not. It is not labeled as such, but my daughter has used it on several overnight hikes and did not have any fit complaints.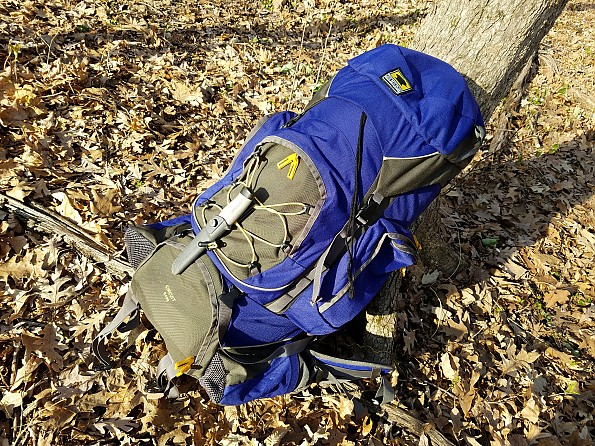 Comfort:
The pack is not perfectly form fitted but it is still comfortable. There are some packs that heat mold to your contours or break in to fit your body. This pack is pretty standard when it comes to the fit of the hips and shoulders. The shoulders have two adjustments, The hips have three each.
The straps are easily adjusted and fine tuned. They create a solid fit that allows me to hike all day without grief. The back padding is soft and runs the full length of my back. The lumbar has a better contour than most. Some lumbar pads stick way out. The Circuit is a more smooth transition so it feels good and lends to back support.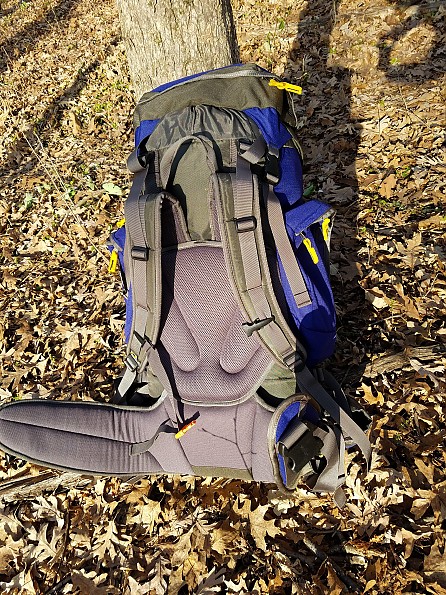 While in the Southern Wind River Range, I had to carry my niece's pack in addition to the Circuit 5400 for about seven miles. Even with the additional weight bearing down, I arrived at camp and didn't feel any worse for the wear. I have no comfort or chafing complaints.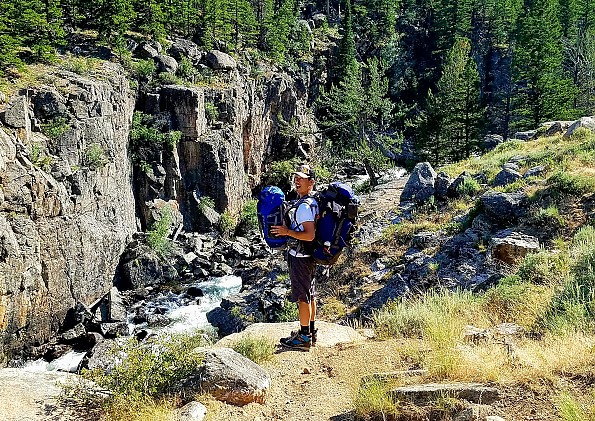 The capacity is as advertised. The pack can be extended a small amount to exceed the advertised capacity. You can also detach the lid for day pack use. The lid detaches by clips rather than straps. This quick release is a nice feature.
Organization and Accessibility:
There is access at the sleeping bag compartment of the pack as well as the top. The bottom access is a little smaller than on some packs (10 inches) (25.4 cm). It's ample size for a lightweight sleeping bag.
The two oversized side pockets are great. You can stuff a windbreaker, pants or most any other article of clothing in them when you want to shed. They can hold a 32-oz bottle, JetBoil, and many other items that I could never fit in the pockets of my other packs. I thought that the pockets might be a catching hazard on branches and downed trees, but I can't say that the pack snags anymore than any other internal pack that I've used.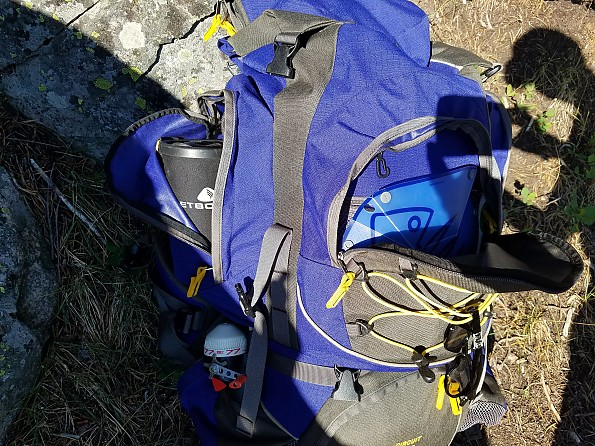 A fantastic feature of the Circuit 5400 is that you can slide things behind the large side pockets and tuck them in  bottle pockets at the base of the pack. I can securely put my machete and a fishing pole along the sides of the pack.  This feature is very nice when I rely on fishing for part of my trail food or bushwhacking in the backcountry.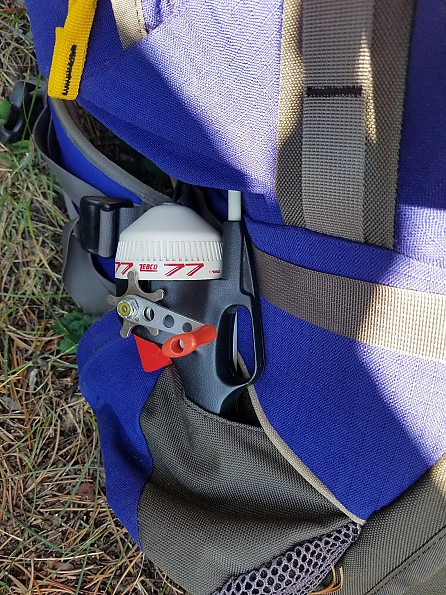 The outside of the stash pocket has an elastic strap under which you might tuck your shirt, jacket, etc. The stash pocket itself is waterproof and contains a small zippered mesh pouch.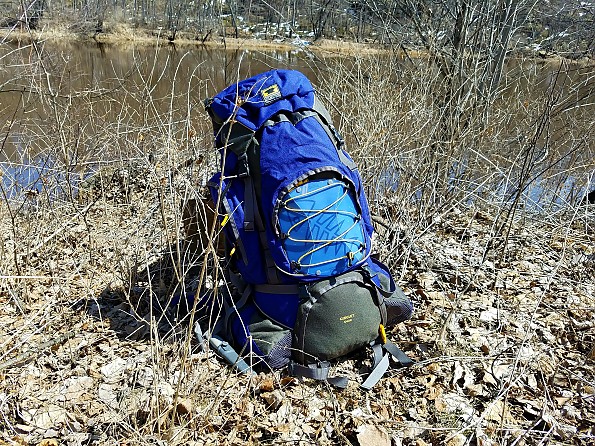 There's a bottle pocket on each side of the pack. Each bottle pocket has a drawcord to tighten around the top of the bottle. This ensures that your bottle stays in your pocket. I really enjoy this feature. You can actually fit a 32 oz-bottle in each because of a short extension on each pocket.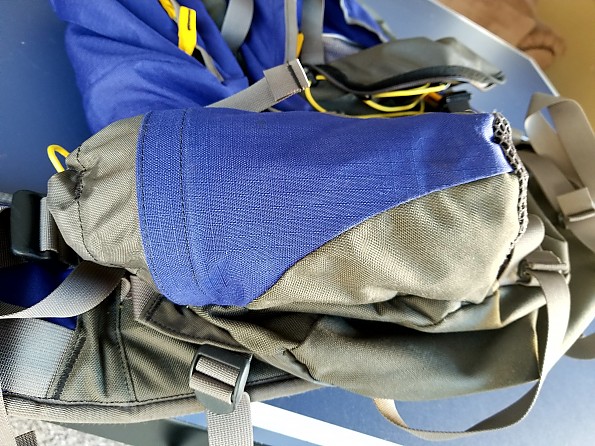 The bottom sides of the pockets are mesh for drainage. Even though this is a good idea, the mesh wears out more quickly than the surrounding rip-stop. Mine are starting to fray after two years.
Ride:
On a nine-day tour through the West this past summer, the pack did very well. If I place my tent or hammock on one side of the pack, my pad on the other side and fill in the rest of the area with my sleeping bag, the bag is stable and feels balanced.

While packing into the Bighorn Mountains, I was definitely over capacity with food for five, snorkeling gear, and a wetsuit in addition to my regular gear. The pack was brimming at the seams. After swimming in a mountain stream, we decided to climb a steep mountain to camp on the high plateau. The soaked wetsuit added a brutal amount of more weight. By the time I reached the top, my shoulders and hips felt an equal amount of assault but they recuperated quickly and there was no lingering burn or pain the next day.
Compression: Because the side pockets are fixed, the amount of compression of the pack is limited. There are cinch straps on the sides to tighten things down a bit.
Ease of Use: The pack has easy draw straps and plastic clips. The zippers open and close with consistency. The chest strap is an easy clip as well.
Features: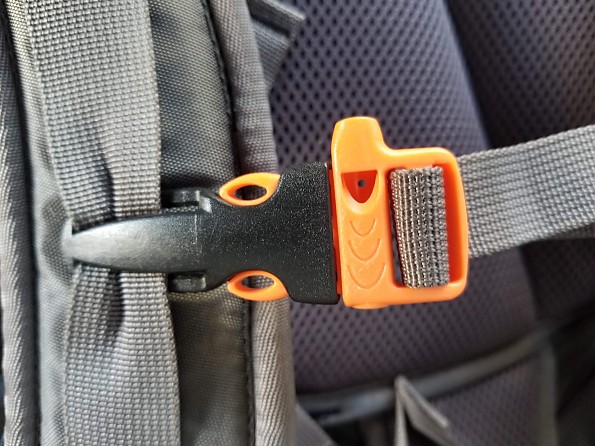 Oversized side pockets
Laced elastic cord backing
Hydration system pouch insert
Side inserts behind pockets
Waterproof membrane
Bottom exterior straps for holding extra gear
Ice axe loops
Construction and durability:
The pack is well built. The stitching is sturdy. The ripstop material is abrasion resistant. It's not very supple so it tends to hold form somewhat. The zippers are decent quality. I've been impressed by the durability of the pack. The material waterproofing is the type that, with  repeated friction, begins to wear out after a few years. Mine is still going strong.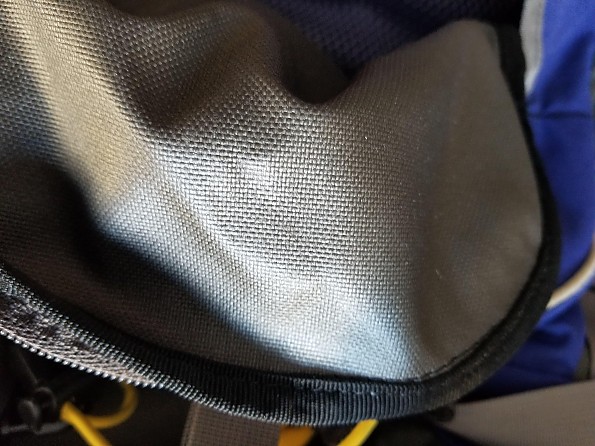 Conclusions:
I like the size of the 5400. It's large enough for multi-day trips (assuming you have moderately light/compact gear). It has plenty of storage space that fits the provisions that I use. I think that Mountainsmith's gear is underrated. I have a couple of other pieces of Mountainsmith gear and they've always performed well for me. My experience has shown me that it is reliable, durable, comfortable, and priced right.
The Circuit 5400 lives up to my expectations. I recommend this pack to anyone who is looking for a reliable weekend pack.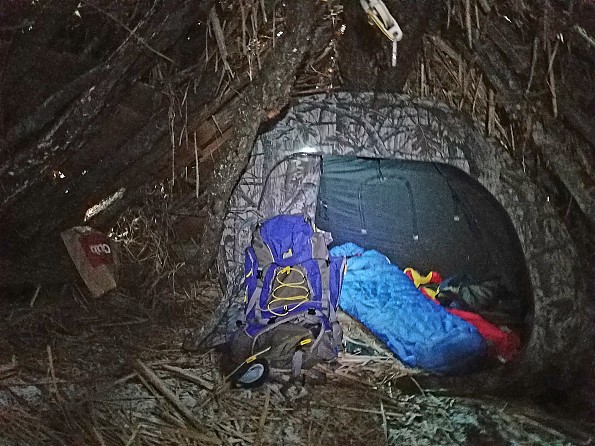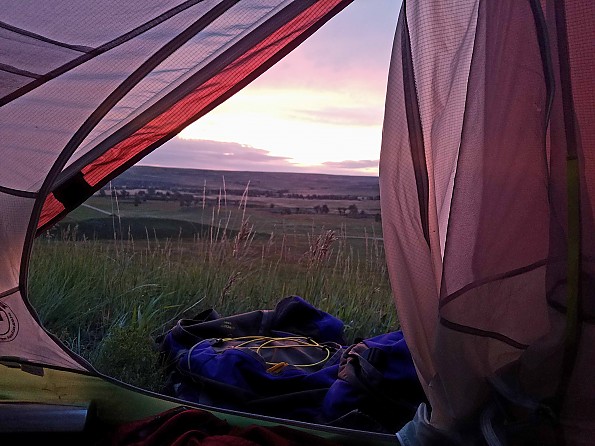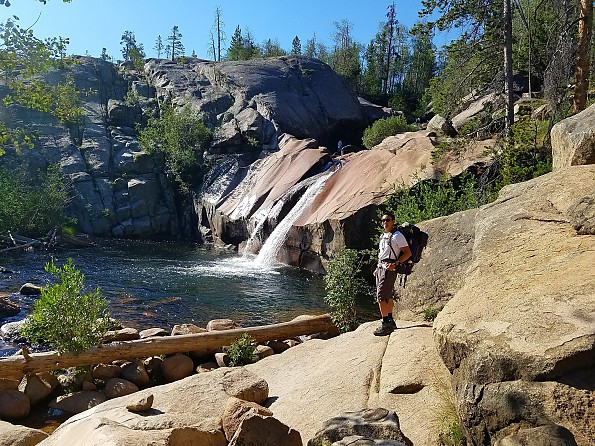 Experience
I've used the bag for two years now.
About six overnight trips in summer/fall.
One nine-day trip out West through the Winds and Bighorns
Half dozen trips in spring/winter
Source: Bought it as part of a package.

Got this pack new from eBay for $85. It is a well-made pack with plenty of space for long backpacking trips. Took it on a five-day trip into Chisos Mountains at Big Bend NP and it performed very well. I was able to fit my tent including rain fly and ground cloth in just the side pouches.
There is a drink holster on each side that holds a 32 oz Nalgene bottle perfectly. The holsters have a plastic ring to hold the pouch open for easy re-insertion. It has good straps to secure your sleeping pad to the bottom tightly. There are lots of extra partitions in various places to compartmentalize your contents. There is an interior pouch for your water blasser, which I do not use. The helmet pack converts into a hip-pouch or shoulder bag for day hikes.
My only complaint is that the helmet pack does not fit as well when empty. The fabric is durable but not much waterproof. The padded back is very comfortable even with 45 lbs load. The shoulder and hipstraps are well padded and have many straps for fine-tuned adjustment and comfort.
The zippers are just average, I've had no problem with them but they seem less durable compared to the high quality of everything else on the pack. Also this is not your ultralight or low-profile pack. At 5400 cubes it is bulky and has a wide profile when the side pouches are stuffed.
I used an REI pack of similar size in the past and the Circuit compares very favorably.
Design: internal frame top-loader
Size: 5400
Number of Pockets: Many, eleven including all "pockets-within-a-pocket"
Max. Load Carried: 45 lb
Height of Owner: 5'8"
Price Paid: $85

Solid pack. I used it on a North Cascades traverse that included five summits and plenty of cross country. Organizes gear well, rides well. A bit clunky, but for the price it performed well.
Max. Load Carried: 60 pounds
Height of Owner: 5'9"
Price Paid: $149

You May Like
Recently on Trailspace