Mountainsmith Lookout 50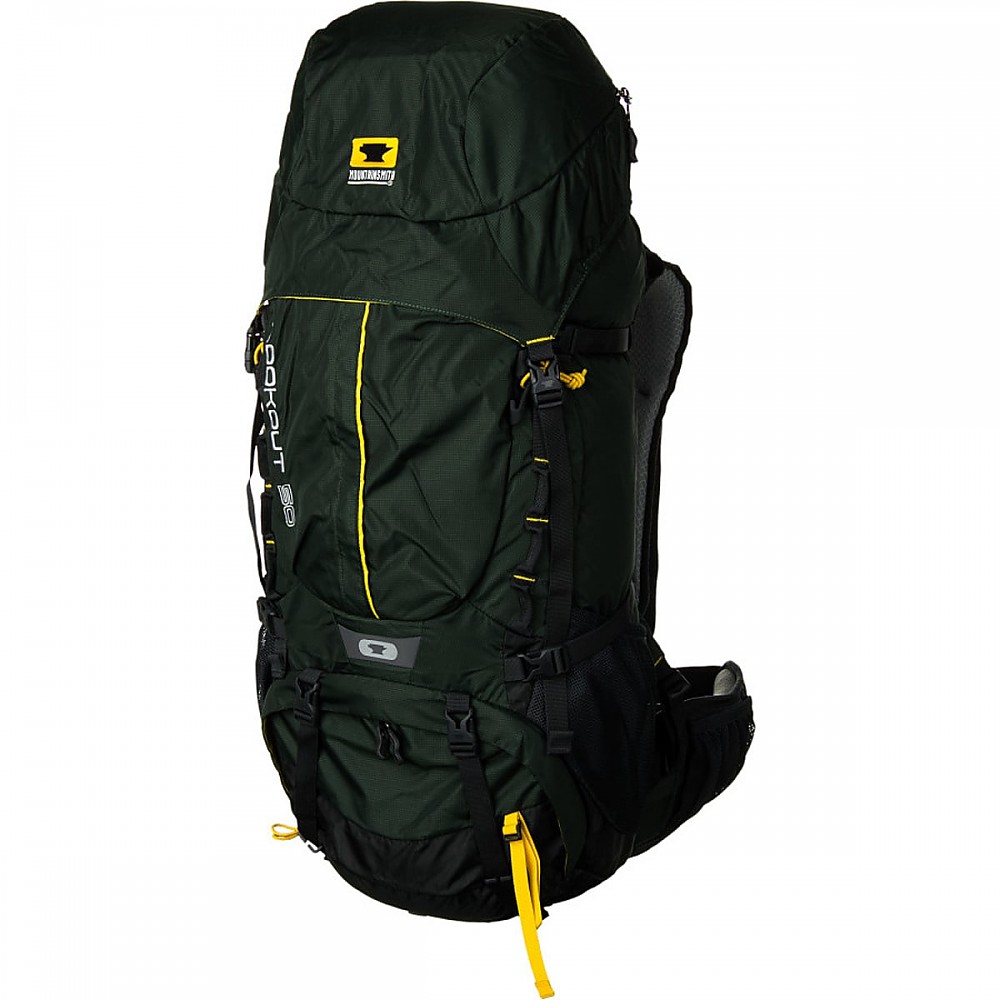 This isn't an ultralight pack by any means, but it's a great pack for weekend warriors or extended trip backpackers who want to go minimalist and leave the excess behind. It's a great compromise — not a monster pack, but capable of carrying heavy loads when you need it to (loaded with climbing gear, rope, etc) and capable of expanding to carry more if you overstuff the main bag.

It's stable and durable. This pack lacks some of the flashy features offered by premium brands, but it really does offer premium performance and is a direct competitor with brands like Osprey and Gregory.
Pros
Killer suspension
Firm, comfortable padding
Good (not overkill) organization
Excellent compressibility
Side pockets hold 32-ounce bottles
Expands to over 60 liters
Stable even with heavy loads
Durable
Cons
A little strap-crazy
Just one ice axe loop
Not lightweight
Mesh side and hipbelt pockets (prefer solid fabric)
Fit: 
This is a one-size-fits-most pack that really should fit most. Really skinny people (waists smaller than 30 inches) might have a hard time, as will anyone with a really short torso (less than 17 inches). It's not a women-specific model, but my wife has used it and found it to fit her well.
The torso adjustment system is unlike the velcro ladder found on a lot of Deuter and Lowe Alpine packs. Instead, it uses straps that run behind the back padding to pull the shoulder straps up and down. It's a pain to adjust, but it's rock-solid once you've got it in place.
The hip belt can be made to fit wider people as well as skinny to average sized folks. I'd be a little nervous if I was super skinny, but I think you'd have to be well under 30 inches in the waist department to have issues.
Comfort: 
The padding on the hipbelt, shoulder straps, and against the wearer's back is firm and comfortable. It's thicker than old Mountainsmith models (like the Lookout 45 or the Eclipse 55, which is still available on outlet sites and I also considered), but not bulky and awkward like the padding on Deuter's Aircontact packs. The padding on the lumbar region is really noticeable and takes getting used to, but it is very comfortable. The hipbelt angles upwards from the lumbar region, and it's designed to cup the top of your hip bones. It does this well.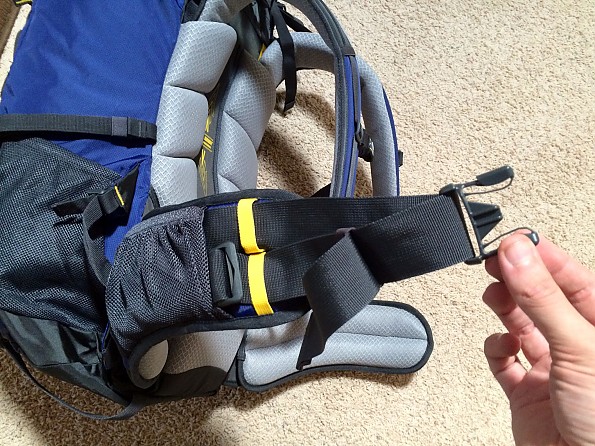 The sternum strap is attached to the shoulder straps with webbing instead of a plastic guide tube like on more expensive packs. It's not as easy to adjust, but it's more secure and less prone to failure. It's been perfectly comfortable.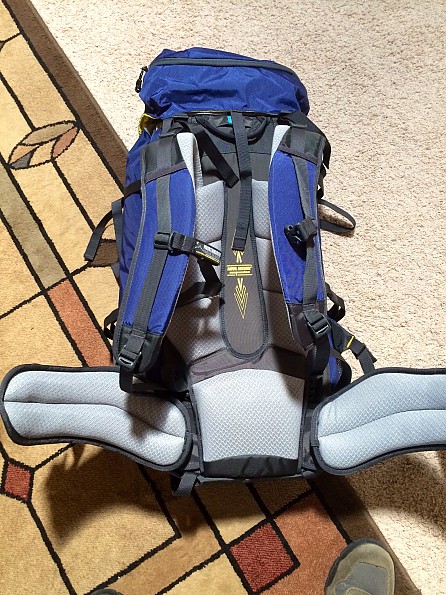 The back of the pack has two parallel lines of padding with a venting area in between. It's not as cool as a trampoline back, but it's better than nothing. It's very comparable with the system on Deuter packs.
Capacity: 
This pack is a big fifty liters. In reality, it's closer to sixty liters, because the storm collar on the main bag can be filled to the brim. Mountainsmith states that the filled capacity is around sixty four liters. When overstuffed, the pack doesn't look or feel awkwardly tall and skinny like many packs with a similar feature do.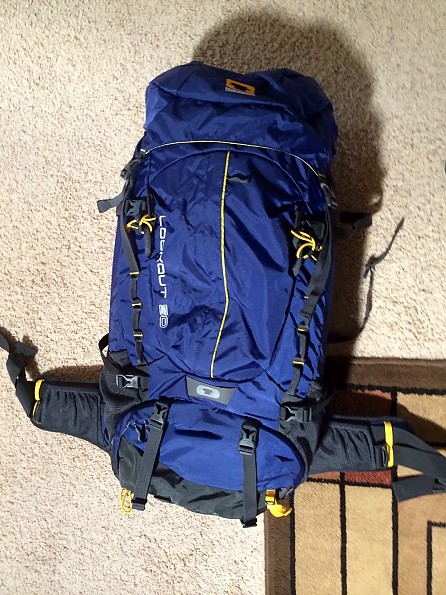 Comparing it to my wife's Osprey Viva 50, this pack seems significantly larger. In addition, it's much more adaptable when it comes to strapping things to the outside if you need to. As opposed to the Viva, I am very confident in this pack's ability to carry the extra load that would come with overstuffing.
At full, overstuffed capacity, the Lookout will work fine for many backpackers on weeklong trips. For a super-minimalist, this pack will work for even longer. 
Organization & Accessibility:
This pack has three interior compartments. There is the large main compartment, which has a divider for a sleeping bag that makes this a four-compartment pack if you use it. Access is simple: a top drawstring entrance and a zippered opening for the sleeping bag compartment. It's a time-tested layout, and it works fine. I've found that the convenience of a lower access zipper is worth the extra weight and complexity.
There is a vertical pocket on the back that holds some essentials but not much more. Finally, there is the top lid, which is removable and fairly usable as a fanny pack. It's pretty big — I'd say it's a little too big. Things can flop around in it. But that hasn't actually bothered me on the trail.
There are pockets on the hipbelt and side water bottle pockets, all made of mesh. The mesh is strong and durable, but I'd prefer something made with a solid fabric. The cloth drawstring water bottle pockets on the old Eclipse 55 were a great idea, and I wish Mountainsmith would have retained that feature.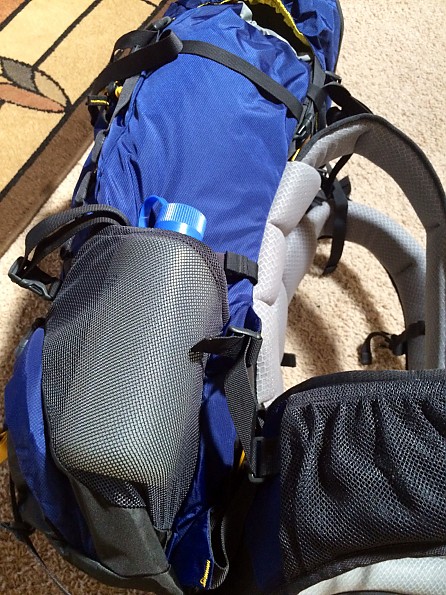 I am a little jealous of the hipbelt pockets on my wife's Osprey pack, which are solid and close with zippers instead of elastic. The mesh pockets on the Lookout work fine, though, and the elastic is tight enough to secure whatever you have in them. That includes Nalgene or Gatorade bottles in the side pockets. 
Ride: 
As with all packs, load distribution is really up to you. Properly loaded (heavier items close to the back and not too low in the pack), the Lookout rides very well. Even with a heavy load, the dual-stay frame effectively keeps the weight off your shoulders. Stability is great. The side compression straps can be connected across the pack to really cinch down the load (in addition to offering a great way to carry bulky items).
The shoulder straps are secure. There is a "delta wing compression" system that pulls the pack into your hipbelt, and it does it's job. I'm not sure the fancy V-shaped design is uniquely effective, but it works just fine. I have total confidence that the x-shaped hipbelt straps will stay secure.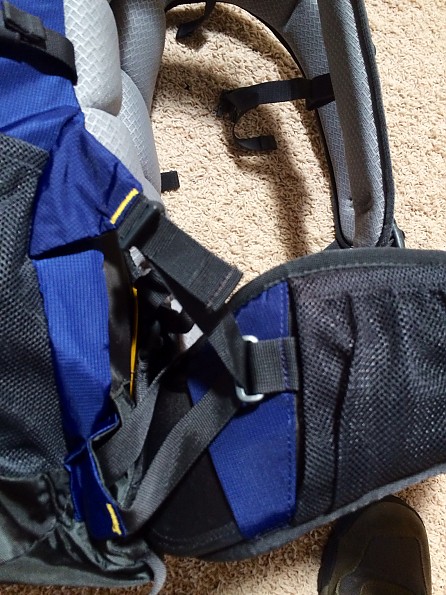 Features: 
The Lookout 50 is light on features, which is a good thing. It has daisy chains that some people won't like, but at least this pack can handle the extra weight if you end up using them. Like I said before, the compression straps connect across the pack and offer great compressibility. The straps on the bottom of the pack will easily hold a bulky sleeping pad. There is a top compression strap over the main compartment opening that is perfect for holding a climbing rope. There is a adjustable-length ice axe loop on the bottom and removable elastic retainer higher up.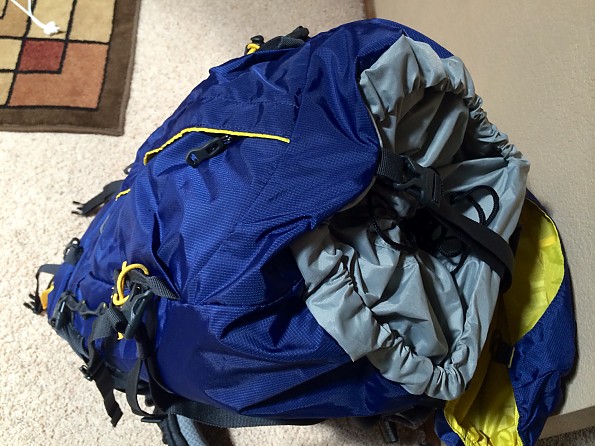 On the other side, you have two small loops for trekking poles and an identical elastic retainer. I've found that ice axe loops work just fine for securing trekking poles, so I wish the pack had two instead of one for added versatility. Still, you can safely attach as many ice tools to this thing as you want with some creativity.
There is no rain cover, no fancy "stow on the go" trekking pole system, no whistle in the sternum strap. No gimmicks. The top lid removes and can be used as a fanny pack. It works in this purpose, but it's not especially comfortable.
Construction and durability: 
This pack isn't ultralight. It's made with heavy nylon that doesn't need to be babied. For on-trail usage it might be overkill, but for anyone who might scramble over rocks or through canyons, the durability will be worth the extra weight. The construction is similarly tough. No obvious weak points, except for maybe the small elastic loops for trekking pole tips.
This pack has proved durable, comfortable, and versatile for me. On trail, as well as on tough terrain, I've felt secure. At four pounds, some folks will scoff at this pack, but its suspension and durability make it ideal for a traditional backpacker looking to go lighter and carry less. It also works great for a luxury weekend hiker.
I wouldn't hesitate to take this pack skiing or to use it for mountaineering. While it's not marketed as a thru-hiking pack, technical pack, or extended trip pack, the Lookout 50 can work for any of those tasks. For someone looking to get the most for their money, this pack is a great choice.
The price might actually scare some people away. On sale, this is in the same price range as many low-quality packs by budget brands. Let me tell you, this pack is in the same class as packs that cost $150 more. It's a direct competitor with the Osprey Aether, which I like significantly less than this pack. While it doesn't have all the features of a premium-priced pack, the Lookout 50 performs at a premium level.
Source: bought it new
Price Paid: $120

Carries 35-50lbs comfortably with smart mid-weight design. Just enough pockets and features for good organization without going unnecessarily overboard that just add weight. Excellent three-day pack that can compress for solo weekends or loaded up for use as a scout leader pack carrying extras for young backpackers.
Pros
High level of adjustability in pack fit
Good weight transfer to hipbelt
Durability
Price
Anvil Airway back panel ventilation
Cons
Only available used at this point
Fit: Pack is easy to adjust, fitting torsos of the average to over 6' adult. The way the shoulder harness mounts to the two aluminum stays that spread like a V as they go up the back panel helps to keep the strap spacing proportional to the shoulder width of broad shouldered large torso and a smaller torso person as well.
Comfort: Illiac Crest hip belt does a good job of keeping weight on top of hipbone without having to over tighten. Anvil airway back panel padding is a good mix of comfort and ventilation. On trail segments requiring a lot of water be carried, increasing loads over 40 lbs the bottom of those same Anvil airway channel can concentrate pressure due to the small contact area at the bottom of those vertical padding strips compared to a pack with more pad area actually touching your back.  It is a tradeoff for the highly breathable design, that I could probably tune out by bending the aluminum stays to pull the pack away from my back more at about 4 inches above the hip belt.
Capacity: 50L is a conservative capacity listing, as the pack with expansion is in the 65L range. It easily handles a three-day weekend of hammock camping gear and carrying some of my 11-year-old son's gear to keep his pack below 20% of body weight.
Organization & Accessibility: Top loader with cinch cord divider between upper and lower sleeping bag compartments. Top lid  "brain" is floating style and big. Holds rain suit, trail snacks, pack cover, and more.
Front panel pocket fits my 13 essentials so that I don't have to use another stuff sack in the main pack to keep it all in one place. Plenty of lash points, but I generally only use them for a four-piece fishing pole or trekking poles.
Ride: Load distribution transfers well to the hips, while holding a very balanced feel of just enough pressure on the back and shoulder straps. Pack carries very comfortably at 35 lbs and still OK at 45 lbs. The slight pivot of the semi-floating hip belt design, where the belt rides on vertical straps as it passes behind the lumbar pad, reduces side to side motion of fully loaded pack with each step.
Compression: Top, side and lower compression/pad straps pull load in well.
Ease of Use: Simple design works well and is not likely to fail on the trail.
Construction & Durability: The recycled bottle nylon pack cloth is burly without being too heavy. Pack is 4.6 lbs on my scale. I would like a mixture of lighter fabrics in some areas, but that would have driven up cost.
Conditions: Where: Hoosier National Forest. When:  Ebay purchase spring 2017 $65.
How long have you used this gear? Three weekend trips, with 5-8 miles a day.
Source: bought it used
Price Paid: $65

Your Review
Where to Buy
Help support this site by making your next gear purchase through one of the links above. Click a link, buy what you need, and the seller will contribute a portion of the purchase price to support Trailspace's independent gear reviews.
You May Like
Specs
Price
Historic Range: $143.96-$179.95
Reviewers Paid: $65.00-$120.00