Mountainsmith Mountain Shelter LT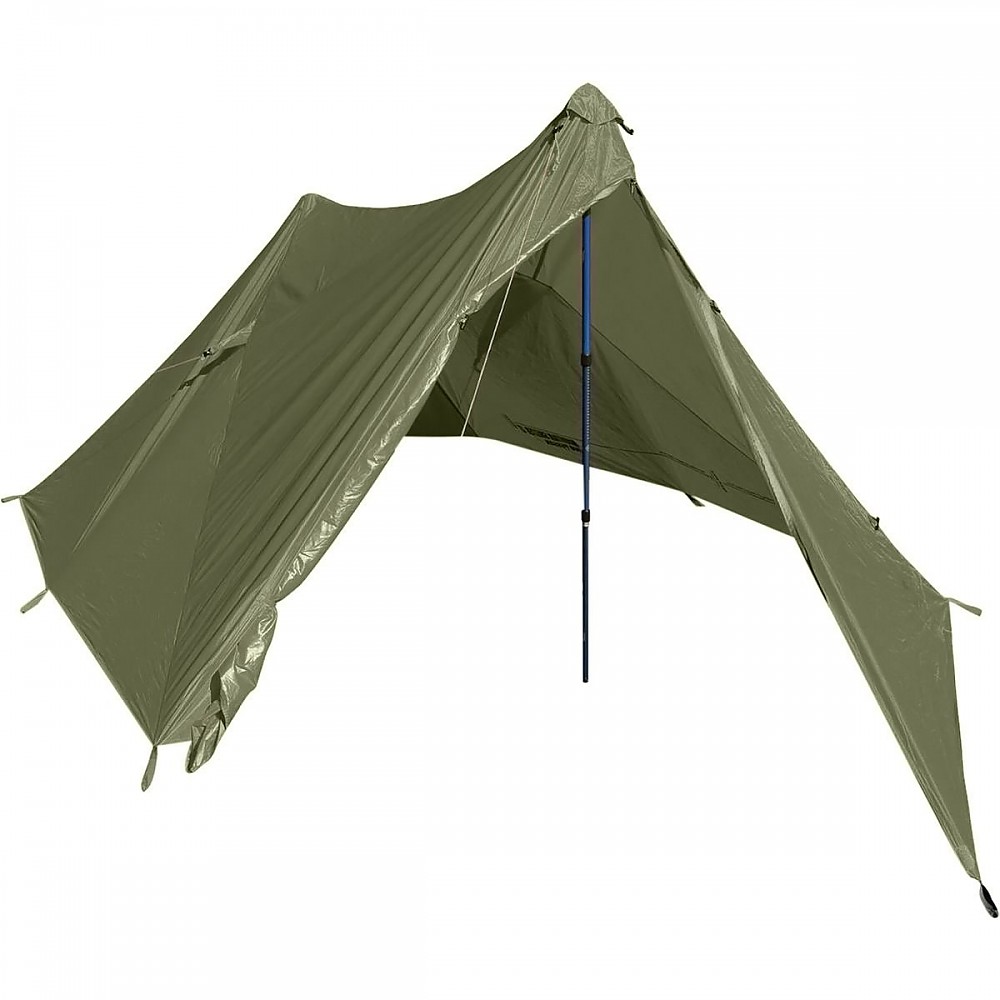 A spacious, stable refuge, the Mountain Shelter sets up quickly and sheds wind. A shaped-tarp design keeps weight down and packed size minimal. Though not specifically designed for extreme conditions, it works well just about anywhere.
Pros
Storm-worthy shelter for two at 2 lbs?!
Enough headroom to sit up inside
Bright color keeps things cheery when waiting out rain
Long enough to store wet boots/packs at one end
Factory-taped seams FTW!
Cons
Better corner reinforcements would be nice...
Only one vent
Best For: Backpackers going anywhere bugs aren't a major concern.
Design:
The Mountain Shelter is constructed from yellow (Chartreuse?) 40-Denier silicone-coated nylon. The perimeter and especially the corners feature doubled-up layers of fabric and extra stitching for reinforcement. The shelter has no floor, and no side walls. In this sense it can be called a shaped tarp, not unlike an elongated pyramid. Still, a few creature comforts exist: a coil-zipper door with a Velcro-secured storm flap covering that zipper, a rear apex vent, and an interior hang loop.
Mountain Shelter weathering the storm...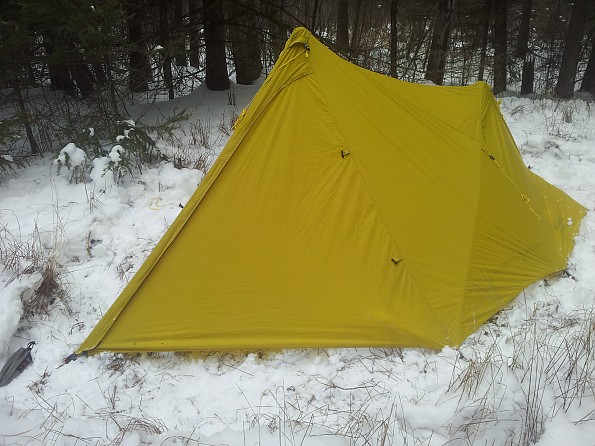 The shelter has a slight catenary cut along the ridge-line, meaning it's kind of "sculpted" in an effort to better shed wind. The cat-cut is not as prominent as in some shelters—such as my Integral Designs SilWing, for example—which means a bit more interior space, comparatively.
A cat-cut also helps with setting up a shelter, as it means less fiddling with stake-out points to achieve a taut pitch. I find a few more seams than are strictly needed for this shelter, but assume they're there to help redirect vector forces or something. They indeed appear to help distribute tension from the apexes to the perimeter.

Showing cat-cut on ridgeline...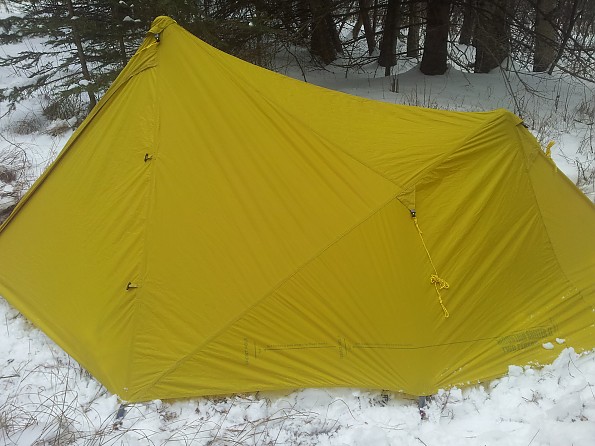 Mountainsmith engineered the Mountain Shelter to pitch with two trekking poles, and has, certainly not coincidentally, brought this shelter to market around the same time as their Carbonlite trekking poles (which I just reviewed, here: https://www.trailspace.com/gear/mountainsmith/carbonlite-pro/#review34718 ).
Such designs allow the backpacker to carry less weight, supposing you're bringing trekking poles along anyway. Of course, two sturdy sticks, or tree limbs to tie off to work just as well. Screen-printed on the body of the shelter is a handy measuring scale to help the user adjust their respective poles or sticks to the requisite length.
Support pole scale and perimeter stake loop detail...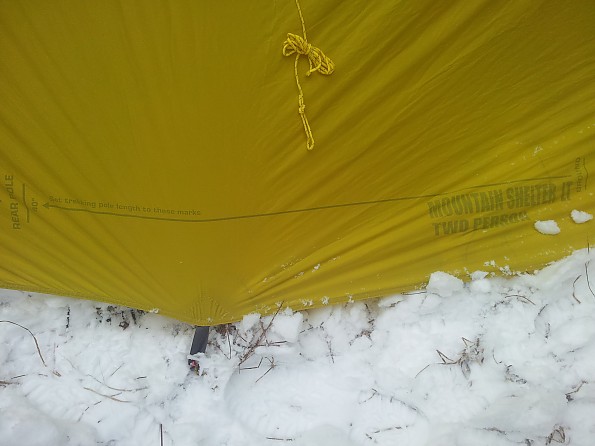 There are thirteen tie-out points on the Mountain Shelter. Thirteen! That's eight around the perimeter, two from the front apex, one from the rear apex, and one in the middle of each side panel. The perimeter tie-outs use thick, 3/4"-wide nylon webbing loops bar-tacked to the main body, and are designed to be staked directly to the ground. The already-attached guy-lines on the upper tie-outs are woven with a few reflective threads to keep you from tripping over them at night, and come with permanently-attached line-locks for deft adjustment.
Front peak close-up showing guy-lines and line-locks...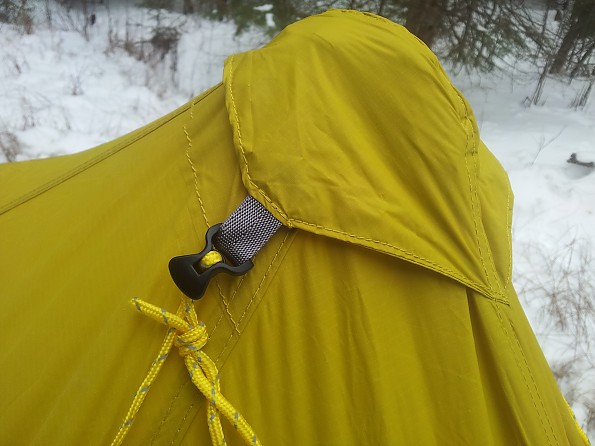 The lesser details are generally well thought-out as well. The included stakes are of strong, lightweight aluminum with a V-shape in cross-section and notches to keep the guy-line secure, and come in their own stuff sack. The main stuff sack is so kind as to provide the user with both written instructions and diagrams to aid in setup. Toggles are present to pin the door back if conditions allow.

Plastic toggle keeper for front door...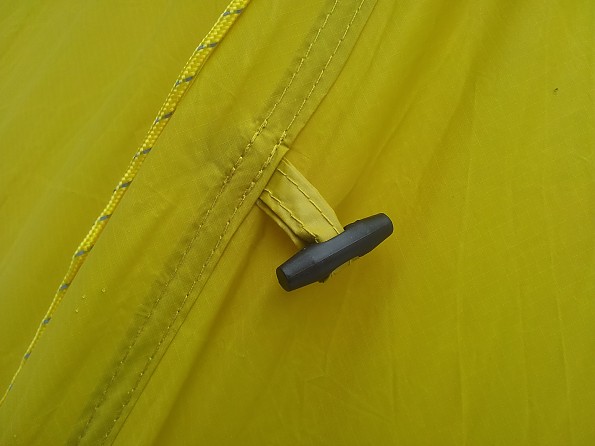 Tie-offs on other side of toggles...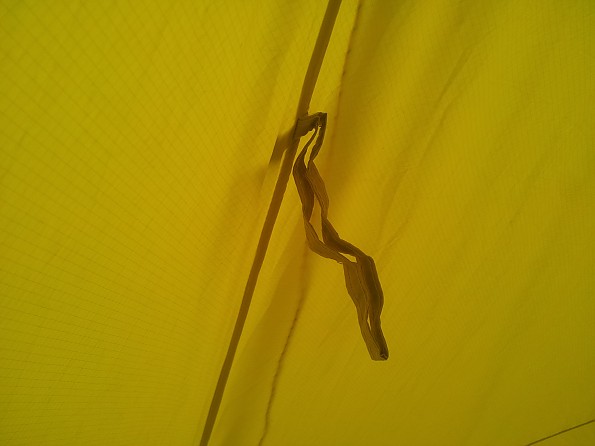 Stuff sack and included stakes detail...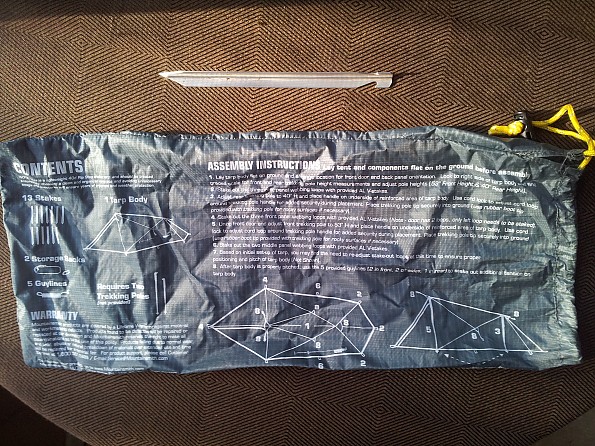 Performance:
I'm pleased to report the Mountain Shelter performs well in a variety of conditions, allowing wonderful space and headroom for the weight, while thwarting rain and wind in more "adventurous" environs. If the weather is good a few ounces can be saved by leaving the majority of the stakes and guy-lines at home, as only eight are needed to get the shelter up. Even more weight can be saved if you're camping below tree-line and can break sticks to length; sturdy branches work just as well as trekking poles.

The dimensions of the Mountain Shelter are perfectly suited for two people; it is a haven for one. Though the shelter is designed so that its supports split the usable floorspace evenly in two, when used in solo mode there's no reason why one couldn't skew the supports off to one side. I mean, I'm known to stretch out my 6'-2" frame on occasion. There is about 6-by-9 feet of usable floor space, after all.
Lovin' life with a 25"-wide, 4"-thick pad and a long-length bag...

Lots of extra space when going solo...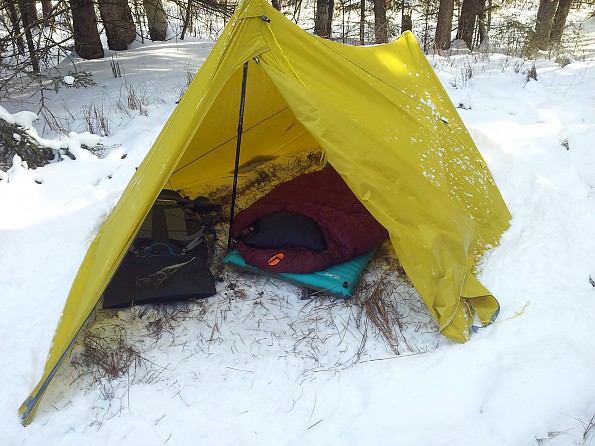 If you know it's going to snow heavily, there's probably a better shelter to bring. Blowing snow will find its way under the sides—which is annoying at best—and at any rate you'll have to make sure snow doesn't seal off the perimeter or you might die, because there's only one small vent at the rear apex and asphyxiation is no fun. It's just an embarrassing way to go. I purposely set up the shelter in an exposed enclave during a night of wet, icy, wind-driven snow—to see how well the construction held up under the weight—and this was the result:
Mountain Shelter wilted but holding after a night of sleet...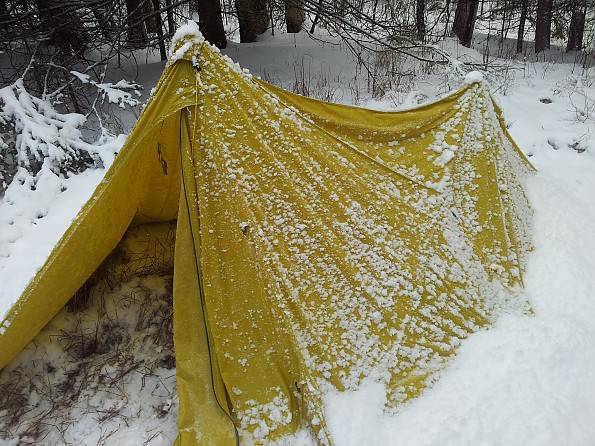 But barring intense snowfall, it's a pretty sweet setup. Point the rear end into the prevailing wind and it's darn solid. You won't have a good time if strong gusts hit the broad side. The stakes are good at letting you stay in your nice warm cocoon at night when that gale does blow: they hold fast in most soils, penetrate quite easily, and stand up to a couple whacks from the poll of your hatchet if needed.
The Mountain Shelter LT pitches intuitively, and trekking poles settle nicely into their pockets. They do not slip even in strong winds, though Mountainsmith includes adjustable lengths of cord to wrap around handles and keep them in place.
The additional tie out points at each apex are welcome, and help make it a little brick $&!%-house when the storms roll in. Of course, the mid-panel tie-outs help with overall stability too, though their main contribution seems to be increasing interior volume.
Internal condensation is almost ever-present, but that's pretty much par for the course for a single-wall shelter of this type. The lone rear apex vent just does not provide the cross-airflow needed to expel moisture because, well, you need two vents for such things to happen. It's science.
Thing is, even with a 53" peak interior height at the front and 40" in the back, that condensation can become pretty bothersome with two people inside, on account of the sloping sides. Here again though, I can't ding the product because it just comes with the territory. Want more room? Bring another shelter that weighs more and takes up more space in your pack.
One really nice thing about the Mountain Shelter LT is the option to pitch it with the door pulled back, giving wide open views and great airflow while maintaining full rain coverage. Just guy out the two front upper tie-outs and the whole front section can be un-staked and fully rolled back, tied out of the way. It's a great option when conditions allow it.
Maybe doing it will bring better weather...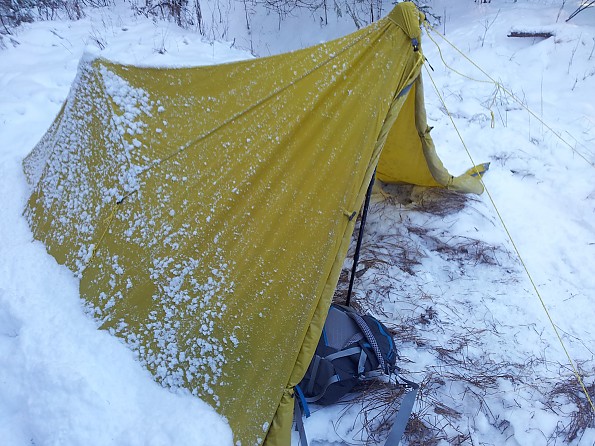 And now to those corner reinforcements, vis-a-vis my already-held prejudices. Put simply, I just don't trust 'em. They look at me wrong. I want those webbing loops secured to something stouter. I ambulate in conditions which sometimes offer little margin for error, and if one pops this thing's a kite in the wind. Again, perhaps I'm being unreasonable, as they've held up fine so far; maybe my worry is unwarranted. I'll surely update this review if needed.
Cleanup & Maintenance:
As this is not a tissue-paper-thin cuben-fiber shelter, you can treat it like a normal human being would: fill a bucket or bath tub with warm soapy water, and spot clean it with a soft-bristle nylon brush. Dry it outside on a clothesline or throw it over your shower bar; do not put it in a dryer.
If the zipper track starts doing weird things brush it with an old toothbrush, put a couple drops of mineral oil on the problem spots, and run the zipper up and down a few times to work it in. See how there's nothing—like a snap—to take pressure off the zipper when it's fully closed? That's gonna be a failure point at some point in the future.

If you find, after some use, that the fabric is losing its water repellency, you can restore it thusly: find a tube of pure silicone caulk and mix it up with pure mineral spirits at a 1:3 ratio in a glass bowl. Pitch the shelter taut and use a paint brush to apply the mixture to the underside of it in a well-ventilated area, then let it dry. And that's it.
Soapbox:
Compromises, always compromises. How "adventurous" do I want to be? How much weight do I want to hump? Almost every opinion that can be expressed about a backpacking shelter is accompanied by an implied "for a shelter of this type" clause. A very valid counter to my gripe about the corner reinforcements is the phrase "But what was this shelter designed for?"
Perhaps it's not designed for cross-winds over 40mph? Perhaps I should just know to bring another shelter? A very pragmatic statement would be: If the corner rips out you were not using it in the conditions for which it was designed.
It is very much up to the consumer to know what they're getting into, so to speak. (Thanks, internets!) If the corner goes I'm not going to fault Mountainsmith. It was just, perhaps, a poor choice to use that shelter at that time. OTOH, I can bring an overkill shelter like my Hilleberg Allak on every trip I take, and in such cases the worst reason my shelter might be a poor choice is due to it being too overbuilt and heavy.
Conclusion:
This little yellow polygon has found a welcome place in my gear room, hitting a sweet spot between uber-minimalist tarps and full-on tents. As a refuge from storms it succeeds—providing you have some way to prop it up—on account of its waterproofness, wind-thwarting design, and low sides that block rain splatter. The Mountain Shelter LT is one of those things that just works, and that's enough.
Testing Conditions: Hiawatha National Forest, Pictured Rocks National Lakeshore Trail, in Michigan's incomparable Upper Peninsula: Late summer, fall, and winter temperatures ranging from -10 to 70 degrees Fahrenheit.
About the Author: Vince Contreras has been working as a professional Forester and Ranger for various federal land management agencies since graduating with a Bachelor's Degree in Forestry from Southern Illinois University in 2010. He currently resides in Michigan's Upper Peninsula as a Forester and Wildland Firefighter for the US Forest Service. He enjoys rock climbing, backpacking, and German Idealism. Other hobbies include leatherworking, bushcraft, and really, just creating original things.
Source: received for testing via the Trailspace Review Corps (Sample provided by Mountainsmith for testing and review)

The Mountain Shelter LT is simple, pretty easy to set up, and great for non-winter backpacking. It is a single-walled, floorless shelter, so it is prone to condensation. It has been very durable and dependable for me in wind and rain in the Colorado Rockies. It isn't the lightest option, but it is an amazing value.
Pros
Stable in bad weather
Plenty of room for two and gear
Not difficult to set up
Comes with guy lines
Cons
Getting in and out is a little awkward
Another color would be nice
Ventilation is nothing special
Setup: Like most floorless shelters, this one takes some practice to get where it looks nice and taut. Trekking poles are required for setup. I really like that the shelter has a label on the side showing the approximate length for your poles.
Stability & Weather Resistance: Pretty much bombproof in wind if you have solid anchors. The v-stakes that come with it aren't great, but they're a step up from the worthless ones that come with the cheapest tents. There are guy lines that come with the shelter, and they work just fine. The shelter would definitely sag badly with any significant snow load.

Ventilation: Not great, but you can't really dock a floorless, single-wall shelter for that. There is a decent-sized vent at the rear of the shelter, but it is no substitute for smart site-selection and keeping the door open when possible. You can expect condensation sometimes.

Room & Storage: The entrance is kind of small, and the shelter is low. That makes getting in and out a little bit awkward. Once you're in, however, there is plenty of room for two people to sleep and keep their gear covered. Backpacks and boots and other gear can go above your head or below your feet.
I would not call this a hang out tent, however. You have to avoid the walls in a single-wall shelter because of condensation, and I wouldn't want to spend extended time in the Mountain Shelter LT unless I was going solo.

Packability: Packs nice and small, nearly as small as a water bottle. The stuff sack is plenty big, which is nice.

Construction & Durability: I have experienced no problem with seams ripping or the coating starting to peel off. After more than a year of use, it still looks very nice. I've had good experiences with Mountainsmith's customer service in the past, but it's nice to not have any issues to begin with!
Source: bought it new
Price Paid: $95 on sale

Pros
Easy setup and tear down
Reinforced seams
Cost per weight
Gear loops at door
Loops inside for pole retention
Instructions on stuff sack
Cons
Roof design snow accumulation
Useable space to avoid condensation
Exit for 2nd user on left with gear in vestibule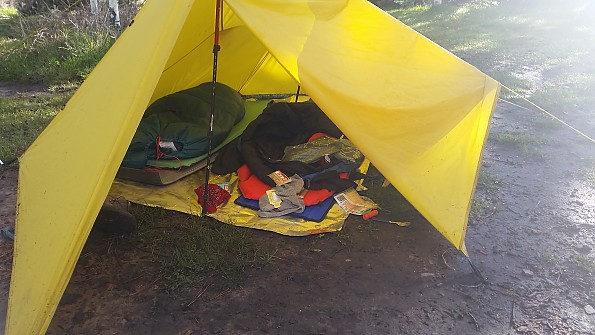 The tent was tested for size and space for two people, one being 5'10" the other 5'1", prior to outdoor setup. I have hammock camped in storms and used double wall tents in the past. 
Expectations for the weekend of testing included showers and possible thunderstorms. Ease of setup even in the dark was relatively easy for one person. Used the provided v-stakes and a nearby handy boot for placement in the ground.
The first night it rained and awoke to 2-3 inches of snow. The ground stakes in some areas pulled up. Snow accumulated between the two peaks of the trekking poles. Condensation inside the tent from the angles of the walls dripped onto the top of our bags. The rear vent and front door top were open. The ground had snow accumulation blocking the bottom ventilation. 
The next night we camped closer to the poles trying to avoid condensation build up and awoke during the night to wipe the insides down from the drips. Ground water obviously hard to avoid but we did use a tarp to help shield us. We used rubber tips on the poles to hold the tarp in place. Exit of the shelter is a little awkward for the person away from single door on right to get out depending on how you lay and equipment in vestibule. 
This was our first true floorless design shelter used, so please look to others with some more experience on this shelter, just sharing my impression. I have seen one manufacturer adding a vent brace to the front door which may help or keeping snow from bottom vent.
Source: bought it new
Price Paid: $120

Great value for a large light shelter.
I got this last week as an ultralight shelter for elk hunting in Colorado, but I will also use it for trips here in Pennsylvania. I did an initial setup but did not sleep in it.
My first setup was without a thorough reading of the instruction (which are printed on the bag if you need them) it took about 10 minutes and a lot of it was messing with cheap twist-lock trekking pole. there is a scale on the side of the shelter for correct pole length setting.
the pitch was taut and sturdy at the pole length set to the scale. the included stakes are aluminum angle about 6-7" long. This tarp provides full weather protection  for all but the most extreme conditions. There is a roof vent at the rear pole support, with the airflow from the small gap around the bottom ventilation should be adequate in most conditions
This is a big shelter with room for gear inside and 2 people. The vestibule is big enough to cook in inclement weather.
This packs down into a stuff sack of about 4 1/2" X15" and weighs around 2Lb it is designed for use with trekking poles, but a rope ridge line could be used with some experimenting. It could also be used with some local sticks cut to length for poles if you carry a small saw, the ends where the poles contact the tent would need additional protection if you choose that setup.
This tent is not for the masses, but if you are looking for a light, large, full weather protection shelter this is a serious contender.
At the full list price this is a great value. I am sure the price will come down making a greater value.
Source: bought it new
Price Paid: $129

Basic shelter at a basic price.
Pros
Light
Inexpensive
Packs down small
Cons
Wetted through in one thunderstorm
The Mountainsmith Mountain Shelter LT sets up with trekking poles, which means it is light, about 2 pounds, and packs into a small, compressible bag. There is plenty of room inside for two hikers and their gear. At just over a hundred dollars it costs much less than most options on the market.
The I set the the shelter up it took for ever and was frustrating. This is what you get from reading the instructions on the side of the stuff bag. I watched Mountainsmith's video of setup and they combined two steps making for a faster and easier setup. When I used the shelter on the trail setup was quick and easy.
The first night my son and I used this shelter we had thunderstorms. We kept dry but within minutes the whole of the inside was covered with fine drops of water. I don't know if this was condensation as it was very humid or if it was wetting through. I had set the shelter up this an inch or more of clearance all around as it was getting stuffy with the bottom of the shelter closer to the ground.
Compared to free standing, dome tents this shelter with no floor and poles in the middle is not as comfortable. Compared to my free standing tent it weighs two and a half pounds less. Car camping or with the scouts, dome tent. Backpacking, this is my go-to tent.
Source: bought it new
Price Paid: $104

Your Review
Where to Buy
Help support this site by making your next gear purchase through one of the links above. Click a link, buy what you need, and the seller will contribute a portion of the purchase price to support Trailspace's independent gear reviews.
You May Like
Specs
Price
Current Retail: $129.95-$139.99
Historic Range: $62.98-$139.99
Reviewers Paid: $95.00-$129.00