NEW MSR is debuting the Thru-Link in its spring 2020 water treatment product line.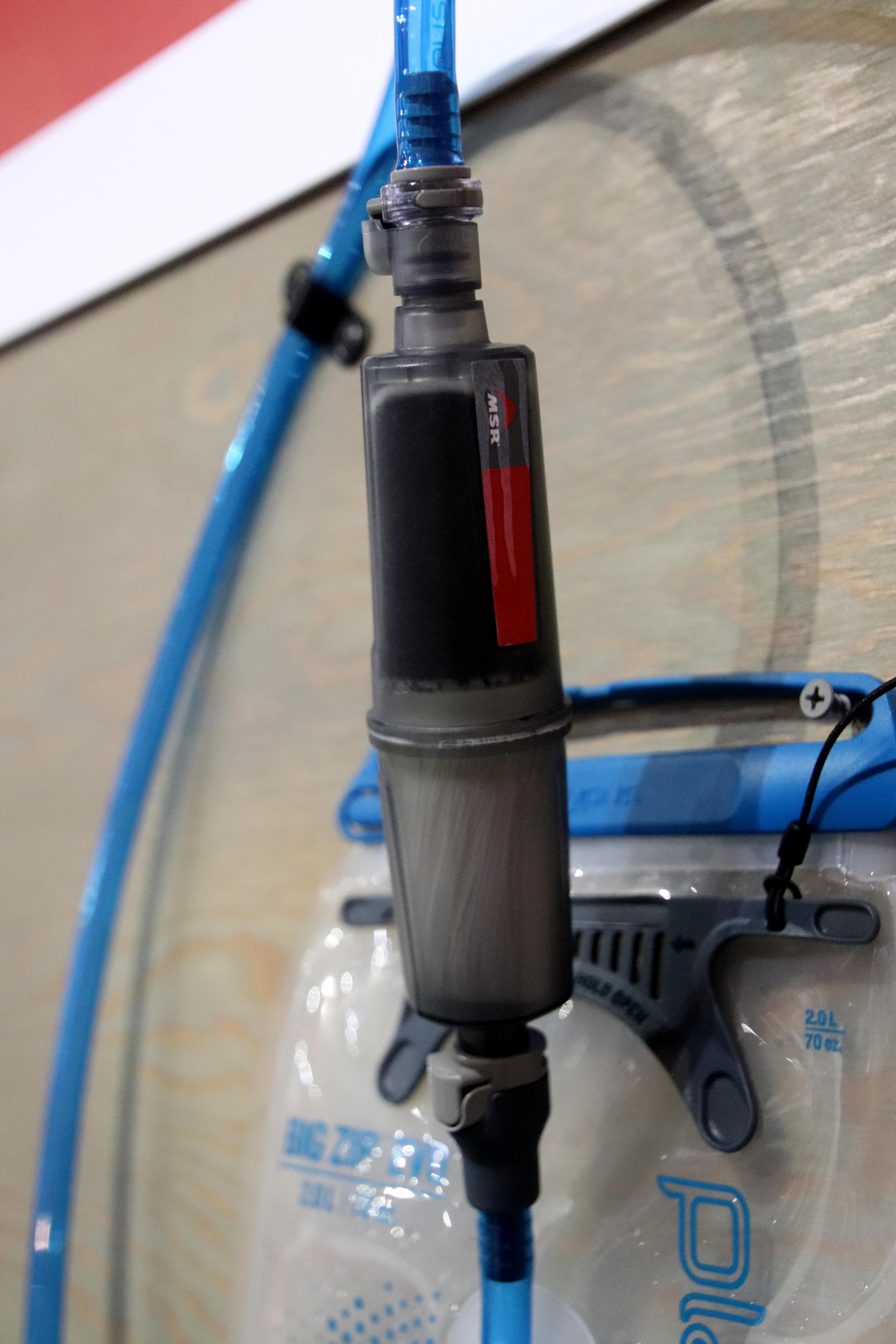 Out for Testing
We're testing and reviewing MSR's Thru-Link!
A member of Trailspace's Review Corps product-testing program is currently testing the Thru-Link. Stay tuned for Mike Mineart's in-depth review of this MSR bottle/inline water filter.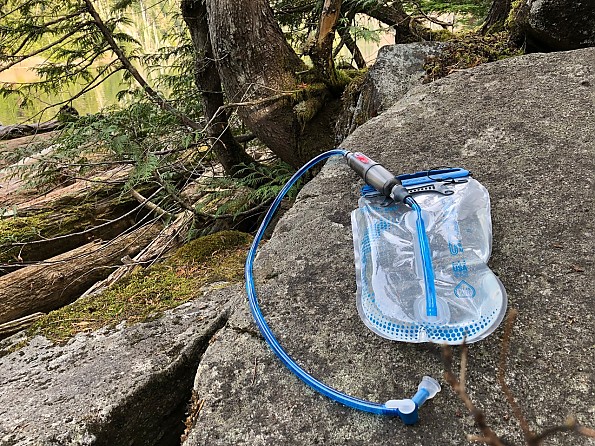 What do you want to know about the MSR Thru-Link?
Send your questions to reviewcorps@trailspace.com and we'll do our best to address them in our upcoming review.
"Have Clean Water Instantly" with the MSR Thru-Link
"Just fill your reservoir by scooping it into a lake or river, and then drink," said Sarah Courtney, Water Category Manager at MSR, of the Thru-Link. That's how easy it is for hikers, trail runners, backpackers, and others to stay hydrated with the lightweight (2.5 ounces), in-line microfilter.
Originally designed for and tested for more than a decade by the United States military, the Thru-Link removes bacteria and protozoa and was engineered for fast, high-flow drinking by individuals on the move. It connects quickly to your existing hydration reservoir to be used as an in-line filter; while in camp, it can be set up as a gravity filter.
For outdoor enthusiasts, Courtney says its biggest advantages are its efficacy and safety, speed (1.2 liters per minute), proven history, and universal fit with any reservoir.
"Proven by the U.S. Military for more than a decade, MSR's Thru-Link in-line microfilter combines the effectiveness, durability, and speed that minimalists and thru-hikers require in the backcountry," said Courtney.
Backcountry Use
"The Thru-Link is ideal for hikers, backpackers, and any other outdoor recreationalists who need safe drinking water on the move," said Courtney. "And it is quite versatile on a range of trip profiles," particularly in North America, where viruses are less common than during international travel. Chlorine tablets can be added to your reservoir before drinking to provide protection from viruses when abroad or otherwise needed.
The Thru-Link features a two-stage filtration chamber and meets the independent NSF Protocol P231 (the standard for microbiological water purifiers) for the removal of bacteria and protozoa.
"With the MSR Thru-Link microfilter, there's no need for hikers and backpackers to stop and filter their water. They just fill up their reservoir and go," said Courtney. "They have clean water instantly because the Thru-Link filters as they drink."
First, its fast-flow hollow fiber removes water-borne pathogens (such as protozoa, bacteria, viruses, and multicellular parasites), particulates (such as dirt, sand, and sediment), and microplastics (increasingly found in water sources). Second, activated carbon reduces chemicals, tastes, and odors (including the taste of water reservoirs).
With a compact size of 1.6 by 7.5 inches and weight of 2.5 ounces, it won't take up much pack space.
The Thru-Link is designed for above-freezing temperatures only. (Note: any water that lingers in the hollow fiber filtration can expand and cause the fibers to burst, compromising the integrity of the filter.)
Design Origins
While the Thru-Link became available to outdoor enthusiasts in 2020, it was originally developed for United States military use starting in 2006. Prior to its development, the U.S. military recognized the need for an individual, on-the-move water filtration system.
"You can imagine the U.S. military's needs," said Courtney. "They're potentially in combat, so they don't have time to stop and filter water with a pump or gravity filter. Prior to the Thru-Link, water collection and filtration was one of their most vulnerable times."
A military survey of available commercial, off-the-shelf products found nothing that met their stringent requirements. MSR, which has its own in-house water lab for research, development, and testing, designed the single-pass, drink-through filter to address the technology gap. Since 2006 more than 360,000 Thru-Link microfilters have been used by U.S. servicemen and women.
So, if it worked for the U.S. military, why did it take 14 years for the Thru-Link to be offered to the outdoor public?
"At any given time, our in-house water research laboratory has a large number of filtration and purification technologies at its disposal, but the market's acceptance of them changes over time" explained Courtney. "We had other water products in the pipeline that we believed would better meet the needs of outdoor users at the time," like the award-winning Guardian Purifier.
The consumer and military models of the Thru-Link are essentially identical, sharing the same effectiveness, speed, and durability. The only change is an update in the ultrasonic-welded ABS housing to remove a material not compliant with California's Proposition 65.
As for usage, the military uses chlorine tablets in conjunction with its filters, because they need virus protection internationally. Depending on where you travel, chlorine tablets are not necessary for many hikers and backpackers in North America. However, they can be dropped in your water reservoir after scooping water and before drinking through the filter for an extra level of protection, says Courtney.
Emergency Use
While MSR is an outdoor company, it's working to meet hydration needs not only in the backcountry and in the field, but also during emergencies and in low-resource communities around the world.
The Thru-Link technology is also available in MSR's Emergency Home Water Filtration System, which comes in a hermetically sealed package for long-term storage and fits standard threaded home outdoor spigots and most utility sinks. While using different water treatment technology, the SE200 Community Chlorine Maker helps provide safe drinking water around the world through the company's Global Health division.
"With large-scale natural disasters on the rise, it is apparent to us that there will be an increasing need for products in water treatment, an area where we have a very high level of technical expertise," said Courtney. "At the end of the day, nearly all the products that we manufacture serve as survival tools."
After all, whether you're climbing your favorite mountains, serving in the military, or running long trails—easy access to safe, clean water remains essential.
Specs
Price
MSRP: $39.95
Current Retail: $39.95

Weight
2.5 oz / 71 g

Dimensions
1.6 x 7.5 in / 4 x 19 cm

Flow Rate
1.2 L per minute

Capacity
up to 1000L

Reviews
Where to Buy
The MSR Thru-Link is expected in stores in spring 2020.
Help support this site by making your next gear purchase through one of the links above. Click a link, buy what you need, and the seller will contribute a portion of the purchase price to support Trailspace's independent gear reviews.
Where to Buy
expected in stores in spring 2020
Recently on Trailspace