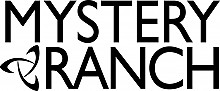 Mystery Ranch G6000

(3)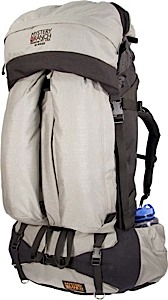 Specs
Price
MSRP: $525.00
Historic Range: $497.00
Reviewers Paid: $495.00-$540.00

Reviews
HERE'S MY REVIEW and a follow-up to an earlier Trailspace.com review. Okay, I've used this pack every month for the last 3 years on trips between 10 to 15 days, the longest being 23 days in the mountains of NC and TN. It has been soaked and frozen and beaten and jerked and nothing seems to kill it, and will haul 80lbs without sagging and when the trip's almost over and it's down to 40lbs, it'll seem like a daypack filled with a sandwich and a pair of Crocs. In fact, the pack is sitting right next to me in my tent vestibule as I'm in my 7th day of another 15 day trip in the Citico wilderness of TN.
Pros
Carries 60-80 lbs without sagging (sagging is common with most heavily loaded packs), and makes the weight "feel lighter".
Torso adjustment is easy and allows a big backpack for a small body as the pack can be ordered with small to large shoulder yokes and hipbelts. This is important if you need a large pack with a small hipbelt as I do.
Stitching, straps, fabric, zippers and buckles are all battle tested and bombproof. The only wear I have is on the lower shoulder strap webbing getting frayed from passing thru the buckle so many times. (Update: And I found a worn spot on the bottom of the left support stave where the cordura is worn thru and the white plastic support rod is showing thru--minor wear point).
The hipbelt padding and support is fantastic and way beyond anything else out there. It means, in one word, comfort.
The top lid becomes a daypack with shoulder straps and dispenses with the irksome feature of having to use the hipbelt like on the old Terraplanes.
The top lid can be "lifted" to accommodate truly massive loads and stuff placed under the lid like an extra food bag or tent.
The two back zip pockets are roomy and will hold tent poles, stove, two 22oz fuel bottles with room left over for apples, cheese and a half liter of water.
There are four beefy side straps on the pack, two on each side, which will hold a vertical tent or Thermarest or let you dangle your crocs.
The back bottom straps by the sleeping bag can hold either a tent or a pad.
Cons
This pack leaks like a sieve in the rain and even with a pack cover in a hard rain I had a cup of water at the bottom of my sleeping bag compartment, and the top lid always lets in water thru the fabric.
The back outside vertical zipper replaces the old Terraplane daisy chain and it is never used and is dead weight.
The water bottle holders have a midlevel seam which always snags my Sigg water bottles when I try to shove them in.
The whole bottom sleeping bag compartment can be done away with, the zipper, the buckles, the inside divider and it's buckles and straps, and the inside compression strap. It's easier and quicker to just push in your stuffed sleeping bag down from the top. I cut out most of the stuff in the bottom but I didn't remove the heavyweight zipper. Taking it and the back vertical zipper out would save some weight.
The first thing I noticed with this pack is its huge main bag volume when compared to the Dana Designs Terraplane. Another thing is its beefier internal frame system, the Terraplane almost seems like a light daypack when compared to the G6000. One other big difference is the pack material as the 6000 has a very substantial Cordura feel while the Terraplane (LTW)is lighter and thinner.
The 6000 also seems to have a different waterproof coating than the standard urethane of the Terraplane, a crinkly kind of material especially on the sides of the big pack, but both packs share similarities: dual Nalgene bottle holders, the same placement of the sleeping bag compartment (though the 6000's opening is novel and different), the usual lash straps on the bottom(where I put my tent), the twin back pockets(with the 6000 being much bigger and having a slightly different zipper angle), the same lid tiedown buckles (with a subtle difference: the Terraplane's straps end higher up on the bottom of the pack while the 6000's go all the way down to the bottom. This is important as the pack gets smaller during a trip allowing the lid to be cinched down tight even when near empty).
Other than the framing, the two packs are radically different. The 6's lid is very easy to remove and so when I get to camp I just unbuckle the bivalve unit (2 separate compartments) and throw it into the tent since the lid contains all the stuff I need for the night, my ditty bags, journal, paper towels, hair brush, radio, camera, etc. Plus the lid has two shoulder straps tucked away for quick transformation to a day pack (without the nuisance of adding a hipbelt like on the Terraplane).
The design of the bivalve lid allows a fully loaded pack to be closed fully with the lid properly hanging over and buckling down. Another feature is the pack body zipper that runs vertically between the two back pockets. I haven't used this yet and I don't think I'll need it and I miss the Terraplane's daisy chain but there will probably come a day when I'll need to get into the guts of the pack quickly and so the logical placement of this heavyweight zipper.
The adjustable harness system is totally different than the Terraplane and allows one big pack to be sold to someone no matter their torso size (with a man's pack and a woman's pack available). The shoulder yoke is velcroed in and is easily adjusted using a clever plastic support brace. It sounds complicated but it really isn't. Once the yoke is positioned correctly around and about the shoulders and neck, the pack rides very well and with a huge amount of support as compared to the Terraplane.
With the Terraplane carrying 75 pounds it maxes out the capacity and load bearing heft of the pack, but stick such a weight in the 6000 and you'll notice a big difference between the packs. The G6000 arranges such a heavy load and commands it, lifting and maintaining it without complaint and without the sagging so common with the Terraplane. 75 to 80 pounds does feel like 45 to 50, it's not some gimmicky business rant but a real life attribute of this pack.
I'll leave a description of why this happens to the pack experts out there, suffice it to say this pack can handle as much as you can carry without complaint, therefore for those looking for a hauler for long term 2-3 week trips this is the pack for you.
Update: April 28, 2010
PET PEEVE
This pack when placed upright on the ground fully loaded never seems to stay up and always falls over!! After a hundred times you start to get steamed and by angrily jerking it up with the load lifter strap a million times I can start to hear the strap ripping in the seam. I don't think the little lift strap was made to pick up or drag around a 80-90lb pack.
FIVE STARS
I've used this pack more than most people and it's the best pack in the world even though I call it the Titan Silverback or the Gray Refrigerator or the Pentagon Filing Cabinet. If you want to stay out in the middle of winter for a 21 day trip without resupply, and you've gotta haul 40lbs of food and a 4 season tent and bag and a goose down parka and don't mind carrying 80lbs on your back cuz you know it's the price of freedom, then this pack is for you.
If you're 25 and like it, get two or three more of them cuz in 20 years you might still be out backpacking but they could be discontinued. I won't live long enough to wear mine out. END OF REVIEW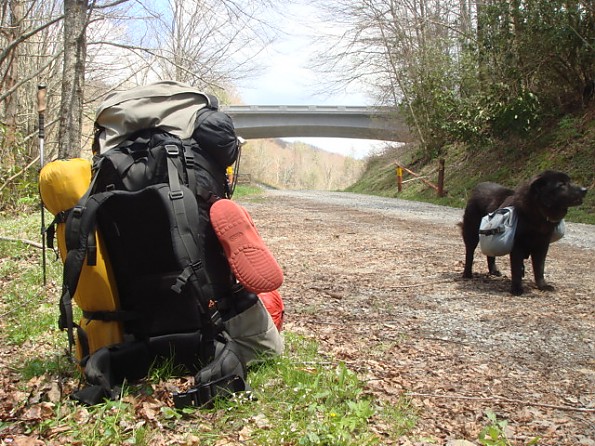 UPDATE December 2013---IT'S ALMOST 2014
Okay boys, since my last update I have put around 500 more days of humpage on this pack and it is still going strong with few complaints and no blowouts even though I routinely carry 80 to 85 lb loads.  I did send it in to Mystery Ranch for a slight repair on the shoulder straps and they replaced all the webbing with cordura for longevity and replaced the shoulder yoke to fix a minor break in the plastic sheathing inside the left shoulder strap cushioning. 

I also broke a prong off a plastic buckle on the back bottom where I strap my red tent sack but it was easily replaced.  I probably broke it when it was on the ground and I stepped on it.  The very bottom of the pack scrapes across the ground at times and I have worn two small holes in the fabric exposing two white frame rods but so far I am able to cover these holes with ripstop repair patches on a monthly basis as they peel off.

After 7 years of hard use no seam has separated and no zipper has broke---knock on wood.  Oh wait, the back panel velcro sewn onto the pack body behind the shoulder yoke which keeps the yoke from sliding out came apart but with a needle and some floss I was able to fix it in the field. 

I may need to get a new pack someday but if I do it will be another G6000.  I will include a few interesting pics of the pack in action over the last couple years.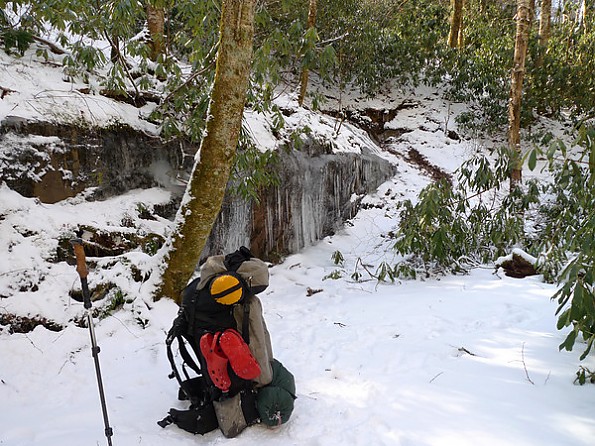 On the North Fork trail in the Citico Wilderness.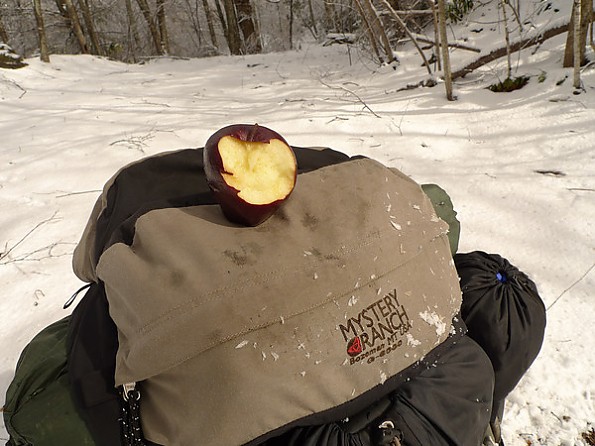 Still Life with Apple.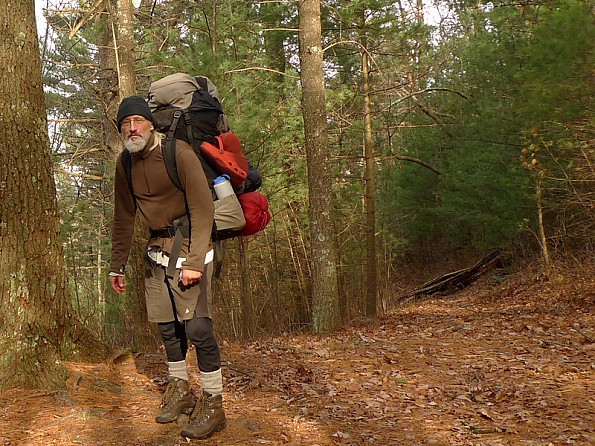 In the Big Frog Wilderness with the G6000.
Design: top loading internal
Size: 6400 cubic inches
Number of Pockets: 4
Max. Load Carried: 80 pounds
Height of Owner: 5'11"
Price Paid: $540

These are first impressions, as I have only taken this on a few hikes. I will give it a year or two then update.
So far, I have taken a few hikes with a pack weight of fifty pounds. My frame of reference for large backpacks is an old external frame pack and a North Face internal frame expedition pack made in the late 1980s. I shopped and tried on the Gregory Denali, Osprey Crescent 110, Granite Gear Cirrus 7000, and Arc'teryx Bora 95, though I have not hiked with any of these packs. I also debated McHale packs but just could not justify the expense of a truly custom-made pack. All the others were a big improvement over my old internal frame pack, and all fine choices.
The suspension on this backpack is tremendous, very comfortable. Well-designed hip belt, a frame that can handle a lot of weight and put it on your hips easily, and a shoulder harness that is adjustable for torso length and is very comfortable on the shoulders.
The bag has a number of nice features. The top is divided into 2 compartments, so my small stuff isn't quite as jumbled around. The two large front pockets are classic Dana Design, very large and very convenient. The sleeping bag compartment (separated by a barrier with fastex clips that can be undone to create one large bag) has a very wide mouth for large sleeping bags and a very beefy zipper. There are external load compression straps and an internal compression strap too. There is also a heavy zippered opening on the front of the pack, in addition to the top load opening. Finally, it has two bottle pockets that actually fit a one liter bottle within reach while walking, with a grommet in the bottom for drainage.
Build quality appears to be excellent, though not for the ultralight crowd. Fabrics, stitching, and hardware are all heavy duty and heavy - the pack weighs close to eight pounds empty. Hard to say how it will wear over time, but it's made in Montana in small quantities.
Small things I would change: the Dana packs had a very useful daisy chain of webbing on the back; the zipper access prevents that. I would have liked to see the loops somewhere else on the pack. Also, the top can be converted into a rudimentary day pack - that's fine, but I don't have much use for it, and the shoulder straps are completely unpadded. Better to dispense with that feature in my opinion.
Features to watch over time: I have never owned a pack with carbon/synthetic stays rather than aluminum. 7075 aluminum is the gold standard for expedition packs; This one has handled 50 pounds without a hitch and could easily take more. I will be watching how the stays hold up and bear the load over the long term, putting my trust in the company and the design.
Update: February 22, 2008
This is a brief update to my previous review, after taking the pack winter camping in New Hampshire. The suspension held up well under 65-70 pounds, no pack bruises, chafing, or adjustability issues in mixed snow/ice and occasionally steep terrain. Consider the G7000 for long expeditions. Also, extra straps/lash cords I bought came in very handy. Plenty of lash points, but I needed the extra straps.
Finally, I actually used the top sack that converts to a daypack and thought it was convenient - shoulder straps aren't padded, but it was a nice feature to have. Totally unscathed despite the proximity to crampons, snowshoes, and an ice axe. worth the expense.
Design: top loading internal
Size: 6000 cubic inches
Number of Pockets: 4
Max. Load Carried: 65-70 pounds
Height of Owner: 5 foot 10
Price Paid: $525

Absolutly the greatest pack out there. If you need something that'll carry your gear plus the gear of your girlfriend/mother/campers than this pack by the "Dana" of Dana Designs is as good as it gets. The suspension makes insane 80-pound loads feel like 40. Made in the USA, it's what the Dana Design Astraplane used to be when it was still made in Bozeman.
Design: front/top-loading internal
Size: 6400 cubic inches
Number of Pockets: 5
Max. Load Carried: 80+lbs
Height of Owner: 6'1"
Price Paid: $495

Where to Buy
Help support this site by making your next gear purchase through one of the links above. Click a link, buy what you need, and the seller will contribute a portion of the purchase price to support Trailspace's independent gear reviews.