Oboz Bridger Mid BDry Insulated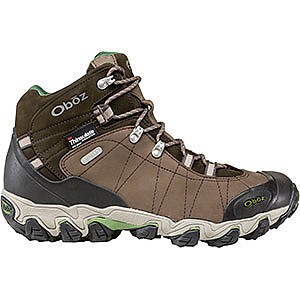 Insulated, waterproof, and comfortable, the Oboz Bridger Mid Insulated is made for those who stay active all winter long. Great with snowshoes, spikes, or on their own. When cold weather calls for a little insulation, but you don't want to be slowed down by heavier, sub zero gear, these boots are ready to go.
Pros
Comfortable fit
Lots of toe wiggle room
Holds well to foot without binding
Cons
Some traction issues
Won't keep feet warm for long in sub zero temps if inactive
Some water puddling on top of shoe
No D ring to attach gaiters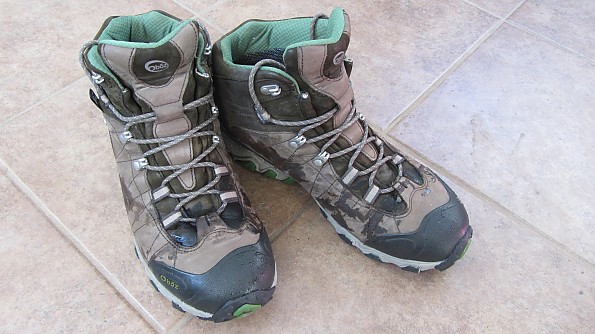 Fresh from the trail you can see where snow melt has puddled a bit below the laces on top of the shoe. Those areas took a bit longer to dry, but I never found any moisture seeping through to the foot.

The Oboz Bridger waterproof, insulated boot looks and feels much like a regular modern style hiking boot. That is because it is born from the Oboz Bridger Mid Bdry using the same design but adding a little insulation. The 100g of Thinsulate hidden inside turns the standard waterproof Bridger into something much more.
Balancing warmth and ergonomics, this boot is a real treat to use on trail or off when things get chilly outside. Oboz lists a weight of 19.9oz for a size 9 while my size 12 come in at 23.2oz per boot.

Fit:
A little online research told me that many others found the standard Bridger boots to run a bit small in terms of length so I went with a US12/EU46 to be safe. You want to have plenty of room in a winter boot. After wearing them for months I'm pretty sure my standard 11.5US/EU45 would have probably been fine, but the extra room hasn't caused any problems due to the way the boot holds to my foot.
The toe box is quite wide for a shoe listed as a standard D. There is plenty of room for wiggling the toes which comes in handy on really cold days. I kept to a single, hiking weight sock to avoid restricting blood flow to the feet rather than packing the space with heavier socks.
The uppers work with a solid, but comfortable heel collar to hold feet in place without requiring overly tight lacing. This created a feel that was both loosely casual and snugly secure at the same time. No restriction of blood flow, but also no concerns about feet wobbling around inside the boot.

Comfort:
These shoes needed little if any break in. They felt great right out of the box, but for me at least, there was a bit of a learning curve in terms of getting them tied on my feet correctly.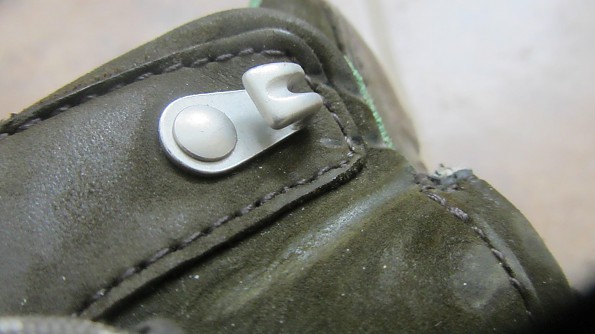 The single lace hook at the top of the boot acts to lock in the tension applied to the laces below. No additional tension is needed above the hook as the boot holds well to the foot without it.

After a painful experiment I realized that unlike most other boots I own, these needed to be tied without cinching the lace down hard after hitting the hook at the top. Left a bit loose the collar held the ankles firmly enough, but cinching them down tight left a bruise on top of my foot. I'm not used to a boot staying in place while feeling comfortably loose, but these do.
Other than that these shoes were very comfortable both for day hiking with little load or multi day backpacking with a full, 50lb+ winter pack. Any issues of comfort came from exceeding their temperature range which I'll cover next.

Temperature:
These boots perform really well in terms of foot temperatures, right up until they don't. Both in terms of heat and cold, once minor discomfort was encountered things rapidly progressed for the worse. I don't consider that to really be a negative, just simply a function of the chosen level of insulation. Stay inside their range and you're fine, but extend too far in either extreme and comfort fades quickly.
For me, hiking hard in these boots in temperatures above 50°F or so quickly became painfully hot. Pushing them to handle 10 miles in full pack on a fall trip in the White Mountains with temps around 60° left them damp with sweat and my feet a bit steamed, literally and figuratively.
On the other end of the testing spectrum I performed a stationary test in -7°F weather to see how it felt to be inactive in sub zero temps. It took 5 minutes for my feet to feel chilled and by 15 minutes there was a sense of actual pain.
Those episodes sort of define what these shoes were not designed for, so as the doctor in the old joke would say, "Don't do that!" What the Oboz Bridger Insulated does really well is in the middle of that range; Keep your feet warm during cold weather activity. The higher your level of activity, the lower you can take them in terms of temperatures.
For me that meant they were great for hiking anywhere from 0°F to 40°F but for standing around for any length of time I'd put the lower end of the comfort range 10 degrees higher.
On that same -7°F morning I took the boots out for a brisk walk of several miles and found that while not warm, my feet were comfortable enough so long as I kept walking. I would not feel safe on an extended hike at that temperature, but for me at least, I think that about defines the bottom of the temperature range of these boots. While not intended for this low of a temperature they were still functional.
From there up through the 30s I found these boots were fine for active use, though they cooled rapidly once I stopped moving on the colder days.

Support:
At a mid height these Oboz boots were a bit lower than the higher Keens I was used to and I wondered how much ankle support they would provide. An early testing trip took me down trails buried in fall leaves with a 35-lb pack which gave me several chances to find out.
There were three ankle roll attempts due to hidden rocks under the leaves and zero broken ankles. While not as supportive as a full boot, these incidents gave me a lot of confidence in the Bridger Insulated's ability to help keep my feet attached to my legs.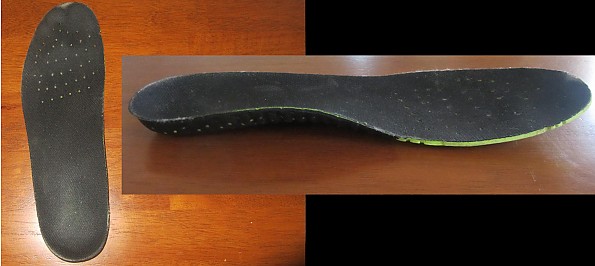 Looking at the BFit Deluxe Insole from the top gives a good view of the arch contour. The flatter of my two feet noticed that at first, but adapted quickly to the feeling.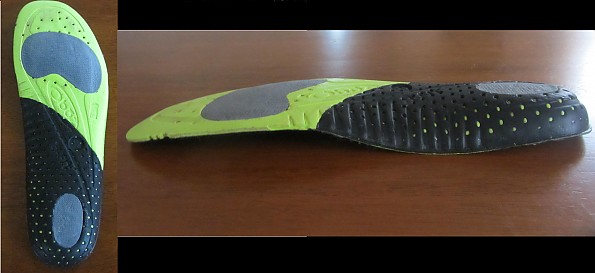 Looking at the insole from the bottom shows the two cushioned areas at the heel and ball of the foot. You also can clearly see the depth of the heel cup from this angle.

Inside Oboz has used their BFit Deluxe Insole which provides a comfortable and supportive footbed. I have differing amounts of arch on my feet and neither had a problem feeling at home. There seemed to be a bit of cushion which added some comfort on hard surfaces without feeling like the foot wasn't securely in place.
Beyond 50 lbs or so in the pack seemed to negate that cushion noticeably, but these boots were still pretty comfortable on a trip with a 60-lb winter pack that covered over 20 miles of hard ice trails in my Hillsound Trail Crampons.

Materials and Construction: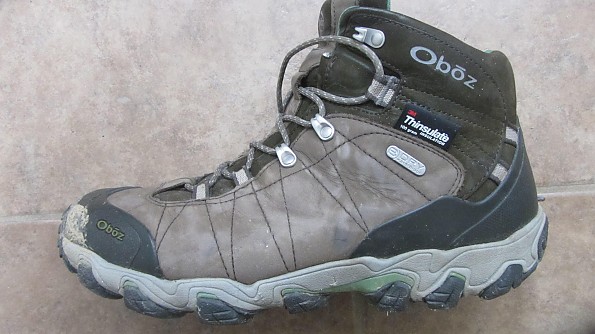 With a bit of flex and a little rocker at the toe the Bridger Mid Insulated boot was comfortable putting in long miles on rocky trails.

The upper is a soft feeling waterproof nubuck leather. Inside is BDry which is what Oboz calls their waterproof, breathable membrane. There is also a layer of Thinsulate insulation and a lining that transfers moisture away from the foot up to a point.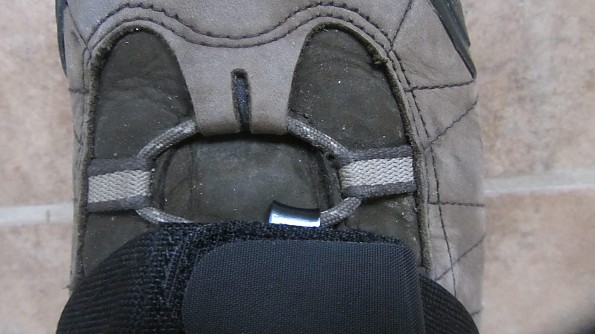 With no D ring nor access to the bottom of the lace in the middle it was either attach at the sides or to the second lace section. I went with the second lace option as clipping to the side seemed to stress the lace more.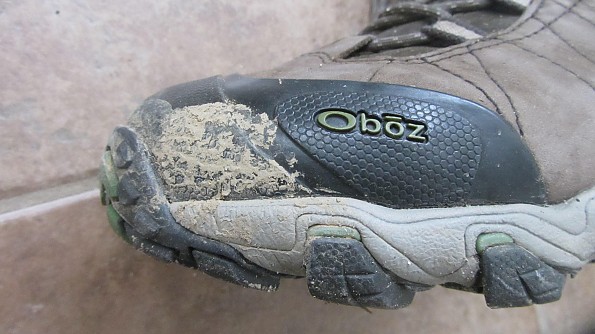 A molded rubber toe cap protects the leather at the front of the shoe. Wrapping the lugged sole up around the tip of the boot not only provides protection, but a little extra traction to help stop toe slips.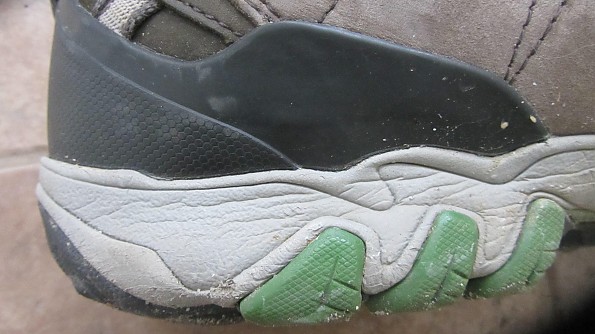 The molded rubber heel counter and molded welt work together to prevent mud and ice build up while protecting from sharp rocks.

Under the foot these board lasted boots have a nylon shank over what Oboz calls their TPU chassis which is designed to be lightweight, but protect feet from stone bruising and torsional twisting.
Molded rubber toe caps and heel counters provide great protection in high abuse areas of the boot.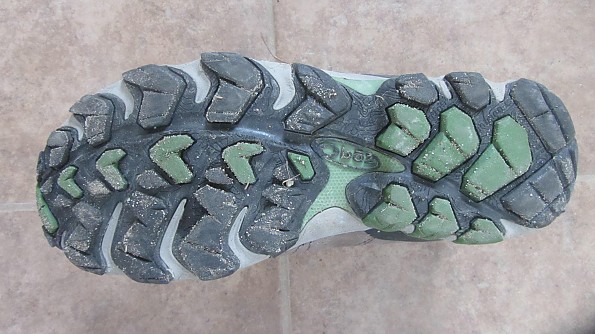 Lugged sole that digs in for traction while shedding mud and snow easily.

The outsole is something Oboz refers to as a Granite Peak style with 4mm directional lugs.

Traction:
This is another area where the Oboz Bridger Insulated boots perform really well, right up until they don't. I found that on most surfaces they provided a very secure grip. That included pavement, loose dirt, dry or wet leaves, a variety of muds, all manner of rocks and even textured ice or snow.
The first time I found myself skating with no traction at all was on a mossy rock just under the surface of some flowing water. Another incident that comes to mind was on a paved road surface that was lightly coated with moisture from a heavy fog. I experienced a toe slip while walking up a hill with the boot seeming to skate on that thin layer of water once traction was broken.
Damp moss on a rocky trail wasn't a problem, just mossy areas that were in water or very wet. It seemed to me that water trapped between the boot and a smooth surface led to the boot hydroplaning in very particular situations. They perform about the same on smooth ice, especially wet smooth ice.
I make very certain of my steps and how I use my hiking poles any time I find myself dealing with such situations in these boots. The rest of the time I hike without a care. They seemed to shed mud and snow well with no ice build up issues when used with spikes or snowshoes.
Overall I'd actually rate the traction of these boots to be quite good. They really seem to stick where they are planted most of the time no matter what is under foot. I just found that certain situations called for slowing down and careful pole planting which I would take without concern in my Keen Erickson PCTs.

Water Resistance:
These boots do keep water out in all of its forms. Rain, snow, water crossings, and even breaking through winter ice into open water were all entirely external events. Snow melt can dampen the exterior of the leather, especially during extended, active use. Despite that water pooling a bit on top of the shoe I never found any moisture to pass into the interior.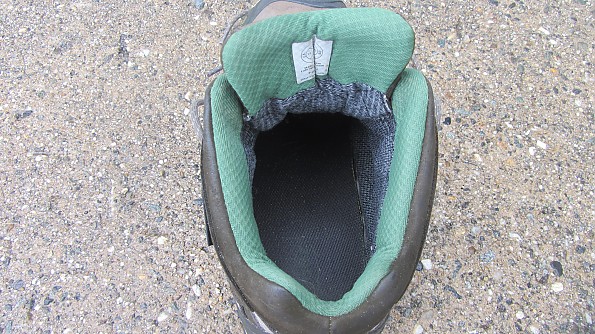 Form fitting ankle collar prevented snow and debris from entering. The cushioned interior lining absorbed some, but not all, excess foot moisture.

The interior did come become damp at times from foot moisture. The lining absorbed enough to prevent socks from becoming wet as opposed to just damp.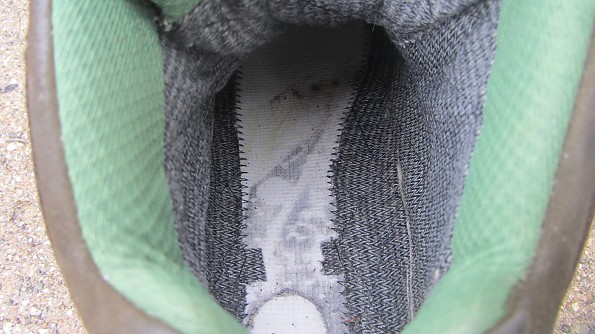 With the insole removed you can see how the upper lining is stitched to the foot bed.

Both interior and exterior dried extremely well in my testing. On a multi-night winter trek I brought the boots into my tent each night and they were completely dry, inside and out, by morning each day.

Testing Conditions: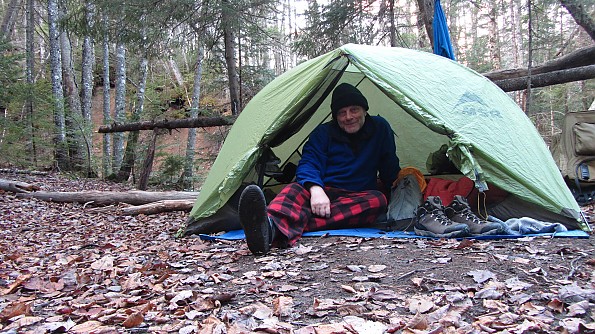 Not quite cold enough for these boots yet, but cold enough to break out the fuzzy camp clothes, I let them relax outside the tent while I got ready to relax inside on a fall White Mountains adventure.
These boots were used extensively over a three and a half month period in a wide variety of weather. Temperatures ranged from -7°F to around 60°F. Boots were used on paved surfaces, dirt, mud, wet and dry leaves, ice, snow, slush and lots of rocks. Testing was done with bare boots, Hillsound Trail Crampons and MSR Revo Ascent snowshoes.
While the majority of testing was accomplished via day hikes there also were several multi-night backpacking excursions including multiple trips to the White Mountains and one to the Bay of Fundy. Pack weights on the overnight trips ranged from 20 to 60 pounds.

Conclusions:
The Oboz Bridger Mid Insulated boots delivered pretty well in the areas of being waterproof, comfortable, and warm while leaving just a little bit desired in the area of traction. In total I would estimate that I put in about 200 miles in the boots alone with an additional 35 miles of snowshoeing and another 20 miles or so in trail spikes and found these boots comfortable and functional other than the few exceptions I've noted.
These boots have a wide temperature range, but exceeding it in either direction comes at a cost.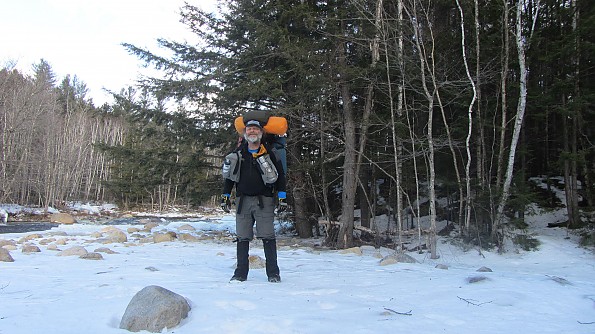 A full, 60lb, multi night, winter pack was no problem, but did feel like it reduced the cushioning of the insole.

After months of extensive testing I feel comfortable recommending the Oboz Bridger Mid Insulated boot with a few qualifications. So long as your requirements are within this boot's capabilities it will serve you well I believe, but asking it to work as a four-season boot or in extreme sub zero temperatures would be a mistake.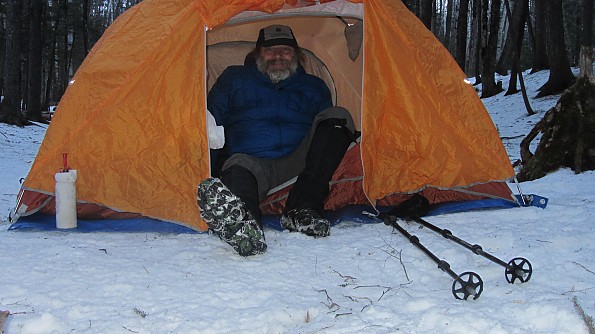 Kicking back after dinner on a mid-winter Pemigewasset adventure. Not sure if that smile is from a belly full of hot soup or because I remembered not to walk into the tent with my spikes on.

It seems truly geared to active use in colder temperatures so doesn't make a great winter camp shoe. I found myself going for little walks to warm them up after I'd made camp with temps in the teens or below. If I was expecting to see really frigid, sub zero temperatures I'd prefer to bring something warmer for standing around in or be prepared to spend most of my time in the tent.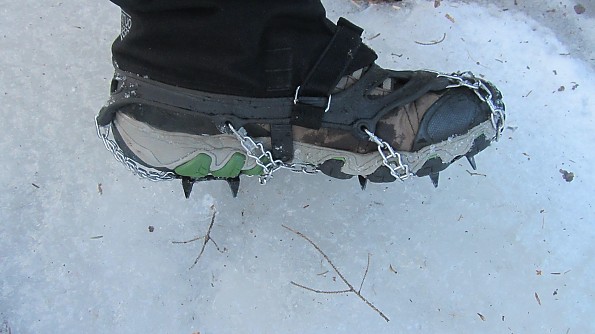 Wrapped in OR Crocs from above and Hillsound Trail Crampons from below.

Where it really made me appreciate these boots was while snowshoeing and using trail spikes. These boots created a great feeling platform for attaching traction devices to and let me enjoy longer treks because of their warmth and comfort. They seem well constructed with almost no signs of wear so I expect them to continue to deliver in the long term.
Source: received for testing via the Trailspace Review Corps (Sample provided by Oboz for testing and review)

Your Review
Where to Buy
Help support this site by making your next gear purchase through one of the links above. Click a link, buy what you need, and the seller will contribute a portion of the purchase price to support Trailspace's independent gear reviews.
You May Like