Oboz Wind River III Waterproof

#9 in Hiking Boots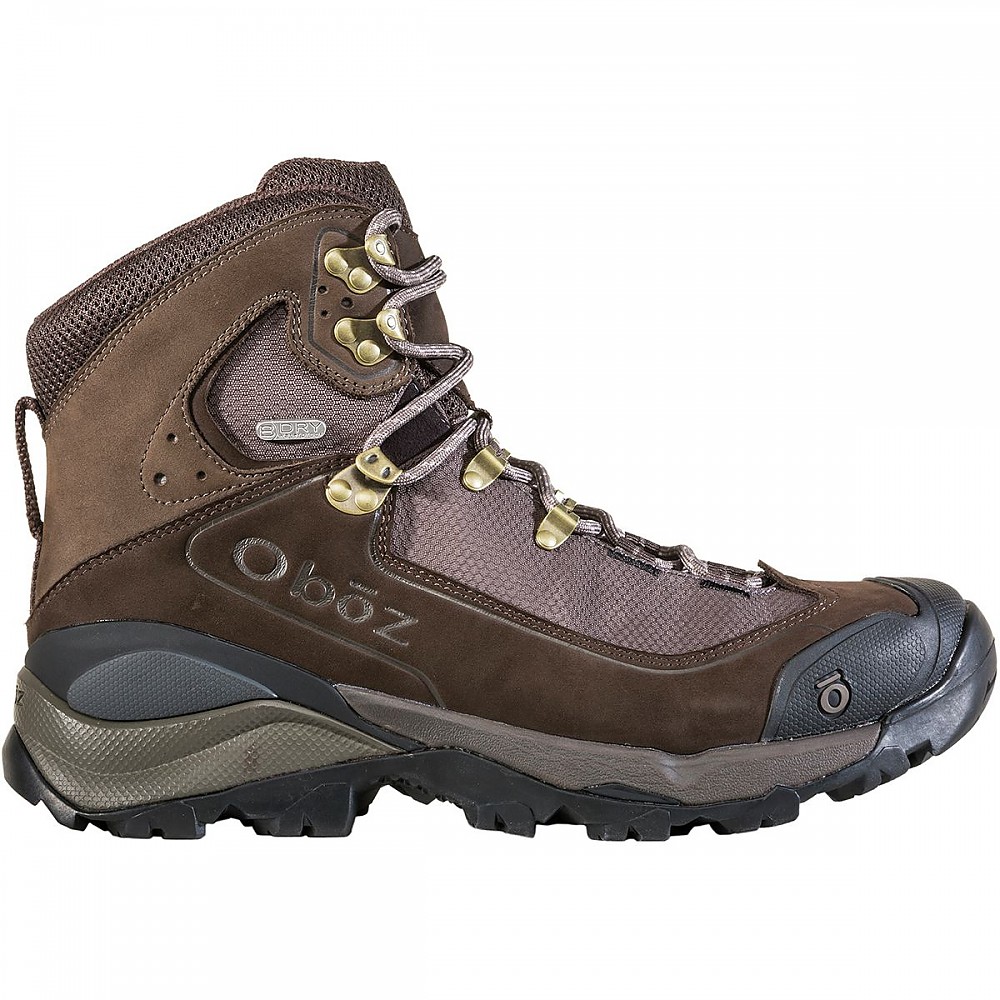 The Wind River III is a beast of a boot. Rough terrain, lousy weather, large person looking for extra support, and/or toting a heavy pack? This could be a good choice. It feels solid and well-protected from the ground and has a full, above-the-ankle fit. Traction is great thanks to a very aggressive tread pattern, and they have proved to be fully waterproof.

It's a lot of boot at over three pounds per pair and stiffened by a solid midsole and partial shank. If you like lighter and more flexible footwear, probably not your cup of tea—but outstanding for the purpose it is meant to serve.
Pros
Protects your feet—firm midsole, toe cap, solid fit and feel
Limited need to break them in
Waterproof
Excellent traction
Excellent stock insole
Cons
Weight
Limited flex in sole/midsole
Cost
Introduction
I received these boots as part of the Trailspace Review Corps and have been testing them since mid-winter. At least 50 miles in, I am very impressed with this as an option if you want a boot made to meet demanding conditions...or day hiking if you like hiking in heavier, more supporting footwear.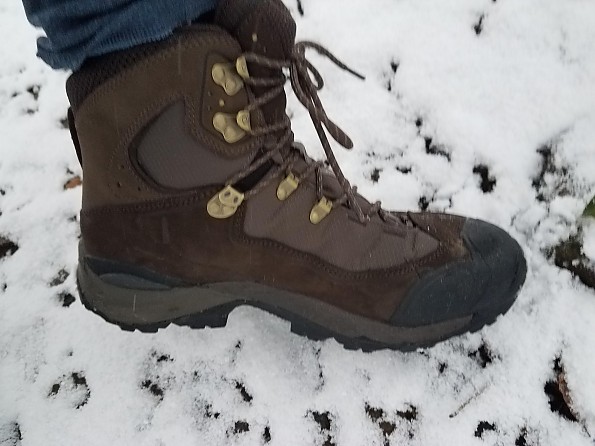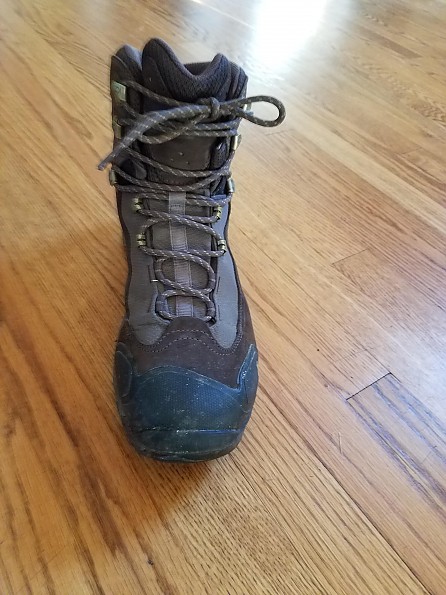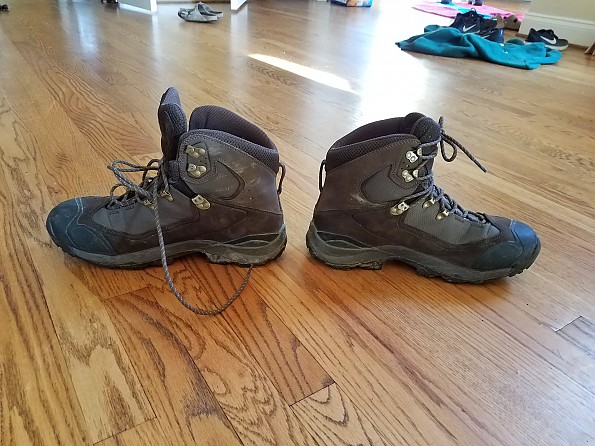 BASIC INFORMATION ABOUT THE BOOTS
Materials: leather/nylon
Use: Any hiking, but best suited to rough trails and carrying large backpacks
Break-in Period: limited—a few shakedown hikes
Waterproof: Yes, Oboz B-Dry membrane
Weight: 3.2 pounds/pair for size 12 mens
Retail Cost: $210 (expensive)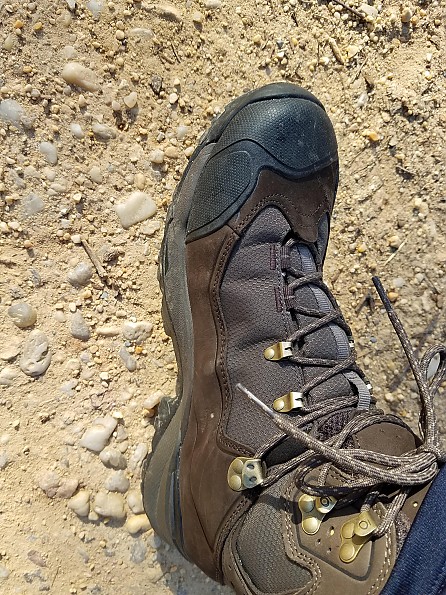 Note the lacing—speed lacing below, bolted-on hardware, loops in the midfoot and hooks up top. Also, you can see how this is a hybrid leather/nylon boot and the rubber toe cap here.  
The pair weighs three pounds, three ounces on a digital scale. To provide some perspective, my Limmer lightweight all-leather boots weigh three pounds, nine ounces. The Wind River laces up with a form of speed lacing closest to your toes, then through metal eyelets, and finally three sets of hooks at the top near your ankle. The lacing makes it easy to adjust the fit. This is an above-the ankle boot, but as I will discuss in more detail below, the ankle has plenty of flex. Both under and around your feet, the boot feels very firm and secure, comparable to some all-leather boots. 
The upper/body of the boot is a combination of leather and fairly robust nylon and is glued to the midsole and sole. A proprietary Oboz membrane keeps your feet dry and allows some moisture to escape. With this kind of durable nylon, they are not as breathable as a shoe made with sections of mesh.
The midsole is firm, aided by sections of denser polyurethane and a half-shank. Like any boot with a denser midsole and shank, expect these to be somewhat less flexible than many boots. For example, Oboz's all leather Bridger mid has a different and more forgiving feel than these.
The back of the boots sports a small loop suitable for hanging them up or grabbing them with a carabiner. The toe, like almost every Oboz shoe I have worn, has a very protective rubber toe.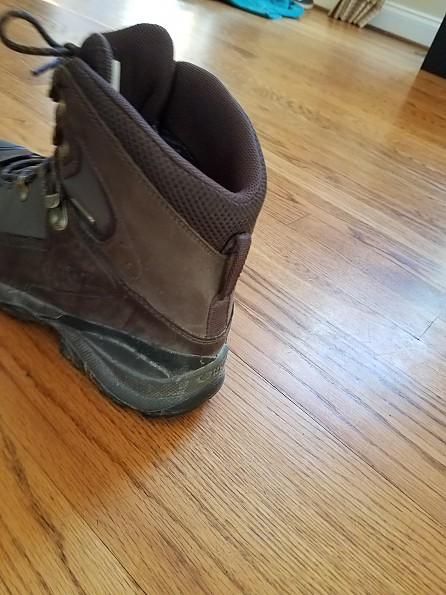 Heel area is mostly leather—note the grab loop at the back.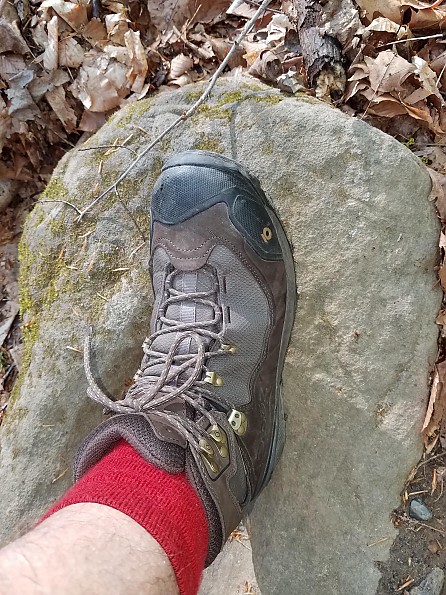 The tongue is, unsurprisingly, integrated into the boot to prevent leaks and keep the tongue centered. Oboz stock laces are round and sometimes have a propensity to make knots loosen up. Several years ago, a fellow Trailspace member recommended the "better bow" for slippery laces, and it is a drop-dead brilliant solution for laces that might otherwise come untied.  https://www.fieggen.com/shoelace/betterbowknot.htm I use the better bow all the time now, so I can't say whether the laces could work loose over the course of a day's trek.  
All Oboz shoes and boots come with a great stock insole—much better cushioning and support than the pancakes you find in many boots. It happens that I replace the insoles with custom orthotics.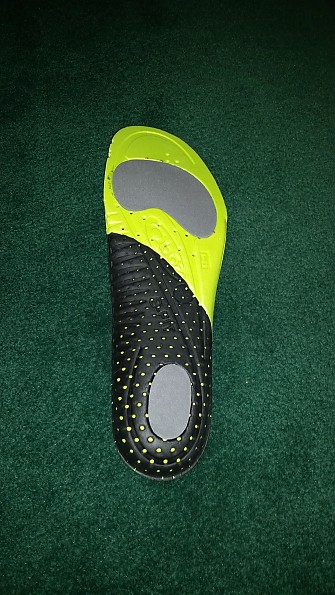 The yellow part is typical for insoles, but the gray sections are denser foam, and the black section is relatively harder plastic, a slightly more flexible version of the plastic section of Green Superfeet.  
Deep-lugged proprietary sole. More on traction below.
HOW THEY FIT
They are true to size for me. The heel width and overall volume of the boot is average, and the toe box is on the wide end of normal. My feet are size 12 D/E, and the width feels perfect for me. Someone with a narrow forefoot should try them on and assess whether this brand works for them.  
The fit is tight/firm, particularly at first. Even after they are broken in, this is a boot that locks your foot in and allows little or no sliding around. If your foot is very wide, the sidewalls of these boots might feel pretty uncomfortable because they are robust and don't have much give, and break-in might take longer or not work at all. I wear them with the FITS medium weight hiking socks.
They feel very firm under foot—not a cushy ride. That's OK, particularly if you are carrying some weight and place a premium on protecting your feet. I had no issues at all with my foot sliding forward or banging my toes.
BREAKING THEM IN
I recommend taking a little bit of time breaking them in. Many leather/nylon boots don't require break-in, which speaks pretty clearly to the solidity and firm fit of these boots. It took a couple of five-mile hikes for them to truly feel comfortable—the upper materials can feel stiff at first. I did not experience any blisters with the Wind River, even during those initial hikes. If you tend to prefer trail runners, these boots are going to feel a lot less forgiving. That's a lot less breaking in than a pair of full leather boots. 
FIELD EXPERIENCE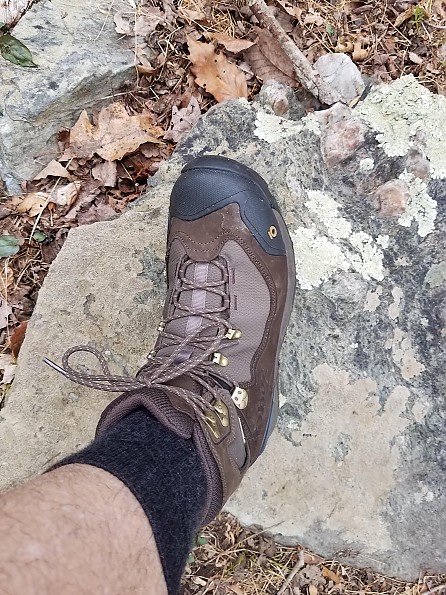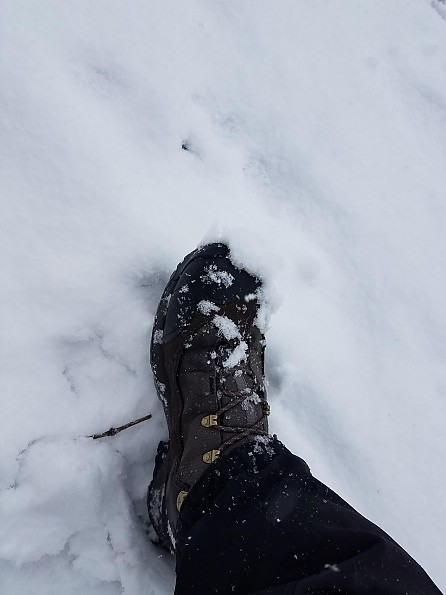 I took a number of pretty taxing snowy hikes when I first started trying these boots, and I have now worn them on 15-20 day hikes of some significant length. The terrain varied from very rocky, steep, and abrasive to dirty, wet trails through the woods. For the most part, I wore day packs, but on two hikes, I loaded up a pack to 40 and to 50 pounds to put the boots through their paces and see how they felt with me bearing a load. During three or four hikes, it was raining, or the trail was soaked and sporting puddles a few inches deep. The coldest day was about 25 degrees, the warmest in the mid-70s.  Observations from that well of data:
Fully waterproof. I don't know what the Oboz proprietary B-dry membrane actually is or who makes it, but it has been reliably and consistently waterproof both in these boots and in the Bridger mids (which have seen at least triple the trail time as these) and Bridger lows (my favorite low hiker—I wear them all the time).  Unlike some Goretex booties, the Oboz waterproof membrane seems better at handling the friction and abuse than any Goretex membrane I have used in a boot.
Roots and rocks? No problem. As you would expect with a boot that weighs over 3 pounds, they are made to take a pounding but make your foot feel like it's not getting smashed around. 
General durability—shaping up to be outstanding. No issues with these boots. The granite we have in the Shenandoah Mountains is weathered and very abrasive—it has done nothing to these. In particular, the sole is a pretty hard rubber compound that has already proved to be highly durable. That is a good thing, because $210 is a significant setback. If they give you several years of happy trails, as they should, it's worth the price, but I would search for sales or use discounts when possible.    
More than enough boot for carrying a large backpack. The degree of stability is comparable to a beefy full grain leather boot.
Not enough hot/humid weather beta to say with this boot, but the all-leather Bridger Mid with B-Dry is about average—meaning it can feel warm when the weather gets very warm. Despite the nylon sections, expect this to be about the same. If you find and use a good pair of merino wool socks, bringing an extra pair and changing them out at lunch virtually eliminates 'boot sweat' as an issue for most people and situations  unless you live in a really hot, dry area. (If you live in a hot and dry climate, I would veer away from any boot with a waterproof/breathable membrane and get a no-membrane, not-waterproof boot that has large sections of nylon mesh and focuses on venting moisture.) I'm interested to see whether those nylon sections translate into a more breathable boot.
Not insulated, but a great option for cold weather short of deep winter because the boot can accommodate a relatively thick sock without squeezing my feet; someone with very high volume feet might have a different experience. Some of my hiking boots get my toes feeling tingly when the weather is lower than the freezing point. While I have not fully probed the temperature range for these, they felt better than most of my non-insulated boots do at 25 degrees.
Dry traction is great, particularly dirt, gravel, talus. The only dry situations where these boots are merely good are on smooth rock or slabs or on wet, mostly-rock trails. That's where the harder, high-durability soles aren't the best option. If you anticipate a trip with a lot of slabs and rock scrambles, it might be worth bringing along a pair of approach shoes for that. In snow, the deep and irregular lug pattern does really well. 
CONCLUSIONS
Thank you to Trailspace for allowing me to test and review this boot. This is a 4 ½ or 5 star boot for its purpose—lots of support, lots of foot protection, durability, and handling bad weather for a person willing to walk in a pair of boots that weighs more than three pounds. I have not experienced any meaningful downsides during my testing of the Wind River III.
Source: received for testing via the Trailspace Review Corps (Sample provided by Oboz for testing and review)

Surprising good boot. Though it is rated as a hiking boot, it would easily stack up as a backpacking boot. The fit was good, it needed no break-in (for me), and continues to hold up to rough terrain.
Pros
True to size fit
Nearly no break-in
Comfortable
Tough all-around
Price-to-quality factor
I am pleasantly surprised by this boot. I bought as a last-minute replacement for a failed Zamberlan boot.
I hike in rocky terrain in Colorado where my boots see just about every condition. The fit is good, it is long-term comfortable, keeps out sand and small rocks. More importantly for me, the insole/outsole support, particularly against medium-sized, sharp rocks in the trail,  put their protection up there with high-quality backpacking boots.
It is holding up well for a boot that does not have a thick leather upper. The rand is not wrap-around but seems to protect the rest of the upper very well. It has kept me dry, and the man-made upper has not retained water to make the boot heavy.  
The only negative so far is downhill traction. Where I live and hike, it is decomposed granite over hard-pack, so it is a challenge for any boot. I don't hold that against this boot, it actually was the only CON I could think of to this point.  
Experience
I live and have hiked in Colorado for 30+ years, so my boots get a workout. I primarily wear Asolo backpacking boots with great success over the years. This was my first pair of Oboz. My wife loves the brand and recommended I give them a try. I only have 100+ miles on the boots so far, and I will update this review if anything new pops up, good or not-so-good.
Source: bought it new
Price Paid: $120

Your Review
Where to Buy
Help support this site by making your next gear purchase through one of the links above. Click a link, buy what you need, and the seller will contribute a portion of the purchase price to support Trailspace's independent gear reviews.
You May Like
Specs
Men's
Price
Historic Range: $99.73-$210.00
Reviewers Paid: $120.00

Women's
Price
Historic Range: $83.73-$210.00

Recently on Trailspace