Osprey Talon 11

#1 in men's Daypacks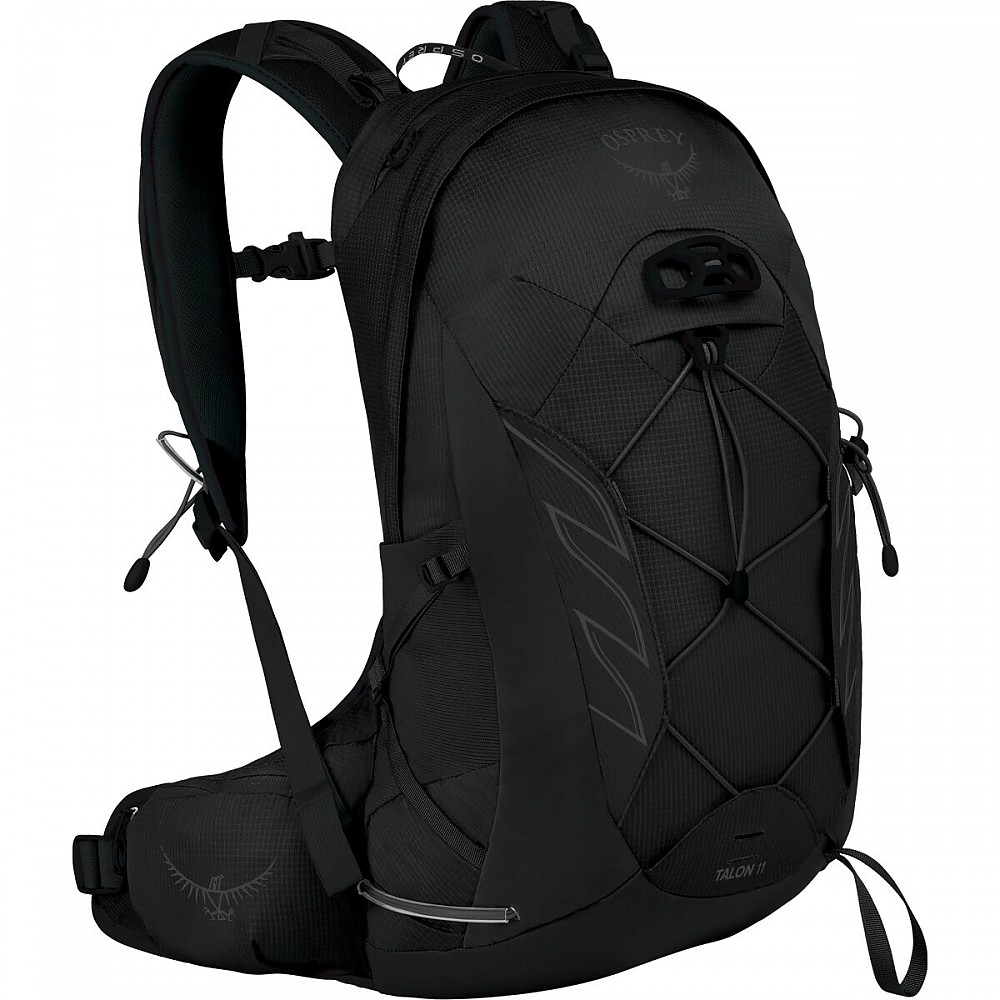 I purchased this pack for very long distance unsupported trail runs. I am new at this distance and and will likely never be a professional. I do not race.
Pros
Minimal weight
Minimal bounce
Straps don't rub
Pack doesn't "crawl" up your back as you run (I hate that!)
Pockets on hips large enough for GPS, Smart phone, or a couple of Clif Bars, yet small enough that they don't abrade the inside of my forearms
Pockets on shoulder straps fits energy gels, my watch, my old-fashioned flip phone.
Fits my older Platypus Hoser 3-liter hydration bladder.
Easy to extract said bladder for refill without emptying contents of the pack.
Fits enough gear for changing temperatures/altitude/conditions and "essentials" on daylong backcountry trail runs.
Stretch pockets on side of pack for narrow water bottles (i.e., not Nalgene 1-Liters) perfectly sized and perfectly placed (I can reach them without removing the pack)
Cons
Light load compression should be better. The external storage bungee acts as a very limited compression.
My waist has not yet shrunk to be sufficiently narrower than my ribs to prevent the hip belt from riding up over the bottom of my ribcage. I think, however, that this is more the fault of my slight paunch than that of the pack. If my waist narrows, I shall update this review.
WHY I GOT IT
For shorter distances (6 to 10 miles), I just need water which can be accomplished in a myriad of ways readily available. For longer distances (over 10 miles) I need some source of energy (gels or whatnot), and even for this there are plenty of waistpacks or running vests or hydration whatevers which will hold enough water, and a couple of energy bars and energy gels. However, I plan on running 50+ miles solo and largely without support through unfamiliar backcountry. There are plenty of packs which can be used to walk this distance, but the experience of running in most day packs goes from unpleasant to painful to injurious. These hiking specific packs tend to bind, rub, and bounce horribly when running.

OTHER CHOICES
One solution was to limit what I carry and use a smaller running pack like the Nathan HPL #020. There are others in that genre, but the Nathan seems to be the gold standard for ultra endurance runners. Nathan calls it a "Race Vest," and videos of long distance trail runners wearing this abound. I felt, however, that its 275 c.i. cargo capacity was insufficient.
I want to carry some "just-in-case" essentials, as weather can change on a day-long run, I might be traversing sufficient altitude as to expect different conditions on top, and if I'm having a slow day or I get a little off course I might find myself on an accidental camp-out.
My choices, then, looked to be limited to a few packs meant primarily for long-distance mountain biking as well as what the industry seems to be terming, "mult-use," "mult-sport," or "adventure racing" hydration packs.
Manufacturers of these include Inov-8, Salomon, Camelbak, Gregory, and Osprey, but I didn't find examples of all of these packs in nearby stores to try on. I was, however, able to try on the Osprey Raptor 10, the Osprey Manta 20, and the Gregory Miwok 18, as well as the Osprey Talon 11.

**As a caveat, I did not wear my running gear into the store, nor did I bring a full water bladder to insert into the pack. It's not a bad idea to wear what you will wear and load what you will carry to test the pack out in the store, but even more important is a good store return policy. You can get a feel for the pack in the store, but distance is the real test. I suppose it's not illegal to run laps in your local outfitter, but it'll likely be long before mile 15 that the folks in green vests ask you to stop sweating on their samples.

The Raptor and Talon are nearly identical in fit and feel, I found, so the main distinction was how I prefer to organize my gear. The Raptor had stretch hip pockets with no other seal (zipper, velcro, etc...) than the compression of the elastic (the Talon's hip pockets were stretch mesh with zipper closures) and the Raptor did not have the nifty shoulder strap pockets of the Talon. The other differences can easily be identified by an in-store comparison, but those I listed were important to me.
The Manta seemed to fit fine (no bounce, no binding, no rubbing), but is designed (goofily, if you ask me) as a miniature version of a full-featured technical backpacking pack -- it even has an "integrated rain cover" -- which gave me less apparent room (the specs say the Manta 18 has more room than the Talon 11, but I couldn't find it) and it weighs almost twice the Talon.
The Miwok 18 I found had insufficient support (stiffness) on the back panel. The Ospreys have a structured foam back panel which seemed to reduce pack bounce, and provides a protective barrier between the screwcap of my Platypus Hoser and my ribs.
The Miwok has a truly nifty compression system which allows you to easily compress on the go. However, even when I really cinched this down there was a surprising amount of bounce. This is possibly at least partially related to the size. The Miwok 18 is identical to the Gregory Wasatch 12 except in capacity (18 and 12 liters respectively), the latter being the pack which would be more appropriate for my purposes.
The Wasatch, however, wasn't in the store and since the Miwok and Wasatch were identical in every other way, I thought I'd still get a good feel. Also, the hip-belt pockets (I find these useful for accessing stuff on the go) on the Gregory, were so wide as to cause my forearms to brush against them while running. I can just imagine how nice my raw, bleeding arms would feel at the end of a 20 miles of that.
The tethers of the shoulder straps and hip belt are stretchy and multi-part ("a set of flexible tendons," says Gregory). Though seemingly a major selling-point for Gregory, it did not make a difference in my brief, under-loaded, in-store test.
The winner for me was the Osprey Talon 11. It had the capacity I needed, the weight was not obtrusive, the flop nearly absent, and had both hip-belt pockets and neat little elastic pockets on the shoulder straps.
The MSRP is not awful ($89 when I looked), and various colors and sizes can be found on sale for 10 to 15 bucks less. I got mine for $65 bucks, shipping included. I just did a test run of around 7 miles/1300' cumulative elevation gain with a minimal load. The pack performed as I had hoped, up hill and down, over rock and river, ducking branches, and on straight stretches of monotonous tarmac. It stayed put, didn't beat me up, and carried my necessities with plenty of room.

SIZING
I was the victim of some confusion in various online comments (not here, but elsewhere) about the sizing of this pack. The pack comes in two sizes, "S/M" and "M/L". Some comments suggested that the size difference is merely capacity, and if you go to the Osprey website's page for this pack the listing does not suggest otherwise. There is definitely a capacity difference (549 c.i. vs 671 c.i.), but there is also definitely a fit difference.
If you go to the Osprey website's page detailing pack sizing (for all their packs), you will see the fit guide. I thought I would get the M/L for extra cargo capacity. The M/L that I ordered was a pack that flopped and rubbed and poked me in the lower back, contrary to the pack I had tried on which had fit so beautifully. I returned it and got the S/M which fit like a dream.
Check the Osprey website pack sizing page to make sure you get the right one! This size difference, by the way, is available on the Osprey, whereas it was not available on the Gregory.
Price Paid: $65

This pack is great for day hikes as well as a short camping trip. Durable, lots of compartments and space, and can be used in many different ways.
Cons
Only fits 24oz bottle sizes and below
Non-removable waist straps
The Osprey Talon 11 is the perfect pack for day hiking and short camping trips, and with its incredible amount of adjustable counterparts, it could be used for any shape or size of person.
I purchased this backpack before a trip to Zion National Park in Utah during the summer of 2014, at a thrift store for a killer price. I was hesitant because of it being slightly used, but can say that it served me beyond well for that trip and many trips since, and is still used during every adventure I take now in 2017.
It has been through slot canyons, stuffed in the end of a kayak, drug on the rocky floor of caves, thrown around in dirt and mud, dumped on by Pacific Northwest rains, through hikes covered in 5+ feet of snow during alpine ascents, taken for many overnight camping trips... it has been through it all.
Rather than a pack that floats freely on your hips, it fits close to your body and snug against your back. This, along with its lightweight design, and comfortable foam shoulder and sternum straps, allows it to be used in a vast variety of adventures. It has a small zipper pouch on the top of the pack, perfect for sunglasses. The hip belt has zipper pouches on both side that are perfect for chap-stick, keys, pepper spray, anything you would need easy access to when you're out for a day hike.
There are adjustable straps in the front of the pack that allow you to tighten down a pair of shoes or a jacket without having to put them in a physical zipper pouch, allowing for easy access. Off of these straps, I have used carabiners to carry an extra pair of shoes while that space was occupied with a jacket. These straps also allow you to tighten your pack up so that you can "shrink" it if not using it to its capacity, which has come in handy during trips where I have only brought snacks and the essentials and don't want everything flopping around.
Both sides of the pack have water bottle holders that can fit up to a 24oz HydroFlask or other brand bottle with no issues as they are VERY stretchy. I have tried to fit a 32oz and it works for a while, but as you walk, the bottle is pushed up out of the holder, and it is impossible to carry a 32oz on both sides, as it takes up a lot of space from the inside of your pack by forcing them into the water bottle holders, and it can get a little heavy. So I just use a 20oz or below and sometimes toss another one into the pack itself or attach to the carabiner on the outside, just to be safe!
The inside of the pack itself has a small zipper pouch on the back, which I use for quick access to TP or wipes. It can fit a variety of loads inside this pack. I have used it for day hikes where all I carry with me is a water bottle, wallet, snacks, my camera/phone, keys, and a light jacket. But it also works very well for stuffing to the brim with a change of clothes, sweatshirt, lunch bag, etc. And surprisingly enough, stuffing it to the brim does not make it seem too much heavier.  
Like I said, I have used this pack since 2014 and have had zero issues with it. It has literally been drug and thrown through caves and across sharp rocks without any issues and is just now starting to wear down after three years of heavy use. The plastic buckles have never given me any issues, no zippers have broken, and no holes have appeared.
And this pack is COMFORTABLE. I have worn many packs in my time and always feel worn down by the end of a hike or a long trip because the straps don't sit right or aren't padded to my liking. This pack has never done that. I sometimes forget that I even have it on, and even have checked my back during busier trails to make sure I hadn't left it where we stopped for a break. It is THAT light. 
I don't think I would ever buy a pack again that ISN'T a Talon, because I am just so pleased with how Osprey has made this pack. It is great for every adventure, any type of weather, and every type of person!
Source: bought it used
Price Paid: $30 used

I used it for the first time during the Oxfam Trailwalker Japan 2010 and I have to say that it did the job perfectly. With enough room to carry everything I need for this 100km walk, it was very comfortable and I just forgot I was wearing a backpack. Although impossible 15 years ago, lightweight gears available on the market today make such a backpack an option for day hikes. It is simply one of the best pack I own.
For the full review with detailed review of comfort, pockets, hydration system, straps and belt... check my review on my blog : http://www.tozai-trek.com/lang/en/2010/05/osprey-talon-11/
Size: M/L
Number of Pockets: 10
Max. Load Carried: 4kg
Height of Owner: 183cm

I LOVE this pack! I use it almost every day going to work besides shopping, fishing, day hikes and as a daypack on longer hikes. The harness is comfortable, and the hip belt will keep the pack steady on your back. The back panel is fairly well ventilated as well.
Now after two years of use and abuse (I've even washed it in a washing machine a few times) the wear is starting to show, but it is still as comfortable as the day I bought it. The side pockets will hold whatever you put in them securely in place (big enough for 1 liter nalgenes), the smaller top pocket is perfect the items you want fast access to and there is an even smaller pocket in there for the smallest items. A clip for your keys is also in place. There is a loop I suspect is for an ice axe, but it works perfectly to support my 6-piece fly fishing rod when hiking to the river. Just stick it in a side pocket, and wrap the cord around it. It is also possible to add a bladder.
The newer model has pockets on the hip belt as well, so I'm thinking of buying a new one, and donate the old one to a friend in need of THE perfect daypack :)
My only complaint is that if I use the pockets on the harness for an iPod or a mobile phone, I tend to get a bit of condensation on them if I work up a sweat as the harness breathes pretty well. This is easily solved by putting the items somewhere else.
All I wish for is that Osprey will make it AddOn-compliant :)
Design: top loading daypack
Size: 11 liters
Number of Pockets: 4 (6 if counting the smallest pocket and room for bladder)
Max. Load Carried: 8-9 kilos (and still comfortable!!!)
Height of Owner: 180 cm
Price Paid: can't remember

I've only had this pack for a few months and it's great. If your kit is lightweight summer day walk then this is ideal.
The zip pulls are of a good size and easy to use.When loaded up it has a comfy feel to it, I would only use it in the summer or low level walks when you don't need to carry bulky clothing. The hip pockets are easy to get at and suitable for the phone/carkeys/snackbars.
This is the first Osprey that I've bought and I am well pleased. I did think that the price was a bit high however you are paying for a quality product.
Having got the Talon 11 I have just purchased the Talon 4 which I have yet to use, roll on next week.
Design: zipped top opening
Size: 11ltrs
Number of Pockets: 4
Height of Owner: 173cm

Your Review
Where to Buy
Help support this site by making your next gear purchase through one of the links above. Click a link, buy what you need, and the seller will contribute a portion of the purchase price to support Trailspace's independent gear reviews.
You May Like
For those moving fast and packing smaller loads, lightweight packs in the Talon series adjust for a wide range of comfort and suit any style with the option of several sharp colors and graphics. Designed for mountain biking, trail running, fastpacking, peak bagging, and adventure racing. Features the AirScape back panel with ridge-molded foam that creates air channels, and adjustable harness, and mesh hip belt pockets.
Specs
S/M
L/XL
Price
MSRP: $120.00
Current Retail: $120.00-$140.00
Historic Range: $36.73-$140.00
Reviewers Paid: $30.00-$65.00

Load Range
10-20 lbs

Volume
549 cu in / 9 L
671 cu in / 11 L
Dimensions
18.9 x 10.63 x 8.27 in
20.47 x 10.63 x 8.27 in
Weight
1.79 lbs
1.94
Main Fabric
bluesign-approved recycled 100D x 210D wave check high-tenacity nylon, PFC-free DWR

Accent Fabric
bluesign-approved recycled 420HD nylon packcloth, PFC-free DWR

Bottom Fabric
bluesign-approved recycled 420HD nylon packcloth, PFC-free DWR

Recently on Trailspace