Backpacking Food: Recipes, Rations, Stoves and Storage by Andrew Skurka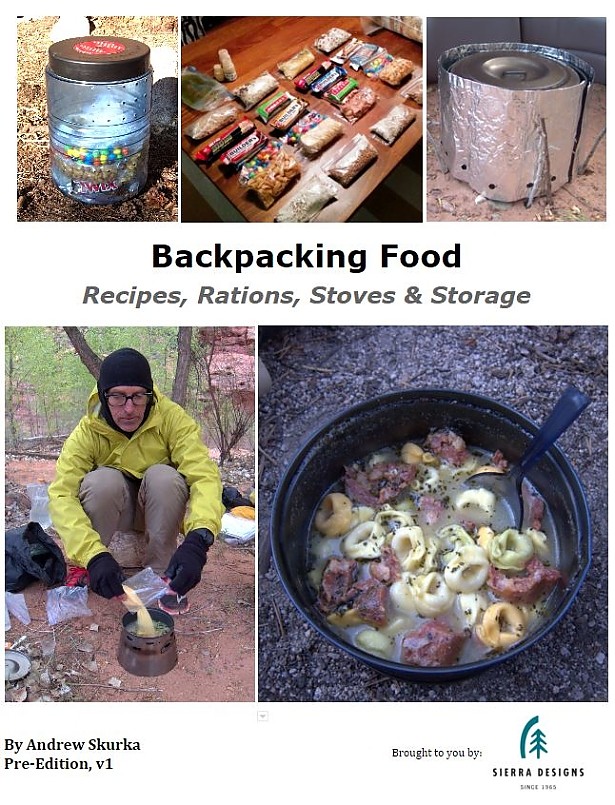 Recipes, cookware, and tips for the UL-minded, much of which will also prove useful at other comfort levels.
Pros
Simple and carefully calibrated recipes
Experienced wisdom on stove and cook system choices and food protection and storage
Cons
Not a lot on the menu
Weights given mainly in decimal ounces
Ultra-hiker Andrew Skurka condenses his many thousands of miles worth of trail food wisdom into this little (37 page) book. I am reviewing the "Pre-edition v2" which I purchased as a $5 pdf file in early 2016. As of June 2017 the project still seems to be in the pre-edition phase (you can get the pdf here).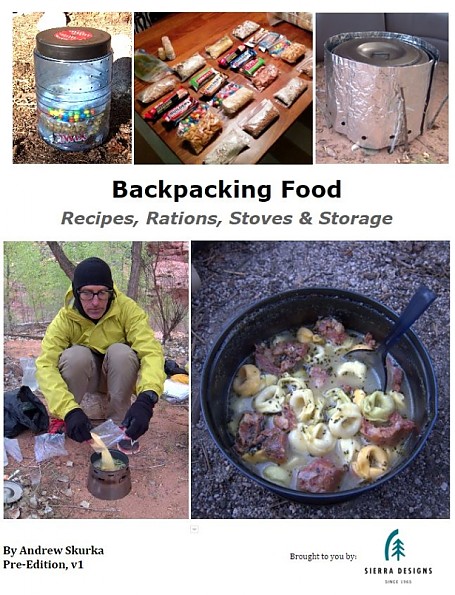 The book opens with brief, first-person accounts of some "food-related mistakes" Skurka made during his rise to eminence—too much weight, too few calories, a bear encounter, and unpalatable meals—as a declaration of intent: he wants to help the rest of us avoid these kinds of mistakes, whether we choose to go fast and light as he does or prefer to savor the miles and meals. While the book with its stripped-down recipes serves the former group best, there is wisdom here for comfort hikers as well.
Before offering up any recipes, Skurka gives recommendations on daily calorie allowances and calorie density calculations. Unfortunately for those of us that work and think in metric units, weights here and throughout the book are given in ounces only, which makes calculations for scaling up or down a tad more difficult.
In my own calculations for long trips, I assume an average calorie density of 4 calories per gram, so that 600 grams/person-day of food weight will yield 2400 calories/person day. Those are the kinds of calcs you can do in your head, while converting between ounces and pounds using the magic number 16 requires a bit more figuring. Other general considerations in the introduction include physical density of food—important when using bear cans—prep time, cost, and nutrition.
While useful recipes are the heart of the book, there are only seven of them: two breakfasts and five dinners. These are assembled from a relative handful of low-cost, readily available (at least in the U.S., and some by mail order) ingredients and calibrated, with judicious use of olive oil and other fats for pack-weight and bear-can friendly calorie density.
Each recipe begins with data: weight, calories, calorie density. Ingredient weights are given in 0.1 ounce units for individual servings.
I have two problems with this approach. My kitchen scale, purchased here in Norway, uses hard-to-read 1/8 ounce units (2, 2 1/8, 2¼, etc.); I assume it's the same with scales purchased in the US. Now I know without doing any figuring that 1/8=0.125, ¼=0.25, and so on, but if the ingredient weight is given as, for example, 0.3 oz, I have to choose between undershooting at ¼ oz or overshooting at ½ oz. 1/8 oz is about 3.5 g, so my scale's (easy to read) 1 g resolution gives 3.5x more precision for keeping ingredients in proportion and weight under control.
The second problem is that, while weight is clearly the best way to measure out ingredients at home, I can easily envisage situations where I might want to portion out ingredients at camp—our eight-person, 25-day hike on the JMT, for example, where it was more convenient and efficient to bring one big bag of rice or bottle of olive oil instead of pre-measured portions. So it might also be preferable to have volume equivalents, for my part preferably in milliliters but alternatively in teaspoons, tablespoons, and cups, of at least main ingredients such as rice, bean flakes, and olive oil.
I have done this when working up my own recipes, by looking up ingredient-specific conversions online. Skurka could spare users of the book that effort by giving ingredients in English and metric weights and volumes. The result might be a mildly intimidating but ultimately more useful table with four columns of numbers for each recipe, giving multiple avenues for assembling ingredients.
The recipes include instructions for mixing ingredients at home, notes on packaging and storage, and the final cooking instructions. All the recipes follow the UL convention of using boiling water to cook food in a bag or bowl. Skurka argues for most of the meals to have a soupy consistency, but gives alternative water volumes for folks who want a little more to chew on.
Just to underscore my point above, water volumes are given mainly in fluid ounces but sometimes in cups and once in a while with ml equivalents in parentheses. It occurs to me that Skurka could also provide ready-to-print final cooking instructions that could be cut into squares and inserted into dry ingredients bags or just carried along separately for those of us that have trouble remembering such details.
I have not yet tried all the recipes, but can vouch for Skurka's own nominees for the best of the bunch: "Beans and Rice with Fritos and Cheese" and "Thai Peanut Noodles"; both recipes are available for free on Skurka's website. I have taken to preparing 10x batches of the sauce for the latter and freezing individual portions in silicone muffin cups so that I can just grab however many portions I need and some ramen noodles when gearing up for a weekend trip.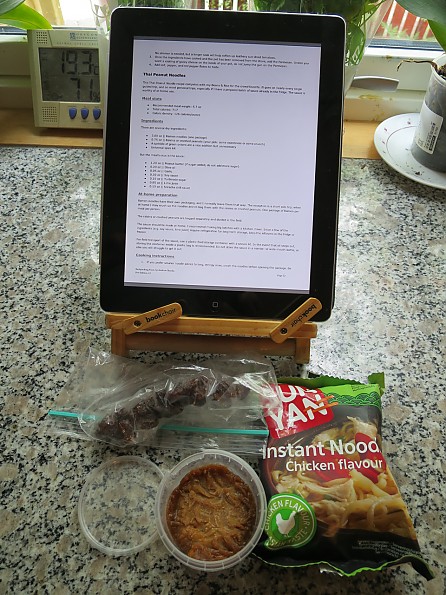 Thai peanut noodles, ready to roll. Throw away the MSG packet. Better with the optional green onions.
The Stove Systems section of the book reviews in detail the pros and cons of three different alcohol and canister stove systems. There is much wisdom here, a lot of which is also available and debated online, but it is directed squarely at the UL crowd and more to the soloist than to those of us who like some erudite conversation with our evening gruel.
He dismisses solid fuel stoves as being too hard to find fuel for and white gas stoves and wood burners as too finicky and messy. He also does not give any consideration to upright canister stoves or systems or any "gourmet" systems that involve actual cooking in a pot.
There is a lot more to think about in that zone. For one thing, alcohol stoves often fall under fire bans in U.S. national parks and forests, and the higher energy density of compressed gas and liquid fuels can also weigh in (intended) on long trips. But these are the systems that he prefers and has extensive experience with; take it or leave it.
He calls the three systems the Dirtbag (based on the tuna can cat stove or any of its many, often more efficient, variants), the Cadillac (Caldera Cone with a fuel-saving Zelph alcohol burner and UL accessories), and the Hot & Heavy (MSR Windpro II or equivalent). For the first two systems he provides a list of stove and recommended cook system components, right down to bowls and spoons with prices and known or estimated weights. For the Cadillac he also suggests some compromise system components for folks with shallower pockets; titanium is nice if you can afford it. The Hot and Heavy system is proffered only for larger groups and winter conditions.
The final section discusses storage and protection against both big bears and "mini-bears" (e.g squirrels, mice, coons, and the like) with due consideration to the effects of food losses not only on your calorie budget but on the wildlife and future human travelers in the same region (if you get my drift).
Bear hangs are dismissed as too much hassle at best and impossible at worst; he gives no special preference to any of the many canister options, a nod to the Ursack, and allows as to how sleeping on your food may be a viable option especially in mini-bear country.
I am not (yet, anyway) a UL guy. My wife and I like to bring along a modicum of comforts and are willing to go a little slower and take a few more breaks to make that work; we fall somewhere in the middle of the UL-to-kitchen sink spectrum. But I have found at least a couple of the recipes in this book worth returning to, and intend to try more of them, and the discussions of other aspects of wilderness food prep and etiquette are interesting reading and offer some good suggestions.
I think Skurka would nod approvingly at any individualistic modifications to the recipes or gear that I might make to suit my own needs—this is a book of advice, not a bible. At $5 and for the good cause of sending Andrew out on his next Big Adventure, this book is a bargain.
Source: bought it new
Price Paid: $5

Your Review
Where to Buy
Help support this site by making your next gear purchase through one of the links above. Click a link, buy what you need, and the seller will contribute a portion of the purchase price to support Trailspace's independent gear reviews.
You May Like
Specs
Price
MSRP: $5.00
Reviewers Paid: $5.00