NEW Outdoor Research is debuting the Microgravity Jacket in its spring 2020 jacket line.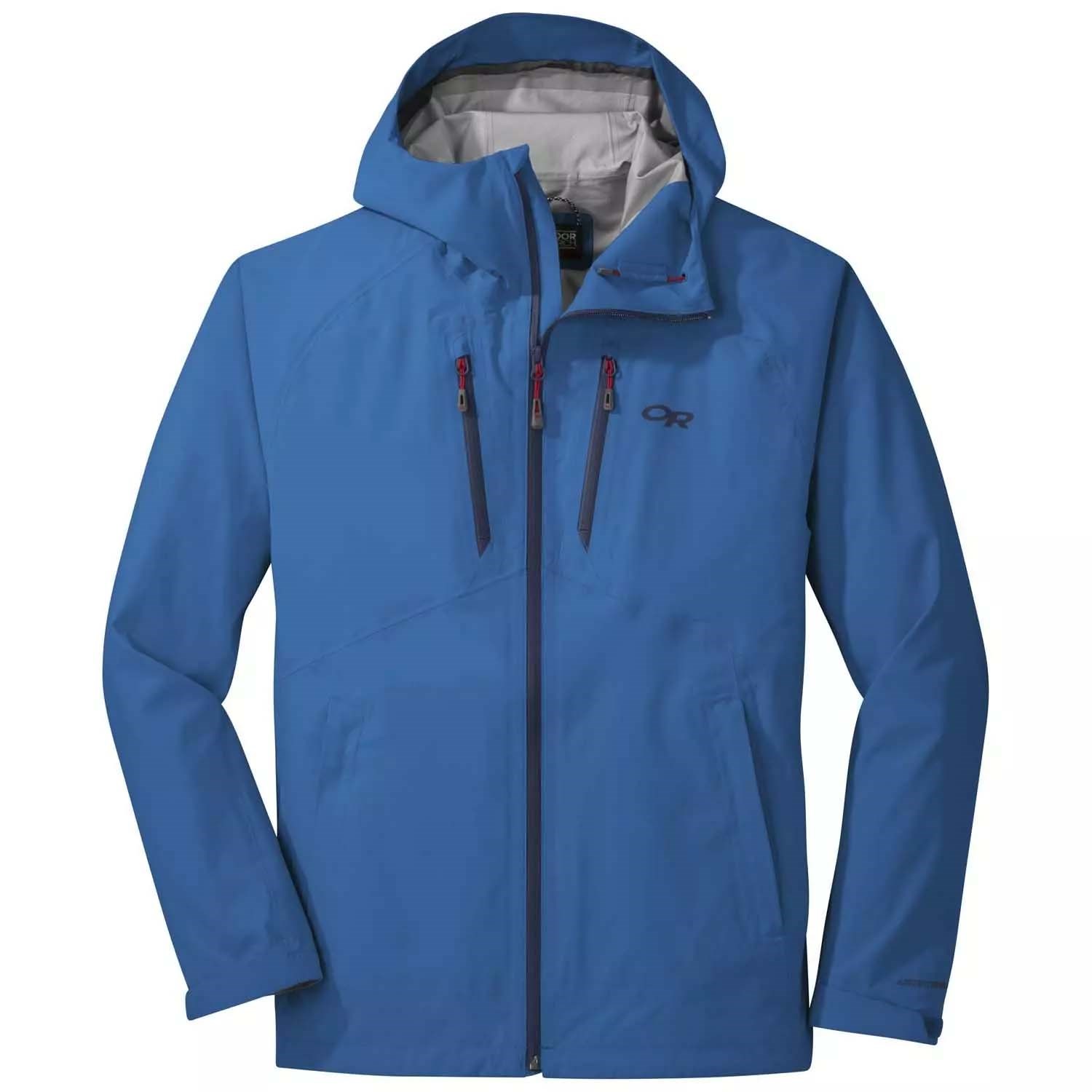 Specs
Men's
Price
MSRP: $249.00
Current Retail: $186.71-$249.00
Reviewers Paid: $249.00

Weight
14.6 oz / 414 g

Fit
Trim Fit

Fabric
Ascentshell 3L, 100% nylon 20Dx45D mechanical stretch ripstop with 100% polyester 30D knit backer

Women's
Price
MSRP: $249.00
Current Retail: $186.71-$249.00
Historic Range: $186.71-$249.00

Weight
11.9 oz / 338 g

Fit
Trim Fit

Fabric
AscentShell 3L, 100% nylon 20Dx45D mechanical stretch ripstop with 100% polyester 30D knit backer

Reviews
2

reviews

5-star:

0

4-star:

2

3-star:

0

2-star:

0

1-star:

0
The Outdoor Research Microgravity Jacket attempts to bridge the gap between hard and soft shell, and I think it succeeds for the most part. Decently weatherproof and almost unbelievably breathable, it feels soft on the skin, doesn't leave me clammy, stretches without constraining, and is silent compared to most other outer shells. It is definitely my favorite shell to date, but be warned if you stand around in the rain and don't work it off, you will get damp. A few minor negatives...fiddly hood adjustment, pocket position, and no pit zips (although I'm not sure you need them!).
Pros
Almost unbelievable breathability
Waterproof for most weather systems
Extremely comfortable
Almost silent
Great fit
Easy to layer
Flexible stretch material
Cons
Not "monsoon" waterproof
Hood bill could be a little longer
Side hood adjustment hidden/fiddly
Unclear info online regarding DWR
No pit zips for ultimate venting
NOTE: This is my "Initial Review" after a few weeks of testing. More to come and maybe some adjustments as the full test period continues.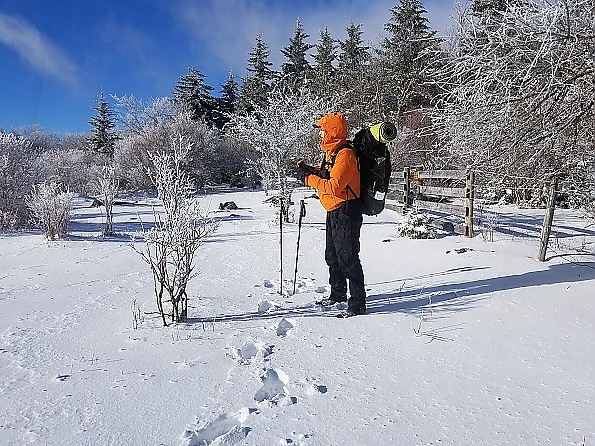 OR's latest three-layer jacket with AscentShell electrospun membrane technology, the Microgravity, is made for active alpine pursuits. 
The design is supposed to balance weather resistance with breathability and flexibility for activities like hiking, climbing, skiing, and other fun adventures. Note that even OR recommends a different jacket if you are going to be standing in the rain for days:
"Bottom line: AscentShell is best for people who want a stretchy, waterproof jacket that is extremely comfortable to wear during high-exertion activities, but it isn't great for burly monsoon conditions or instances where you're standing still in a downpour."
My interpretation...it is designed for snow and rain showers but will probably wet out in steady long rains. Its breathability/air permeability means it dries quickly and keeps you warm.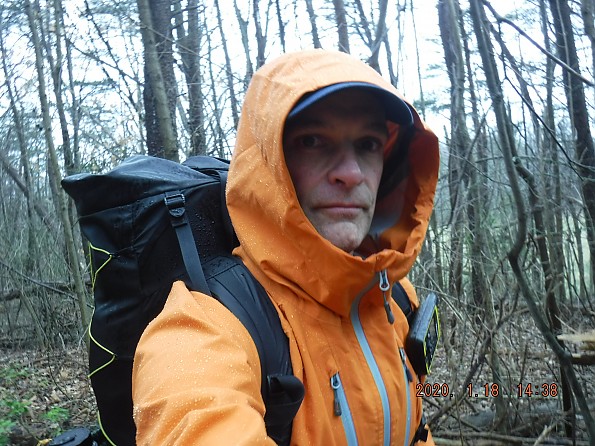 I have found both these to be true although haven't been "lucky" enough to have multiple days of rain on any of my test trips yet.
Will this jacket keep you absolutely dry in extended rain? Probably not. Will any jacket I have owned do that? No, because I usually work up a sweat or they just don't breathe that well in constant rain. The Microgravity keeps me relatively dry, breathes better than any outer shell jacket I have owned, and therefore dries me out faster than any other option that I am aware of. I agree with OR that multiple days of constant rain would lead me to another choice such as a Gore-Tex-based jacket, but those never seem to work for me when I am exerting myself climbing hills.
Now on to the details...
Fit: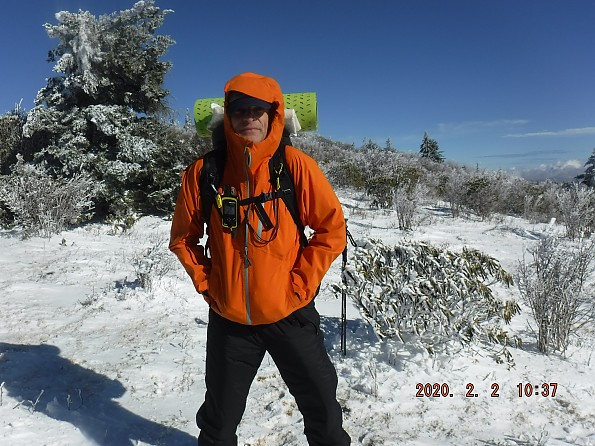 OR sizing showed me (6'0"/ 183 cm, 170 lbs/77 kg) as a large and that worked really well. Size ranges are available for men (S-XXL) and women (XS-XL).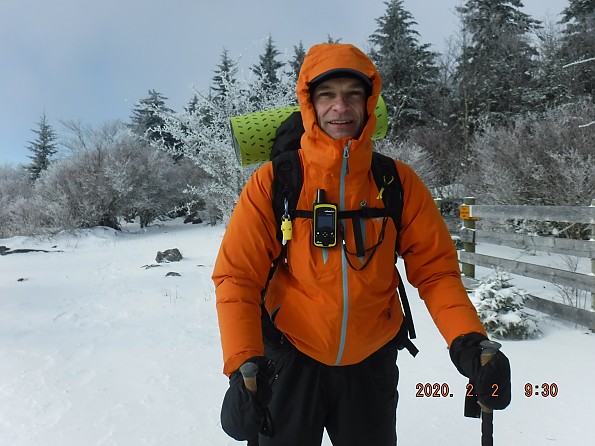 The jacket is a relatively slim fit without bagginess, but still allows for room underneath (see layering below). In the photo above I have a base layer, light fleece, and synthetic puffy on underneath. It may be a bit tight for different body styles so just pay attention to the size chart which seems to be accurate.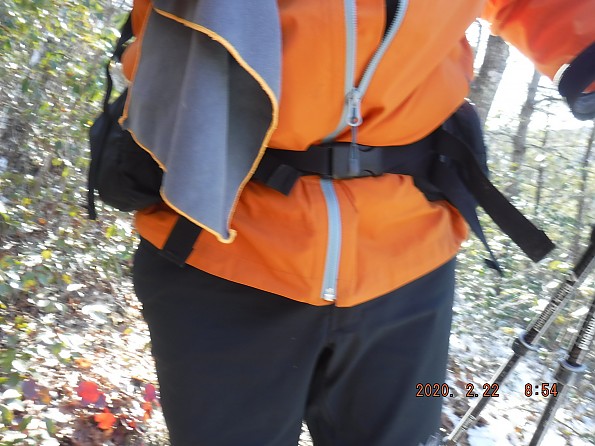 The torso comes down just far enough below my waist, but not so far as to get in the way.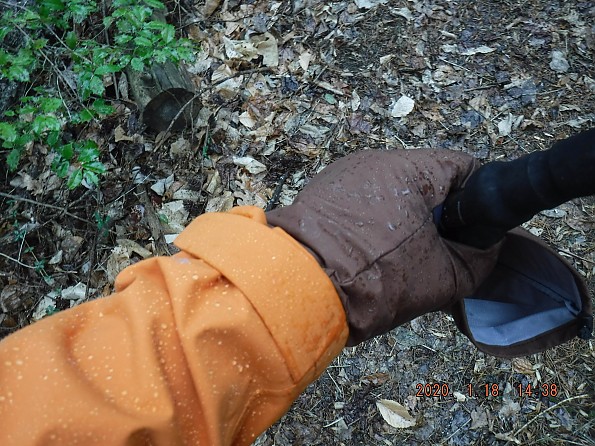 The arm length was good for me—over the wrist cuffs that adjust well enough with the hook/loop closure. The photo above includes a pair of eVent rain mitts over fleece gloves—this fit just fine under the sleeve.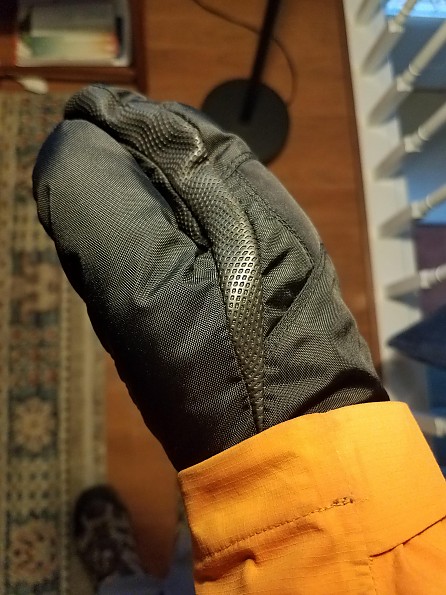 I don't wear much heavier than this while moving but took this shot of the Microgravity over my heavier mitts I wear around camp.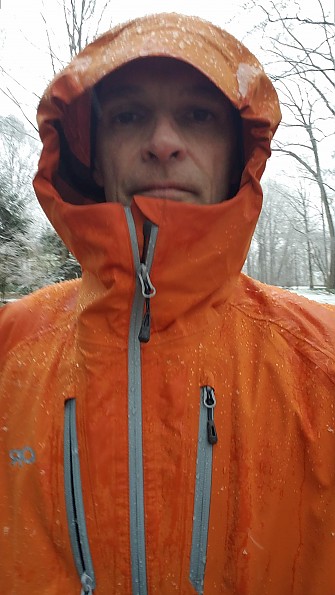 The hood is loose enough to allow air flow, and can be tightened in three directions...speaking of which...
Adjustability:
The hood adjusts from the sides and back and adapts to helmets.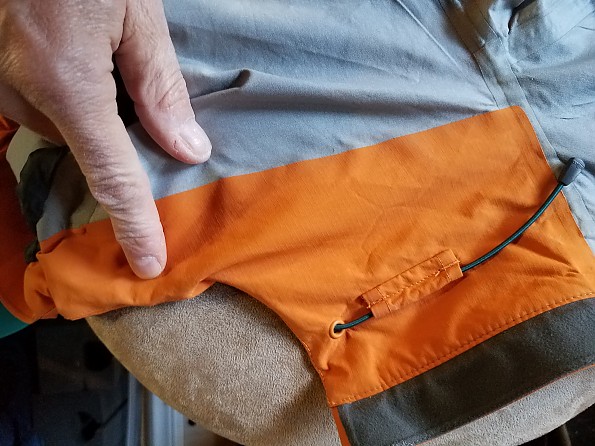 The side adjustment is through a hidden cord lock (where I am pointing above) within the rim of the hood on either side. I found this OK but a bit finicky to find with gloves on. Maybe it's just me, but I like to see the cord lock that I am using to adjust things.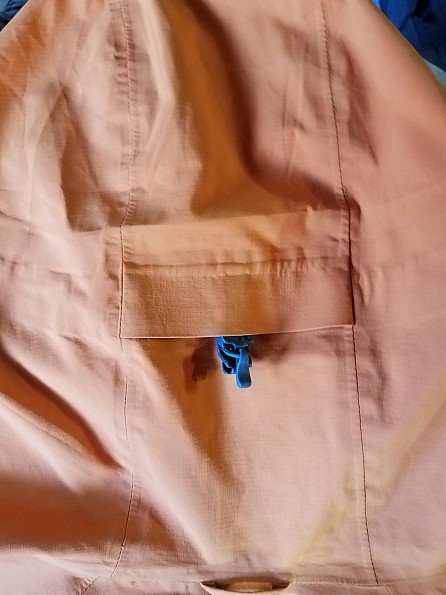 The hood closure in the back was fine—although seldom used by me as I don't have a helmet and like to leave hoods as wide as possible for air flow.  Another review by Brian Vinci brought up a good view point on the hood - how it can block views when you turn your head.  I did not notice this as much due to the fact that I wear a trail runner cap about 90% of the time I wear a shell.  The bill of the cap doesn't allow that to happen: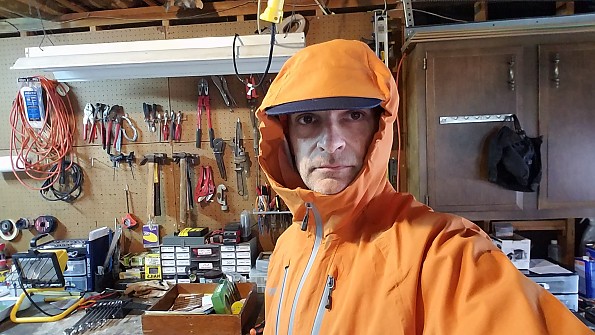 I also tend to wear a shell wide open for venting as much as possible, which allows a better range of view: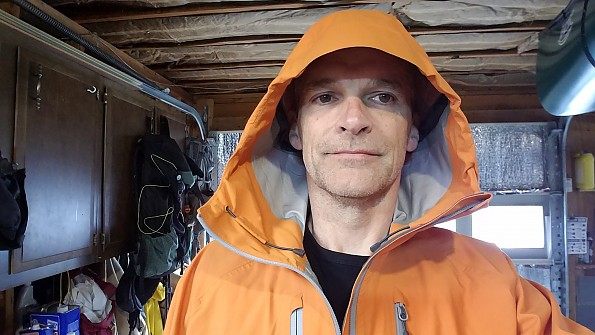 But, if you zip up without tightening the sides then looking sideways does get partially blocked: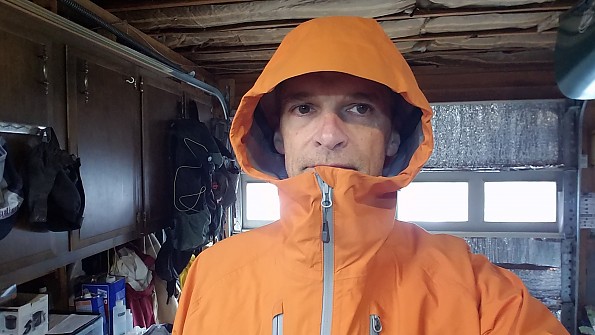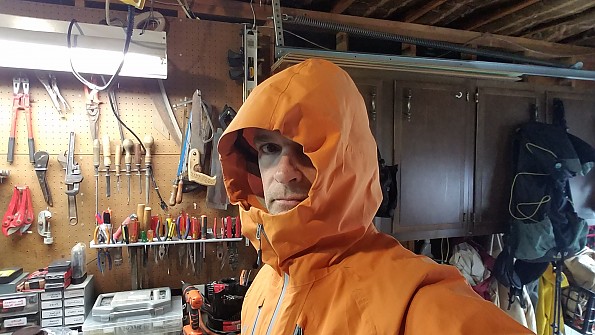 However, I found when the sides are tightened this doesn't happen: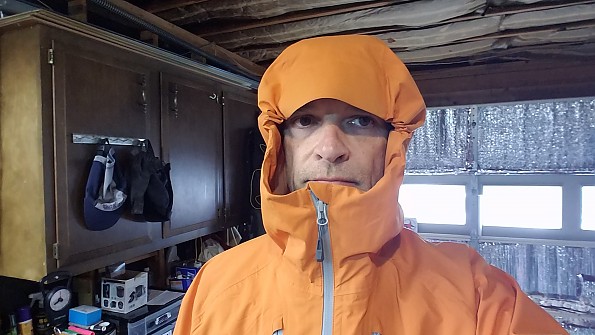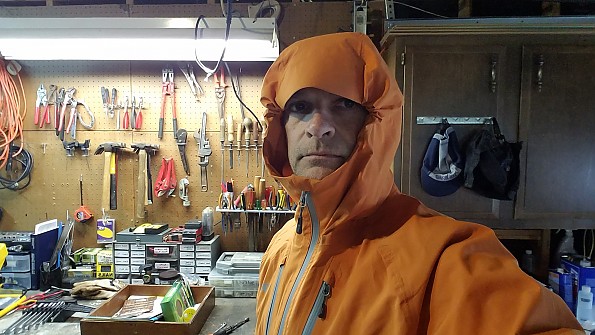 On the comfort issue, I found if you want it cinched to head vs helmet size you need to find your sweet spot - mine being the back only about half tightened: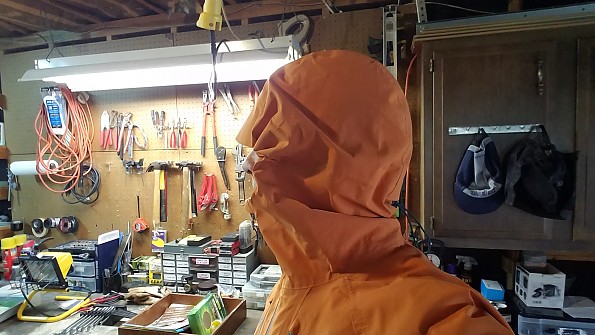 but tighter than that and I did feel the cords.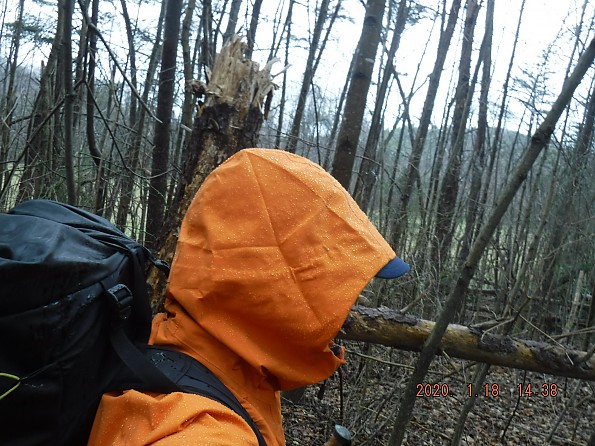 As with most outer shells, I feel the bill of the hood could be a bit longer.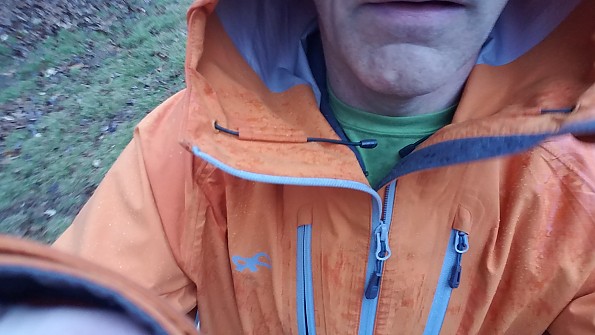 Without my Trailspace Cap, and the collar open for venting, rain did spatter a bit around the open collar. This didn't happen with my cap on.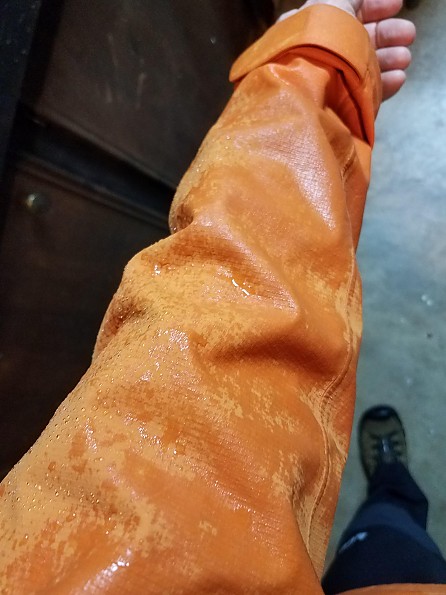 The cuffs were adjustable with a hook/loop closure but I tended not to use this as I either wore it over gloves or left it loose to vent.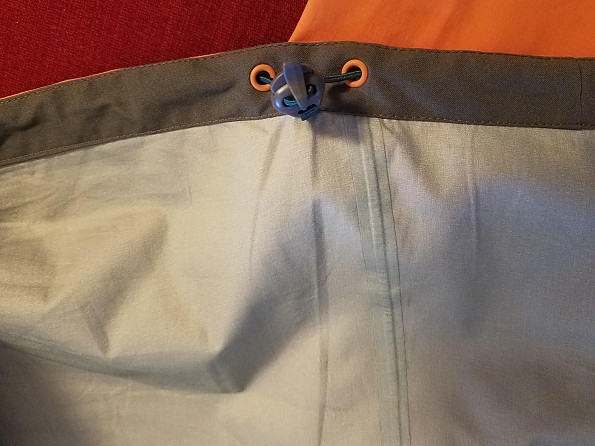 The waist cinch in the back seems fine but I honestly didn't use it at all as the length is good enough and the trim fit keeps it from flapping around; if I was wearing this jacket I was moving so didn't tighten up the waist.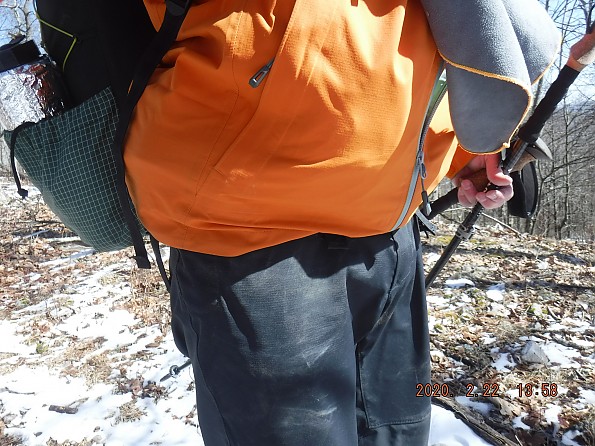 It is a slim fit, so the waist slips over my hip belt pockets (ULA Ohm 2.0) well, but if these large pockets are stuffed full of snacks like this, it is a tight fit.
Comfort:
Comfort is where the Microgravity really shines. It is by far the most comfortable outer shell I have ever owned. The fabric inside and out is soft to the touch and feels great against the skin.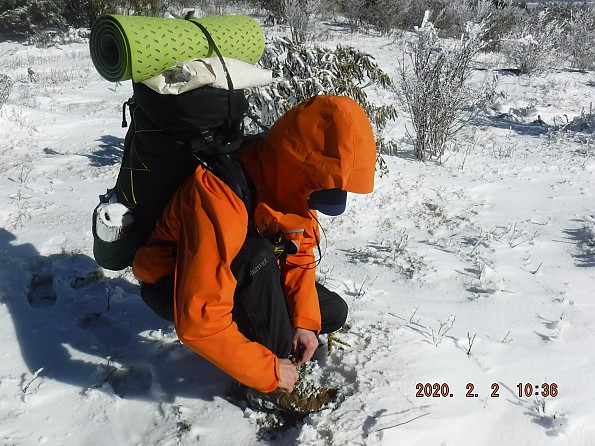 It flexes and stretches with you really well be it clambering over logs or bending down to tie an errant shoelace (tied poorly on a sub 20°F morning). 
I felt no friction anywhere or tightness doing normal hiking activities. The stretch fabric really works well.
Water Resistance: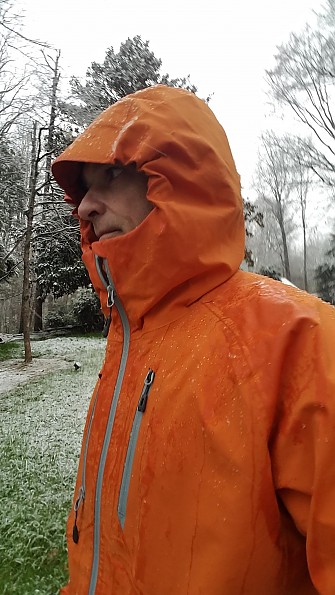 To date, the Microgravity is very weather resistant and lives up to the somewhat qualified expectations set by OR.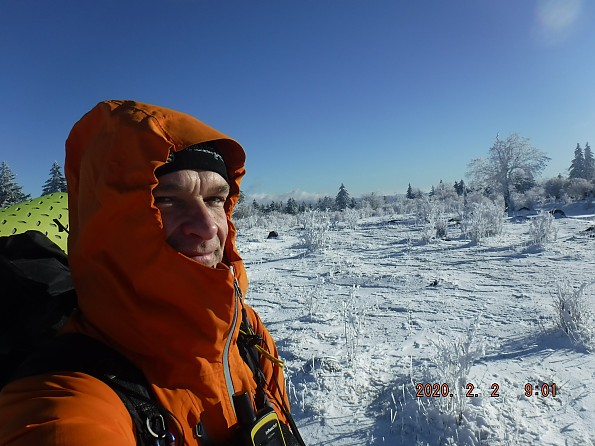 I have had it out in snow and rain on multiple occasions. Again, note OR's recommendation that this is not a jacket for standing around in monsoons, but is for active pursuits. So they are saying be ready to get a little damp in a monsoon, but dry off quickly.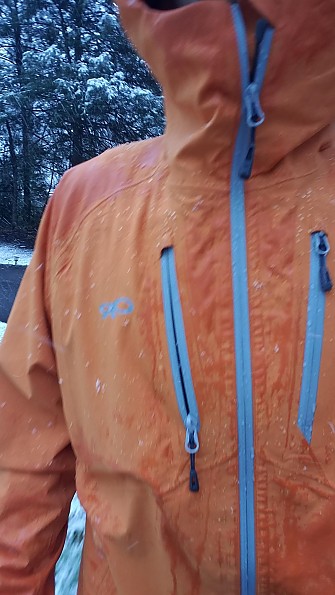 Several hikes in snow showed that the Microgravity holds up well to frozen precip—not a bit of moisture getting through.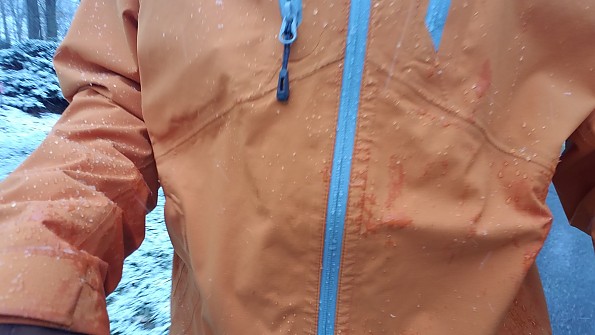 One weekend trip I had a full day of wet steady snow, with highs in the 30s (F). No issues that trip at all. The snow melting on the jacket did not seep through.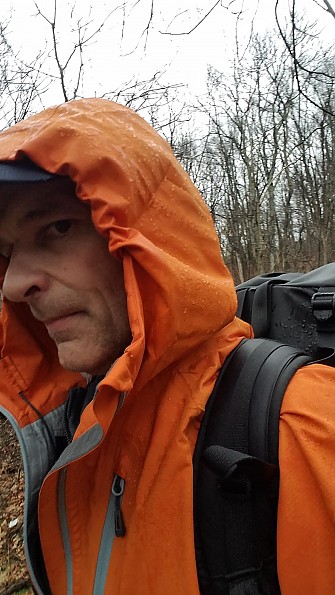 I have been on two backpacking trips and multiple hikes with the Microgravity in the rain. So far it has held up to up to two hours of steady rain.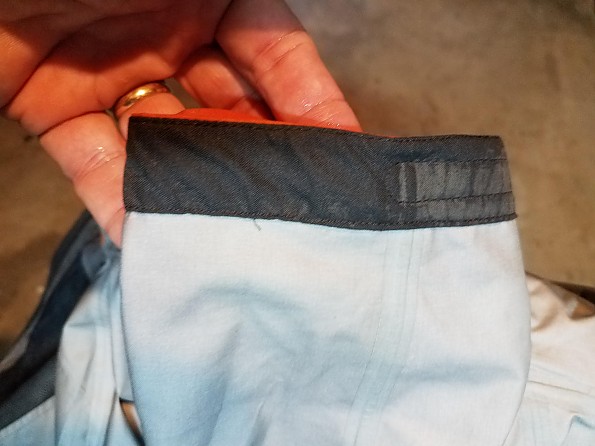 I did find the cuffs getting a bit damp in a two-hour steady rain, but that may have been me letting them be too loose over my gloves.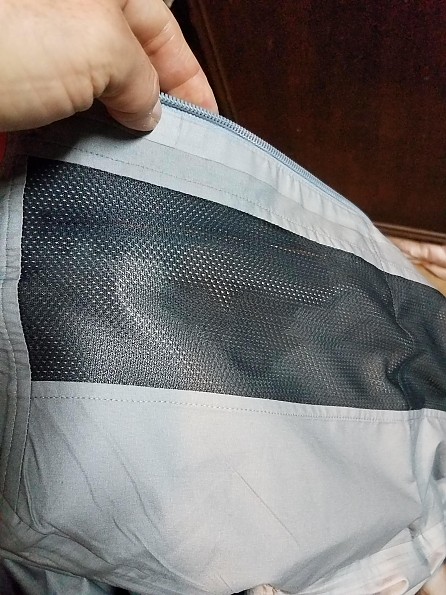 Also I noticed some moisture inside the chest pocket after that rainy walk, but I also opened the pocket a few times so can't blame the waterproofing at this point.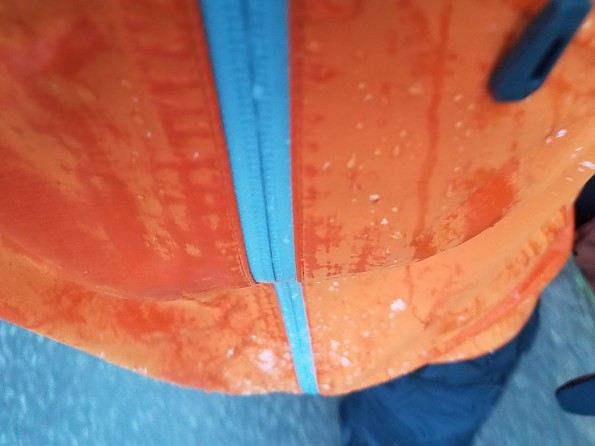 The AscentShell membrane seems to "dampen" faster on the outside rather than stay beaded up. Here is an example. I am not sure if this is a result of the DWR or the way the jacket is made. However, nothing seems to get through to the inside.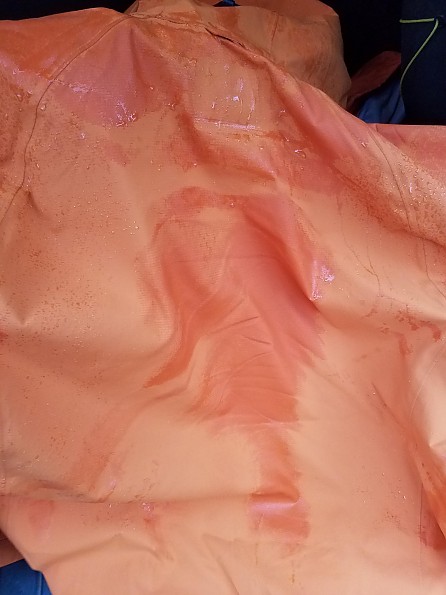 After a backpacking trip in steady rain, the outside under my pack is wet, but...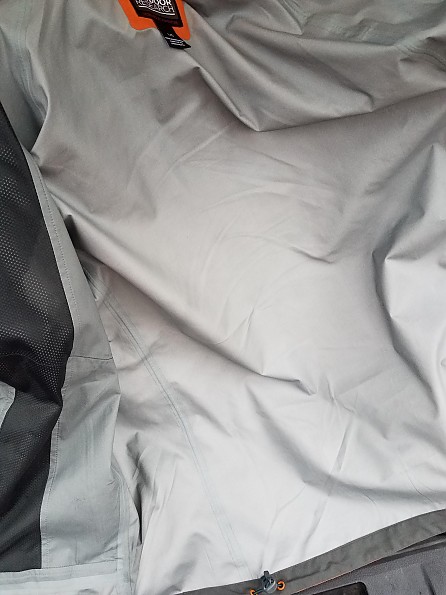 inside is dry.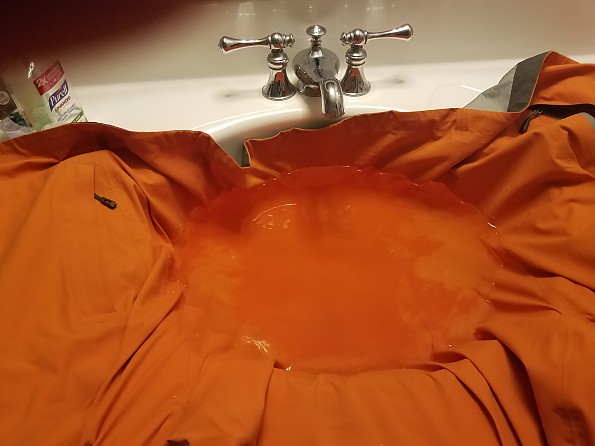 As a lab test, I filled a dry sink lined with the Microgravity and let it sit for five minutes. At that time, there was some dampness in the sink, but that could have been from condensation as I used cold water.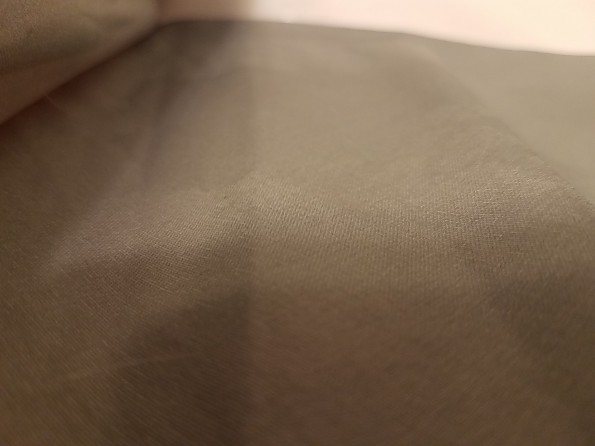 The Microgravity did seem to wet through a bit under this amount of water, but I am not sure what that would equate to in real rainfall. I don't plan on sitting in a lake or stream with this jacket on.
The DWR seems to have held up so far, but it is too early to tell. I'll address that in the full update in a couple of months. 
It should be noted here that the OR description of the Microgravity and the AscentShell membrane doesn't mention DWR treatment. On top of this, the suggestion that it is not made for standing around in the rain suggests that maybe it doesn't have DWR. Trailspace checked with OR and confirmed that this jacket does have DWR treatment.
Breathability:
Well, this is where the Microgravity really shines. I call it close to unbelievable. I sweat a lot even below freezing, and this jacket has allowed me to dry out faster than anything else I own. OR discusses this as not just breathability, but air permeability—it allows moisture to escape well before you need it to.
This excellent breathability means it may be a little less wind resistant than a pure wind shirt/jacket, but it does the job well enough for me.
I tend to wear it down to around 40°F with just a t-shirt underneath and it is a good balance of shielding the wind while not making me sweat too profusely.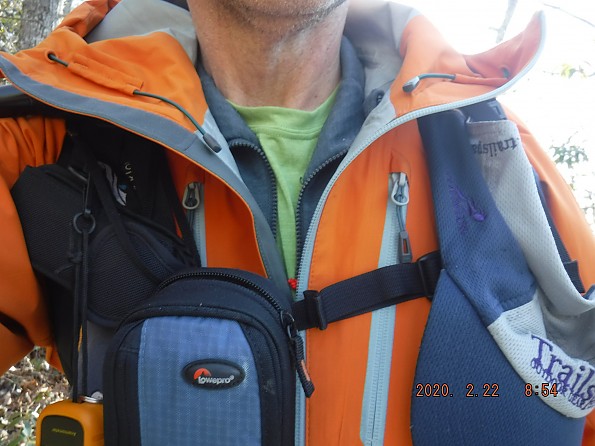 Below that I add a light fleece. Unless it's blowing sideways precip, I leave the collar open a good amount to assist in venting my high metabolism.
Working hard I can still build up a sweat, but the Microgravity takes care of that in no time, speaking of which...
Moisture:
No jacket I have owned has dried me out as quickly once I stopped sweating as the Microgravity. Several trips I built up quite a sweat in either just a T-shirt or my fleece as well.  In each case the Microgravity kept me warm and allowed the clothes to dry out quickly when I dialed it back a bit.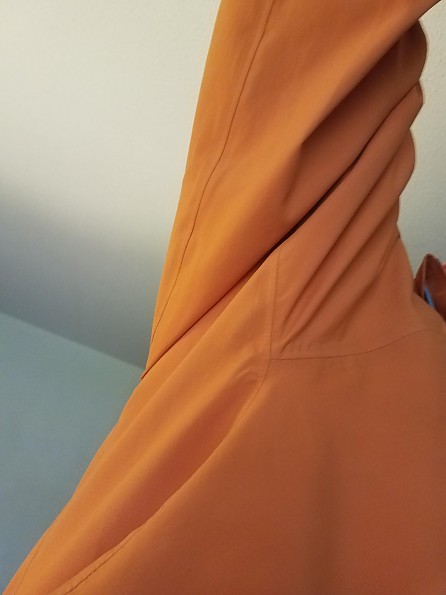 I still miss pit zips, which I understand from OR would take away from the flexibility of the jacket's "Dynamic Reach" underarm panels, but, wow, combined with the air permeability of this baby pit zips might mean I never sweat again.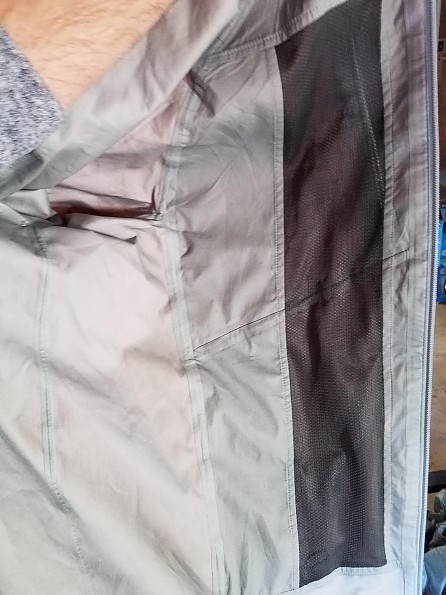 The pockets are mesh on the inside so in good weather where the Microgravity is just being used as a wind jacket, they provide extra venting.
Warmth:
This jacket has helped to keep me warm in sub-freezing temperatures. Below 30°F I usually wore a Merino wool T, Rab light fleece, and the Microgravity. I still heated up walking up hills, but it was manageable. I haven't had it out in below zero (F) temps so can't speak to that but feel it would still allow room for layering.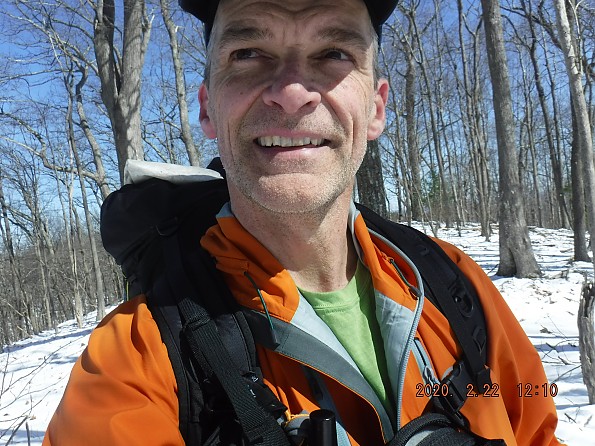 Over 40°F usually found me in this jacket with a tee only. It feels great on the skin and keeps sweat from building up. And when I am working hard, even the 30°F temps let me use it just with a tee.
Wind Resistance: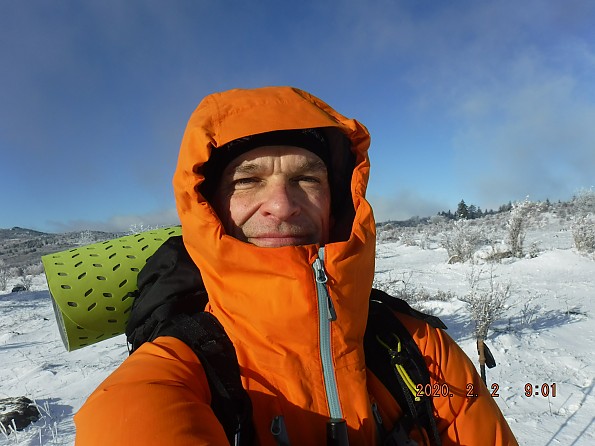 I expected to get less wind resistance than the Microgravity provides due to the excellent air permeability. However, I have been completely comfortable in mid-20s with 30+ mph gusts with just this and a fleece over my usual T-shirt or baselayer. Above 30 mph winds, and just a T-shirt on, you can feel the breeze a bit, but it is not uncomfortable to me. I have left my ubiquitous wind shirt/jackets at home since this test began.
Layering:
So far I have tested the Microgravity as part of a two- and three-layer system as follows: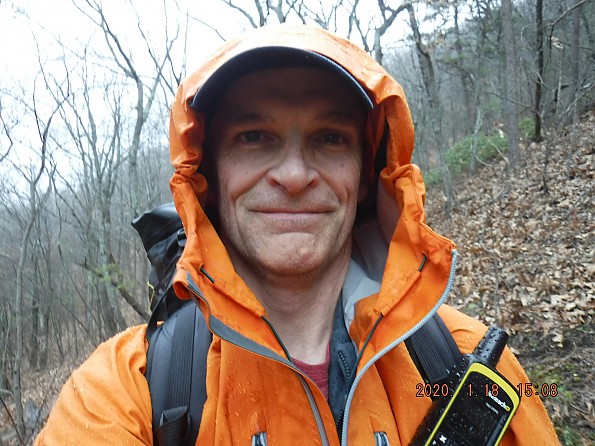 Merino wool or poly T-shirt, Rab light fleece, and Microgravity
Merino wool or poly T-shirt and Microgravity (see photo in previous section).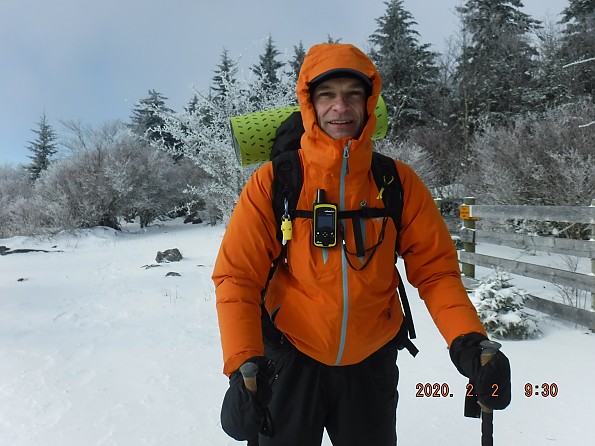 Merino wool T-shirt, synthetic puffy, and Microgravity
The latter didn't last long—just warmed me up the first 30 minutes of a really cold morning. Puffy fit well underneath everything. Although I haven't been in really cold temps (lowest was around 15°F) I still had lots of room and flexibility for a base layer instead of the T-shirt if needed.
The cuff length is good and fits over my rain mitt/fleece glove combo, which is about the thickest wrist covering I use.
Features:
The main feature of this jacket is the fabric—AscentShell. According to OR's website, it's a combination of 100 percent Nylon 20Dx45D mechanical stretch ripstop, with 100 percent polyester 30D backing.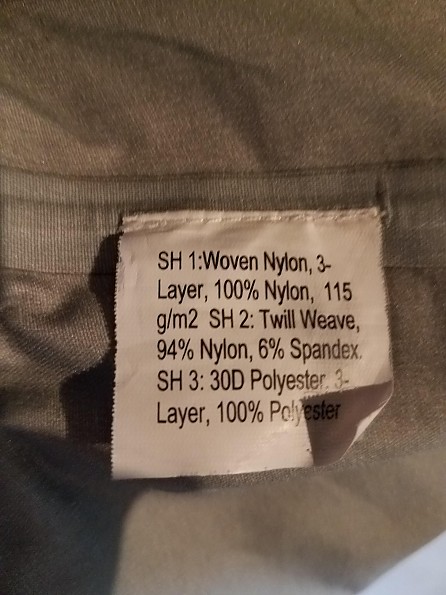 The label shows slightly more detail on the middle layer of this three-layer jacket construction.
I won't go into excruciating detail here but will provide this OR link to the description of the material and how it works.
https://www.outdoorresearch.com/blog/article/how-it-works-the-science-behind-breathable-waterproof-ascentshell-technology
This is not your typical rain jacket. The fabric feels more like a piece of clothing than a shell.
Here are some closeups of the inside: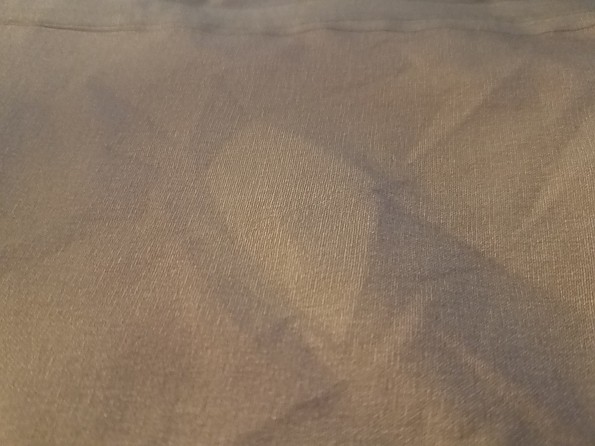 And outside: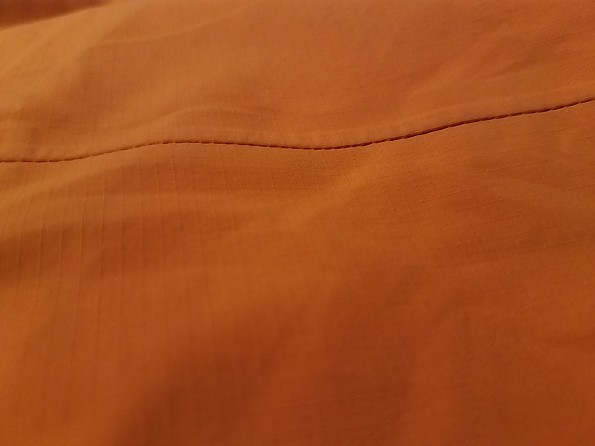 As mentioned above I find it very comfortable with just a T-shirt under it down to about freezing. There is also minimal noise to it, which allows you to wear it more than just in snow and rain. 
Excuse the rattling of doodads in this video, as well as the wind, but notice the lack of swishing sound that you usually find in an outer shell.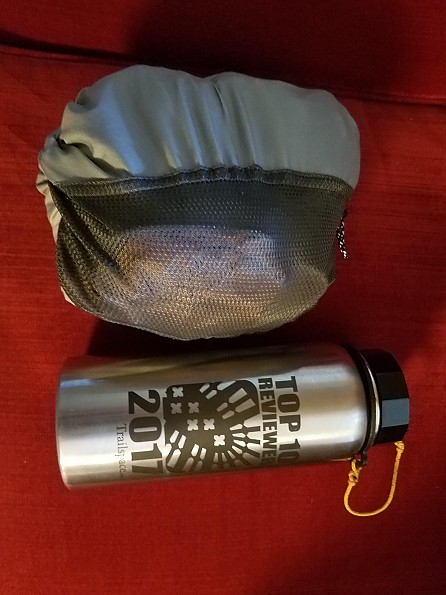 The Microgravity packs into its own pocket with a hook to hang it on a carabiner for climbers. It measures approximately 8 by 7 inches. I tried stuffing it like this at home so I could weigh it, but like most jackets with this feature I find it a pain and tend to just roll or stuff it into an outer pocket of the pack for easy access.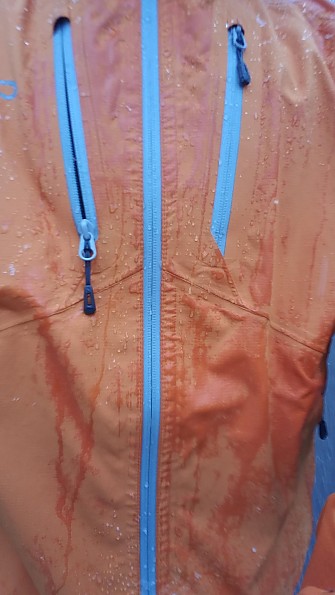 Pockets are typical chest and waist...so let's discuss...
Function:
The biggest design issue I have with the Microgravity is pocket position. It may work for other types of activities, but especially for backpacking the pockets seem to conflict with my...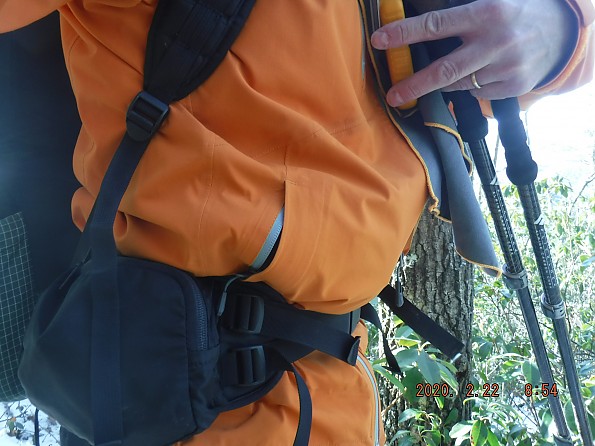 hip belt...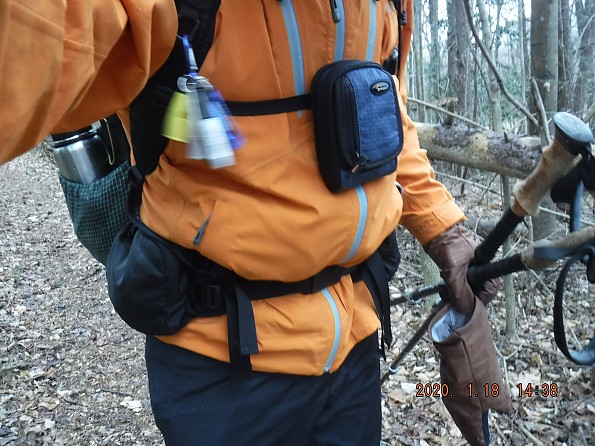 or stabilizer strap unless I wear it low.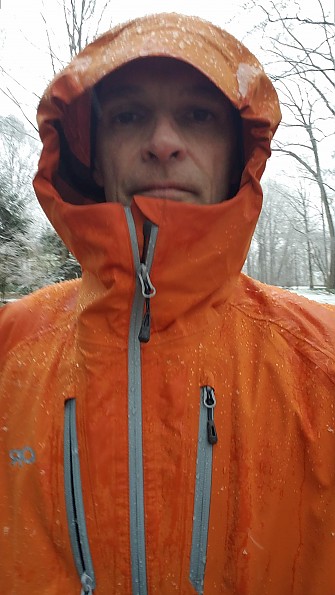 The zippers (YKK Aquaguard) seems solid. They have not caught on the material or caused me any problems.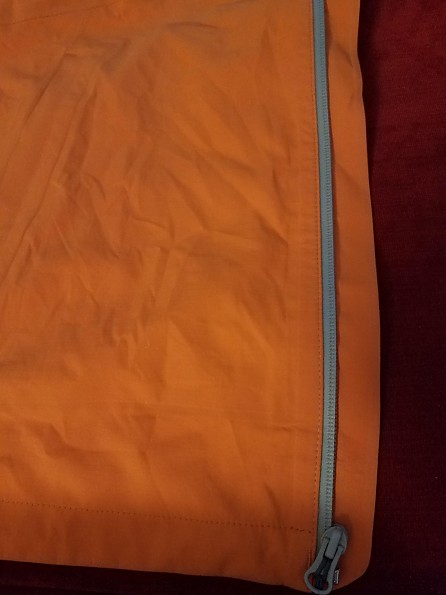 There is an internal storm flap behind the zipper if things really get bad.
As mentioned earlier, the hood drawcord lock is neatly tucked out of the way under the rim but that makes it a little difficult to get a hold of with gloves on. I would prefer a classic lock where the cord emerges.
Style:
This is the worst category for me as I think I went out of style sometime in the '80', if I was ever in style.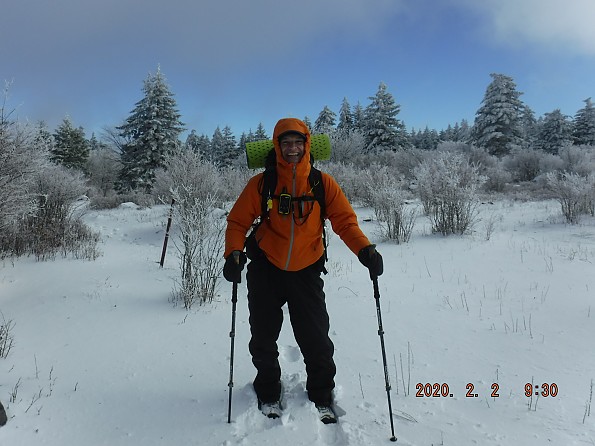 I think the jacket looks fine but will leave that to others judgement. There are several color options (four for men and four for women) upon checking OR's site, so take your pick and don't listen to me. 
Personally, orange is my favorite shell color in the event I am heading into hunting territory, or I guess I would also stand out against the snow if I ever had to use my Inreach emergency button. However note that the OR site, at the time of this review, is not showing the orange I have as an option. I hope that changes!
Weight:
The Microgravity is not the lightest option on the market, but is listed at a trim 14.6 ounces. I weigh it in at just over 15 ounces (430 grams). However, if you consider this could replace my rain jacket and wind shirt then I am about at least break-even (Marmot Precip and Patagonia Houdini). Depending on your current choices, your savings will obviously be different.
Stink Factor:
So far I have not detected a stink in the jacket, and I have sweated a good bit as usual. I have purposely put the Microgravity through its breathability paces by climbing some good hills and turning up the heat inside. Therefore, I have been damp with perspiration numerous times and nothing seems to have stuck yet...more to come in the later review edits a couple of warmer and sweatier months down the road.
Construction & Durability: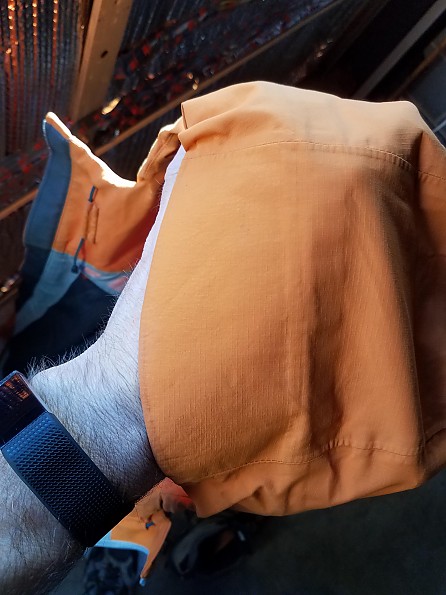 The Microgravity seems very well made. All seams and stitching look solid. The ripstop stretch fabric hasn't shown any wear in the first few weeks.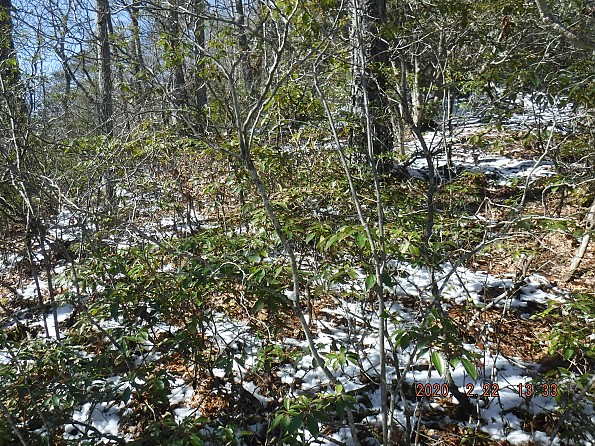 I am comfortable enough with it to wander off trail (I rarely stay on one for an entire day). It seems to handle brush well. I had no fear walking through areas like this...
After several winter off-trail jaunts, I can see no nicks or excessive dampness at wear spots. 
The material is so soft and flexible that I did worry that it would wear out fast, but that is not proven by any means yet. I'll revisit this in the full test update.
Prior versions of the Ascentshell membrane jackets (i.e. the Interstellar) have had some issues with the DWR wearing off quicker than normal. With this being the Microgravity's initial review, I can't comment on this but will revisit down the trail.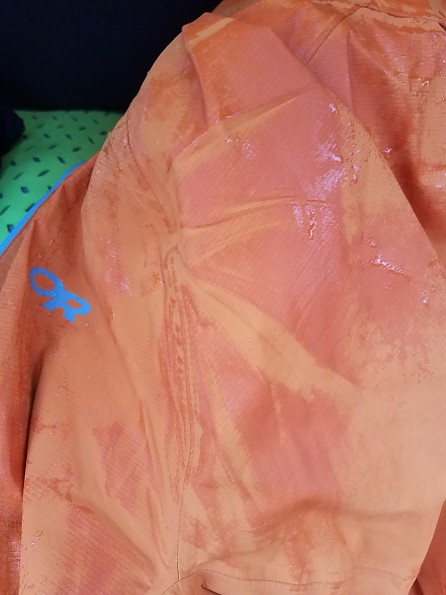 The lack of beading of rain when it's flat doesn't seem to be an indication of DWR wear as it was evident on the first trip and didn't affect waterproofness.
Care and Maintenance:
OR recommendations cleaning any rain gear on a regular basis to keep oil and dirt out of the membranes so they can perform better. They recommend cleaning with a technical wash (ex. Nikwax) and drying on low heat, which helps to reactivate the DWR. I haven't had to do that yet.
Conditions:
Although I haven't had the chance to test the Microgravity in multi-day rain trips, I have had it out in rain, sleet, snow, and wind with temperatures ranging from the low teens (F) to mid-50s degrees F. I took it on three multi-day backpacking trips between receiving it in January 2020 and this initial review. Trips covered 20-30 miles including on and off trail segments. One trip was snowy, and both the others had some rain although the last one was mostly cold and windy. My "backyard" testing ground, while in the Southeast US, includes wide open areas in the Virginia Highlands with exposure to the elements and limited cover.  Not quite alpine, but it can simulate those conditions.
In addition, I have taken the Microgravity on numerous day hikes, and almost daily walks in all sorts of rain, sleet, snow, wind, and temperatures ranging from around 20 to 50 degrees F. In fact, since I work from home when not traveling, I tended to take a break when a rainstorm comes in and go for a walk.
Best For:
This is definitely a jacket designed, as OR says, for alpine conditions. Working up a sweat in this jacket is not like any other rain gear I have used. The breathability/waterproof/windproof balance is excellent. It would excel in alpine conditions, as windy and snowy days didn't seem to bother it (or me) at all.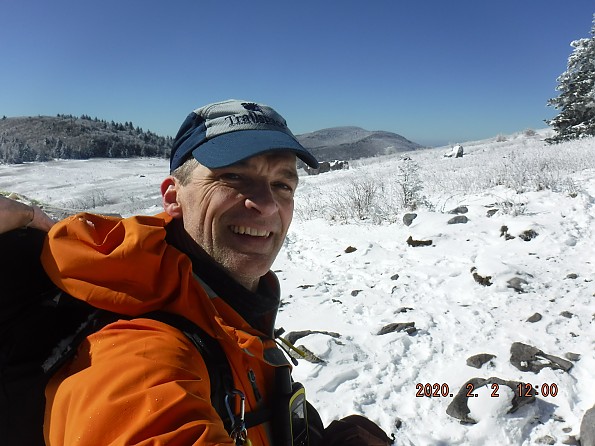 For me as a year-round backpacker (well, at least down to 0°F) I find it just right for those pursuits. I usually head out on really rainy weekends in the spring which keeps others off the trail, so will let you know if it is suited for that in a couple of months.
More to Come:
This is the initial test results, but I will be focusing in the coming months on the waterproofing in steady multiple days of rain (hopefully), DWR resistance to wear, durability, and maintenance/washing/stink factor. While the Microgravity is designed for alpine conditions, I'll probably extend its use into the humid months in the Southeast U.S. and see if the breathability/moisture management continues to excel as well in the warmer seasons.
Thanks to Trailspace and Outdoor Research for the opportunity to test the Microgravity AscentShell Jacket.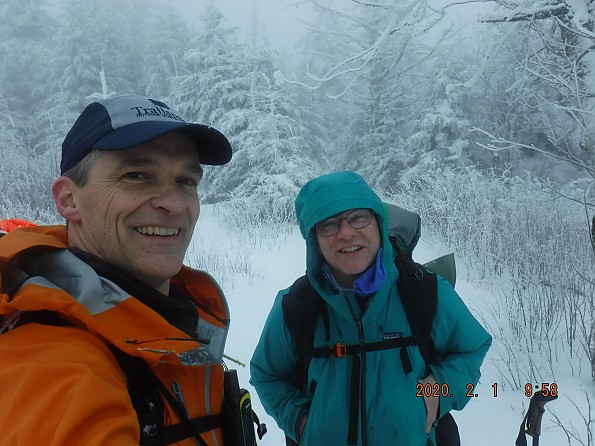 And thanks to fellow Review Corps member Patman, for assisting with some good photos that are difficult for a primarily solo-hiker to take!
Experience
I have used the Microgravity Jacket from mid-January through March 2020 so far. See the Conditions section above for a description of my activities. Previous rain gear includes super expensive Gore-Tex jackets, 2-2.5 layer cheaper versions, and almost disposable cheapies (i.e. Frogg Toggs). I have not used AscentShell before this or anything quite like it.
Source: received for testing via the Trailspace Review Corps (Sample for review and testing provided by Outdoor Research)

Exceptional active shell for those in alpine climates and those that use a helmet.
Pros
Breathability
Plenty of pockets
Cuff hook and loop
Light weight
No DWR
Cons
Hood adjustability
Water sealing on zippers
I purchased the Microgravity direct from OR in the Lime color, which is a cool color. Overall I liked the fit and feel of the jacket and the Ascentshell material. For reference I am 5'7" 165 and ordered a Large for layering underneath, which fit slightly baggy as expected. A medium would have been more fitted but lacked the layering ability.
I asked OR ahead of time about DWR treatments and was told the Ascentshell material is waterproof and there is no DWR treatment to wear off, which I think is good. I tested the jacket in my shower for lengthy amounts of time and while no water came through the material I did find that if the zippers are not fully closed into their little hoods that water will come through. And even when fully closed I still got some water in the lower pockets and a wet hem on the inside. Not a major issue at all but if in extended, all-day rain would wet whatever is under it.
The hood is where I found the biggest issue. It is totally meant to be worm with a helmet. It's huge. The adjustment cords for the face are on the inside of the neck and are an absolute pain to get to. With gloves they would be madness to tighten. The cord in the back to adjust the halo works, but there is so much material that it bunches and I found it uncomfortable. The hood also, even cinched down, doesn't follow your face so when you turn your head (if you're not wearing a helmet) your face turns into the hood, not the hood with your face (the hood was the reason I returned it).
I think the jacket will do its job for its intended use, but I think for non-helmet wearing people, there are some better options. 
Since my time with the jacket was short I can't speak to abrasion resistance or long-term durability.
Fit: Roomy and slightly long, but not overly, just right for being active.
Adjustability: Plenty of adjustment points all around which, except for the hood are easy to get to.
Feel: The Ascentshell outer has a soft feel and a soft next-to-skin feel inside.
Function: Pockets are easy to access and large, so it's easy to put plenty of items in all the pockets and get them out. The zippers had pulls and were easy to utilize.
Construction: Appears top notch. No defects noted anywhere.
Overall if you're an alipinist or skier and want a jacket that's breathable and helmet-compatible this is an awesome jacket that's weather resistant, functional, and has some great looks to it.
Experience
Only tested at home.
Source: bought it new
Price Paid: $249

You May Like