Point6 Hiking Tech Medium Mini Crew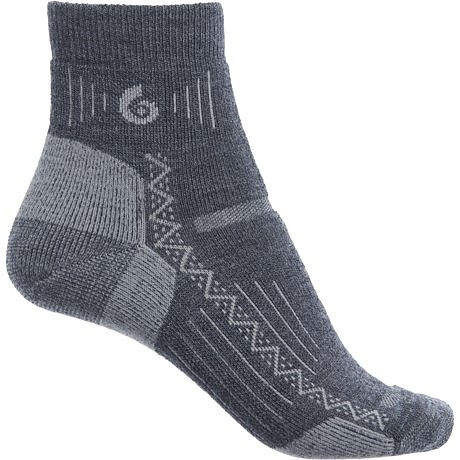 After a combined 700 miles of hiking, backpacking, and trail running, the Point6 Hiking Tech Medium Mini Crew and Medium Crew socks remained well constructed and my feet blister-free.
Neither version is quite a medium cushion sock, however. Backpackers wearing heavier, all-leather boots will want thicker socks. But for fast-packing and weekend trips outside of winter, these merino wool socks shine. John Muir Trail in a week? Wonderland weekend? Throw these socks on, load a pack with some GU, and go.
Whatever you choose to do in them, the Point6 Hiking Tech Medium Mini Crew socks (and Crew version) are well constructed, and hold up to multiple days of abuse without a wash, even when dried on the dashboard and beaten to remove dust.
They also ward off "the funk" longer compared to other wool socks I've used.
Pros
Springy, all-around cushion
Superb ventilation
No odor!
Excellent arch brace
Cons
"Busy" design style
No extra Achilles heel padding
Thinner than typical medium cushion socks
Best For: Trail running, fast-packing, and weekend trips in footwear that doesn't require heavy padding
Workmanship
Both pairs of socks are well put together. When pinched, the fabric of the socks feels springy and returns to its normal shape.
Though they incorporate numerous techy sock design constructions — including two sets of mesh venting panels (per sock!) and an integrated arch brace — the seams holding the sock together are invisible.
The "compact spinning process" mentioned on the packaging gives the socks a refined finish and purportedly makes them more durable. The two pairs I tested stood up to hundreds of miles of use with only minor wear (see Durability below).
Moisture Management
When putting the socks on, I could instantly feel the arch brace snugging up underfoot, and noticed the ventilation panels. Each set of ventilation panels is situated exactly where I want them. The panels are situated on top of each toebox, and the second pair run parallel to each other, on either side of the foot. The fabric of these panels is visibly less dense than the surrounding sock. 
When trail running in the mini crew version I noticed that these vented areas would dry first whenever the socks got wet. Moving through puddles, the merino wool stays firm and warm; the cold water warms up around my foot within a few dozen steps.
The Point6 socks do such a remarkable job of transferring moisture that, even when I knew the socks were wet, my feet would rarely sense the moisture. It was only when I took my footwear off at the end of the day that I could confirm with my hands that they were wet.
Friction Management
I wore the two pairs of socks for approximately 700 miles of hiking, backpacking, and trail running, primarily in the summer, and never got a blister.
However, when I used them as the sole sock in heavier, full-grain leather boots, I developed hot spots at contact points on the back of my heel and top of my arch. I believe this is due to the lighter cushion and low fabric volume of the socks.
In a boot designed for a heavyweight sock, the Point6 socks do not take up the room needed to keep my feet from jostling around; thus, I needed to wrench down my laces tighter to compensate, leading to pressure points. The less flexible the boot, the more one should tend towards a thicker pair of socks.
As with all footwear, be sure the fit and volume of your socks works with the volume and fit of your boots or trail shoes.
Durability
The Point6 sock show wear just like any other outdoor sock, though they did not seem to fuzz up or ball as much as other socks in their class that I've worn.
Over the course of testing, I encountered multiple stray threads and elastic strings on both pairs of socks. The interior fabric loops show some slight permanent compression in high-pressure areas under the heel and ball of the foot.
That said, the socks have not fallen out of shape in any noticeable way, and their performance has not been affected. The entire sock tightens back up and returns to normal after washing.
Fit
These Point6 socks have a performance-oriented fit. The sock hugs the foot snugly, with no extra fabric to bunch up at the toes or back of the heel.
The elastic used in the Point6 socks is very stretchy and supple, not constricting to the blood flow of my feet, but not so loose that the socks slide around my foot. My toes were free to splay out in any direction, nearly unimpeded by tension from the fabric of the sock. I believe the lower-density of the mesh vent panel above the toes accounts for this ease in stretching.
Also, when hiking in challenging terrain, the sock does a fine job of transmitting nuances in the trail. Since the sock's fabric is no more than 1/8" thick, one gets a good sense of the terrain underfoot, as not much feeling is lost.
Interestingly, I noticed that, compared to the crew length, the mini crew socks slid around my foot a little bit more. This could be a function of the crew-length cuff offering more stability, but I also notice that the mini crew's toebox shifts more readily as well. This difference did not cause any performance or comfort issues, nor did it increase as the socks wore on.
Impact Management
This is an area where the Point6 socks' performance-oriented nature works against them. The thinness of the socks makes them less effective at absorbing shock when compared to a true medium cushion hiker.
This is another reason why these are not the socks to wear with heavier, full-grain leather boots. Though my Pivetta P-8 boots are broken in, more heel padding and more overall cushion would be helpful to prevent foot fatigue at the end of the day.
Again, be sure your sock's level of cushioning suffices for your footwear and comfort.
Odor Management
These socks just do not seem to build "the funk" as quickly as most midweight merino socks. Over the course of 700 miles of testing, I noticed that whenever I took my shoes off, even after the most strenuous runs and hikes, my feet would not smell.
I actually had to devise a few quite abusive scenarios just to get the socks to smell.
For example, I noticed that even after five days of constant wear inside my New Balance 1500GT boots, the socks were not offensive in the least. Keep in mind that my feet sweated quite a lot those few days and the New Balance 1500's are Gore-Tex lined, not very breathable when compared to an unlined boot.
I was fully expecting a bouquet of pungent smells to meet my nose! However, taking the socks off straight out of the boot and off my feet, I could only barely detect a smell building at the end of the second hike.
Testing Notes
 
Use and Footwear:
The Point6 Hiking Tech Medium Mini Crew socks logged approximately 300 miles, mainly for running, but also some hiking. I wore them exclusively with my Brooks Cascadia trail runners for less than five miles at a time.
I wore the Point6 Hiking Tech Medium Crew socks for approximately 400 miles, mostly on hiking and backpacking trips, with daily mileage varying anywhere from 2-12 miles.
I wore them with the following footwear: the all-leather Lowa Banff boot; the full-grain leather Pivetta P-8 boot; the full-grain leather, unlined White's Lace-to-Toe Smokejumper boot; the leather, Gore-tex lined New Balance 1500GT boot; the synthetic Brooks Cascadia trail runners.
I wore both pairs of socks for everyday activities like work and errands.
Testing Duration and Care: I wore one of the two pairs of socks almost every day for the entire testing period. I washed them infrequently by hand or machine, every three to six days, and air-dried them, to mimic the conditions reported by many long-distance thru-hikers.
I wore the socks through typical Midwest late-summer weather conditions, with temperatures of around 60-100 degrees Fahrenheit, with a fair amount of precipitation.
I also used them during a weeklong backpacking trip to Washington's North Cascade Mountains, where temperatures hovered around 30-50 degrees Fahrenheit, and snow or sleet was almost omnipresent.
I used backpacks of all sizes and weights during the testing process.
Me and My Feet: U.S. size 10.5; low volume, narrow (A), high-arched; supinator/under-pronator; male, 6'-1", 160 lbs.
Source: received for testing via the Trailspace Review Corps
Price Paid: sample provided by Point6 for testing and review

A four-season, merino wool hiking sock that is just as comfortable as it is durable.
Pros
Comfortable
Durable
Domestically made
ID feature on inside cuff (size and weight)
Cons
Style-focused designs (turn off for some)
Sizing inconsistencies among brand's "Mini Crew" cut
I came across Point6 socks after my wife received a free pair from an Eddie Bauer store. After a couple months of use, she told me how impressed she was with the comfort and durability and that I should buy myself a pair. Not one to ignore my wife, I bought a couple pairs and have enjoyed them ever since.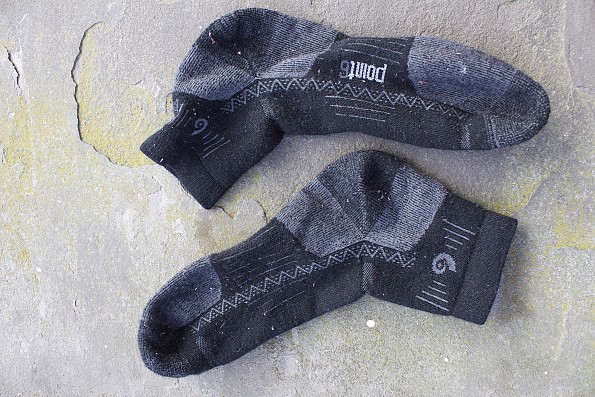 Conditions: 
I've owned these socks for a little more than one year now and wear them on any occasion possible—hiking, camping, fishing, hunting, lounging, etc. Most of the time, I wear with my Asolo Sunsets or Oboz Sundogs trail shoes, but have even worn them with slightly taller boots. They sit well above my ankle and keep out any unwanted debris or rubbing. An ideal length in my opinion.
Size:
I wear a men's US13 and the XL size (12-14.5) fits well. I have pretty average feet (i.e. not flat, nor high arches, not wide, nor overly narrow) which is likely one reason why they fit so well.  
Specs:
Materials:
68% Merino wool
30% nylon
2 % spandex
Medium cushion
2.5" cuff (mini crew)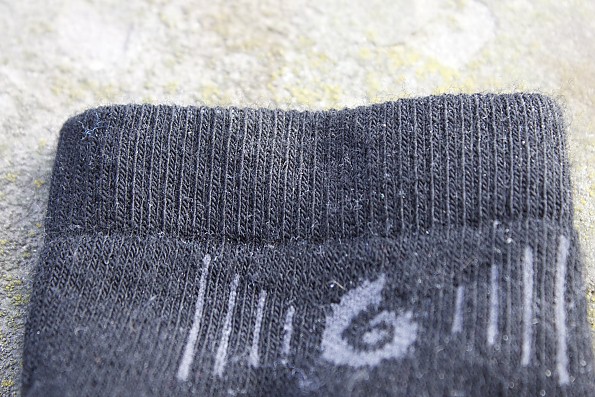 Company: 
According to the company, all Point6 socks are designed and made in the USA with high quality imported New Zealand merino wool and "compact spun."

Comfort:
Like most socks, these are soft and comfortable the first time I put them on. However, the true test of a pair of socks is whether or not they are still comfortable in 3 months, 6 months, a year, etc. of repeated use. After one year (hopefully longer, we'll see) these remain comfortable. 
Of course, these aren't the only merino wool socks on the market, but in my opinion, they are as good, if not better than other merino socks I've worn in the past.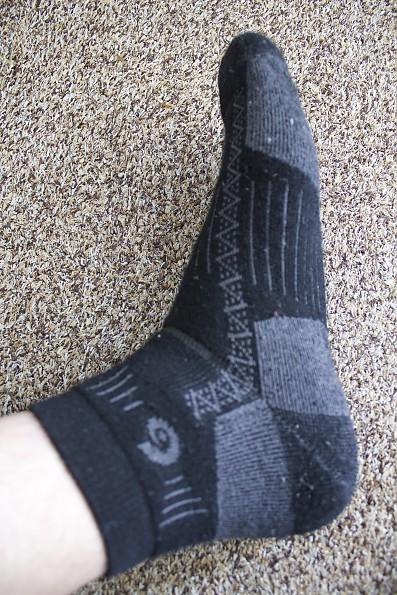 Features:
Merino wool is magical. It is naturally odor-resistant, great at moderating temps (think warm feet in cold weather and cool feet in hot temps) and handles moisture better than many materials. 
A notable feature is the cushioning, both on the bottom of the foot, and over top of the instep. While my feet are forgiving to begin with and rarely do I experience rubbing or sore feet, I have not noticed any issues in these areas.  
A rather small, but well received touch on these socks is the ID feature on the inside cuff. On one side, it tells you the style of sock (i.e. Hike Medium) and on the other size, it tells you what size they are (i.e. XL). This is helpful when down the road, I want to buy another pair and can't remember exactly what style or size I purchased. It's a small touch, but a nice one.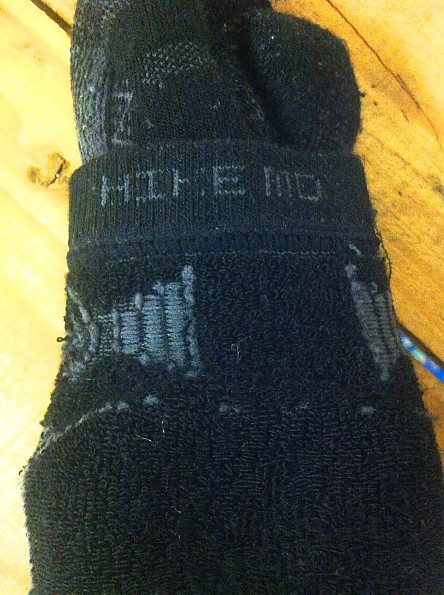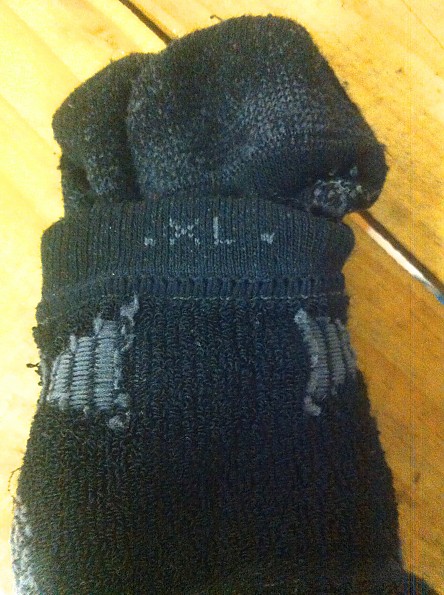 The only drawback I see for these socks is that the only ones I've seen all appear to have fairly flamboyant designs and/or colors. When looking for the most neutral color/style choices available (yes, I'm boring), this black version with various design elements were the best options available. While they are fairly toned down, they still have some pretty noticeable/eye-catching designs.  

Recommendation: 
Best worn with low to medium cut trail shoes, but will also be fine with most mid-size boots. The medium weight wool performs well in all four seasons. That is unless you live with desert-like summers or arctic-like winters. In that case, good luck. 
Update (02/26/2016):
At the time of the original review, I had not realized that these and another pair of mini crew Point6 socks I own (and purchased at the same time) are different cuff heights. This inconsistency with the brand's "mini crew" cut leads me to this update and lowering the overall rating of this product. While performance is still super, the brand's confusing labeling and inconsistencies detract from the overall product. Feel free to read the review of the Point6 Hiking Tech Extra Light Mini Crew.  
Source: bought it new
Price Paid: $11 USD

Your Review
Where to Buy
Help support this site by making your next gear purchase through one of the links above. Click a link, buy what you need, and the seller will contribute a portion of the purchase price to support Trailspace's independent gear reviews.
You May Like
Specs
Price
MSRP: $15.95
Historic Range: $7.99-$18.95
Reviewers Paid: $11.00