REI Chrysalis UL Tent

The Chrysalis UL Tent has been discontinued. If you're looking for something new, check out the best three-season tents for 2022.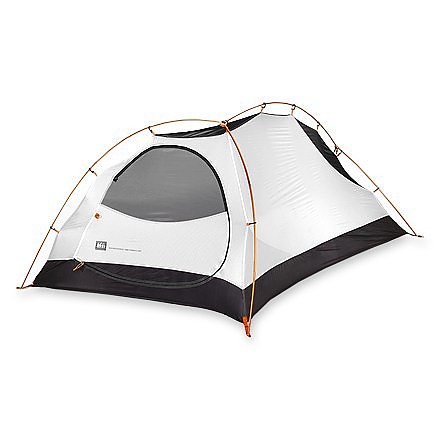 Specs
Price
Historic Range: $154.93-$169.00
Reviewers Paid: $50.00-$155.00

Reviews
9

reviews

5-star:

5

4-star:

2

3-star:

1

2-star:

1

1-star:

0
This oddly shaped tent, somewhat reminiscent of the Flatiron Building in New York, might look interesting but it's not practical.
Pros
Fairly lightweight
Packs down well
Cons
Odd angles
Really narrow front entry
Little storage in the tent or in the vestibule
Poor tri-hub pole insert design
Setup: It looks intuitive and is intuitive but the asymmetrical pole configuration makes you question whether you're doing something wrong during the setup. 
The tent relies on a circular try-pole hub. The engineering of the hub is not that great in my opinion. If you fail to completely insert the pole through two holes in the hub, it adds too great of stress to the pole tip insert and will break it. Over time, the holes in the hub wear and expand due to friction. This makes the fit less secure and more wobbly.
Stability: The tent is narrow so if you pitch it with the broad face to the wind, you might have some problems since the poles are already stressed in this model.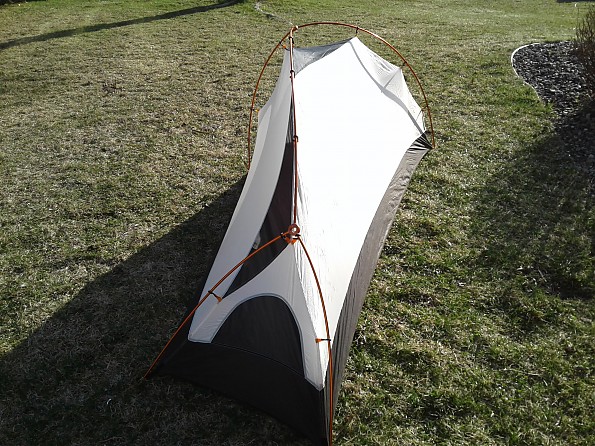 Weather Resistance: The tent scores well in this sector. No leaks on my limited outings with this model. 
Ventilation: There's a small vent that is located at the top of the tent. I am always dubious about the usefulness of these types of small vents. It seems to me like if you sleep next to a river, you're inevitably going to have a wet interior in the morning, if your'e in a dry breezy field, you'll be dry in the morning.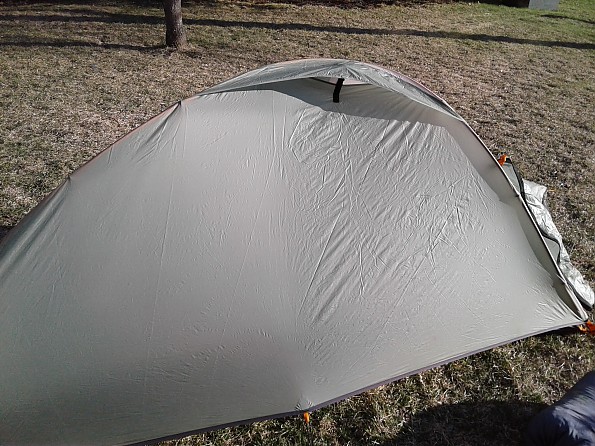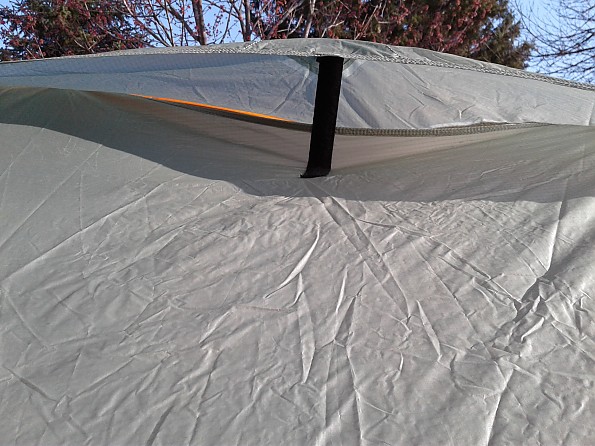 Room and Storage: Very little. The odd design leaves a small acute angle near the head of the tent. This space is good for a shoe or a solar charger I guess. It's good that this model is branded as an UL because the vestibule will not hold more than a 65L pack max.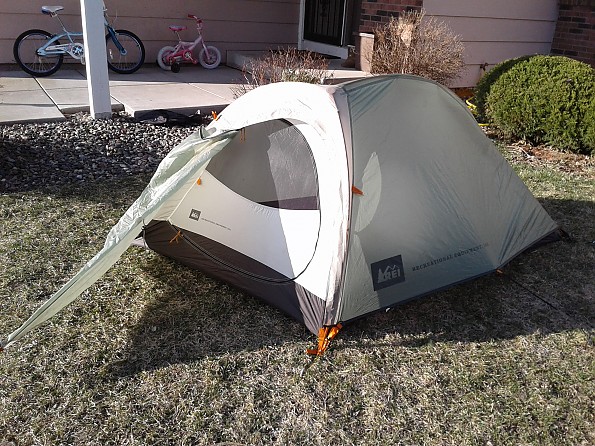 There's a not-so-standard pocket on the interior of the tent. It's a triangle.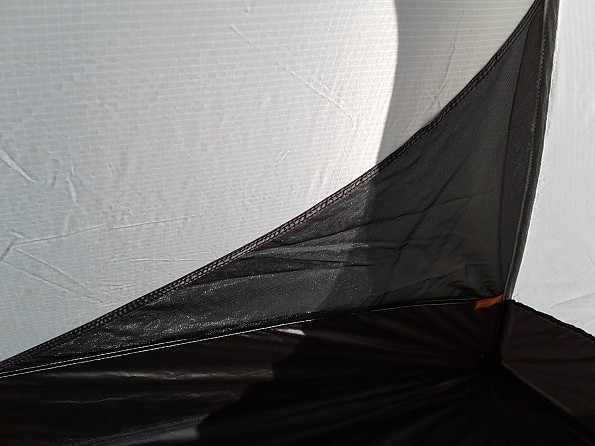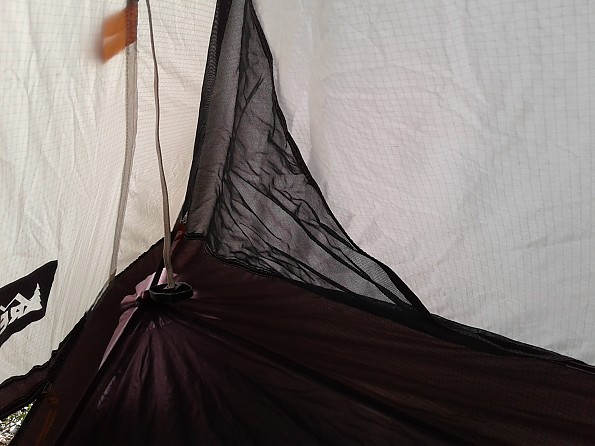 Packability: Does well. Packs down to roughly 16 x 5 inches.
Ease of Use: I find front entry tents to be a bit more difficult to get into. The Chrysalis is especially difficult to get into because of the narrow design and funky diagonal entry. 
Features: the tent features a trapezoidal design. I thing a parallelogramic design would have been more practical. I can't believe that I just wrote that, but it's true. The shorter side of the trapezoid is too tight.
I've added this pic of the bottom of the tent. It is the best way that I could figure out how to highlight the true shape of the tent. As you can glean from the other pics, it's rather deceptive. You can see why your sleeping bag is forced to be laid on the long side of the tent.
Even so, you still only have about 2 inches on either side of your bag. If you roll right in your sleep, your face is plastered to the side of the tent wall. If you're lucky enough to roll left, you can continue snooze uninterrupted.
Construction and Durability: The tent is made of quality materials that you might expect of REI products. I am usually impressed with the quality of REI products. This tent is no exception. Good seams, lightweight aluminum poles, strong nylon fabric.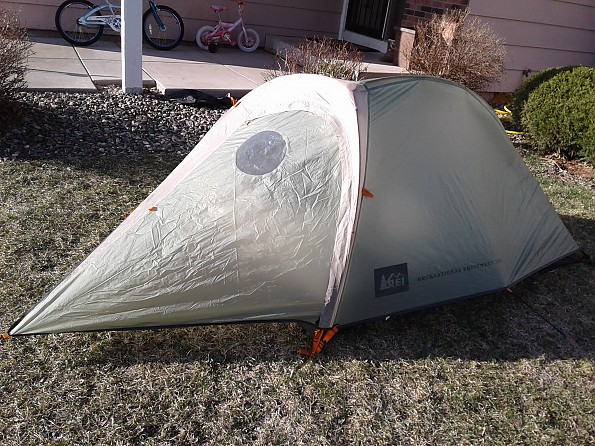 Conditions: I have to admit, I only used this tent on a couple of outings and then sold it. I wasn't impressed with the design and felt that for the same weight and quality, I could use an alternative that would be much more ergonomic.
Conclusion: Its unique design didn't outweigh the design flaws. I'm not saying that this tent would not do the job on the trail, I am only saying that there are many more options out there that you might enjoy more. 
Source: bought it used
Price Paid: $50

The Chysalis is REI's low-cost entry into the world of ultralight solo tents. I absolutely prefer going without a tent--I enjoy sleeping under the stars and carrying only a tarp in case of rain--but on my most recent trip to the Grand Canyon I expected very bad weather, so I broke down and bought this tent.
It is a big step up from my bivy sack, offering plenty of room inside to read (even though I am 6'2"), fumble with gear and clothing, and it also offers a big vestibule to keep gear out of the weather. It has a cool little hatch-like window to peer out at the weather through, too.
Over the course of four nights on this tent's maiden voyage I encountered heavy rain, hail, snow (three inches one night), and wind of up to 45mph, which proved to be a great way to test this tent.
I was blown away...not by the wind, but by this tent's performance. I stayed dry, the tent staked down solidly, and it packed up small. I only noticed one very minor problem. When I unzip the fly in wet weather it tends to drip directly into the tent (exactly where my head goes!). This was a nuisance, but not a huge drawback.
I was happy with how quickly it sets up and breaks down, how solid it was once it was up and staked, and how I felt like I was in a "tent" rather than a glorified bivy sack. REI did some good work designing this thing...I will carry it whenver I expect inclement weather, especially since mine actually weighs in at 3 pounds as advertised. Well Done!
Design: three-season free-standing solol tent
Sleeps: 1
Ease of Setup: Very easy
Weight: Three pounds: tent, fly, stakes, and sack only
Price Paid: $155

This tent is a very lightweight tent and great option for people seeking a cheap lightweight tent for their expeditions. The REI Chrysalis is a very minimalist tent and does not offer much from but is still comfortable to sleep in
Pros
Lightweight
Ventilation
Free standing
I love the REI Chrysalis. This tent is ultralight and almost comparable to Big Agnes tents that are almost double or triple its price. Weighing in at only 3 lb it is a great option for all backpackers. There is not much interior space but you can make it work and feel very comfortable.
This tent is a bombshell. It can withstand heavy rains winds and even snow. This is a rock solid tent. It also takes under 3 minutes to set up.
All in all I would recommend this tent. It is a great option.
Source: bought it used
Price Paid: 75$

A light and compact tent, but highly dependable. Can accommodate two small built trekkers.
Pros
Light but durable
A sturdy tent
Setup can be done in less than 5 mins. You have to be adapted to the hubs on the pole.
Can withstand heavy winds and rainfall.
Just have to know to set it up well to have a good ventilation and likewise to avoid condensation.
Can accommodate two small built and can stack your things in the vestibule.
Very packable, occupies less space in your pack.
Special features is the pole hubs, but one has to take care of this cause I think it would be hard to replace.
Bought this as used but not abused. Used it 4x or 5x already for the past 2 years in a tropical condition.
Source: bought it used
Price Paid: $78

I went to the REI store expecting to buy the popular Quarter Dome T1 backpacking tent. They had one Chrysalis tent left and it looked interesting and at 45 dollars less caught my attention. The REI salesman was kind enough to let me set them both up in the store so I could compare.
The T1 was like a tube, way to narrow, and the mostly mesh tent does not offer enough protection without the rainfly. With the rainfly on the ventilation seemed poor. It was hard to set up with a complicated pole pattern and I felt its only plus was the low weight.
The Chrysalis on the other hand was also an ultralite but had a quick and easy setup, lots of shoulder room where it counts, great protection without the rainfly, perfectly designed ventilation and easy to get in and out of.
I am 62 and 5'10" and I felt right at home in this tent. I will be going backpacking for the first time in thirty years next month to give it a try.
Price Paid: $154

Best tent I've ever owned!
Ease of Setup: Not difficult
Price Paid: $124

Bought this solo tent for motorcycle trips to replace my solo Kelty tent. Used it at Bonnaroo during torrential downpours. Tent kept me completely dry, even with major wind gusts.
I'm 5'5" so the tent has plenty of room for me to maneuver and the vestibule is big enough to store some gear for the morning. Probably wouldn't recommend for anyone taller than 6'. Ventilation was as good as expected considering I stayed bone dry for all 5 days.
Design: three-season freestanding dome
Sleeps: 1
Ease of Setup: color coded corners makes for easy setup
Price Paid: $99

I've spent about 10 nights out in this tent on a few camping trips. I'm a casual camper and I ride a motorcycle so the compact packed size is important to me.
Things I like:
Lightweight, compact
Easy Setup
Sturdy
Very good rain protection
Very cool single pole
Things I don't like so much:
This thing is small folks. I found that with my gear and my small dog it was a bit crowded.
It's a bit hard to get in and out of if you're over 40 like me.
Conclusion:
I've enjoyed this tent but I really would like more room personally so I've got an MSR Fling I'm taking on my next trip. If you want a light, sturdy, and cozy tent for one person, I do recommend it pretty highly.
Design: Three season
Sleeps: 1
Ease of Setup: Pretty easy, takes a little getting used to.
Weight: light, whatever rei says
Price Paid: retail

I purchased this tent as a means to downsize and lighten my load. This tent packs down very small and compact and is very light. It sets up easy, stakes down and goes no where! With the vestibule door closed it struggles with ventilation, though it does have the roof vent, great addition! With the vestibule door open, it drafts pretty well.
I am 5'9" and weigh in at about 215, though this fits me very well, I could not imagine someone much larger than I fitting comfortably.
Holds up against rains very well and has minimal condensation.
If your looking for a great light weight solo tent, this would be it!!
Design: could be free standing, or staked
Sleeps: 1
Ease of Setup: very easy
Weight: 3 #
Price Paid: $129

You May Like
Recently on Trailspace