Sea to Summit Alpha 2 Pot Cook Set 2.2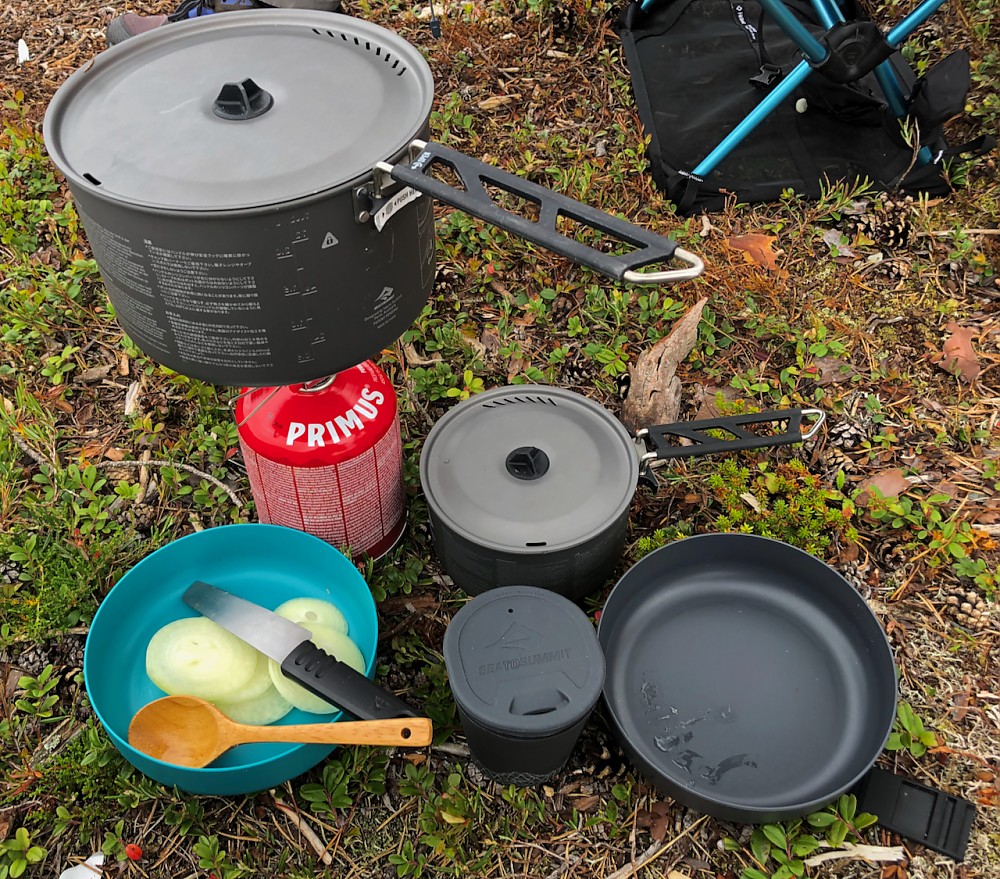 A nicely integrated cookset that efficiently fits the most important cooking and eating components for two people into a compact package at a reasonable weight for mid-light hikers. Well-suited to delivering a couple of steaming cups of joe on early mountain mornings and for making meals that involve a little more action than just boiling water.
Pros
Compact cookset with mugs and bowls for two
2.7 L pot can be used to cook for four
Locking pot handles for safety
Insulated mugs keep contents warm on cold mornings
Cons
Pot handles can't be removed for cooking over fire
No graduated markings in mugs
Mug lids don't seal against spills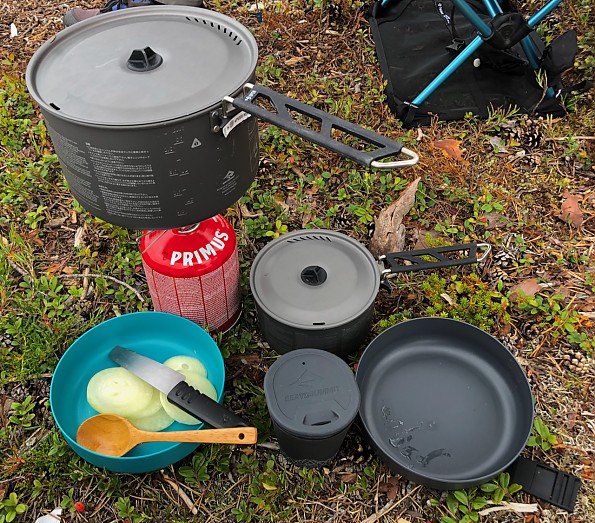 I'm a morning person. I wake up early, never use an alarm clock, and no matter what other plans I have for the day, I like to start the same way – with coffee in bed and some time to read for both me and my wife.
That also applies when we are camping out, except that we may take our first cup sitting in our camp chairs rather than in the tent. The coffee is to be slowly sipped, stretched out over 20-30 minutes, which means that we need insulated mugs with lids to keep the beverage warm for the duration. For the last decade or so we have used big 500 ml mugs (first S2S, then GSI) that do that job nicely but are somewhat heavy and won't nest in each other or in our pot set and so take up extra space in our packs.
So, to try to reduce both the weight and volume of our camp kitchen I decided to try out the complete Sea to Summit (hereafter: S2S) Alpha Pot Set 2.2.
A weighty comparison
Here's a breakdown of the components of the Alpha 2.2 system, with weights in grams / ounces:
2.7 L pot with lid                                                                295 / 10.4

1.2 L  pot with lid                                                                78 / 6.3

Delta light insulated mug with sheath and lid (x2)       81 / 2.9

1 L "daddy" (blue) bowl                                                      75 / 2.6

0.9 L "mommy" (gray) bowl                                               71 / 2.5

microfiber dish towel                                                          16 / 0.6

Total weight:                                                                        716 / 28.1
Combined with my Soto Amicus canister top stove in its storage pouch, which fits nicely in the mugs, and a lightweight MSR canister stand, I get a total weight of 906 g / 32 oz. Our roughly comparable, previous two-person system consists of an MSR Windburner stove with 1.1 and 1.8 L pots, the pot base protectors as bowls, a pair of GSI Insulated mugs, the MSR "stretch" canister stand, and a smaller square dish towel, and weighs in at about 934 g/ 33 oz.
So the S2S/Soto system only saves us about 32 g / 1.1 oz after all, but we get bigger pots and bowls and the convenience of stashing the mugs inside. I also prefer the shallower and wider S2S pots as compared to the tall pots in MSR and other "boiler" system stoves because they are easier to stir while simmering and easier to reach inside to clean. We keep our meals simple but some still require some stirring and simmering.
When cooking for two, I like having two pots for some versatility, but we could save weight  by going with a one-pot system. The S2S Alpha 2.1 system comes with everything but the smaller pot, potentially leaving some volume for stashing some kitchen extras such as spoons, salt and pepper or other condiments, and washing up items. Going with just the 1.8 L MSR pot and burner head allows stashing a 250g canister inside, but one bowl, the two mugs, and spoons and condiments have to go somewhere else.
I have cooked for two using the 1.8L pot and for four using the 2.5 L MSR sauce pot, but in both cases they can end up close to brim full, so it can be nice to have more volume, and the 2.7 L S2S pot can has more space when cooking for three or four.
The pots are hard anodized aluminum and hold up well under use and scrubbing. There is no non-stick coating on either pot. The graduated markings in 12 oz / 0.5 L increments embossed into the side of the pot near the handle are a bit hard to read but do the job.
Pot handling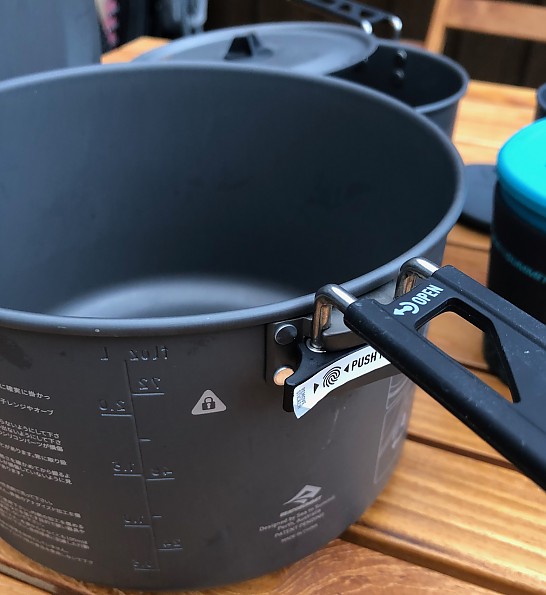 S2S has engineered a rather elaborate locking handle for the Alpha pots. A four panel how-to-use illustration accompanies the (mostly common sense) fine print warnings and care instructions in six different languages wrapping around most of the circumference of each pot.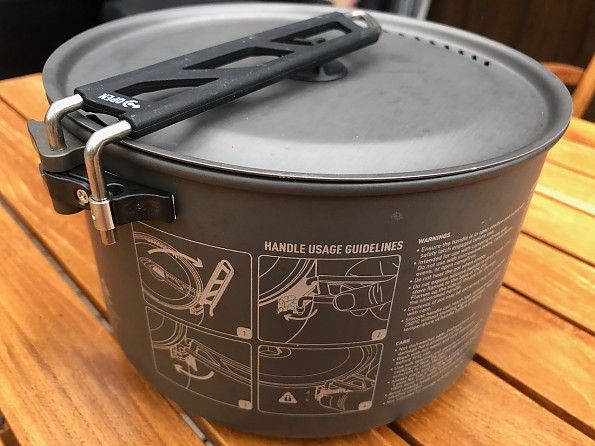 The stainless steel and grippy silicone handles are permanently riveted to each pot, rotate clockwise into operational position, and double-lock into place. First, the handles snap into a groove on the attachment fitting, then this is locked by a plastic latch.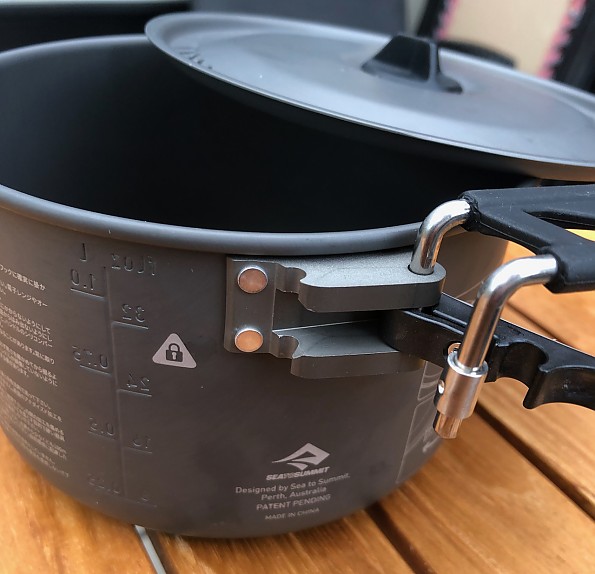 The first step already gives a reasonably solid lock, so the second seems a bit overkill. Unlocking the handle requires some finger training, including stretching the silicone a bit to free up the handle to rotate, but gets easy with practice.
S2S advises against cooking over open fires using these pots because the silicone part of the handles is vulnerable to open flames. While the fancy S2S handles are way better than the fallible pot grips of yore, I wouldn't mind a single removable locking handle that could be used with both pots, a la the MSR 2.5 L sauce pot, saving grams and adding versatility.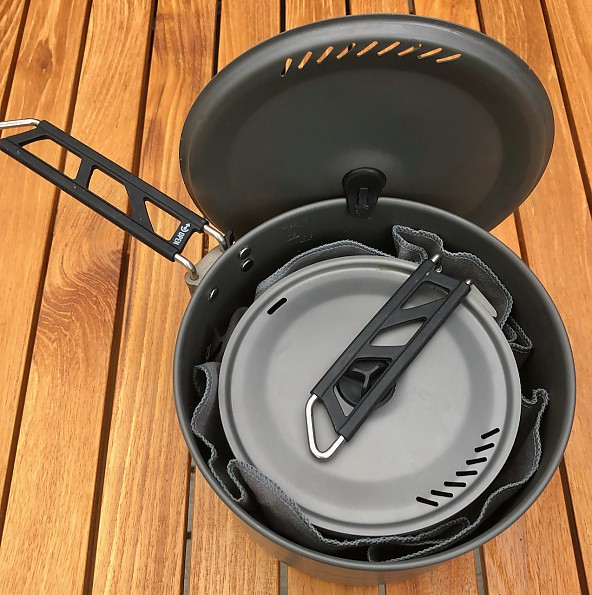 In storage position the handles lock on to the silicone rubber nubbin that serves as a handle on the pot lid. As has become usual these days, the lids have strainer and air intake holes for straining pasta. On the inside of the lid, a silicone tab is designed to hook onto the edge of the pot, keeping the lid off the ground. Putting that to use will require a change in habit, but looks like a nice touch. So clever, these Aussies.
Mugs and bowls (and spoons, oh my!)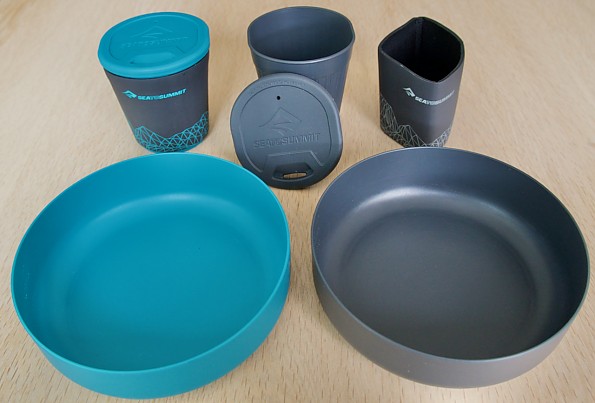 The S2S mugs hold 350 ml brim full, or about 300 useful ml, so about 3/4 of the usable volume of our old and much appreciated GSI mugs. I can live with that in exchange for the convenience of stashing the mugs inside the pots.
The removable neoprene sleeves and lids insulate efficiently enough to stretch out that first morning cup to the requisite 20-30 minutes. When new the sleeves have a strong fresh rubber chemical smell that takes a while to wash and wear out but disappears eventually. The stretchy sip lids are silicone. Unlike our old GSI mugs, they do not have seals on the sip and air intake ports so can potentially splash or leak when tipped over, and they also lack volume markings for measuring out ingredients.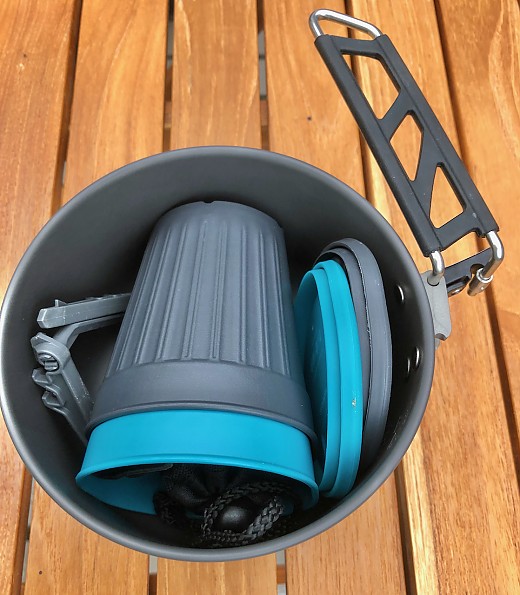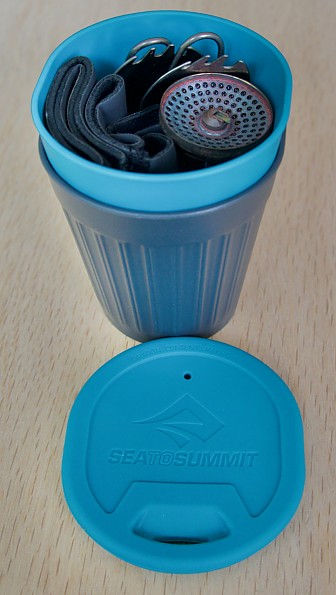 I can squeeze my Soto Amicus, a pair of Optimus folding sporks, and the neoprene sleeves inside the mugs. The lids go alongside the mugs in the small pot, leaving a bit of room for other items, such as a canister stand, on the other side of the mugs.  I'm not fond of the folding sporks, so we'll probably stick to our less compact but lighter and more aesthetic Eagle Products wooden spoons. Inevitably there will be a few other cooking items that won't fit in the pots and the spoons can ride in a pack pocket along with them. I can also squeeze in a GSI pot scraper, which makes finishing off a meal and cleaning up after much more efficient.
The S2S bowls weigh a bit more than our old plastic bowls but have way more volume are much bigger in diameter and have flat bottoms and so more versatile for serving, for example, pan-fried fresh trout (that has happened). The daddy bowl holds a full liter, the mama bowl 900 ml. They nest nicely between the two pots, helping to keep the pots from rattling in the pack.
The microfiber dish towel may seem a little silly, but I like to use it to prevent the pots from rattling around in my pack, and it can be handy for clean up, so for me they are a part of the complete system.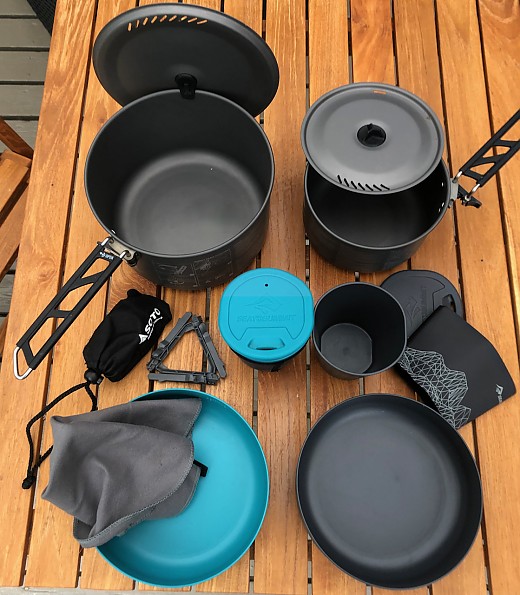 Word
The S2S Alpha 2.2 Cook Set is a nicely integrated cookset that efficiently fits the most important cooking and eating components for two people into a compact package at a reasonable weight for mid-light hikers. With extra mugs and bowls it can be extended to provide for four. It is well-suited to delivering a couple of steaming cups of joe to a couple of not-yet bright-eyed hikers on early mountain mornings and for making meals that involve a little more action than just boiling water.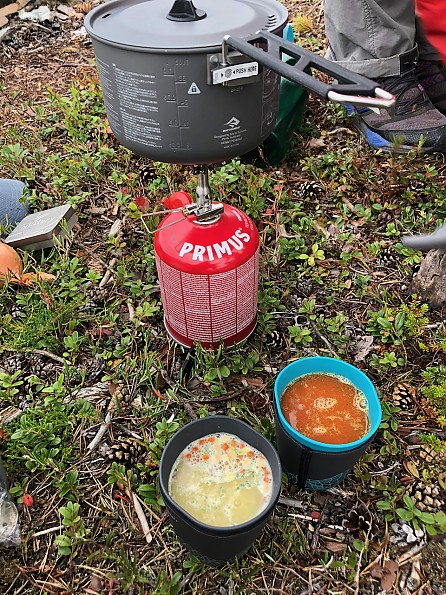 Experience
I bought my first cookset, a Sigg Tourister to go with my Svea 123 stove, when I was 16. I long ago lost count of the number and kinds of pots, mugs, bowls, and what not I have used in the backcountry. I have only been using the S2S set for a few weeks but am already satisfied with it.
Source: bought it new
Price Paid: NOK749 (about $75 including 25% VAT, but on sale)

Your Review
Where to Buy
Help support this site by making your next gear purchase through one of the links above. Click a link, buy what you need, and the seller will contribute a portion of the purchase price to support Trailspace's independent gear reviews.
You May Like
Specs
Price
MSRP: $99.95
Current Retail: $119.95
Historic Range: $89.95-$119.95

Includes
1.2L pot, 2.7L pot, 2 bowls & 2 insulated mugs

Perfect For
2 people

Weight
16 oz / 459 g

Cookware Material
Hard anodized Aluminum Alloy and stainless steel silicone grip handle

Recently on Trailspace