Sea to Summit Delta Mug

Top 50 in Cups and Mugs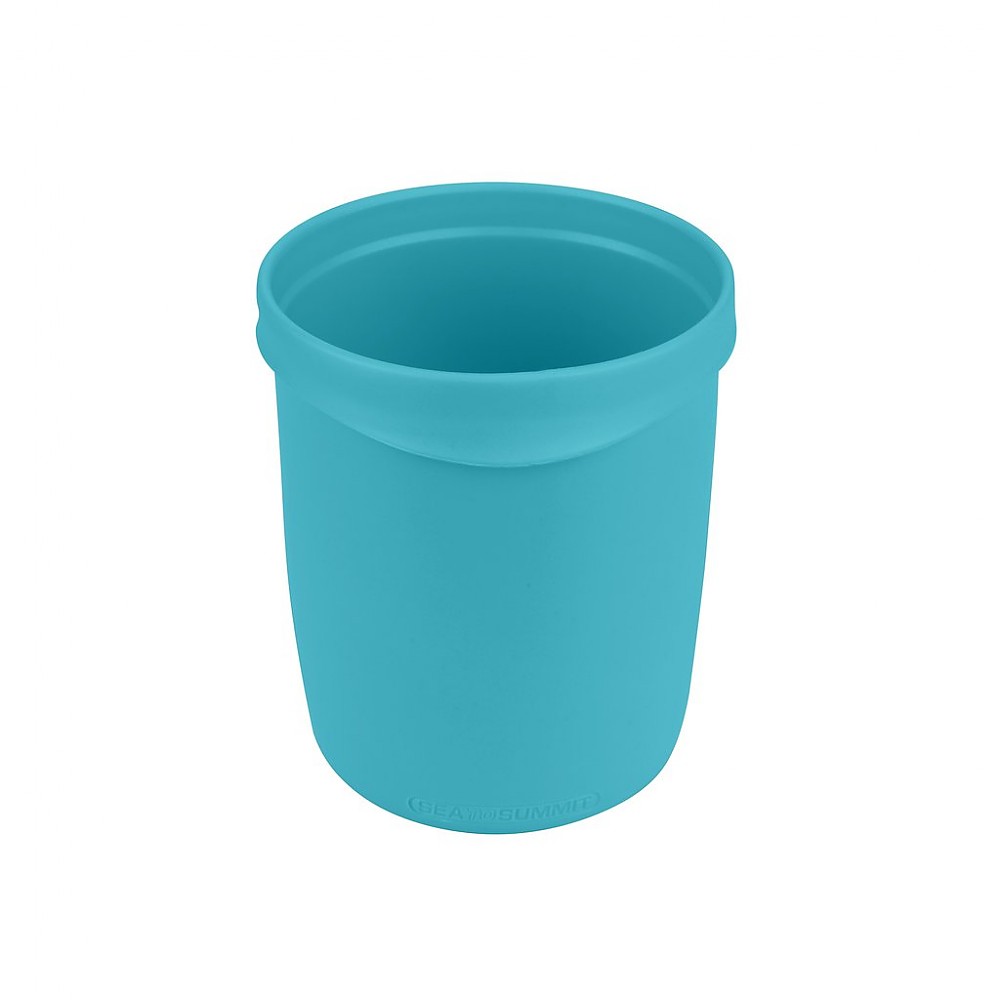 Specs
Price
Current Retail: $7.95
Historic Range: $4.73-$8.95
Reviewers Paid: $7.00-$7.99

Reviews
2

reviews

5-star:

0

4-star:

0

3-star:

2

2-star:

0

1-star:

0
A simple, handle-less, one-piece plastic mug with a cool-to-the-touch top rim and bottom. Nests perfectly inside a solo pot. Built-in measurement markings make sure you're using just enough water without using too little, or wasting any. While not stain or odor-resistant, if you're willing to live with coffee-hued interior walls, you and this mug will get along just fine.
Pros
Simple, one-piece construction
Handle-less design makes it easy to nest into mugs and pots
Built-in measurement markings great for measuring water and cooking
Added thickness on top rim and bottom makes it cool to the touch
Semi-flexible material stands up to impact - this is one durable mug!
Cons
$8 for a plastic cup? Overpriced for what it is.
Not odor or stain-resistant.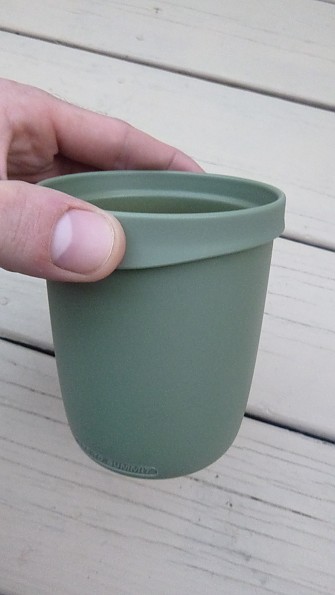 FEATURES
Capacity: 16 fl oz / 2 cups
Weight: 2.2 oz / 16g
Material: Nylon 66
PACKABILITY
The handle-less design is perfect.
The plastic construction is also nice in that you can use metal utensils in it without worrying about scratching or damaging the finish.
I nested this inside a Snow Peak Summit pot (28 oz), and was able to fit the following inside this mug:
A.) MSR MicroRocket (with Piezo Igniter, both in Carrying Case)
B.) LMF FireSteel Scout 2.0 Fire Starter
C.) Mini BIC Lighter
D.) Matchbook
E.) MSR Folding Spoon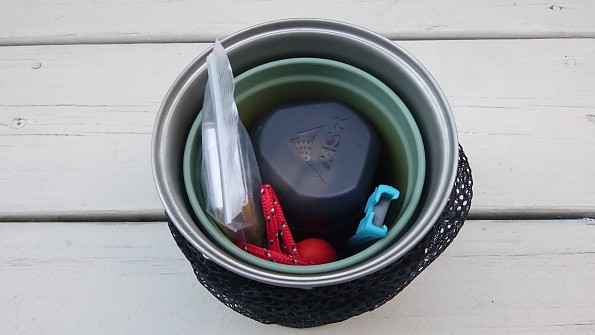 DURABILITY
Dare I say it, but bomb-proof.
Accidentally stepping on it didn't cause it to break.
Nor bend.
Not so much as a single peep out of this mug.
Because it's relatively inexpensive, I decided to see how much stress it could take. Mostly, though, I was just dumbfounded that it didn't break the first time. Lesser forces have broken heartier objects.
Set it on the ground, upside down. Stood atop it with my entire 150 lbs of body weight. Didn't do a thing. Cylinders are strongest when taking on force in this position, so I decided to go a step further.
Laid the cup down in its side. Put my body weight on it. Now, unlike the aforementioned test, it did bend this time.
But by time I stepped off of it, the walls and rim simply returned back to their original shape. 
STS is smart: they've chosen a semi-flexible material over a rigid, one. Not only does it help prevent it cracking in the cold, but high-impact stress won't even break the mug, because it has enough give to absorb the impact force.
Claim: "Dishwasher-Safe."
Sure is. One of my least favorite chores is washing dishes when I come home from a trip. If it can go in the dishwasher, it does. This not only cleans the surfaces, but the hot water helps disinfect and sterilize the items, too.
Claim: "Odor/Stain Resistant."
It is not stain resistant.
I use this cup primarily for my morning coffee, washing it out with soap and water once I'm finished, and it came home from my last trip with coffee-stained interior walls. Upon further use, the stains haven't proven removable.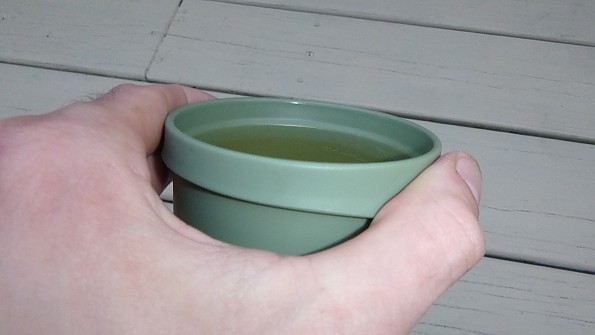 This doesn't affect the performance, nor does it affect the flavor of anything else I've poured inside it - but it does prove the claim partially wrong. Be sure to wash it out thoroughly after each use, especially if using it with coffee or any other flavored liquid (or food).
Claim: "Nylon will not crack in extreme cold."
I'm not a winter camper and likely won't be using this in extreme cold. I've stored it overnight in the freezer without it cracking, however, this is a feature that won't ever be put to the test on my trips.
EASE OF USE
Claim: "Protex Heat-Reduction, Honeycomb-Shaped Base: reduces surface heat so cup is never too hot to handle."
For added stability, you can hold it by the rim with one hand, and support it from the honeycomb-patterned bottom.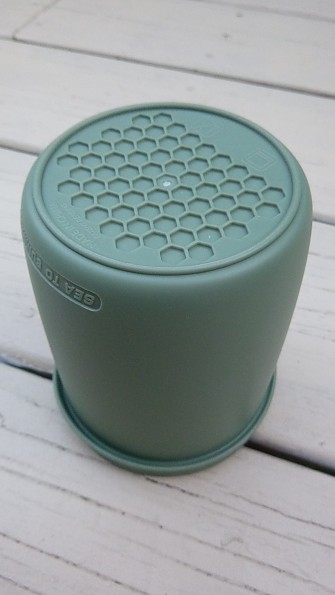 However, I find it a nice hand warmer on cool mornings since heat transfer well through the single-wall, non-insulated walls.
Claim: ""Cool-Grip" Rim eliminates need for a hard-to-pack handle."
Easy and comfortable to hold without a handle or insulated walls. Spot-on, STS.
Claim: "Volume Measurements Inscribed on Inside of Mug."
Yep, up to 16 ounces. I LOVE this feature because there's nothing I fear more than turning my freeze-dried meal into soup by accidentally adding too much water. Not only am I able to measure water out for dinner, but I can also make sure I'm using the correct amount of water for my morning coffee. Thanks to this mug, I've had consistently, perfectly-thick dinners, and have never once had a watered-down cup of morning coffee.
Note, however, these markings are built into the mug and aren't a contrasting color. They can be hard to see, depending on the mug color you choose. Be sure to examine this feature in the store so you can pick one that reads easiest to your eyes.
CONDITIONS
Used for measuring water for freeze-dried meals and morning coffee.
MY $0.02
No, there isn't a lid.
No, it isn't insulated.
And no, there isn't a clip or way to hook it onto your pack.
But there hasn't been a single morning, yet, where my coffee has gone cold before I've finished drinking it.
And it measures water out like a champ. 
So, in those ways, it lives up to all my personal expectations of the product. My only suggestion is to find it cheaper online and buy it on sale - ain't no reason for anyone to be paying $8 for a plastic cup.
Source: bought it new
Price Paid: $7.99

An inexpensive, lightweight cup. I bought this on impulse, looking to shave a few ounces off my pack's base weight. The $7 price tag made it a good gamble. Overall, it was a reliable, durable mug with a few drawbacks.
Pros
Inexpensive
Lightweight
Insulated
Keeps hands warm on a cold morning
Durable
Cons
Can't be put on direct heat/flame
No lid
No handle
This review is from the perspective of a coffee addict, who needs that morning cup of java to start his day.
It's a decent mug. I don't regret buying it at all. The price was great—I cringe at the idea of spending $50+ for a titanium mug. However, the "cons" with this mug do have me looking for another option.
The first thing I missed was being able to heat water directly in the mug. When my cooking pot was full of food, there wasn't an option to heat up a second cup of coffee or mug of Mexican Mocha. Nor could I just prepare oatmeal in it. (Mixing in coffee with your morning oatmeal is one way to get in 2-cups in the morning, without taking up too much time.).
Not having a handle was the second negative. The plus to this was it kept my hands warm on 26°F mornings. But there was no way to clip this to the outside of my pack. It had to be stowed (see next con, below).
The biggest "con" for this mug was not having a lid. With my heavier mug, I could walk and drink my morning coffee--then clip it to the pack once it was empty. With this mug, I had to drink my coffee, rinse out the cup, and stow it away before I could get on the trail.
So, on the one hand I felt my morning coffee was rushed. On the other hand, I felt I wasted time getting started in the morning.
Source: bought it new
Price Paid: $7

You May Like
Recently on Trailspace