SealSkinz Waterproof Extreme Cold Weather Gauntlet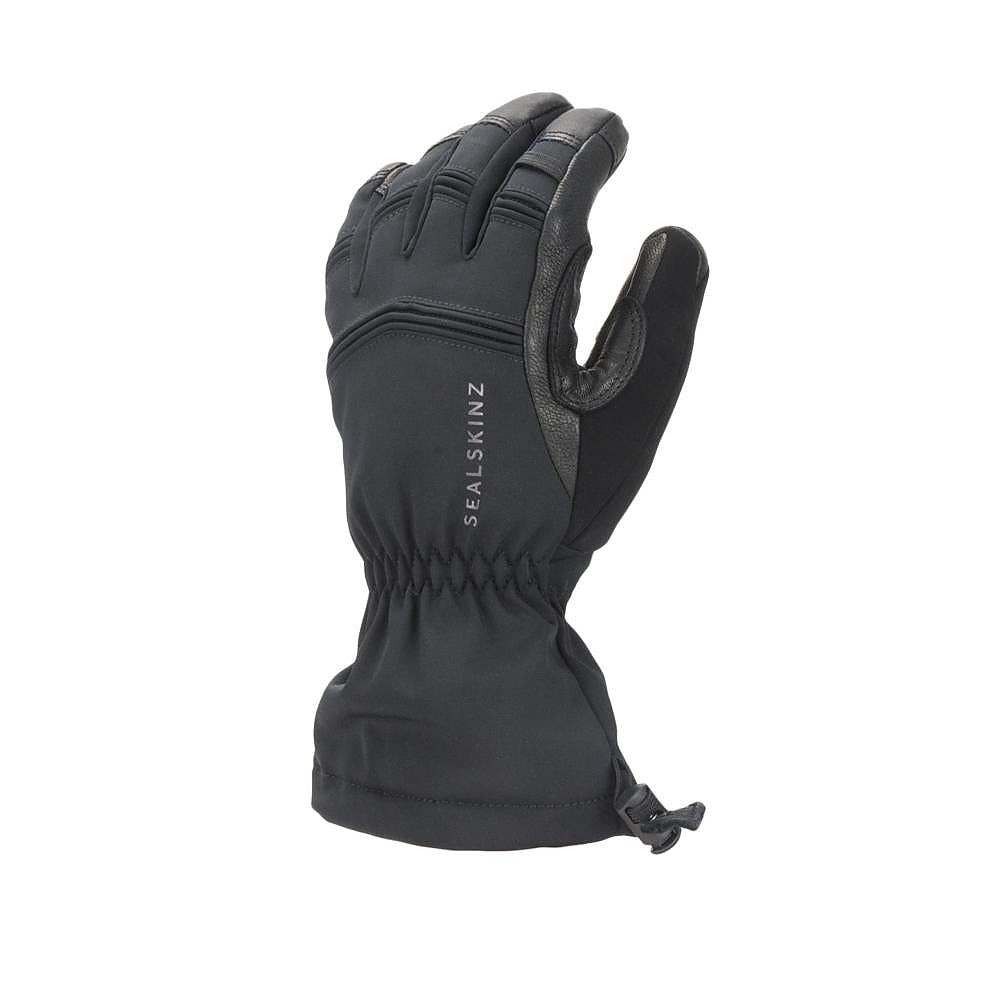 The SealSkinz Waterproof Extreme Cold Weather Gauntlet is a well-constructed, warm and waterproof glove for getting out and about in the cold. Ideal for downhill skiing and backcountry ski descents when temperature fall below -10˚C / teens F, and as a camp glove in somewhat higher temperatures.
Pros
Very comfortable and warm
Sturdy construction
Precurved fingers
Waterproof over the wrist
Grippy leather palm
Cons
Can get a little humid inside
Preliminary Review
Sealskinz has provided me with two pairs of gloves to put to the test, these and the All Weather Glove. Sealskinz specializes in waterproof/breathable socks, gloves, mittens, and hats, with nearly 50 options just in the gloves and mitten department. In most garments, waterproofness and breathability are a tradeoff, but Sealskinz claims its products offer "100% waterproof protection whilst being incredibly breathable and dexterous".
Depending on conditions and activity, these two characteristics may be more or less desirable—to have both in abundance could be a dream come true.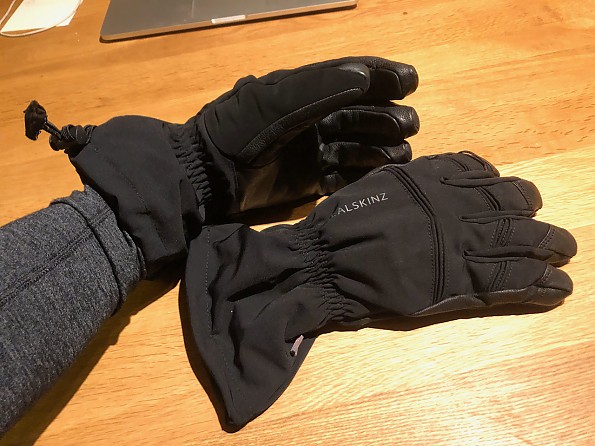 For winter topptur skiing (ski mountaineering) here in Norway, I like to have three pairs of gloves/mittens: light gloves for climbing (how light depends on temperature), heavier gloves for the descent, and a backup pair of warm mittens for just in case. The changeover at the summit, which also involves peeling skins, layering up, putting on helmet and googles, and snack/lunch if it's not too windy, can result in cold hands, so it's essential to have gloves that slide on easy and warm up fast. The Sealskinz Extreme Weather Gauntlet (hereafter: the Gauntlet) fills that role admirably, and are now my summit/downhill glove of choice.
Fit, Comfort, and Warmth
Unlike the All Weather Glove, which comes in sizes up to XXL, the Gauntlet's biggest size is XL, which is a good fit on my big hands.
I find these gloves to be supremely comfortable. The plush fleece lining slides easily over the fingers, even with damp hands. The Primaloft Gold insulation warms up quickly, even in windy conditions. The inner glove is fully anchored to the outer, so the fingers won't invert when the glove is pulled off, which can lead to hassles getting the gloves back on. An elastic wristband snugs the glove around the wrist, and the gauntlet cuff has an anchored slide lock so that it can be closed over the sleeve of a shell layer with a one-handed tug; as a thoughtful detail, the shock cord has a leather pull tab sewn on to make it easier to grasp with thick fingers. It's equally easy to loosen up via the slide lock.

The precurved fingers follow the shape of a relaxed hand and are bellowed at the knuckle and first joint to enable a natural grip on a ski pole or ice axe.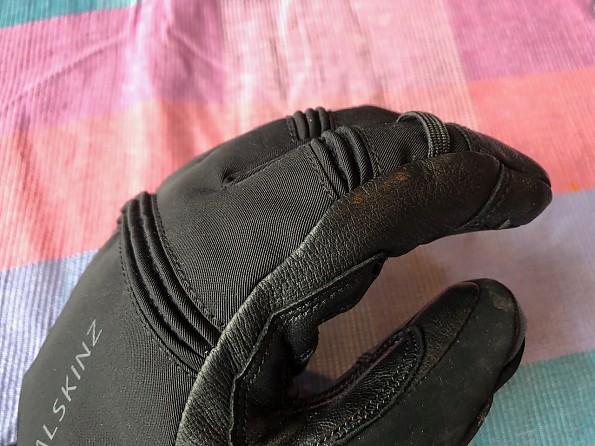 Sealskinz gives the Gauntlet a 5 on their 0 to 5+ "Climate Guide" scale. They don't specify temperatures, but in my experience so far the Goldilocks zone for these gloves is between about -10˚C / 14˚F and -20˚C / -4˚F, taking windchill into account. If it gets much colder than that, I will break out the "just in case" mittens.
Details
I'll admit that I found the sewn-in loops on the index fingers a bit of mystery, but with a quick online search I found that they are intended to hang the gloves from a clip or carabiner with the fingers up so that they won't fill with snow. It's not a feature that I feel much of a need for, but might serve others well.

Rather than absorbent fleece, the outer thumbs are a faux-suede material that wipes well enough but doesn't absorb much in the way of nose drips and snot rocket exhaust. I'm okay with that.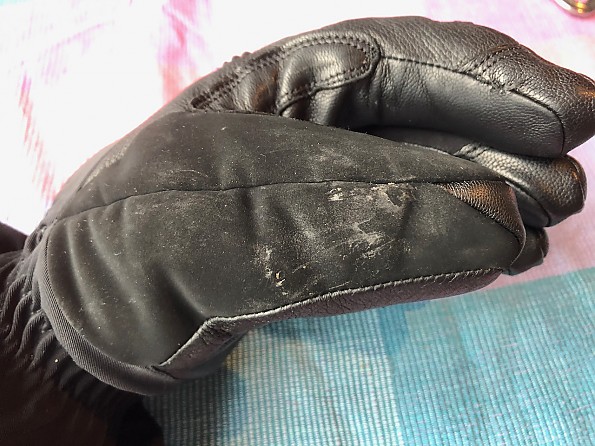 The waterproof/breathable liner is very effective at keeping liquid water out (see test below), and breathes well enough to vent excess vapor during moderate or intermittent intense activity (i.e. skiing downhill) in well-below freezing temperatures (when exterior air is relatively dry to help move vapor). But as air or hand temperatures get warmer, the Gauntlets can start to feel rather humid, risking moisture buildup inside. I find that I want to switch back to lighter gloves soon after hitting that limit. Having said that, at the end of a recent tour I kept the gauntlets on during a 2.5 km, gradually downhill runout at air temperatures only a few degrees below freezing, without undue discomfort or moisture buildup. 
Durability
No glove lasts forever, at least under intensive use handling skis, ski poles, and other tools of the trade. Consequently, durability is always an issue with any pricey, high-end glove. The Gauntlets' goatskin leather palms and fingers grip well and should wear well. The leather wraps over the fingertips and the crotch of the thumb is reinforced with an extra layer. Only time will tell how well these gloves hold up in the long run.
Waterproof
I gave the Gauntlets the same cold-water test that I gave the Sealskinz All Weather gloves, immersing my gloved hand right up to the wrist gauntlet in a basin full of slush for a full 45 minutes.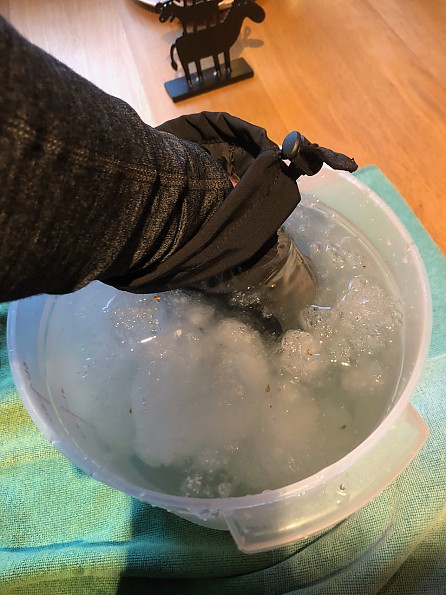 They passed that test with flying colors—my hand was completely dry and reasonably warm, albeit fingers a bit numb after the prolonged immobility. However, the leather palm and fingers seemed pretty well saturated.
This brings up a fine point: soaked leather palms and fingers are highly undesirable in below freezing conditions, even if the glove interior is dry. They can wick heat away, stiffen the glove if they freeze, and take a long time to dry. But for the most part, these gloves are intended for use at well-below freezing temperatures, say -10˚C / 14˚F and below, when they are unlikely to get wet at all. In that case, the waterproof liner may be somewhat unnecessary. As noted above, although it is breathable, it inevitably traps some vapor which can lead to moisture buildup inside, especially if the user's hands start to run a little too warm. On the other hand, vapor trapping may also trap heat, helping keep the Gauntlets warm at the low temperature end of their useful temperature range.
One good testing ground for these gloves would be igloo building, digging a snow cave, or other hands-on-snow work. Working hands-on with snow, even in below-freezing conditions, usually leads to wet gloves sooner or later. Here the waterproof liner might make a big difference. To build an igloo I need time, plenty of snow, and the right snow conditions, stars that haven't lined up for me this season.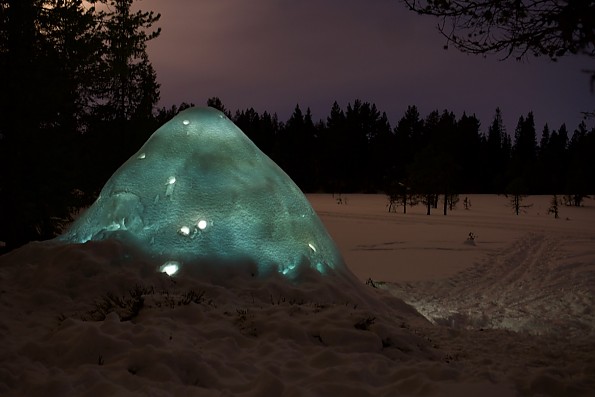 Best Use
The Gauntlet is now my preferred summit/downhill glove for ski mountaineering during the winter months, at temperatures or wind chills down to -15˚C / 5˚F and perhaps even -20˚C / 4 below F. As we go over to spring conditions, I expect they will be too warm (moist) and I will use something lighter in that role. They should do equally well for downhill skiing, snowshoeing, and winter hiking and mountaineering in the same temperature range.
Because they are easy-on and -off, they would do well as camp gloves or for cold-weather photography. I am not an ice climber, but I imagine they would stay warm and provide grip and reasonable dexterity at temperatures below -10˚C / 14˚F when they are unlikely to get wet.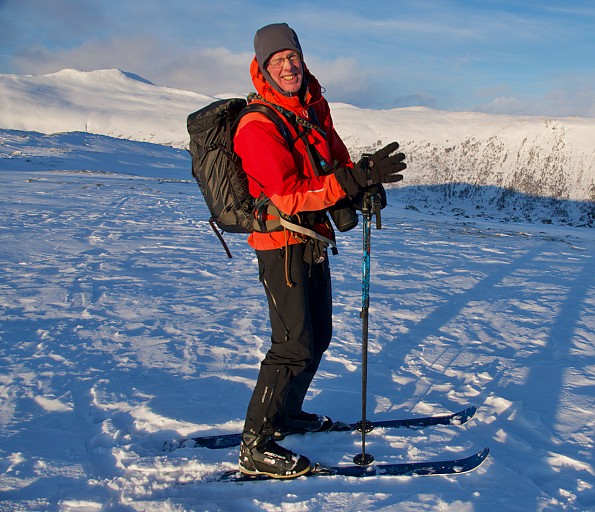 Experience
So far I have used these gloves on about four ski mountaineering trips in February and March, the last two in windy summit conditions, and they have stayed in my pack on a few other backcountry tours. As a lifelong skier, former resident of New Hampshire and Vermont, and 17 year resident of Norway, I have plenty of experience with gloves and mittens of every description.
Source: received for testing via the Trailspace Review Corps (Sample for review and testing provided by SealSkinz)

Your Review
Where to Buy
Help support this site by making your next gear purchase through one of the links above. Click a link, buy what you need, and the seller will contribute a portion of the purchase price to support Trailspace's independent gear reviews.
You May Like
Specs
Price
MSRP: $120.00
Current Retail: $118.00
Historic Range: $57.95-$118.00

Outer
50% Polyester, 40% Leather, 5% Elastane, 5% Polyurethane

Membrane
100% Polyurethane

Lining
100% Polyester

Insulation
Primaloft Gold

This product was formerly known as Extreme Cold Weather Glove

Recently on Trailspace