Sierra Designs Cloud Puffy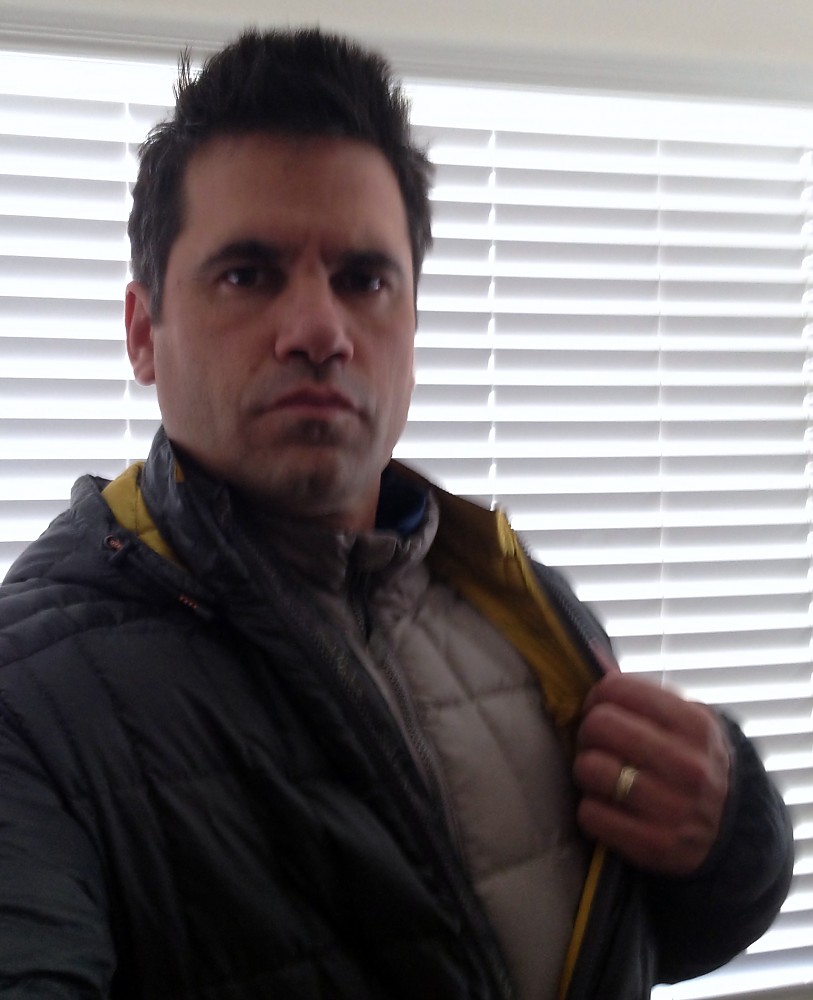 The insulation layer of the three-piece Cloud Layering System: This super-light, three-season down puffy ensures backcountry and backpacking comfort when temperatures drop. 800 fill DriDown in the DriDown Cloud Puffy means no fleece backup is needed (reducing pack weight) if everything gets wet, and makes for warm rest or camp time if worn with the Cloud Windshell, even near freezing.

It's not very "puffy", compared to other SD jackets, and seems a full size too big. It could be used for a three-season belay jacket (though it's not specified as one). If you're going for a more active or fitted design, definitely try (and try on) sizing down for a closer, heat-trapping fit.
Pros
Packs down to a 6" sphere
Adjustable hood fits and moves well with a helmet
2 unlisted dump pockets on the interior
Thumb holes, lengthy sleeves, integrated collar, and long rear hem keep everything warm and covered
2-way zipper keeps venting in quick reach, even while wearing a harness
Great DWR treatment, craftsmanship, and fabrics
Feature-rich for its weight, lofty 800 fill Dri-Down dries quickly
Dri-down means no need for a fleece to stay warm, even if you're rain or sweat soaked.
Cons
Way too baggy for its size
Not really a puffy. More like a hooded down sweater with only 2.5 ounces of fill
Heavier than advertised
Sierra Designs Cloud Puffy Jacket: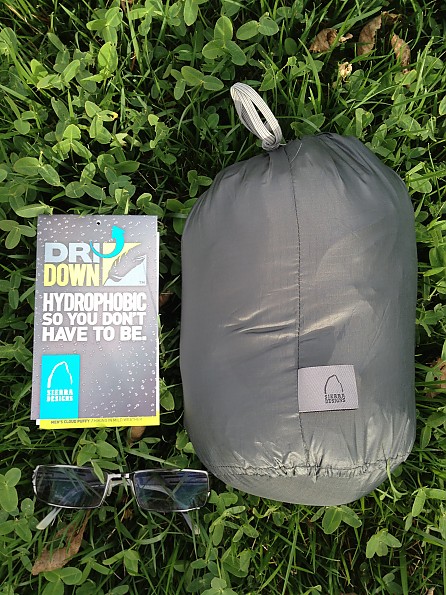 SIERRA DESIGNS CLOUD LAYERING SYSTEM: Designed with three purpose-built layers for ultra-light back-packing and hiking in varying conditions: a highly breathable Cloud Wind (proof) Shell worn over your base layer creates a micro-climate, keeping you warm, dry, and protected while on the move in cooler weather.
When you stop to rest or the temps drop near freezing while you're active, layer on the DriDown 800 fill Cloud Puffy for insulation to keep you comfortable and continue on, without worrying about inclement rain or sweat effecting its warmth. Only when it rains, layer on the Cloud Airshell waterproof hooded jacket and Cloud Pants to insure that the cold doesn't get the best of you.  The entire four-piece layering system disappears into your pack and weighs only 25.5 ounces.
Scope of Testing:
I used the DriDown Cloud Puffy for several activities, including cool weather hiking in both dry and rainy weather, camping at rest, backpacking, and general use several days in elevations from 800ft to 6,600ft, and in temperatures of 62 down to 34 degrees, in the mountains of Cleveland National Forest and San Jacinto State Park in Southern California, as well as on a cool day hike in the Green Lake area near Seattle, Wash.
Male; 6' 2", 195 lbs trail runner, mountain biker, and backpacker, as often as possible.
eyes shut on a cloudy, rainy day
Jacket Features and Specifications:
Size Large. Sierra Designs proprietary 800 fill power DriDown, nylon rip-stop interior liner, shell is 100% down-proof, stitch-through 30D polyester ripstop with DWR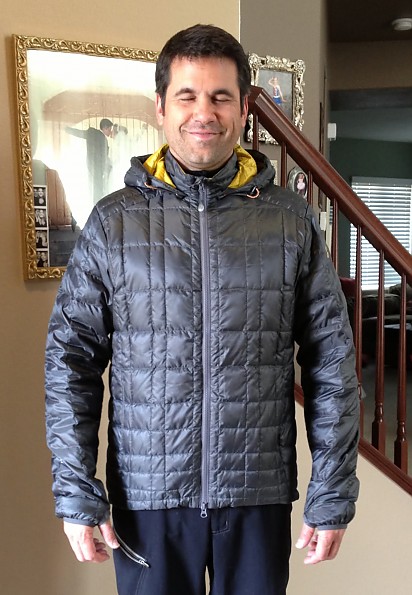 eyes shut - I'm seeing a pattern here. LOL
The Cloud Puffy weighs 13.4 oz on my scale with stuff sack (manufacturer claim 12.0 oz). The included stuff sack weighs 0.3 ounces.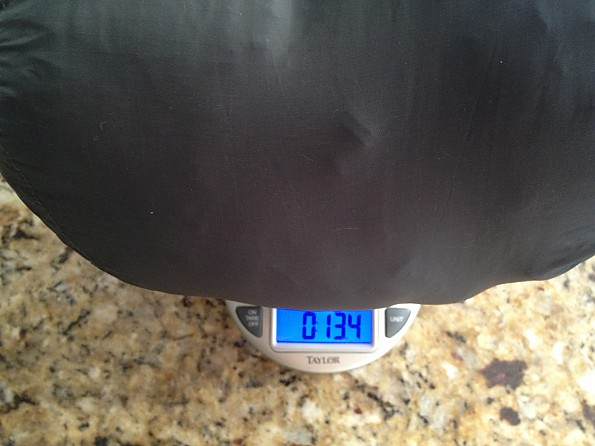 The Cloud Puffy jacket compresses to a 6" sphere. It has five pockets — two inner dump pockets, a zippered inner chest pocket, and two zipped hand-warmers — with YKK zips. There are elasticized thumbholes at the end of the longish (a good thing) sleeves. A two-way, full front zipper with draft flap is from YKK.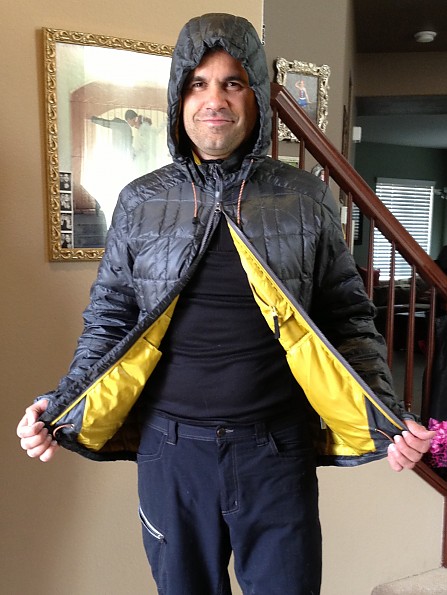 The articulated hood has drawcord adjustments, as does the hem (accessed from the pockets). The dropped rear hem extends 30.5", and the sleeve length is 36.5" (excluding the thumbhole/hand-cover area). The weight of DriDown insulation fill is 72 grams, or 2.5 ounces.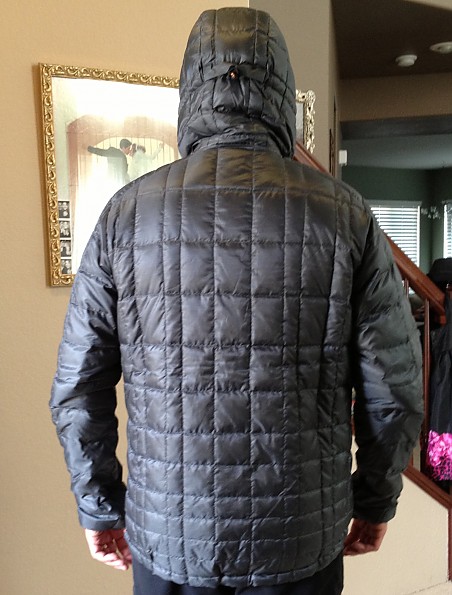 Dropped rear hem and baffle detail
Product Testing and Review
The baffle design is linear and relatively attractive, although not as dynamic as the Cirro I tested earlier this year. Good news, compared to the Cirro, which had its tag stitched through the baffle, the Cloud Puffy did not have the stitch-through, and was nicely puffed along my cervical and upper lumbar vertebra.
Overall, I'd say the Cloud Puffy has a nice color scheme design with the contrasting interior fabric, as I've received many compliments on it.
Fit & Comfort:
The fit is relaxed. The cut of this jacket is boxy and oversized, which is unfortunate given the technical nature of the design (which normally means at least an athletic fit-compare it to the Cirro in the picture above). It could have been built more true to size and filled with another ounce of down while keeping the weight about the same. Sierra Designs already offers the new Stratus Jacket, which has exactly this increased fill spec but is otherwise appears to be the same fit for the jacket.
In fact, the Cloud Puffy is so boxy and roomy I could fit the Sierra Designs (same "size" Large) Cirro jacket, a base layer, and the Cloud Windshell underneath it without compressing the Cirro or Puffy's loft! Note the picture below...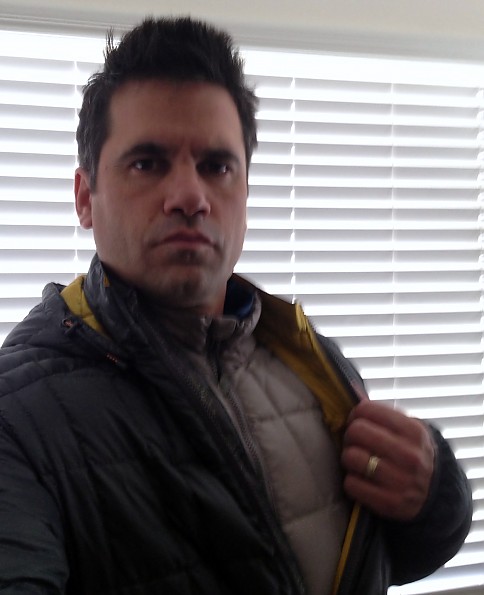 Please excuse the intense look, LOL. At least my eyes are open...
On the plus side, it does make the Puffy comfortable and easy to move around in, and the hems all seal up to keep updrafts out of the interior. The Puffy's dropped-hem cut provides plenty of rear coverage, at 30.5 inches in length. Nice, long sleeves provide full coverage as well, even with arms extended (my rock scrambling test near Tenaja Falls).
DriDown has dried quickly in my Cirro review (see it here) despite heavy sweating in activities, and I haven't experienced anything less in this superior fill-rated (800 fill vs. 600) example.
Hikes in the cool weather of early spring really showed the advantages of the extra-long rear hem. The Cloud Puffy replaces the SD Cirro as the longest-hemmed jacket I own, offering protection for my derriere in all adventures, even when seated on a low log with my knees well above my waist.
Adjustability:
Although the overly boxy design left gaps between my body and the jacket, the long hem and its drawcord meant I could mostly keep the wind out, and it still performs to its specifications as a three-season jacket. When the wind got too strong, I simply layered the Cloud Windshell on the outside of the Puffy instead. This speaks to the flexibility of the Cloud Layering System as a whole.
The two-way, full front zip makes for great on the go temp. adjustments, and the top zip features a nice rubberized pull for glove-friendly use. I do wish the bottom zipper had a larger pull as well. The exterior pockets worked pretty well with thinner, shoulder-season gloves. Pulls for the helmet compatible hood were easy to use to tighten things up, but loosening the cords takes both hands for each side if you want the hood completely relaxed.  
Water Resistance:
The Cloud Puffy is not waterproof, but it sure tries to be. I haven't had the weather to test it in wet snow, but the surface has a superb DWR treatment, shedding mist, and light to moderate rain.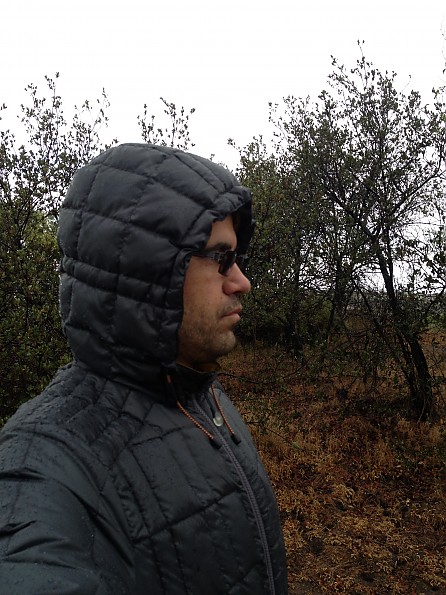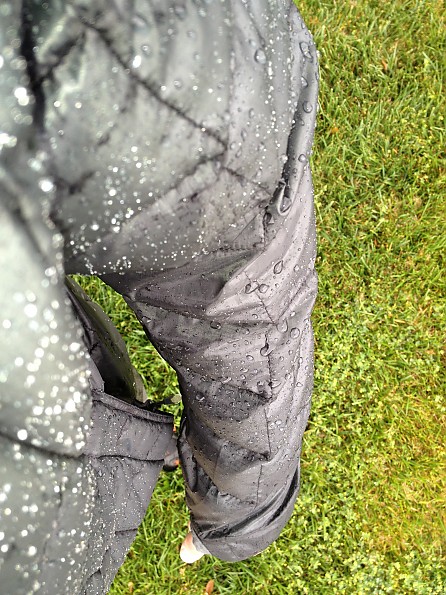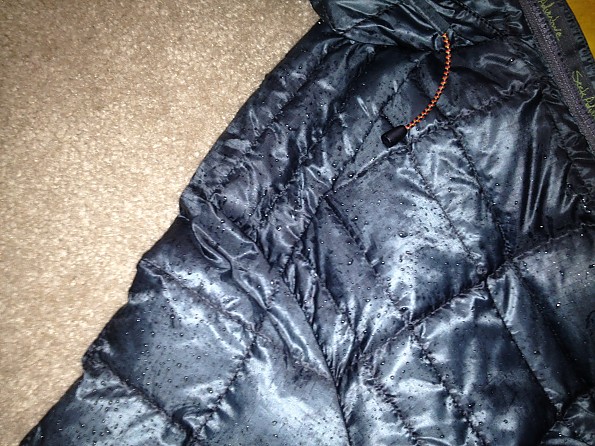 Eventually the fabric relented after 15 minutes of moderate rain and I started feeling some drips on my shoulder. Despite the wetness, the insulation didn't give up its loft or warmth at all, and dried extremely quickly, about 20 minutes once I got it back into cover.

Washing, Drying, & Care:
I've used Atsko Sport Wash once on the Cloud Puffy on extra gentle, top loader, with no damage and no perceptible degradation of the DWR. It was simple and easy. The flotation of the jacket in the water (evidence of the hydrophobic nature of the DriDown treatment) forced me to push it down several times to get it soaked and washed.
I laid it flat to dry on a towel and then dried it in the dryer on extra low in about 30 minutes (with some racquet balls) — good as new. So far the Cloud Puffy hasn't stunk that much in the underarm areas after sweaty adventures – a huge problem I encountered with the Cirro jacket. As such I haven't had to wash it several times.
Breathability & Moisture:
You're going to sweat in this jacket if you're on the move at anything more than a mild pace. It was never cold enough outside during my "active" spring tests it to warrant keeping it on. However, great breathability moves moisture (from light sweating) through the inner layer and DriDown layer to the exterior without reducing loft. As I said before, all materials dry quickly.
Warmth:
The Cloud Puffy proved quite warm at rest during misty night temps down to the upper 30's, to the point where I had to unzip to vent if I moved around at all. Of course I was hardly able to test out the DriDown's hydrophobic qualities on that overnight trip because the DWR finish is excellent.
I found that wearing the Cloud Windshell underneath the Puffy that night proved too warm, indicating that this Puffy has legs that could stretch it down comfortably into the low 30's combined with the ultra-light, super thin Windshell layer. A hooded, fully featured Down Puffy weighing only 13 ounces is pretty extraordinary. My other puffy jackets are at least 4-8 ounces heavier with less features (but more fill) and slightly more warmth.
Layering:
Smooth fabrics inside and out allow this to easily slip underneath the Cloud Airshell if the rain starts to pour – same with my other rain-shells.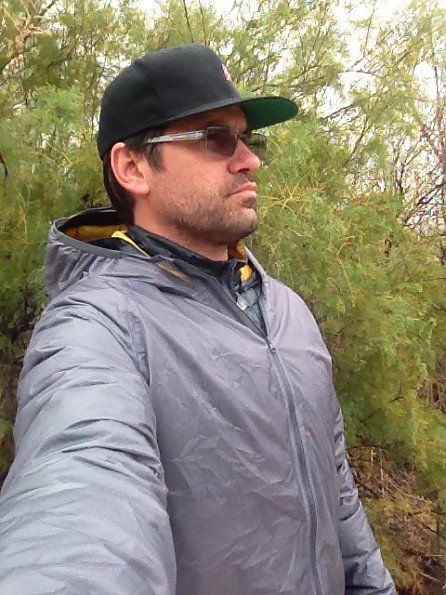 Cloud Airshell (waterproof layer) over the Puffy
The large cut makes it very easy to layer — too easy. If it were winter time with temps well below freezing, exceeding the insulating capabilities of this Puffy, I could layer this jacket over my Cirro Dri-Down jacket, as mentioned before. The problem is that the extra weight of another down jacket negates the claimed light-weight efficiency of the Cloud layering system.  
Durability:
I have seen very little down leakage from the Cloud Puffy, on-par with my other down jackets from other brands. I haven't put this jacket through much abuse, as the cool spring season for which this jacket was designed was over before it started. Future fall and winter updates, testing the durability as well as the lower limits of insulation, will be in order.
Function:
I found consistent (but underwhelming) fill amounts throughout the baffles in this jacket, accompanied by quality stitching and fabrics, and DWR treatment. The entire Cloud layering system is made in China. The thumbholes are very comfortable, with no rough or uncomfortable contact points. Zippers and pockets all worked properly, with two minor exceptions:
Much like the SD Cirro jacket, the interior dump pockets, while wonderfully large, do not securely hold items that are smaller than a Nalgene Bottle or goggles. They could use a small, lightweight hook & loop closure on each.Thankfully this jacket includes a zippered interior chest pocket for securing smaller item, and even includes a headphone wire port.
And since the jacket is baggy, with what I consider to be under-filled baffles (remember my earlier recommendation of adding an extra ounce or so of fill to this jacket), the front zipper catches on the baffle fabric on occasion, much like when a zipper catches on a sleeping bag.
Conclusion:
The Sierra Designs Cloud Puffy Jacket manages to perform its insulation duties well, hampered only by its cut. It does pair very well with the other parts of the Cloud layering system. It is absolutely wind-proof and waterproof when layered underneath the Airshell (rain shell) or Windshell.
The lightweight Cloud system allows for plenty of flexibility. With its DriDown technology, I found the Puffy Jacket to be a capable insulating layer when backcountry hiking, trekking around town, and resting at camp or on a cool night in the stands at the stadium. DriDown and a great DWR treatment mean that I can leave the waterproof layer behind for colder conditions around town, as intermittent rain won't phase it. DriDown, especially in 800 fill, is much warmer and lighter than any of my fleeces, and is competitive in its ability to work in wet conditions. Time and further testing in colder conditions will tell the whole story.
Though the Cloud Puffy has a nice technical hood, premium–level fill power, and a cinch at the long hem, it may serve some wearers for some belaying, and may be baggy enough for traditional belay requirements, I cannot attest to its warmth when used as a cold season belay jacket (below freezing) thrown over another down sweater or jacket – the fill in the hood may not be substantial enough to keep your head warm. Sierra Designs makes no mention of this Puffy being a belay jacket, BTW. They only list it as designed for mild-weather backpacking. Thumbholes and lower hand pockets might interfere with gloves and harnesses, respectively in belay conditions.
Overall, the Cloud Puffy is part of a flexible layering system, encouraging one to wear it as additional insulation in various conditions and activities, and contributes well to a lightweight option for backpacking and perhaps some mild-weather mountaineering.
Because of the cut and lack of puff, the jacket receives a "very good" rating. In the case of the entire Cloud Layering System however, it is a valuable piece, where the sum is greater than the parts.
I wish to express my appreciation to Sierra Designs for letting me review this jacket.
Source: received for testing via the Trailspace Review Corps (Sample provided by Sierra Designs for testing and review)

Your Review
Where to Buy
Help support this site by making your next gear purchase through one of the links above. Click a link, buy what you need, and the seller will contribute a portion of the purchase price to support Trailspace's independent gear reviews.
You May Like
Specs
Men's
Price
MSRP: $249.00
Historic Range: $99.00-$135.99

Women's
Price
MSRP: $249.00
Historic Range: $99.00-$198.99