Six Moon Designs Fusion 50

The Fusion 50 has been discontinued. If you're looking for something new, check out the best weekend packs for 2023.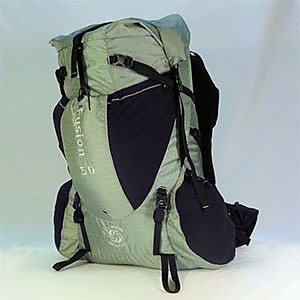 Version reviewed: 2014
FINALLY, the pack I've been looking for! Lightweight, but tough and can carry everything needed for 3-5 days...and a little more.

Pros
Light weight @ 36 oz*
Ruggedly built
Pockets where they're needed
Perfect size for 3-5 days 3 seasons
Great suspension system
Will fit from 5'4" to 6'5"*
Cons
Side pockets could be just a hair taller
**UPDATE 7/6/16**  So, the buddy that got the Fusion 65 from me, the one that's actually 6'6" and weighs about 185 lb (ya, he's that skinny with a 24" torso), FINALLY got out and used it a couple of times...once on a trip together with me and another friend.  The second friend and I were both amazed at how the Fusion 65 stayed with his torso...it didn't move...when hiking and being thin (the pack...well, him too, but...), he swears that with 25lb in it, he didn't hardly even notice it was on. He's hooked, I'm hooked, buddy #3 will be buying one soon and I'll be picking up another (the Fusion 50) for my son who's 6'2".  The tall guys can sometimes have a hard time finding a lightweight pack that fits, but this one sure does.
Original 6/17/16 Review:  Just for comparison purposes, I'm 5'10" tall, at 190 lb I'm about 30 lb overweight, old (55), lazy and, if you can't tell by my description so far, out of shape...unless you consider "round" a shape.
Due to my advancing age and lack of physical fitness, I've been spending the last few years getting the gear I carry down to a more reasonable weight and, for a change, leaving behind all those cool items I've bought over the years, carried and NEVER USED!
Got the gear down and needed the pack to match, so after a year or so of researching online, trips to REI to try on every pack they carry, and talking with other backpacking friends who have made or are in the process of making the conversion to lighter weight backpacking, I had narrowed my list down to two packs...the SMD Fusion 65 and the ULA Catalyst. I was just getting ready to "pull the trigger" on the Fusion 65 when I noticed that it had gone on sale for a more than reasonable price...I bought it.
Once it arrived, I adjusted it as I thought it should be adjusted, filled it with all my gear and had quite a bit of extra room. For some reason, it just didn't feel right, but one of my backpacking buddies tried it on and it fit him perfectly and felt great. He's 6'5" tall and sometimes has a hard time finding a pack that fits well, so I gave it to him and figured I'd try the Catalyst.  
A couple days later, I noticed a video online about fitting a different pack and suddenly realized what I'd done wrong with the Fusion 65. Of course, the sale was over, so I figured I'd wait a while to see if something else came up...It sure did as within a month or so, I saw the Fusion 50 (last year's model) go on sale for about half off. For $100, even if I didn't end up liking it, I couldn't pass it up.
A few days later it showed up and I immediately adjusted it (correctly, this time), filled it with my gear and tried it on. WOW, it felt great.
Since then, I've carried it three times and have to say that I'm very impressed with it. SMD says that it weighs 36 oz, but it came in at only 34 oz on my scale and I can't believe how tough the fabric is for such a light weight. I can get all my gear for a cool season trip with the possibility of rain inside it, including my fishing gear, with nothing strapped to the outside of it but my SlingLight chair (hey, at only 21 oz, it's my ONE luxury item). The main pack body is cavernous and everything goes inside with the following exceptions:
TP kit, windbreaker and tent go in the large stretch pocket on the back

Snacks and first aid kit go in the side (water bottle) pockets

Bug spray, camera, and more snacks go in the hip belt pockets

Lip balm and sunscreen go in the small shoulder strap pockets

SlingLight chair gets strapped over all on the back (it's almost like the pack was designed to carry this chair)
There are straps on the back of the pack, just above the bottom, designed to be used to strap on a tent, sleeping bag or pad, but I haven't even unfurled those straps, yet, as I haven't needed them. The compression straps from front to back and top to bottom are more than adequate to strap on my chair.
On the trips on which I've carried this pack so far, my max pack weight has been 23 lb which I carried about 11 miles on day one and another 7 miles on day two. As with any pack, some adjustment was needed after about one half mile of hiking and after that it was perfect. It was so easy to get the weight to carry primarily on my hips and the shoulder straps were barely noticed. It carried like a dream and I LITERALLY hardly even noticed it.  Much more comfortable than the Gossamer Gear Mariposa I've carried with even less weight.
Two of the trips on which I've used the Fusion 50, the pack weight was 21 lb and 20 lb, and on those trips, like the first, I hardly even notice I was wearing a pack.  
I am extremely pleased with this pack and at the price IT CAN'T BE BEAT!!
Although I'm excited to see some of the changes/improvements made to the newest model, it did get heavier by nearly a pound.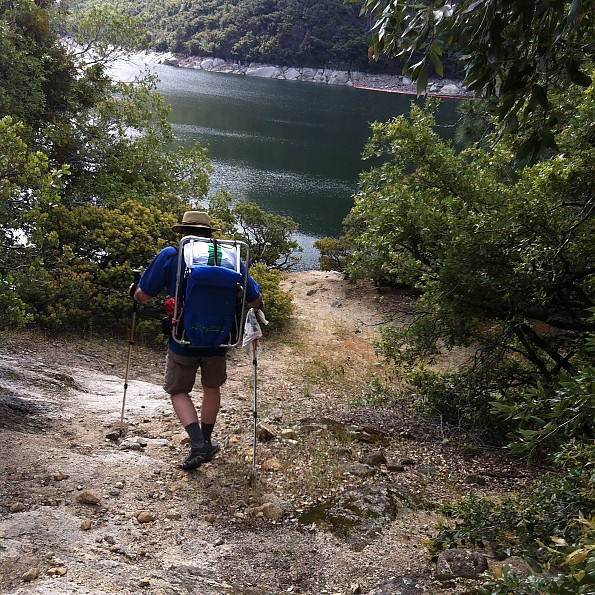 Source: bought it new
Price Paid: $100

Your Review
You May Like
Specs
| | |
| --- | --- |
| Price | Reviewers Paid: $100.00 |