SlingFin 2Lite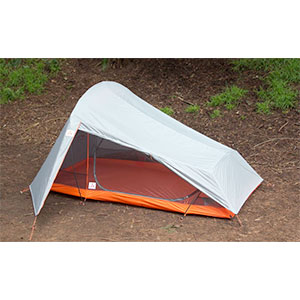 Specs
Price
MSRP: $329.00
Historic Range: $337.95

Floor Area
28.45 sq ft / 2.64 sq m

Interior Height
41 in / 1.04 m

Min. Trail Weight
2 lb 12 oz / 1.25 kg

Packaged Weight
2 lb 14.1 oz / 1.31 kg

Reviews
1

review

5-star:

0

4-star:

1

3-star:

0

2-star:

0

1-star:

0
The Slingfin 2Lite is, as the name implies, a lightweight 2-person tent that boasts two doors, two vestibules, and zero sacrifices. SlingFin has managed to fit everything you'd expect from a double-walled, three-season shelter, into a 3-pound model. The UL tent however doesn't sacrifice any weather protection, bug protection, livability, or use any of that single walled tomfoolery to get to the three pound mark.

The only thing I'm left wishing for a little more of is width. At 43, 50, and 38 inches wide (head, chest, and foot measurements), let's just safely call it an intimate two-man tent!

This tent would be best for anyone looking for a three-season tent where packability and weight are at a premium: backpacking, bike touring, or thru hiking.
Pros
Weight
Packability
Weather protection
Bug protection
Two doors/ two vestibules
Cons
No vent on the fly
Could be a little wider
No rear fly attachment
Specs/ Info
(From SlingFin.com)
Specifications:
Capacity: sleeps 2 people
2 poles
2 doors (side) with dry entry
89" long
28.45 sq ft
41" interior height
Packed size 13" x 5"
Poles & Fabric:
15D Nylon Ripstop Silicone PU Coated Fly
15D Nylon Ripstop Canopy fabric
15D Nylon No-See-Um Mesh
20D Nylon Ripstop PU Coated Floor
2 DAC NSL 8.5mm poles
Dimensions:
Floor Area: 28.45 ft² / 2.64 m²
Interior Height: 41 in / 1.04 m
Min. Trail Weight: 2 lbs 12 oz / 1.25 kg
Packaged Weight: 2 lbs 14.1 oz / 1.31 kg
*Right off the bat I think it's worth mentioning that I received a pre-production model of the Slingfin 2Lite. I feel this is applicable to know for a number of reasons. Many of the small qualms I have with this tent have been addressed in the production model. However I must judge on what I have in front of me to test. I will note within the review what I have learned, through correspondence with a Slingfin representative, will be altered or improved upon for public consumption.
Setup
When I first received the tent I was eager to open such a tiny, lightweight box, and learn about this new tent. Much to my dismay I was greeted with no instructions or information whatsoever. Well, I fancy myself a beer and tent connoisseur, and took to the backyard for an initial look and setup.
There were two poles, one long and one short, but no colour coding on where to put them. Yellow fly and off green inner, a little off-putting colour, more on that later. Assuming this wasn't a trick question I stuck the longer pole at the head end and the shorter pole at the foot end. Voila! The tent began to take shape, so I decided to revel in my intelligence with a cold brew. Okay, maybe it was so easy that a monkey could set it up, but any excuse for a cold one!
After a couple of test runs setting it up and taking it down I've figured the best order of setup to be to stake one end—head or foot end didn't seem to matter—insert both sets of poles and then guy out the opposite end. That will leave you with the inner mesh standing and then you can drape the fly over, attach it via toggles on the inside to the poles, and then stake out your vestibules.
I can set up the tent solo within four minutes, and with two people it's closer to three minutes. A simple improvement could be made by using different colour cordage at the head and foot pole grommets. It would make it quickly identifiable, as they look quite similar.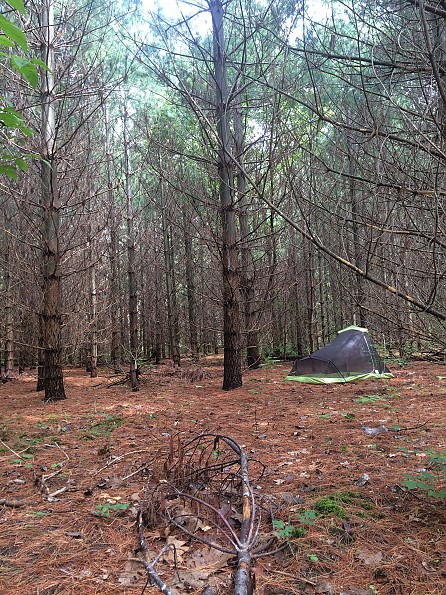 Stability
Here is where we start to find some room for improvement, although it sounds like Slingfin is well on its way to that. This tent is not freestanding, so the stability of your tent is only as good as your stakes' holding power. That's not my big issue though.
On my tent there are no toggles to attach the rear of the fly to the poles. As I said in the disclaimer, there were supposed to be on mine, and definitely will be on the production model, but I can only judge on what I slept in. In even very low winds with a good windbreak of trees the fly would flap around on the foot end. There is also no rear tie out, so staking it down wasn't an option. What I ended up doing was putting a rock on it after the first restless night.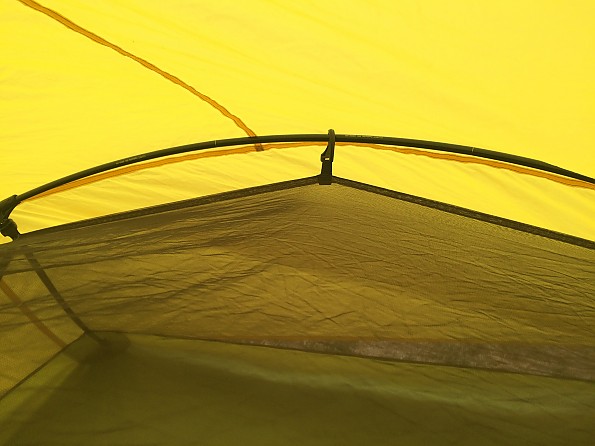 (Nothing to secure rear end of the fly)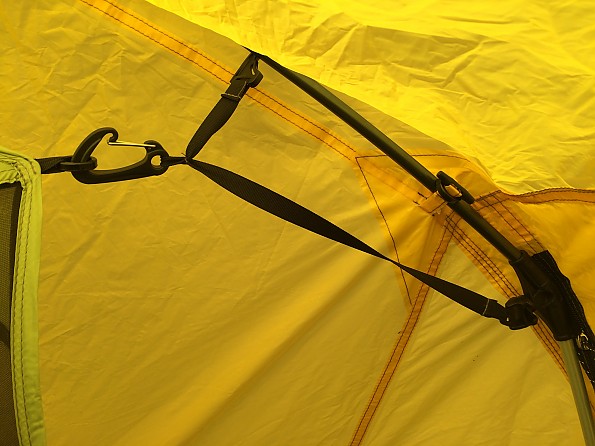 (You can see the o-ring and toggle for the head end of the fly in the upper right hand corner of this picture.)
There also is a learning curve to non freestanding tents. So practice first, before you head out, to ensure you get a taut pitch. This can greatly effect how much sagging, and hence, water pooling on top of the fly you get. 
Weather Resistance
I am fully confident in how water resistant this tent is. I've never tested a tent in such miserable weather. There was only one testing night in which it didn't rain for at least a little bit. The only rain that's getting in to this tent is whatever you drag in.
The taped seams, four-inch bathtub floor, and full coverage fly will keep you protected and the dry entry door way allow you some leeway to enter and exit without soaking your sleeping bag.
They have included three rings to internally guy out the tent. I've never used them, and let's be honest, if you need to internally guy out this tent then you've taken it far out of its comfort zone. I think this is just Slingfin holding on to its heavy influence of winter expedition grade tents.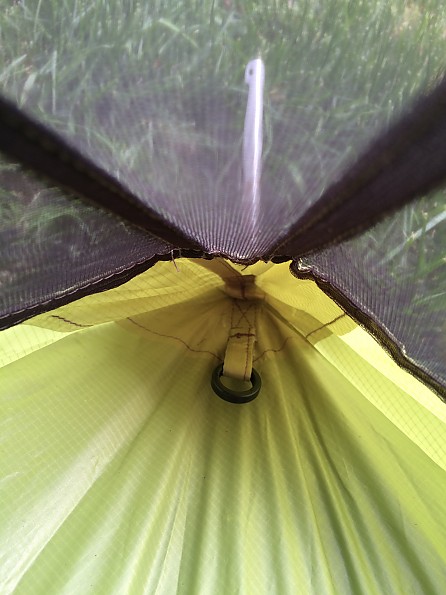 On clearer nights leaving the fly off gives you full bug protection and full sky views.
Ventilation
With an entire inner of mesh this tent keeps condensation at bay. Well, it at least keeps it off me! There are no vents on the fly, which I would like to see added, even at a modest weight penalty, so in a bad storm you're left to keep the mesh doors open, or stop breathing. If it's just a light rain you can roll the fly door back a little and still not get wet, or open both doors on nicer days.
Fun story: One rainy night I had the mesh door open but the fly fully zipped tight and a rabbit* came into my tent to nibble on my Therm-a-rRest Z-lite pad. (*I think it was rabbit, but I was totally startled when I woke up and scrambled for my headlamp. Startled, not scared. I totally wasn't scared, that's for wimps. Okay, I was scared.)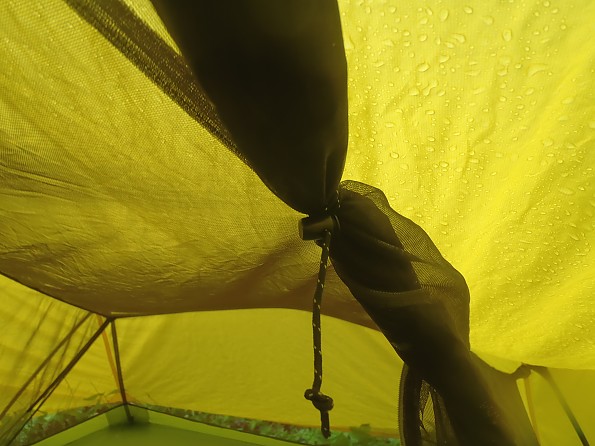 (The night in question. Okay I guess it shows the doors rolled up too...)
Room and Storage
How they got a two-person tent to be three pounds? I don't know. How they got it to be three pounds and seven feet long? Even more amazing. I'm six foot tall, and you guessed it, I've got a foot extra for my backpack, or boots, or my morning clothes. The walls are near vertical for 17 inches at the foot end, so unless you've stacked two winter sleeping mats on top of each other you'll have enough space without your feet knocking condensation down on you. Heck, if you're using this tent in the winter, you're doing it wrong.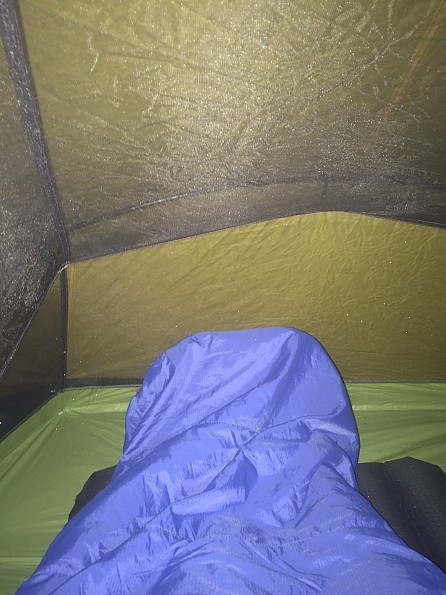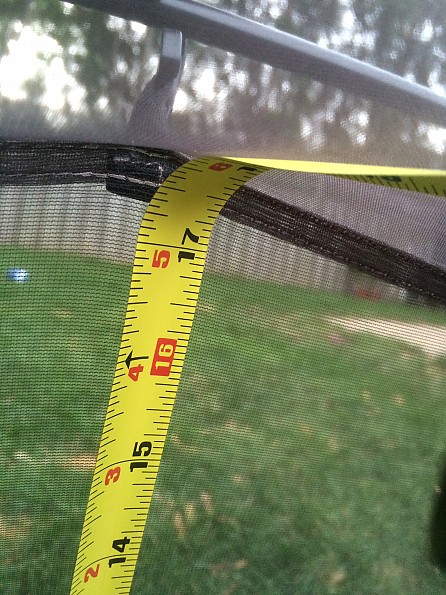 (17 inches of vertical mesh in the back)
There's plenty of headroom (40 inches), although I wouldn't appoint it to be the card playing tent in your group. The width can become a little confining if tent bound for an extended period. Again, this tent is made for fast and light, not stay and play. It's 43 inches at the head, 50 at the widest around the chest area, and 38 inches down by the feet. You'd be best to know your tent partner well, and monitoring their dinner habits. Limit beans, legumes, and brews.
Two pockets give each user a little room to store toiletries, headlamps, or cameras. Problem here is they sag in, with any weight in them, right onto your face, limiting your already limited personal space.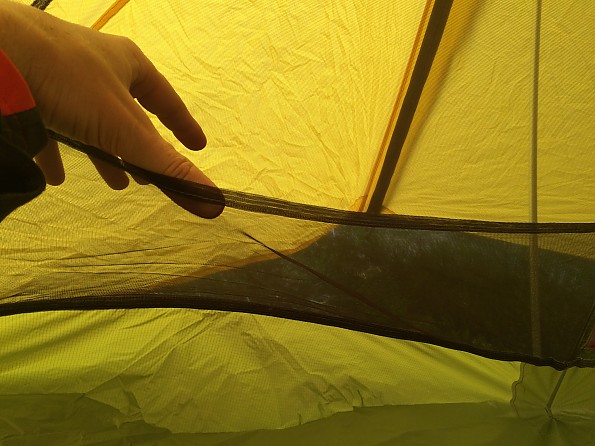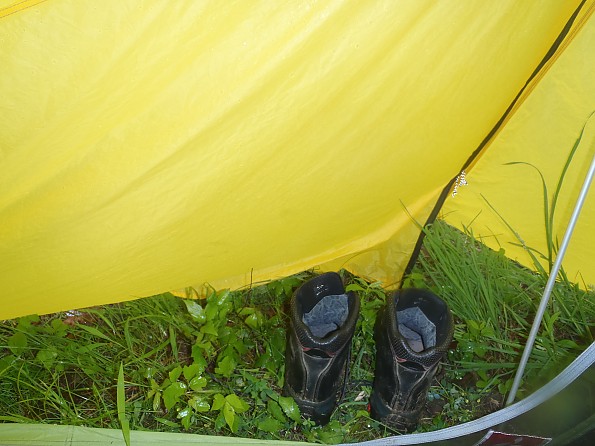 Both vestibules are a good size and keep your stuff dry and out of the way for easy entry.
Packability
This is where this tent begins to shine. It's at its best when it's in your pack—no wait, that sounds bad.
The entire thing packs down incredibly small. I'd guess somewhere in the 4L (even smaller if you compress it) range, and weighs next to nothing when divided between two people. It's exactly three pounds, for everything! This is not a tent that uses your trekking poles, so that weight includes the poles. Pretty impressive.
You can get the weight down even further by switching the included aluminum stakes to titanium stakes. A full double wall shelter for two at under three pounds is pretty exciting. I've even begun using this instead of my solo tent. The weight differential is marginal, at best, and the extra space is luxurious.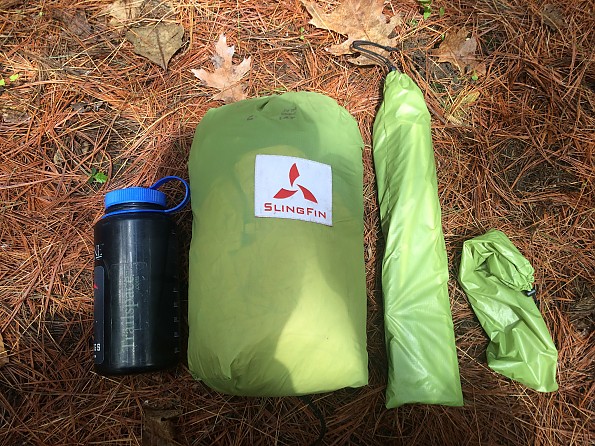 (1L water bottle for awesome sticker and size reference.
From L to R: Tent fly and inner, poles and then stakes.)
The other thing that I love about this tent is that the poles break down into roughly one-foot segments. No more unwieldy poles sticking up out of your water bottle pocket. They fit perfectly lying down sideways at the bottom of your pack. If one person takes the stakes/ poles and the other takes the fly/ floor you won't even notice it in your pack.
Features
What else to you want? A tent that's under three pounds for two people is enough for me. To be honest, I'm not sure how they've done it. The most comparable product I can think of is the Big Agnes Copper Spur UL 2, and even that comes in at 3 lbs, 7 oz and an extra $100. To say this is an improvement on one of the better selling backpacking tents isn't really a stretch.
Another option I'd love to have, which would provide some adaptability, is to be able to pitch the fly first. It would be helpful with an incoming storm or to decrease weight when used with just a ground sheet. A guy can dream right?
Also, no guyline or pole repair sleeve was included with my tent. They will be included in the production models.
Construction & Durability
The is a hard section for me to review. The model I received was clearly still being tinkered with and come production time I fully expect the kinks to be ironed out. That said, the tent I received had its fair share of quirks. There was weird printing on the storage bag, no toggles to secure the rear of the fly, and it included only seven stakes (yes, it can be pitched using seven stakes, but to get an optimal pitch and increased ventilation I would routinely use ten).
I also was not a fan of the bright yellow fly and off green inner. I've been informed both of those are getting revamped come production time. The fly will be a grey/silver, while the floor will be orange.
All of the stitching was perfectly straight and seamed taped, clearly by someone who knows what they're doing.
Conditions during testing
I've had the chance to test the tent over a three and a half month period. Within that time it's accompanied me on eight trips, and the rain has seven times. Temperatures have ranged from 7 degrees Celsius (44°F) on an overnight low, to 31 degrees Celsius (88°F) as a high. Winds were consistently low, although gusts were up to 30 km/hr (18 mph) on one occasion and rain was near constant. I most often slept on an Exped downmat, and was accompanied by a partner, sometimes that partner was of the canine variety.
My thanks to both SlingFin and Trailspace for the opportunity to test this tent. I'd be happy to answer any questions you have about the tent, or if you require more photos.
Source: received for testing via the Trailspace Review Corps (Sample provided by Slingfin for testing and review)

You May Like
Recently on Trailspace