Source D|vide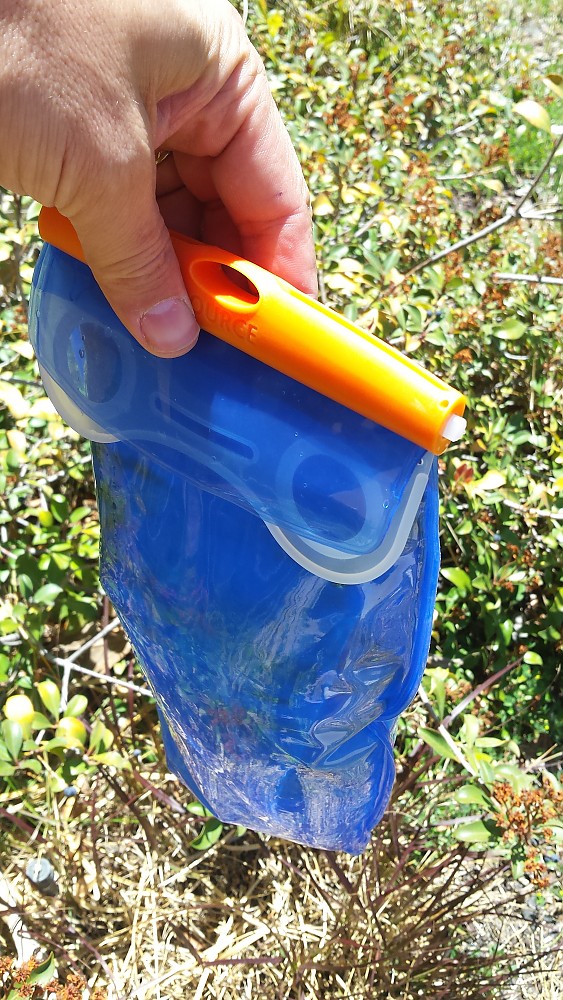 The Source D/Vide hydration reservoir redefines flexibility of purpose in a hydration reservoir. It performs without flaw, has excellent ergonomics and reliability in the bite-valve design, is highly resistant to additive taste from its construction materials, and it doesn't leak under heavy use (from anywhere).

It is easy to clean and refill, and creates a brilliant, simplified solution for those of us who want to easily carry more than just water for long MTB rides, backpacking trips, snowshoe treks (get the tube insulators), snow-sport (again, tube insulators), or trail runs.

HIGHLY RECOMMENDED
Pros
Bite valves are the best, most reliable design I've ever used
Leak free, even under great stress on the reservoir
Color coded tubes for electrolyte drink and water
Easy to close, wide-mouth top on reservoir seals up tight
Flexibility allow you to switch to a "water only" reservoir in seconds
Stays taste neutral, even after neglect and abuse!
Available accessories will adapt this to any hydration need
Cons
Slightly tubular shape when full? I'm really reaching here
As I currently own Camelback Antidote and Omega reservoirs, a Hydra-Pak, and an Ultimate Direction, all 3 liters and with different designs, I was interested to see if Source was on to something, or if it was just hype.
When I go on long MTB rides or trail runs, my go-to setup for hydration is the Ultimate Direction 3-liter Diablo vest pack, which includes a good 3-liter bag with a good bit valve (better than my Camelbaks), and a secondary holster for a 16-24 ounce bottle of electrolytes.
The problem was that any bottle I tried in the holster (several brands) would leak. No one likes their Gatorade, Coconut Water, or other electrolyte drink to leak onto their pack and drain down the back of their shorts. The problem forced me to use eletrolyte gels more than I liked, since I couldn't rely on the bottles. All of my other reservoirs would also leak from the bite valves, and sometimes even the top port. Not fun.
My solution? A consolidated hydration system for both electrolytes and water. I was hoping the Source D/Vide would be just that. IT PROVED TO BE THE IDEAL SOLUTION, AND SO MUCH MORE. 
CAPACITY
This is a 3+ liter reservoir. I poured 3 single liters of water into the reservoir, and there was still room for another 125-200 mL. For a 15-mile trail run into the Mount Palomar State Park wilderness, I filled the D/Vide to the top, with 1.5+ liters of electrolytes, and 1.5+ liters of water, and placed it in my Ultimate Direction Diablo Hydration Vest.
Full reservoir next to my Diablo vest: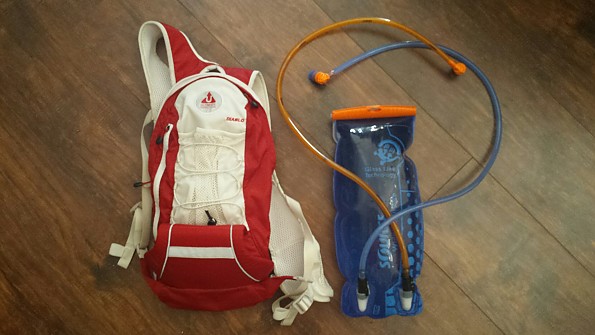 I did carry a sealed 1/2 liter water bottle in the holster for backup, since I was going far into the wilderness. I didn't need it, as the size and configuration was enough to keep me hydrated despite the good pace and nearly 4,000-foot elevation climb to the halfway point.

If the weather had been over 60 degrees, however, 3 liters would not have been enough for me. I perspire heavily, much more so than most of my friends during long runs. On shorter runs or rides, I just used 1.5 - 2.0 liters of the capacity and removed the electrolyte tube (colored orange) at the push-button disconnect, removing complexity and weight.  
Single tube water configuration (Note the slight kink in the side by the orange isotonic interconnect. There is no effect on performance.):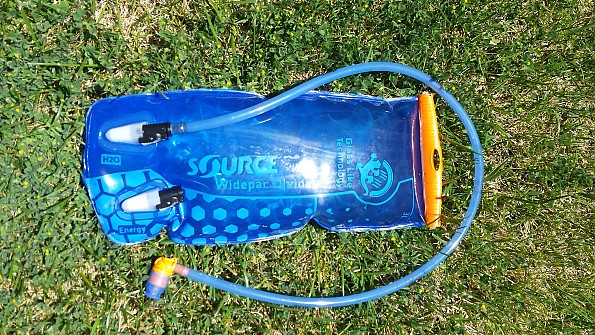 EASE OF USE
Here is where the D/Vide really shines. The reservoir has a full-width Widepac opening for filling and cleaning the reservoir. Want to hold it up to your ice dispenser? No problem and no mess. Just stick your thumb and index finger in the two holes on the plastic frame, bend it to open the top up wide, and fill.
To seal it, you simply fold the bag over the plastic bar frame and onto itself once, then slide on the orange Widepac Pro Closure sleeve until it locks into place, and you have a super-sealed reservoir. 

Picture of open top: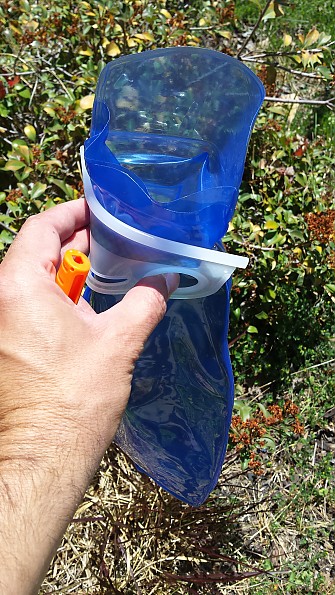 Closing process...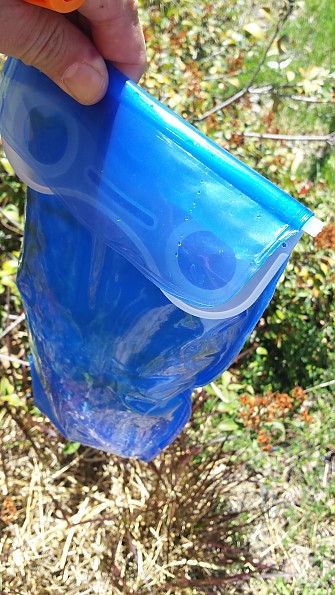 Closing process continued...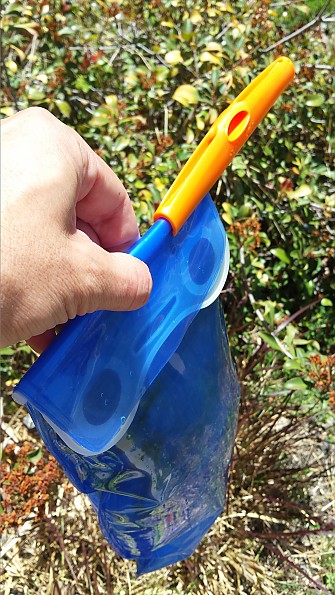 ...and sealed top.

Sealed system placed in reservoir sleeve of my hydration vest.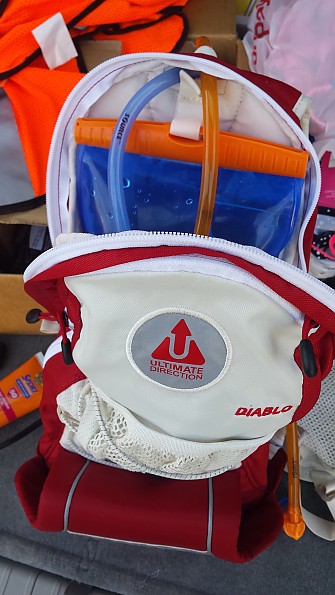 The reservoir is clearly marked on the front (looking at the side with the tube outlets) with a graphic overlay to show you the H2O compartment (front) and the Energy compartment (back). A clear blue tube naturally is for the water side, while a Gatorade Orange tube is for the isotonic side.
Simply use the quick connects to match compartment to hose and you're ready to go. Almost too easy. Color coding makes it easier to grab the preferred drink when you're focused on that technical downhill single-track.
Interconnects and graphics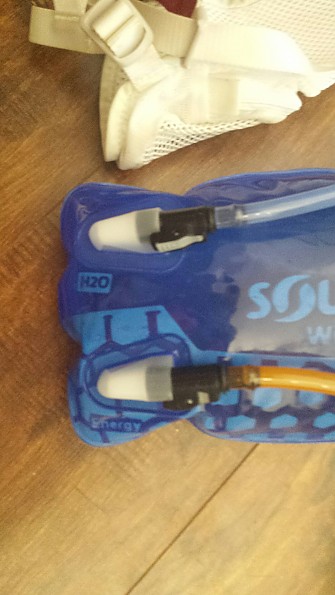 The real gems on the D/Vide are the bite valves. Simple thumb and index finger grab and twist clockwise to lock, and you can forget about leaks altogether. In fact, I left the valves fully unlocked (open) on every use (eight activities) and NEVER had any leaks, even when my pack was stuffed and was really applying pressure to the reservoir. Now that's ease of use.

The bite valves also flow very well, and thanks to their round design, don't have to be shifted around on my mouth to work (Did you hear that, Camelbak?). Just grab, sip, and go. No slowing down. This was especially useful when I was mountain biking or descending a steep trail at speed (while running). Every aspect of the system worked flawlessly. Expectations well exceeded!
Water and isotonic drink tubes: open valve: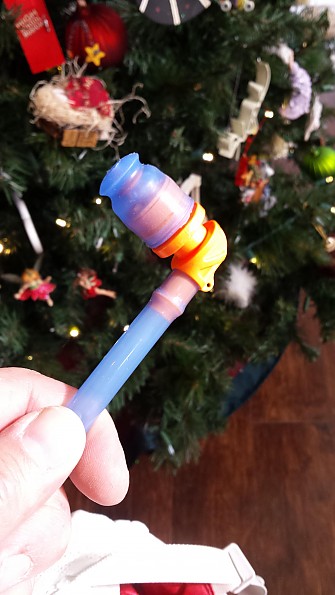 This system is feature-packed, and its main features are listed and examined below.
2-in-1 HYDRATION SYSTEM:
Source description: Everything you need to carry in one system, with a flexible split compartment design, two drinks valves, and no-waiting flow.
The system has worked perfectly in every situation I tested. 
Glass Like Film Technology: 
Source description: A multi-layer Polyethylene film utilizing SOURCE's Glass-Like technology, which prevents bio-film build up making the system self-cleaning. SOURCE's Glass-Like Film is 2000% smoother than standard TPU films, with virtually no difference from glass itself.
I tested this out by leaving about 1/3 liter of Emergen-C ladened coconut water in the reservoir — for two weeks. Amazingly, I just poured out the browned (from aging) fluid, rinsed it with a few ounces of water, and refilled it with filtered water. Incredibly there was NO BAD TASTE.
Against the directions in the users guide for the D/Vide, I mixed a bright orange electrolyte drink and Emergen-C in the compartment, but it didn't completely mix. There is some orange staining as a result of the chemical reaction, but still no leftover taste. I am beyond impressed.  
Taste Free System:
Source description: Co-extruded PE film retains pure liquid taste with no plastic flavor. BPA and Phthalate free.
I can attest to this, as it doesn't taste like my other reservoirs do (or the water in them, that is). 
Grunge-Guard Technology:
Source description: Inhibits bacteria growth on the reservoir and drinking tube surfaces for the life of the system. Technology utilized FDA-approved and EPA-registered anti-microbial agent.
I left water in the reservoir for one week, in the trunk of my car, and tried drinking it. There was no weird or offensive taste. I'm still having trouble believing it works that well, but taste buds don't lie. 
CONSTRUCTION AND DURABILITY
This system is very well made. Welded seams are straight, the finishes are consistent, and there is little molded plastic detritus often found in manufacturing of plastic parts. The quick disconnect system works as well today as it did when I first got it, it just doesn't leak.
I think the best test of hydration reservoir construction and durability lie in leak testing. I filled the D/Vide to capacity, sealed it, and placed it on the ground. I kneeled on it for 10 minutes (I'm not a small guy), and there were no leaks — anywhere. I even opened up the bite valves, and still no water would leak through a valve unless I pinched it, simulating a bite.
Again, an amazing performance by this product, as all of my other hydration systems have leaked when tested this way. I have not once used soap or hot water to rinse this reservoir, and its no-taste features have kept true to their design.
Note: I recommend using warm water to rinse your reservoirs. This was only done for test purposes to validate the manufacturer's claims.
Should you need any type of hydration accessory, it is available on Source's website. 
CONDITIONS
I have tested the D/Vide reservoir on trail runs of 15, 8, 4, 6, 9, and 3.5 miles. I also went on an 8-mile, steep ascent hike once, with a full backpack, for training. The pack was stuffed, putting lots of pressure on the reservoir. More than anything, this simple product helped maximize my enjoyment of this run: 
15-mile, 3 -hour trail run, Dripping Springs to Palomar Mountain Ridge: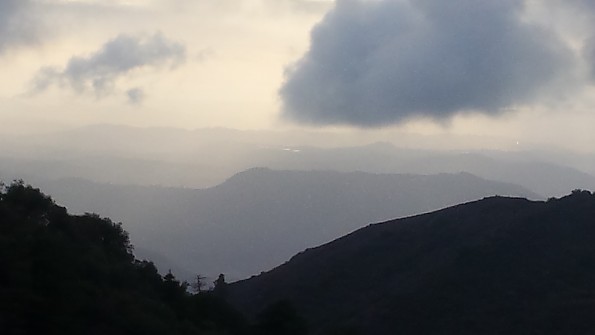 Started 1/4 from the Lake - Incredible Views!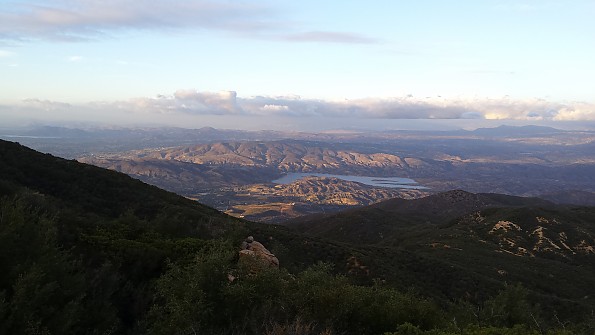 I have also mountain biked while wearing it. I used my own Hydra-Pak magnetic pack attachments while riding, which allowed me to place the water hose angled close to my mouth (Source has the same type of attachment accessories). 
Combined with the hands free (leave it open! no big deal), no-leak bite valve, all I had to do was move my head down and to the left a little to get a drink. It makes life so easy, and fits into eight different packs I have tried that have a 3-liter reservoir rating.
MY brother used it on a snow trip to Mammoth (only the water side and tube). To keep things from freezing, I gave him my Osprey Insulated drink tube/valve kit. It just plugged right into the universal quick-connect on the reservoir! He had another brand of reservoir that always leaked, which is a no-can-do on a freezing winter trip. Thanks to the D/Vide, he had no worries or problems this time. 
The D/Vide helped me enjoy the first snow in my area in countless years!
Snow on Dripping Springs Trail!
SUMMARY: 
The Source D/Vide 2-in-1 Hydration system is a break-through product that delivers on all fronts, from durability to functionality. It is packed with features and flexibility, and is the first truly leak-free, taste-free system I have ever used extensively.
If you use isotonics or electrolytes on your runs, mtb rides, hikes, backpacking trips, or other activities, the D/Vide's all-in-one design will perform exactly as you expect it to, will simplify your equipment haul, and will still smile back should you accidentally neglect it for a while.
I highly recommend the Source D/Vide. It is a fantastic hydration product, with an excellent value. 
Source: received for testing via the Trailspace Review Corps (Sample provided by Source for testing and review)

I hike a lot. I used to bring a water bag plus a bottle to keep my water and energy drink. That is very inconvenient for me, as I need take out the bottle from the bag to drink my energy drink or water, until I found this D|vide. It solved my problem. Now I can hike without any interruption, keep going on the trail.
Pros
2-drinks-in-1 hydration system
Flexible split between water and energy drink according to own need
Two colors to identify drink type
Cons
Cant tell how much water I have left in the bag
Source: bought it new
Price Paid: USD 45

Your Review
Where to Buy
Help support this site by making your next gear purchase through one of the links above. Click a link, buy what you need, and the seller will contribute a portion of the purchase price to support Trailspace's independent gear reviews.
You May Like
Specs
Price
Historic Range: $45.00
Reviewers Paid: $45.00

Recently on Trailspace