TAD Stealth Hoodie LT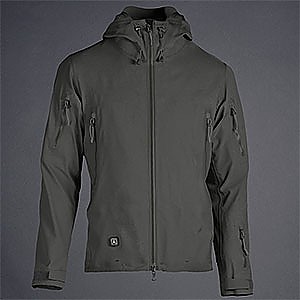 This is good jacket for basic outdoor excursions. But it is lacking specific details that would make it a great top layer jacket.
Pros
Wind-proof
Waterproof
Lightweight
Cons
Noisy
Lack of lower pockets on the main enclosure
Complete lack of interior pockets
Hello, 
I have had my TAD Stealth Hoodie LT for about 3 months now. To give you a background on who I am and what I do, I figured I would share that I work in Afghanistan and we HEAVILY rely on our gear to get us through each day.
The jacket itself is windproof and waterproof. It does breathe extremely well. I haven't found myself sweating in it at all so far. I am 6'2" and weigh about 170 pounds. So I'm a fairly skinny gent. I do have long arms, so I ordered a XL. It is fairly roomy and have NO problem layering it with my North Face fleece pullover. The sleeves come down to below my wrists, which I find to be the perfect length. It has armpit zipper vents that are extremely long. Going from about mid-bicep to the bottom of my rib cage. The sleeves are not tight whatsoever, and I'm certain I could add yet another layer into the mix and still feel like I have ample room to move and get my work done.
The vertical chest pockets are HUGE! I have fit two AR style magazines into into each pocket and still had room for at least two more .40cal double stack magazines. The left forearm pocket is big enough for an average size cell phone. I'm leery about putting my phone in it for fear of damaging it. I hardly ever use the left/right upper arm pockets, but they are there. Also, the elbows are reinforced with an extra layer of material.  
Now onto the bad.
There is a complete lack of lower main body pockets. I would've loved to have a set of pockets the same size as the chest pockets down below. Sometimes I like to put my hands in my pockets, ya know? The forearm pocket can be hard to access due the way the material bends/folds/is flexible. There is a strap in the main chest pockets that I finally just cut them out. There no interior pockets whatsoever! I was very shocked to see that in a jacket of this price, there are not interior pockets!
Next the end of the sleeves around the wrist. In a few other jackets, there is some compression material that seals out wind and water. Not so on this jacket. There is a velcro strip on the outside of the jacket sleeve to try and close it, but its never as tight as I would like it. I find wind constantly getting up the sleeves, water too. The bottom of the jacket does have a draw sting to seal the bottom from the elements, However it only does a so-so job. I often find it riding up and have to either leave it loose, adjust it back down every 15-ish minutes. 
All in all, this would be a great jacket if it was $200 dollars cheaper. But for the money, I would look at another brand. There is plenty out there for less, that is just as good if not better. It is a very durable piece, but the lack of wrist cuffs, pockets, and other standard features don't make it worth it in my opinion. 
Source: bought it new
Price Paid: $425

I have had the Stealth Hoodie LT for about a month now and it has earned its way into my EDC rotation. 
Since getting it the weather here in Minnesota has provided all I needed to put it to the test. We've had 50s and rain, 70s and rain, and plenty of wind.  While not seamsealed like the Spectre Hardshell this jacket provides tons of protection to everything short of monsoon rains; add to that the Schoeller fabrics that wick, breathe and keep you cool and you have one heck of a jacket. 
It's soft and quieter than the hardshells and packs up really small for your EDC bag. I anticipate that over a good insulator (read: Arc'teryx Atom or TAD Ranger Hoodie) this will kick some serious tail in the harshest Minnesota winter. 
With only a month of field work a more detailed review will follow after acquiring more datapoints.
I purchased the new TAD Gear Stealth Hoodie LT recently. After using it for about a month, and having bagged close to 150km of trail with it, I figure I can give a reasonable first impression/initial review of this jacket.
First off, I am a recent TAD convert. I have been eyeing up their website for a couple of years, but could never quite pull the trigger on a purchase due to their prices. That changed last fall when I received one of their merino wool Praetorian Hoodies as a gift. I fell in love.
Since then, I have aquired a Stealth hoodie (fall 2010), Special Services Sweater (winter 2010), Old School Work Shirt (long sleeve and short sleeve), and I am currently waiting on delivery of my Amphibious cargo shorts.
Long story short on TAD: it's pricey, but comparable to other brands (Mountain Hardwear, Arc'teryx, etc etc)
The jacket performs as advertised. The C_Change membrane really does regulate your temperature quite well. First hike I did in this jacket was approx 18km over 5 hours (including a lunch break), elevation gains and losses through out, with weather ranging from overcast/raining 5 degrees Celsius with a stiff wind to sunny and calm 20 degrees Celsius (gotta love mid spring in Kananaskis).
The jacket did a remarkable job of keeping me comfortable. I kept it on the entire day, only opening the pit zips a few times on steep ascents in the sun. I always felt warm, but never uncomfortably so. This is truly a new experience for me, as I tend to run hot and usually cant keep any sort of shell on once I really get moving in cool - moderate weather (EG: I have a Mountain Hardwear Dragon Hoodie that is light as a feather, but I am still pealing it off after a couple minutes).
You really could tell when the membrane changed. Sitting down to rest, I was warm. A few minutes later as I began to cool off, the thought would enter my mind that I should grab a piece of snivil kit for warmth. And then it was like someone flipped a switch and I began to feel warm again. Score one for TAD.
This is not a rain jacket, nor is it advertised as such. Still I decided to give it a good water test. That evening in the backyard, we had a nice big thunderstorm roll in. Since I can't be bothered with fixing such trivial matters, water tends to pour off the corner of the gutters with the strength of a half hearted fire hose. I put up the hood and stood under the gutter while I finished my cold beverage. Timed it at approx 4 minutes before I felt a little dampness creep in across my shoulders.
Surprise surprise: Water came through the unsealed seams. The surface of the jacket did a good job of beading the water with no saturation whatsoever though. Since then I have had seam tape applied across all seams on the upper body, but haven't had the chance to put that to the test yet. 
I read a few other reviews (including one on this site) that brought up some quality control issues with this jacket (snagged and pitted material, poorly sealed pockets). I have not had any of these. To that unfortunate soul who was frustrated by their jacket and customer service's response to their inquires I gotta say this: That sucks bud. Guess you got a lemon. Hope you get things sorted out. 
The only thing that keeps me from giving this jacket 5 stars is the sizing. TAD gear usually has a fairly tight cut to it. I'm approx 6' 1", 235lbs, 48" chest and 36" waist, so I have always been an XL for my TAD purchases. I found that this jacket was cut much looser then as described on the websites sizing charts. With my pack's waist belt on, some of the pics from that first hike give the impression that I'm about 6 months pregnant due to all the excess material around the abdomen.
Took it to Spirit West in Calgary to have it taken in and the seams sealed. Even while wearing a mid weight polypro base layer, merino wool Praetorian Hoodie, and a Patagonia Puffball Vest, they still took almost 3" out of the jacket along the side seams. So this jacket is definitely designed with some serious layering in mind.
That's the end of my rambling review. To sum up: Excellent jacket, worth the cash. Go buy it. You wont regret it. Hope someone finds this useful.
Price Paid: $325

I recently purchased a TAD Stealth Hoodie LT.  I have worn it a minimum of two days a week, weather permitting, and have found it to be the most versatile jacket that I have ever owned.
This is my first TAD jacket.  The main reason it took me awhile to actually get a TAD jacket was pricing. I have owned several so called "TAD style" jackets which had major quality control issues with zippers, seams, and some just fell apart. I finally realized that I had spent more money on cheap jackets that I would have buying a quality one. 
I couldn't be more pleased with TAD's customer service. I played 50 questions with them via email prior to making the purchase. All of them were answered in a timely fashion and they were very patient with some of my requests. Most of these questions dealt with construction of their various jackets and what exactly I needed the jacket for. 
I decided on the Stealth Hoodie LT in ME green.  Most of this use would be under SWAT body armor as a light rain barrier.  When it arrived there were zero fit and finish issues with it. The sizing guide was spot on.  When the jacket was worn under body armor it had no problem shedding the rain.  I was also able to maintain my body temperature once the rain stopped.   It is very breathable, much more so than my old gortex shell. 
So far I have found no wear marks on the points of the jacket that come in contact with my vest.  These wear points destroyed one of the previous knock off soft shells....hint it rhymes with "Bondor". 
I'm satisfied with the price point because the performance is worth it.  I will be following up with additional purchases to outfit the rest of the SWAT team with this jacket.
Price Paid: $300

I am a TAD gear fan and loyal customer for years now. I have a lot of their gear, most of which is made in the USA, some of which is not. The Stealth LT is made in China, like many other brands.
There are pluses and minuses to this jacket.  First, with the positive.
The materials TAD chose are excellent. The Schoeller fabric does what it advertises. The colors of the jacket are also great.  I got the UE Gray and really like the color.  
I have worn the jacket out in some moderate rain and it has kept me dry. The seams are not taped and thus not 100% waterproof. I knew this going in and I do not use it as a rain coat, but it could function as one. I would imagine there would be some seepage at the seams eventually though.  
The breathability of the jacket has not been a problem. I am in a hot and humid place. So when it rains it is hot and sticky and this jacket is comfortable. I have not worn it yet during any high physical activity, but it feels like it will breathe well.
The Fit is good. I am 6'1" with a 36" waist and 46" chest and the XL is a great fit with room to wear a hoodie underneath.
The pocket layout is pretty good. I like the arm pockets and the duck pocket. However, the chest pockets become a problem when wearing a pack. While wearing a pack the pack shoulder straps cover the top inch or two of the zipper making it difficult to get to the zipper pulls. Thus, the chest pockets, which are the main storage on the jacket, become more or less useless or difficult to use.
The Negatives.
There were some quality control issues with my jacket that TAD gear was not ready to deal with. And dealing with them was quite a hassle, whereas dealing with a company like Patagonia or Arcteryx would have been much easier.
The problems. My jacket came with a couple of quality control issues. Fresh out of the box, the outer material had several snags/pulls in it. Not the end of the world, but when paying top of the line prices I would expect that the material would be flawless.
The Bigger problem. The pockets on the jacket are welded. The welding is sloppy.  Not nearly as clean as my Patagonia, Arc'teryx or Mountain Hardwear jackets. Again, not the end of the world.
The Biggest problem. One of my pockets was not welded all the way. There was about 1/4-1/2 an inch of pocket that was simply not welded or attached to the jacket in any way.
I called the TAD gear expecting to be able to simply exchange the jacket for another new one, as this was a brand new unworn jacket fresh out of the box. But that was not their solution, they said that I would have to send it back and have them make a determination on how to fix the jacket. I would have to pay for the return shipping and then depending on what their determination was, they would let me know about the fate of my new jacket.
I felt this was unacceptable because I paid for a new jacket and they were offering to repair it at my shipping expense. I pointed out that Patagonia and Arc'teryx would not ask questions and if there was a quality control issue they would simply exchange a new jacket for a new one. TAD said that was not their policy and they didn't want their policy to be taken advantage of.
In the end it was a huge hassle to even deal with their customer support, so I did some research and took care of the problem myself.
Bottom line. For the money, go with Arc'teryx or one of the other big name brands. You will get the same quality, if not better, but much better service if there is a problem with the jacket. TAD's customer service was much better a couple of years ago, but has slowly dwindled. I have some other gear that is great from them, just not this one.
Thanks for reading.
Price Paid: $325

Great quality but raised price is :(
While everyone here seems to have paid $300 for the Stealth LT, the company has raised prices to $475. I paid over $500 for mine after taxes. That is ridiculous. It's a quality jacket, but after wearing it, I now have buyer's remorse and I will return it to the SF store.
Source: bought it new
Price Paid: $500

Your Review
Where to Buy
Help support this site by making your next gear purchase through one of the links above. Click a link, buy what you need, and the seller will contribute a portion of the purchase price to support Trailspace's independent gear reviews.
You May Like
Specs
Price
MSRP: $475.00
Reviewers Paid: $300.00-$500.00

Recently on Trailspace