Therm-a-Rest Alpine Down Blanket

#5 in unisex Top Quilts and Blankets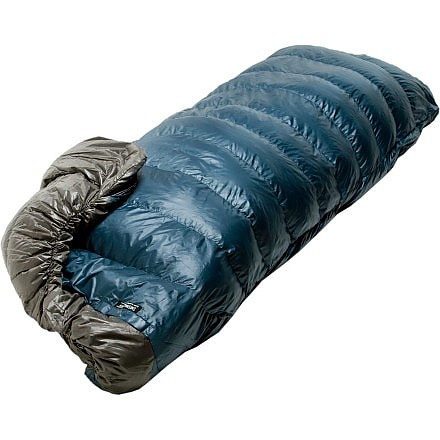 Therm-a-Rest sleep systems include various combinations of insulation, pads, and pillows for different temperatures, climates, and activities. By combining different products, it's possible to tailor the (more or less) ideal sleep system for the activity of your choice. 
I tested a Therm-a-Rest sleep system that combined the following products:
(Read the full Therm-a-Rest Sleep System Review.)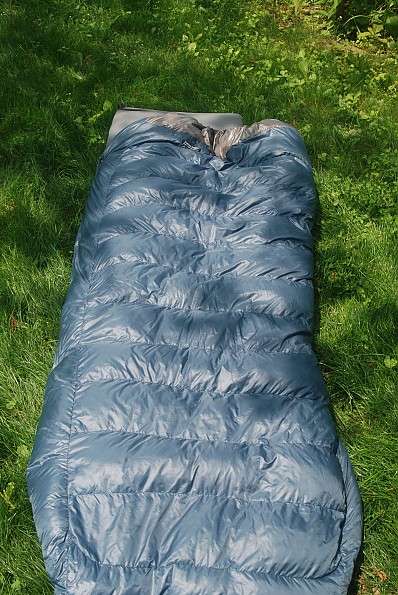 Therm-a-Rest sleep system.
The total sleep system is wonderfully flexible for different uses and is especially well suited to cooler weather. It's very comfortable, but I paid the price in weight and minor inconvenience.
At 3 pounds 6.3 ounces, the total system is heavier than my usual combination of a synthetic EMS Velocity 35 sleeping bag and a cut-in-half Therm-a-Rest RidgeRest closed-cell foam pad. Additionally, the NeoAir is a real challenge to inflate.
Best For - System
This Therm-a-Rest sleep system is best for camping and weekend backpacking trips in hot weather, and longer backpacking trips in colder weather. As the weather cools, or your tolerance for sleeping on hard surfaces decreases, the increased insulating capacity and comfort this pad supplies outweigh the minor penalties in weight and challenging setup.
Best For - Blanket
The Alpine Down Blanket is best for summer and fall backpacking in drier climates, and as a supplement to another bag for deep winter trips.
Pros
luxuriously comfortable

warm

compact

anti-slide straps work!
Cons
NeoAir All Season pad is difficult to inflate

system is a bit heavy

Fitted Sheet is heavy and doesn't add warmth

blanket snap system is clumsy

blanket system makes snuggling difficult
Setup
Setting up the Therm-a-Rest sleep system requires inflating the NeoAir All Season pad and affixing the Fitted Sheet and Alpine Down Blanket. I learned to shorten the setup by leaving the fitted sheet on the pad when storing it in my pack.
The NeoAir All Season pad is lung busting to inflate without a pump. I have massive lung capacity, but inflating the pad required 20 lung fulls, and often ended in me seeing stars and sitting down! If getting a little hypoxia bothers you, and you're willing to carry a few more ounces, I would recommend the forthcoming NeoAir Pump Sack. I'd probably still forgo the pump, to save weight;  that's just me though.
(For January 2012, Therm-a-Rest will offer a NeoAir Pump Sack, a stuff sack that lets you fill a NeoAir pad with two bags of air, and then converts into a camp seat, stuff sack, or pack liner. The new-for-fall 2011 NeoAir AirTap Pump Kit works similarly, using a plastic bag)

Affixing the sheet is a challenge, as the full length of the pad needs to be passed through a series of grippy, rubberized straps. A small, toughened port in the sheet allows the pad's inflation valve through, but isn't quite large enough.
Once the sheet is affixed, the down blanket attaches to small plastic snaps around the perimeter of the sheet. The snaps are small, and it was difficult to snap them securely with cold fingers. Further, vigorous movement can unsnap them easily.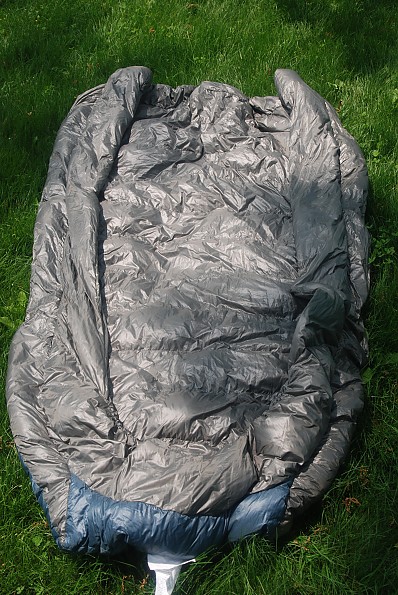 Alpine Down Blanket, bottom view.

Comfort/Warmth
I tested the Alpine Down Blanket as part of the sleep system. The blanket and pad both kept me warm in temperatures right at the edge of the blanket's rated capacity of 35°F. (The NeoAir All Season pad has a 4.9 R-value.)
Despite the draft collars running the length of the down blanket, drafts still snuck in however. Snapping the blanket to the sheet seemed to make the problem worse. Additionally, when I rolled over, the snaps would often pop off.
After some trial and error, I left the bottom of the quilt snapped to the pad, and unsnapped the top several snaps. With the upper half of the quilt loose, I could wrap it around myself, increasing warmth and decreasing drafts.
I seldom use down insulation for most of my hikes in Maine, because frequent rain and high humidity make it prone to lose loft. However, this blanket, filled with 700-fill down, retained loft well, despite cold, rainy weather, and moderate humidity.
The shell of the quilt shed a few droplets of condensation that formed in my tent on several occasion, but absorbed water quickly when I accidentally dipped the foot box area in a small puddle that formed at the base of my tent. Because the shell isn't very water resistant, I wouldn't recommend this blanket for very humid, rainy environments.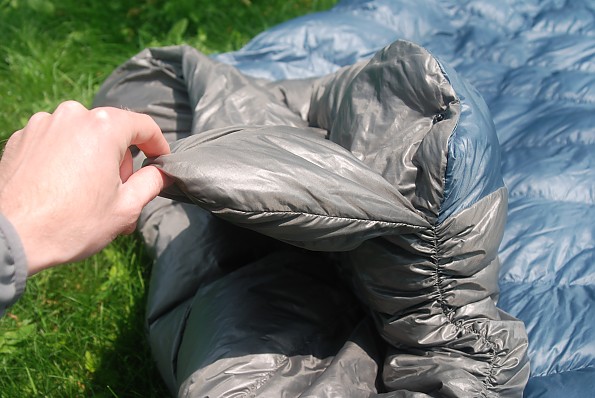 Alpine Down Blanket, showing draft collar.


Durability
Despite frequent packing and unpacking, the Alpine Down Blanket proved durable. The seams still look tight, and the shell fabric didn't tear, and hasn't pilled at all after seven nights out, and 14 days of additional "bag time" around the house and yard.
The blanket lost several feathers along the seams, but no more than five to 10.
Storage
The entire sleep system takes a bit longer to pack up then I like. After a cup of coffee, the system takes nearly three minutes to pack up.
Deflating the NeoAir All Season pad is a bit slow, and removing the Fitted Sheet is clumsy because of the rubberized straps on the bottom. To save time, I tried deflating the pad with the sheet on.  This is faster than removing it, but increases the bulk of the deflated system considerably. If you're short on time, try leaving the sheet on. If you're short on space, remove the sheet and pack it separately.
The NeoAir pad rolls up fairly small, and can even be fitted into a frame-less pack as a supplemental frame! The down blanket compacts easily, and lofts quickly after unpacking.
Summary
The combination of the NeoAir All Season Pad, Fitted Sheet, and Alpine Down Blanket makes for a versatile, warm, comfortable sleep system. As configured at 3 pounds 6.3 ounces, it's a bit heavy for my backpacking style, but for this small penalty in weight, you get a very flexible, comfortable system.
I'm going to continue to use this system together for my winter hikes and bike trips. Alone, the down blanket is slowly replacing my synthetic bag. I'm also going to be experimenting with using the down blanket as an "enhancer" in an attempt to create a deep winter sleep system in conjunction with a light synthetic bag.
I would recommend Therm-a-Rest's NeoAir All Season Pad, Fitted Sheet, and Alpine Down Blanket highly as a general purpose sleeping system for shorter trips. Together with a closed-cell pad, an all-season adventurer would need no additional pad. For ultra-light trips, a closed-cell foam pad would suffice. For more comfort, the NeoAir would be ideal. For deep winter trips, both pads could be combined for ultimate warmth.
Read the full Therm-a-Rest Sleep System Review.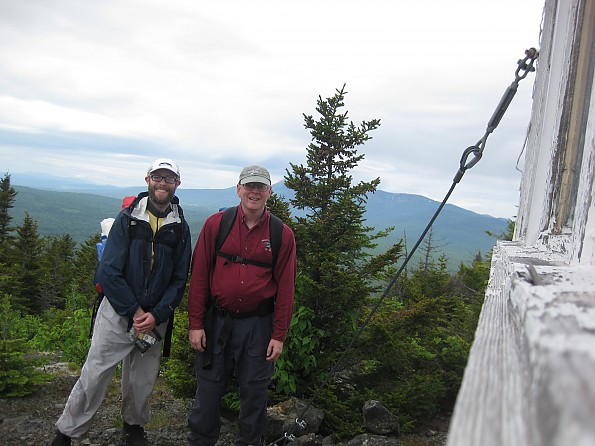 Seth atop Maine's Deasey Mountain on the International Appalachian Trail, with hiking buddy Steve.

Testing Circumstances
I tested the Alpine Down Blanket, as part of the sleep system, for approximately 60 days in spring and summer. During this period, I tested the pad:
While camping for three nights in northern Maine. The elevation was only slightly above sea level. Temperatures ranged from a low of approximately 36°F overnight, to a high of approximately 43°F overnight.
While on a four-day backpacking trip north of Maine's Baxter State Park. I traveled approximately 12 miles per day, bushwhacking and often fording rivers. Weather was cool, humid and rainy, with the last day warmer and sunnier. Nighttime temperatures went as low as approximately 46°F. Day time temperatures were between 56° and 70°F.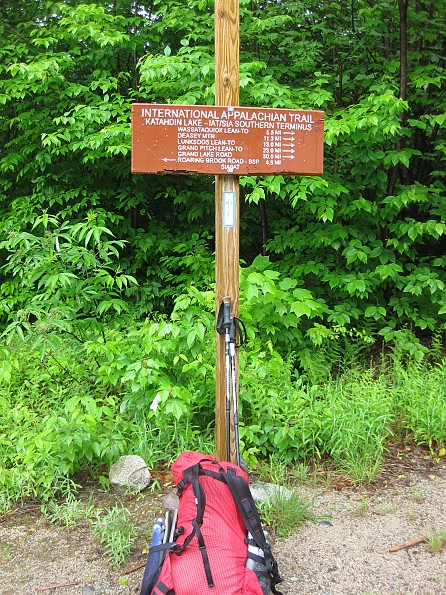 Seth's pack on the International Appalachian Trail in Maine.

Alpine Down Blanket
Claimed Weight: 1 lb 5 oz / 624 g
Tested Weight: 1 lb 7.3 oz / 662 g
Price Paid: samples provided by Therm-a-Rest for testing and review

Cost effective, lightweight, ultra-compressible 3-season down blanket. Great for light-weight hikers, campers, backpackers, and hammock hangers. I would recommend this to anyone looking to lighten their load and still be comfortable.
Pros
Reasonably priced
Lightweight
Compresses down nice
Keeps you warm
Outer shell stays cool
Comes in reg. and long
Cons
Baffle fill seems a little skimpy
Not dry down treated
Color not as shown
I recently acquired the Therm-a-rest Alpine 35 down blanket in regular size from Amazon.com for ~189.
I have been looking at top quilts for my hammock for a long time, but nothing was in my price range until I found this. The price was right and I like Therm-a-Rest products.
When I received the blanket I was a little upset as the color was not the royal blue shown in the picture, more of a powder/baby blue. Not a huge deal [I am comfortable enough with my masculinity :) ].. The blanket arrived with one large storage bag to maintain the down integrity. I guess keeping them compressed too long will damage the feathers. As well as a small compression sack. It also came with adhesive backed loops to attach to your sleeping mat to help keep it in place. There is also a little storage pocket near the head. 
I took it on a weekend trip in the Allegheny National Forest for my Hennessy Hammock. Once pulled from the compression sack a few shakes and the blanket fluffs up nicely in a short amount of time.
The first night was between 35-40 degrees; I slept with a light layer of clothing and stayed super warm (I coupled it with Hennessy's 4-season insulation system under my hammock. The foot box is large enough with elastic to keep your feet inside, the neck and side baffles help keep drafts out. The neck end can be tricky if it is very drafty, I'm 5'8" and when things got chilly I was able to pull the blanket over my head, then I would warm up quick. I noticed the shell maintains a cool feel so it would be nice on warmer nights as well. When nature called I could just throw it to the side and climb out of my hammock, no flopping around in a sleeping bag.
Night 2 was about the same temp. I tried sleeping in just my boxers but it was just a bit too cold to stay comfy. When it was time to leave, I crammed it into the compression sack to about the size of a large grapefruit or so. Much less than any of my mummy bags, and at 1 lb. 5 oz. the blanket was barely noticeable. 
All in all I really like this blanket for hammock camping, I even take it to bed sometimes. It's that comfortable. The only thing I can say is the shell material feels a little cheap to me, but I don't have anything other than synthetic mummy bags to compare to. And I am surprised that all down is not treated with dry down tech these days.
Source: bought it new
Price Paid: $189

Your Review
Where to Buy
Help support this site by making your next gear purchase through one of the links above. Click a link, buy what you need, and the seller will contribute a portion of the purchase price to support Trailspace's independent gear reviews.
You May Like
Specs
regular
long
Trailspace tested regular
Price
MSRP: $239.95
Historic Range: $149.95-$369.95
Reviewers Paid: $189.00

Weight
1 lb 5 oz / 624 g
1 lb 7.7 oz / 672 g
1 lb 7.3 oz / 662 g
Temperature rating
35 F / 2 C

Fill
700 fill goose down

Shape
Down blanket

Length
76 in / 193 cm
80 in / 203 cm
-
Width
48 in / 122 cm
52 in / 132 cm
-
Girth, Foot box
25 in / 63.5 cm
25 in / 63.5 cm
-
Fits Up To
70 in / 178 cm
76 in / 193 cm
-
Recently on Trailspace