Therm-a-Rest Compressible Pillow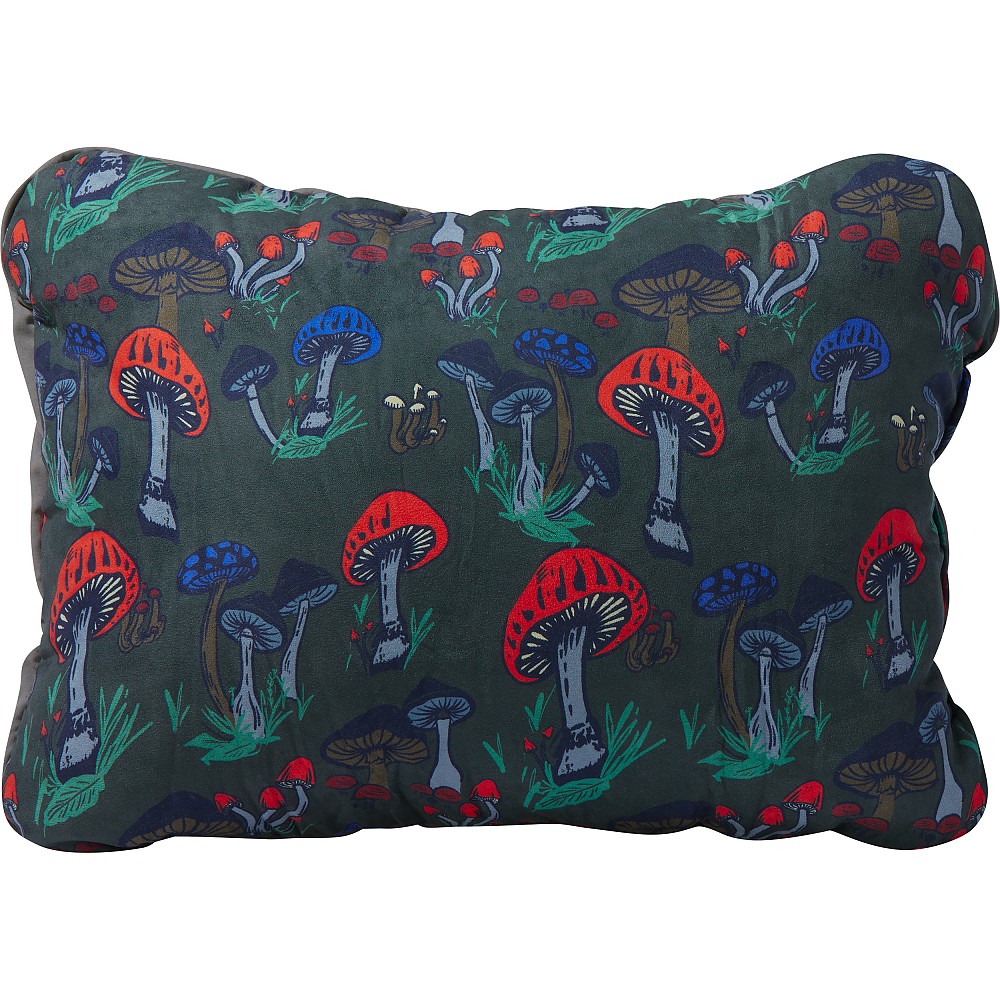 It pains me to do it — especially because I LOVE my NeoAir Trekker pad — but this is probably the first piece of gear I've purchased and am not completely in love with. Sure, I was a bonehead and didn't have the chance to test it before buying it, but I never expected foam to be this firm in a pillow. Comfort aside, it truly is compressible and packs down to less than half its expanded size.
Pros
Compresses into built-in storage pocket
Sueded fabric easy to keep clean
Denim Blue is about as American a color as can be
Cons
Foam is too firm for my liking
Loft is too high for my liking
Too bulky for backpacking
I'm sure y'all wondered when it would happen, and — here we go — I've finally had to review a piece of gear I'm not 100% completely, head-over-heels in love with. This is my personal preference.
The way we all sleep has a lot to do with personal preference, and while the subject is highly subjective, this review is my honest impression of the product.
That said, there's always a lesson to be learned and a positive to take away from a negative experience. Mind you, I don't hate this pillow outright and I've not used it for kindling - yet. 
My biggest mistake was buying this pillow online, denying myself the opportunity to test it out first inside a brick-and-mortar store. For those of you that love winning the lowest-priced auctions, or love the convenience of door-to-door shipping, well...this goes to show there are still times it's best to experience something in-person.
In terms of appearances, it's a pleasant pillow. I bought a set of the medium-sized pillows in Denim Blue. I love blue jeans, and I love America, so naturally, it seemed like a good fit. The sueded fabric is easy to keep clean, and rugged enough to not easily snag or tear.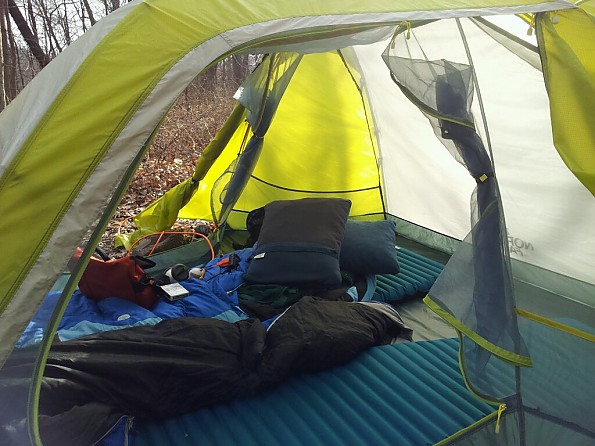 The fabric pillowcase is filled with compressible foam blocks. Simply fold the pillow in half, tuck it in as far as possible into the pouch sewn onto the outside, and tighten the cinch to secure it. Therm-a-Rest was even mindful enough to make the pocket reversible, turning-out to reveal a smoother, silk-like side more suitable for sleeping.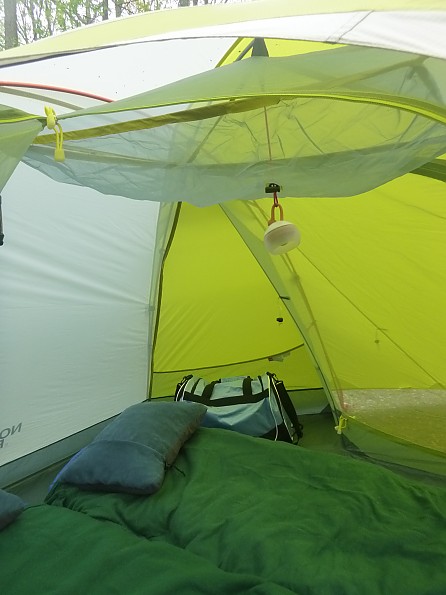 When it comes to sleeping, I usually use one pillow in my bed at home. That said, I don't need a high amount of loft or height to my pillow. This pillow is deceiving in that it remains relatively flat after you've unfolded it. Fluffing it up makes it at least twice as thick. For those of you who prefer that, it's perfect, but for me, it's not only too high a pillow, but too firm of one, too. 
The bulkiness and weight — despite being compressible — would be a concern for me if I thought about taking this with on a backpacking trip. Even for those of you who would find this pillow comfortable, I highly doubt you would be willing to sacrifice the amount of space in your pack (or atop/below it) this pillow would require.
I rate this at 3 stars, right in the middle. While it was my fault for not testing the pillow, the height and firmness are permanent, non-changing features of this pillow. Even when I've tried to keep it flat after unfolding it, the pillow still finds a way to fluff up.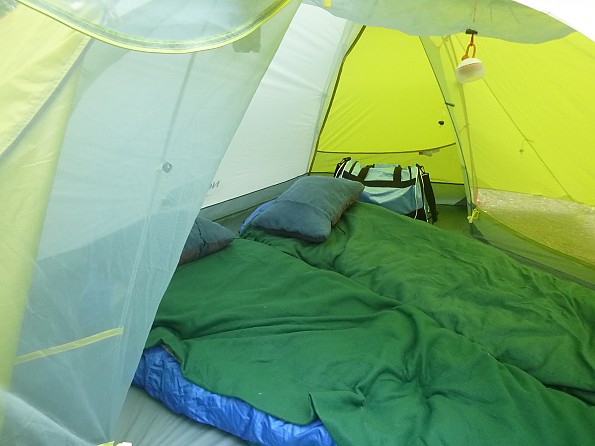 Source: bought it used
Price Paid: $30 for 2 Pillows

A great pillow when you're looking for more comfort...but it lacks the support of an inflatable pillow...and fully compressed it still requires a lot of room in a pack.
A Compressible Thermarest Pillow is about as near to the pillows you use at home as you can get while backpacking. Unfortunately...that comfort comes at a cost in volume and weight. When compressed a Thermarest pillow is many times larger than a comparable inflatable pillow...and weighs somewhere in the neighborhood of twice as much (about 4-5 oz). That said...these pillows rank near the top as far as comfort per dollar...and for short and relaxed trips I am guaranteed to be toting one around.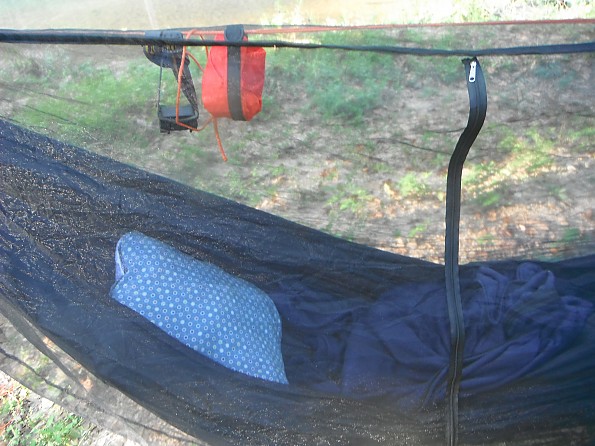 There are several sizes to choose from. I chose the smallest size to minimize the volume and weight issues since I planned to use it for backpacking. I liked it so much I later picked up the medium size for car-camping and trips where I wanted more comfort. Most of the time the small works great...but sometimes I want a little more support than I am able to get bunching the small one up. That said...don't be afraid to go with the small...an extra shirt or pair of socks shoved underneath provides more than enough structure without forfeiting the soft comfort of foam.
  S        7oz        16"x12"x4"
  M        9oz        18"x14"x4"
  L        12oz       23"x16"x4"
 XL      15oz       27"x16.5"x4"
The pillows are very easy to clean and care for. Simply throw them in the washing machine on the gentle-cycle then toss in the dryer on low heat. The pillows air-dry nicely in the field, but I prefer to dry it with a little heat at home because the foam seems to expand more. By minimizing compression to time in my pack my pillows spring up as well as they ever did. The brushed polyester has a really soft hand (feel)...absorbs less moisture...and dries very quickly. You'll want to avoid rubbing them in dirt for the most part...but the materials used in the pillows are perfectly-suited for outdoor use.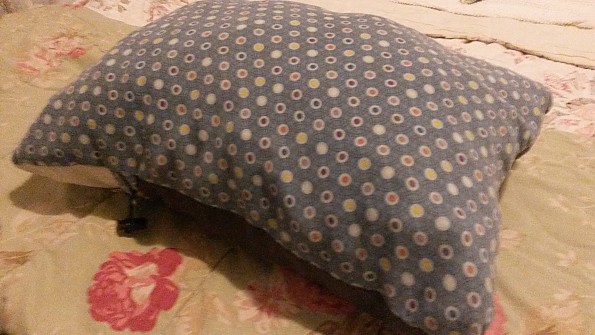 Given that I have two different sizes I obviously think these pillows are a great piece of gear. On trips with big miles that are all business on the trail a compressible pillow is probably not something I would bring with me, but most of my trips are shorter weekend excursions where I usually find more than enough room in my pack to bring one along. For $20-$30 these pillows are a lot of cheap comfort that will hang with your adventures reliably for years.
Source: bought it new
Price Paid: $20

I have mixed feelings about this pillow. The other couple of backpacking pillows I've used in the past were inadequate for me, just too small. This one is big enough and has enough loft, I just haven't gotten used to the foam feel of it yet.
Pros
Adequate loft to get your head at least to parallel when on a sleeping pad
Packs to about half its fluffed out size
Shell material is comfortable (two different materials on each side)
Cons
Firm foam feeling takes time to get used to
A bit large for backpacking (but I do it anyway)
In the past I've used smaller fiber filled pillows but ended up carrying two of them to try and get the height I need. But they always slid off of each other and I was constantly waking up trying to fix them. I decided to try this pillow because it fluffs up to be pretty thick and it is firm enough to maintain some level of height.
I've only used it a couple of times so far and since I use firm feather pillows at home, I've had a difficult time adjusting to the feel of the firm foam nuggets. I still think it's better than what I was doing before and I'll likely get used to it the more I use it.
At 52, there are a few things I want to bring for comfort and a pillow is one of them so I don't mind carrying this in my backpack. Compressed, it actually fits in the top lid.  The one I have is about 18" x 12" so it is the smaller version.
Maybe in the future, I'll sleep with it at home for the week prior to backpacking so I'm more used to it.
Source: bought it new
Price Paid: $25

* Trailspace Pick for Family Camping Value *


Weight: 7 oz
Fill: recycled self-lofting ProLite foam
Dimensions: 12" x 16"
12" x 4" (packed)
MSRP: $17.95
Pros:
Sufficiently comfortable, the Therm-A-Rest Compressible Pillow is an affordable, environmentally-friendly choice for family camping. It's filled with the star-shaped foam scraps left over from manufacturing Therm-a-Rest ProLite mattresses. The pillow rolls up easily and neatly into its own flap, becoming a quarter of its full size. Also available in medium (9 oz) and large (12 oz).
Cons:
Even the smallest size is larger than most backpackers are willing to carry. After being stored compressed it's initially quite lumpy, but washing and drying gives back its loft and a more uniform feel. Though the foam fill remains slightly lumpy to the touch, it isn't noticeable when sleeping on it.
Review originally published as part of Backpacking and Camping Pillow Comparison review.
Source: received for testing via the Trailspace Review Corps (Sample provided by Therm-a-Rest for testing and review)

Wow!!!! This is an amazing pillow!
I have now had this for a while, I got it to replace a down REI brand pillow that I thought was neat, but this one seriously blows it out of the water!!! It's perfect for car camping, day trips, overnighters and I say backpacking too (because I'm comfort driven) Tips to using it though, since when you get it it won't be fluffy. The directions say wash it and let it dry before first use and I think this is crucial! After I did this to mine, it grew to twice the size!
I love it though, really! I feel like I have the perfect camping sleep system, coupled with my Thermarest Prolite Plus! (I spoiled myself). Well worth the $$$ well worth it for a good night sleep like this!
Design: Pillow
Fill: Foam
Weight: Light!
Price Paid: $24

This is a pillow!!!! It contains foam that will provide plenty of loft!!! It does exactly what a pillow should do, provide comfort for your head.

Pros
Great for side sleepers!!!!
Keeps its loft!!!!
Not too hard, not too soft!!!
Luxury item when backpacking!!!
Cons
A little heavy!!
Doesn't compress well!!
I have never slept better until I got one of these pillows. I have had all kinds of other pillows and let me tell you this is the best, because it is a real pillow. Blow-up pillows are as comfy as a beach ball, slipping from your head and deflating in the night. Down pillows are oh so light but as flat as my pancake breakfast.
I use the Therma-Rest pillow when backpacking or camping, it is my chosen luxury item. Yes, it does take up more room in my backpack and weighs more than I like, but it is so worth it. I highly recommend this product and the only reason it doesn't get five stars is because of weight and lack of compressibility. 
Source: bought it new
Price Paid: $20

Awesome product!
Pros
Super comfortable
Compact
Cons
Must be stored "open" when not in use
We have been using these pillows for over a year now and they hold up great. Easily washable in the laundry. 
If you are looking to have the comfort of a pillow but are worried about the space taken up I reccomend buying the smallest size and tucking a jacket under it to raise it up to feel more like a bigger pillow. There isn't much reason to buy a large one. You won't have to worry about the comfort, it's amazing. 
Keep in mind that the stuffing is small cubes of memory foam so they compress and expand.  With that being said, we found that if you leave the pillow rolled up for a month or two at home it takes quite a few hours to re-expand and even then it's not great comfort.  We open them up now and when we hit the trails the foam re-expands very quickly.  Even a few days is ok, it's just when it's folded up for long periods that it becomes a problem.  Remember to wash it.  
Source: bought it new
Price Paid: I don't remember

This is a nice pillow, I guess. I'm just not sold on the idea of pillows. If you are going to bring one, buy a full sized for car camping or stuff a coat underneath the head of your bag.
Just look at the picture above. This pillow can be a little chunky. It's ok, but isn't that why you buy and pack and use a pillow? A jacket feels about equally chunky when placed under the head of a good mummy bag. My wife and I took this on our honeymoon, but didn't use it after that.  
I would not highly recommend this.
Source: bought it new
Price Paid: $25

Comfortable, compact (compresses to about a fourth of its size), and reasonably priced.
Pros
Only 12oz
Compresses to about 1/3-1/4 its size
This is a great pillow for traveling and camping. It's surprisingly comfortable and the large (16″ x 23″) that I purchased is a close to "normal" size pillow.
The only issue I have is that it doesn't come with a pillowcase. Even though it is machine washable having a pillowcase that can be easily shed and washed would be great. You can purchase a "standard" size pillowcase but as I said it's close-to "normal" size, so it will be swimming a little in it.
Source: bought it new
Price Paid: $27.95

Completely comfortable and potable.
Pros
Lightweight
Compressible
Washable
I love this pillow for backpacking trips! I have tried many pillows and this one is tops. I purchased the medium sized one and it fits perfectly in my pack.
I know that when I pull it out to use it it will fluff back into shape in no time and is just plain comfortable. No more 'flat' expensive ones...this is at the top of my list.
Another huge plus is that it is washable. It comes out of the washer looking (and smelling!) brand new!
Source: bought it new
Price Paid: $20

After 6 months around the world, from Asia to Europe to America and beyond this pillow is by far THE BEST thing have ever had the pleasure of owning!!!
It has been used in every situation thinkable and has provided me with many many more hours of rest and sleep that I would not have had if it wasn't for this product!
If you think its too large for traveling don't! It can be squeezed into anywhere and the fact that it returns to normal once unrolled is AMAZING!
Buy it and you won't regret it once!
Design: rectangular
Fill: 700 fill down
Temperature Rating: Any
Weight: Very light!
Price Paid: Gift

I bought this pillow for leg and torso support, owing to knee pain from a knee replacement surgery without such support. The pillow is fine around the house but not thick enough for the support needed. I'm looking for an inflatable for my backpacking and tent camping needs.
There is nothing wrong with the pillow other than the lack of thickness. I did think that for backpacking it took up a lot of room and weighed a lot to do too little.
Weight: 9 oz
Price Paid: $27

A great pillow if you aren't too concerned about space and weight. Very soft and comfy. The small size is decent for those who toss and turn, or sleep on their side. Compressible fill expands in a matter of minutes to provide a firm and uniform surface.
Unfortunately, it only compresses to about 1/3 its size by rolling up into itself and cinching with a pullcord. Wish it would compress more. Otherwise, a fine pillow.
Design: Rectangular Dragonfly Print
Fill: Synthetic
Weight: 9 oz

I like this pillow....although mine seems to have noticeably less filler than my wife's (who got hers a few months before me)...whether I just got an anomaly I don't know, but it still keeps my head nice and padded and warm. I got the small size, fits in my mummy-bag head area (?) nicely. Mine seems to compress more over the night, I wish I had hers.
Version reviewed: Hunt
This pillow is the bomb! Don't go camping without it.
It's amazing how it goes from a small compressed thing to a hard big soft pillow! I love it!
Price Paid: $12

Version reviewed: Small, Orange
Excellent little pillow! Money well spent on something I originally thought to be over-the-top. It compacts well to a small size and is extremely light. BUY THIS PILLOW!
Design: rectangular
Fill: ProLite Foam
Temperature Rating: NA
Weight: 7 oz. / 198 g.
Price Paid: $17.95

I dont care what everyone says about packability I'm taking his pillow everywhere. Car camp, backpack, road trip. I'll sacrifice weight for the comfort it brings. 
Price Paid: $25

Your Review
Where to Buy
Help support this site by making your next gear purchase through one of the links above. Click a link, buy what you need, and the seller will contribute a portion of the purchase price to support Trailspace's independent gear reviews.
You May Like
Specs
small
medium
large
XL
Price
Current Retail: $23.89-$46.95
Historic Range: $8.97-$46.95
Reviewers Paid: $12.00-$27.95

Weight
7 oz
9 oz
12 oz
15 oz
Width
16 in
18 in
23 in
27 in
Height
12 in
14 in
16 in
16.5 in
Thickness
4 in
4 in
4 in
4 in
Recently on Trailspace