Trangia Fuel Bottle

#2 in Fuel and Fuel Bottles

A tough, plastic solution, to your denatured alcohol transport issues. The tricky safety valve might be its weak link, after a while. Self-contained, mobile users might like to look at other options.
Pros
Tough plastic construction
Doesn't rot, like aluminium
Reinforced collar
Cons
Valve assembly is a mixed blessing.
I finally had to jettison my 30-year-old Sigg Meths bottle, last year. The alloy was pitted, to the point of near-disintegration in some places, and the stopper was almost welded on. I bought a Trangia replacement, rather than buying steel alternatives, of indeterminate quality and origin.  
The body of the bottle is made of sturdy, thick plastic, of a grade which generally takes many years to degrade, especially if stored out of sunlight. The valve assembly is constructed from thinner, less confidence-inspiring material and is over-elaborate in design, to my mind.
It has a spring-loaded release valve, which can be locked shut with a threaded nut. There are two protruding spouts, of different sizes, for further regulating the flow of fuel. The operation of the valve mechanism is smooth and secure, but doesn't inspire long-term confidence. Neither does the ready availability of replacement valves, at more than 50% of the original purchase price of the bottle.
I'm not sure why Trangia have developed this complex solution to a simple problem: a leak-proof container, to carry flammable liquids. I've dropped laden fuel bottles many times—sometimes directly upside-down, on unforgiving rocks, or pavements. I've had alloy bottles deform significantly, under such stresses, without leaking. I wouldn't want to test this one, in similar fashion and even less so, after the plastics in the valve have been subjected to a few years of regular use, outdoors.
It isn't as if Trangia burners require a clever delivery system, for their spirit fuel.  The aperture of a burner is easily big enough to accept fuel poured directly, from a bottle, with the lid entirely removed. If the owner is filling the narrow neck of a Svea fuel tank—or a Coleman or Optimus gasoline burner—then the fancy valve makes more sense but it still seems like a point of weakness, to me. Fine, if your bottle will spend its life in padded security, in your house, RV, or car, but not so much, when the protruding spouts are banging around in a backpack, or getting kicked over, on forest floors and mountain sides.
It didn't take me long to experiment and find that a competitor's simple stopper had entirely compatible threads, with those of the Trangia bottle. For my purposes, I require a rugged bottle, without vulnerable design features, which may compromise the structural integrity of the product, in some remote location. I carry fuel to cook my wilderness meals, not to marinate my clothing and sleeping bag, with combustible fluid. When I've taken the Trangia bottle on hikes and camping trips, the safety valve has remained in my house, where it's...safe.
This might be a great solution, for car campers but I can't recommend the product for hiking, backpacking and mountaineering use. Simple and secure is the mantra, when re-supply is difficult and the consequences of failure can be severe.
Experience
I bought the bottle in late 2019 and have stored Methylated Spirits in it, ever since. The bottle is too big for a day hike lunch stop but, at one litre, is perfect, for a group weekend camp. The health emergency has limited these trips, both in frequency and duration, so the total usage in locations far removed from a support vehicle, has been limited to three weeks. The supplied safety valve/dispensing gadgetry, has never left the house;-)

Source: bought it new
Price Paid: £12

Absolutely bombproof multi-fuel bottle for all liquid stove fuels not just alcohol for Trangia.
Pros
Bomb-proof fuel delivery
Tough as
Crush proof
I have had a 750 ml bottle I bought in Sweden over 20 years ago; outside it is still red but the printing is long gone. Other than that no sign of wear at all. It first held white gas for my SVEA 123 and for many years now holds alcohol for my Trangia burner for which it is designed. 
Many folk are unsure of the delivery screw top. I have never had any issues with it at all. It delivers a very precise amount of fuel on demand, finger on, fuel flows, finger off fuel flow stops, easy as! I believe that these bottles were designed to be primarily used with the Trangia cook sets with the burner in place deep in the heart of the assembly.
Be that as it may, it works well with any system I have. Definitely the best fuel bottle made to date.
Experience
A long lifetime of outdoor experience
Source: bought it new
Price Paid: Can't remember

Great fuel container. Very secure and easy to dispense fuel.
Pros
Tough
No leaks
Easy to dispense fuel
Cons
A bit heavy compared to other fuel bottles
This is a great fuel container. It's made for alcohol (I've never used it for other liquid fuels) and very tough. I accidentally knocked it off my kitchen counter and it hit a tile-over-concrete floor and never spilled a drop as I had the lid locked close.
It's very easy to dispense controlled amounts of fuel with ease due to the shut-off valve. It's my go-to alcohol fuel container when backpacking, as I'm willing to carry the very slight extra weight for the safety of this container.
They come in 0.3L, 0.5L, and 1.0L volumes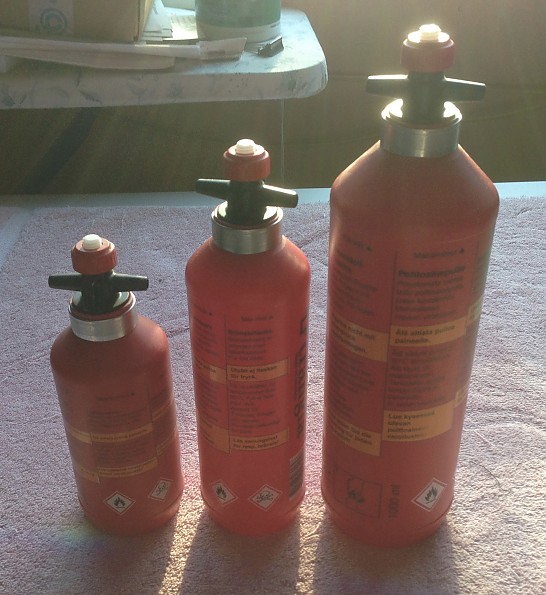 Source: bought it new
Price Paid: Don't remember--I have all 3 sizes

Version reviewed: 0.5L
Convenient filling capabilities, reliable no-leak system.
Pros
Non-leaking
Easy refill of stove
Use with alcohol or white gas
Won't corrode when filled with denatured alcohol
Cons
A little heavy depending on choice bottle size
**This review is for the 0.5L size
I use a Trangia burner quite often on day trips and car camping, and was using plastic bottles bought from an outdoor shop for the denatured alcohol fuel. Guess what? They ALWAYS leaked, especially when traveling to altitude. I saw the Trangia fuel bottle on a YouTube video and gave it a try. Voila! No more leaks!
Weighs 4.06 oz. for the 0.5L size.
Made of sturdy plastic (not sure of composition, but it's rigid and failry thick-walled).
Safety valve prevents leaks and allows for somewhat precision filling of stove.
It is not the lightest piece of equipment, but I rarely take the Trangia on backpacking trips because of weight (my alternate choice: Snow Peak LiteMax + small can of fuel). The bottle is sturdy plastic and has a wonderful safety cap on it. When you release the top, you can pour acurately from the nozzle delivery system (NOTE: practice with water in it first unless you want to do what I did and spill alcohol all over a counter top because I did not read the directions carefully before use!).
I think this is a solid design and it is way more reliable than any sort of soft plastic squirt bottle for use with fuel. Sooner or later there will be leaks. For those that are not weight-conscious and don't mind paying for a quality bottle such as this, pick one up and give it a try! I bought mine on Amazon, but there are less expensive options (as I found out later).
Source: bought it new
Price Paid: $22.31

This is a nice piece of gear to have if you use ANY type of liquid fuel and it will not corrode or deteriorate even the O-ring seal on the cap.
The safety valve is particularly nice for no spills of over filling or over poring. There is no need to use a funnel for filling because of the design. YouTube has a video of the operation of the safety valve if you are interested.
The bottle is made of a durable plastic so it's very light and durable. There is a metal collar around the top where the safety valve screws down into the bottle so it wont split if you get a little carried away when tightening the cap.
Bottom line is it's a nice bottle that's worth the money.
Price Paid: $15

A wonderful product! It holds traditional white gas or, my favorite, alcohol. Many other bottle seals fall apart with alcohol, but my bottle has worked perfectly for over almost a year of constant use.
The bottle easily fills stoves and appliances and has never leaked for me. The safety valve is a nice peace of mind, though I have never put it to the test.
Price Paid: $16

Your Review
Where to Buy
Help support this site by making your next gear purchase through one of the links above. Click a link, buy what you need, and the seller will contribute a portion of the purchase price to support Trailspace's independent gear reviews.
You May Like
Specs
Price
Current Retail: $21.39-$27.99
Historic Range: $13.40-$30.99
Reviewers Paid: $15.00-$22.31

Sizes
.3L, .5L, 1L

Recently on Trailspace