Warmlite Triple Bag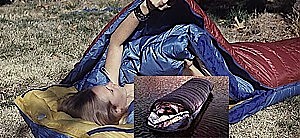 Stephenson's Warmlite Triple bag is a top notch camping and backpacking sleep "system." While an old design, it is still unique in the market, has a wonderfully comfortable mattress, and covers an extremely wide temperature range due to the dual tops design, for a price that is very attractive if you consider the alternatives.
Pros
High end 850+ down
Dual tops
Wide temperature range -60°F to +50°F (maybe +60°F)
Super comfy built-in mattress
Lightweight system overall
Available in four standard and any custom size or color
American made!!!
Bargain compared to competition
Cons
Somewhat finicky mattress valve
Takes effort and practice to inflate mattress
After many years, it was time to upgrade to a new sleeping bag and pad. One of my sons decided to "confiscate" my old cold weather sleeping bag and cold weather pad, so I took the opportunity to research and buy a new system. After 20 years, the old one was well loved anyway. I had a few prerequisites, which were as follows:
Not mummy shape, but more of a square taper or modified taper shape. I'd grown to not like the restrictions of a tight mummy bag over the years and have really never found them comfortable.

Down insulation, preferably 800+ loft.  Nothing insulates like down and 800+ loft keeps the weight low.

Good to zero degrees Fahrenheit COMFORT, not absolute rating. So that's probably a -15°F or so bag.

Sleeping pad needs to be down insulated or some other well insulated material.
Other than those few points, I was open to about anything. I preferred North American made and that did influence my decision, but it wasn't the main deciding factor.
In the end, I decided upon an "old school" sleeping bag, but one known to be a very unique sleeping bag "system"—the Stephenson's Warmlite Triple bag. This design has been around since the 1950s. Is it perfect? No, but it is the most flexible sleeping system for backpacking and camping bar none.
Before going on, I want to dispel the misinformation out there that the Stephenson bags are bulky and heavy. This is simply NOT TRUE. I'll come back to the details on this later.
The Warmlite triple bag has several very important unique features not available in any other sleeping bag system. The Stephenson website doesn't explain it very well and you have to see one to really "get it". In Stephenson's defense, it is so unique, it is difficult to explain.
Tops of bag completely zip off. It comes with two different thickness tops; thin and a thick top. Many campers/backpackers will never use the thick top, as the thin top is comfortable down to around 25°F; maybe 40°F if you sleep naked in your bag, which few do. 
The good news is you do NOT have to buy the thick top if you do not think you'll need it, hence you'll save around $250 if you don't purchase the thick top. It can be purchased separately later.
Bag with thick top zipped on; thin top lying beside it.  Top of bag in photo is drawn up with cord for making the hood for cold weather.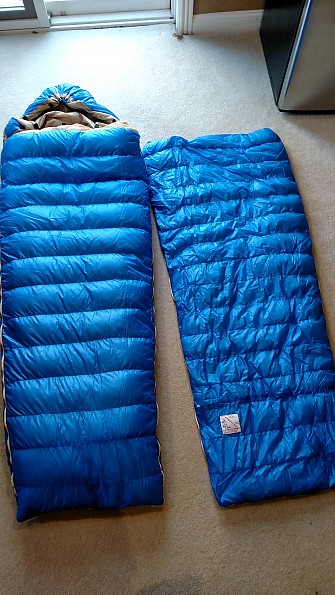 For comparison - Typical mummy bag next to the Warmlite Triple bag.  A lot more room in the Warmlite.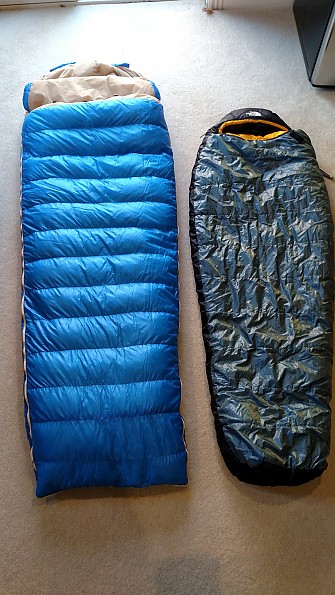 The bag uses double rows of zippers. There are actually two rows of zippers on both sides of the bag with a third double row at the foot. So you can unzip from either side or both sides. You can zip two bags together using whichever side you wish to zip to the other (Nice for couples that want to snuggle up).
You can leave the bottom completely unzipped if you wish, as the bottom zippers are independent. For REALLY cold camping, you can use both tops simultaneously, which puts the bag rating down in the ridiculous sub -60°F degree.  (I'll personally not be camping at -60°F anytime soon!)
A nearly 4" thick down filled sleeping pad (called the down-filled air mattress, or D.A.M.)—it is an INTEGRAL part of the sleep system, yet separable item. Since the insulation you sleep on top of on a normal bag is completely worthless and provides little insulation due to being compressed, Stephenson figured out years ago that you overcome this by simply not putting insulation in the bottom of your bag, but rather you put it in the sleeping pad and make the pad the bottom of the bag.
Below is a photo of it compared to a Thermarest NeoAir Xtherm.  The Stephenson is the orange one.  The photo doesn't do the extra size of the Stephenson mattress justice.  It is 26" wide at the shoulder where the Xtherm is just 20" wide, which is considered a "Standard" width today.  I'm not a big guy, and my shoulders hang off a 20" wide mattress.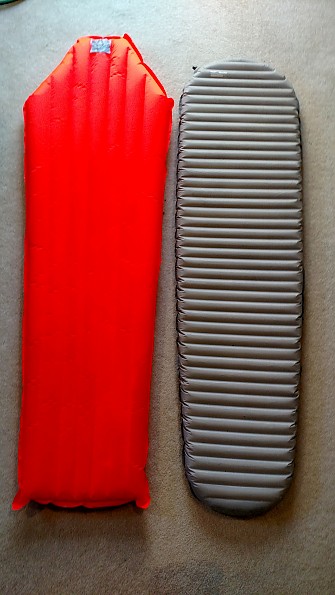 The thickness of the Stephenson mattress is quite evident here.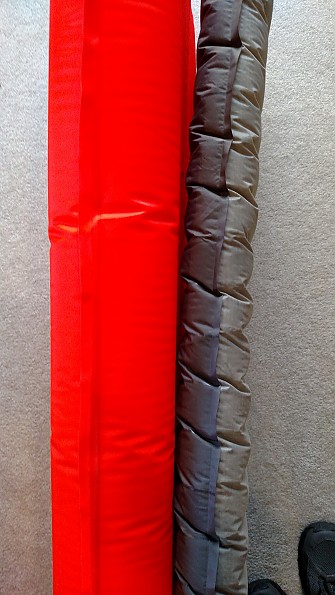 Here is the bag's bottom section only with no top with the DAM inserted into it.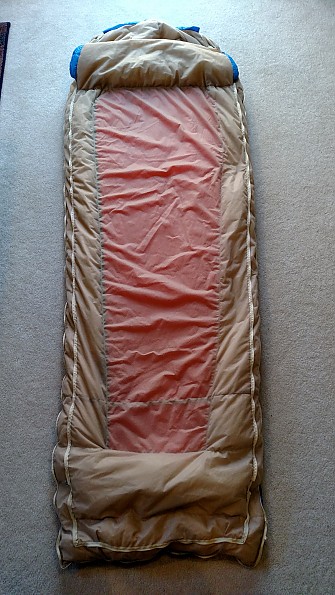 Note you must use the Stephenson D.A.M. with their bag, as no other mattress is compatible with it. Because of the square taper design and integral sleeping pad, you don't turn over with the bag but rather turn over inside the bag. This makes it closer to how you sleep on your bed at home and is one reason I call it a sleeping system rather than a sleeping bag. (I LOVE that feature as I sleep better this way. No more waking up all twisted up with the bag's zipper nearly unreachable.)
Top of bag can lay completely flat and open or be pulled with a drawstring and attached to the thick top to make a hood leaving only your nose exposed. Built-in vapor barrier inside the bag. (More in this later, as this is somewhat controversial and probably the feature that most keeps them from selling more of them.)
Available in 4 standard girths/lengths or can be ordered in custom dimensions. Available in a multitude of colors, although there are only 3-4 stocked colors.
Pros
Dual tops allowing greater temperature range for comfort. Allows leaving a top at home to save weight for weekend/week long trips where temps are predictable.
Integral mattress making it more "bed like". Super comfortable and thick mattress. You can leave it somewhat soft and still not hit the ground and remain insulated because if its down fill. Most comfortable I've slept on, ever. Mattress material is really nice, supple and thick.  It is not going to be prone to getting a hole poked into it. It is also in international orange.
Multiple zipper configurations with tops. Helps to regulate temperature and choose which side opens, as well as zipping to another Warmlite bag.
Flat or mummy top adjustability using drawstring and velcro. Multiple girths/lengths and custom sizes – Buy as big a bag or as small of a bag as you want.
High end 850+ down fill. The R-value never deteriorates in a Warmlite bag. You never roll on your down bag's insulation due to the integral down filled mattress, so you never tear the down and end up with worthless down strings in your bag. Other bags you are always rolling on the down and eventually, you destroy the bag's down.  The vapor barrier protects the down from perspiration damage.
Only sold directly from Stephenson, so this saves you money by not having to pay a middleman retailer.
Cons
Somewhat finicky mattress valve that is temperature sensitive. You have to be very careful on how you put the plug in the mattress's valve, else it will leak down and you will find yourself on the ground in the middle of the night. It's happened to me on a couple of occasions when I was careless.
This is especially true when the weather is cold when you need it most. It is often necessary to warm the valve and plug a bit with your body heat in cold weather after inflating to insure that the plug conforms with the valve's opening completely.
Valve Open in DAM looking at top of check valve flap
Also, deflating the mattress is a bit clumsy in that you have to keep your finger in the check valve or stick and object in the check valve to let the air out for compressing the D.A.M.  I've gotten used to it, but it is strange nonetheless. I would really like to see them replace their valve design with a more modern design, like the Sea-to-Summit design, which is my personal favorite valve design. The persnickety inflation valve is the greatest issue I have with the Warmlite product, but it is not something that keeps me from using it.
Check valve opened with finger.  You can just see the opening.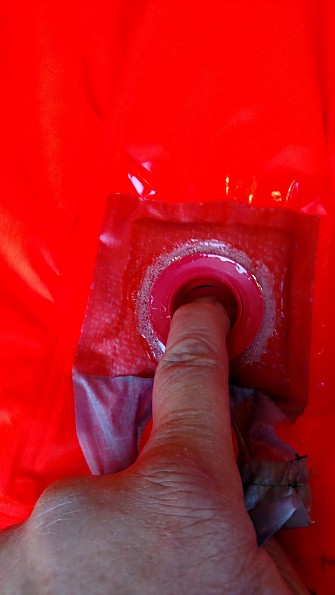 Due to the thickness and width of the mattress, it holds a lot of air volume so inflation time can be lengthy. While the system comes with an inflation/stuff sack, it takes a long time to fill with the sack which I partially attribute to the old valve design, as it creates a lot of back pressure when filling.
It takes some practice to figure out how best to inflate the mattress with the stuff sack, as you have to lift gently and be careful to not press down on the valve while using it. While the instructions say it can be accomplished in 8 sacks of air, I have found it takes me a dozen or more sack fulls and more than 15 minutes to inflate, which is painfully long. 
I've heard this same complaint from others, but granted one would probably become better at it over time.  I've discussed the problem with Stephenson and they did spend time with me to help develop my technique that is at least reasonable, but a mattress should not be complicated to learn to fill with air.
My final solution was to use the 2.5 oz. Camp-Tek Microburst battery powered inflator, which comes recommended by Stephenson. (Another $40.  At 2.5 oz. with batteries, it's light enough to take backpacking and it fits in the palm of your hand. As a plus, it works with almost all makes of air mattresses, including Exped.)  I carry the sack as a backup inflation method.
Here is the Microburst inflator with Stephenson adapter.  The adapter not only makes it fit the hole, but has a small "ramp" on it that holds the check valve open during inflation.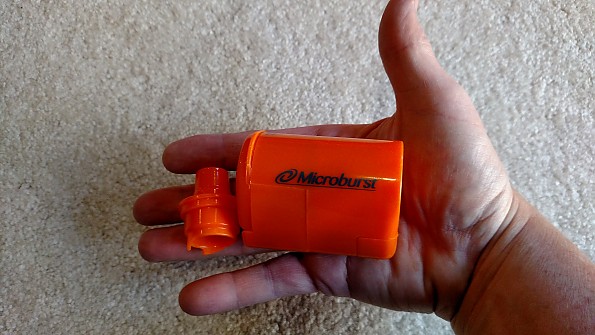 Because the D.A.M. is down filled, it must be stored inflated, which means you have to have a place to store it. This is no different than any other high end down filled air mattress. Under your bed is a convenient place.
Again, only sold directly from Stephenson and while this saves you money, you can't go to your local outfitter and touch and feel the bag before buying. Unless you know someone that has one, you are buying sight unseen.
Controversial
Integral vapor barrier – Use of vapor barriers is a must as the temperature starts to plummet, but vapor barrier use is a tricky thing that requires experience to learn to regulate properly. A vapor barrier keeps your perspiration out of the bag's insulation so it keeps its loft and R-value. (Study that subject on your own.) 
However, when it is not quite warm outside, but yet not quite really cold either, the feel of being in a vapor barrier is a lot like being in a steam room. It has a balmy sticky feel due to your perspiration trapped next to your body. You get used to it, but it's not pleasant the first time you experience it. 
Where this "balmy point" occurs is very dependent upon the individual, but above 40°F, most people will be aware of it. Wearing a polyester base layer helps minimize that feel, although there is already a layer of soft material inside the Warmlite that helps. You can manage your perspiration build-up through opening of zippers and burping the bag from time to time as you move in the night.  
The upshot to the vapor barrier built into the bag is that your bag never gets any perspiration into the down, so it doesn't ever degrade and lose loft or R-value. I'd like to see the vapor barrier be optional with the thin top or as a separate piece, but that is just me. Getting rid of the vapor barrier with the thin top would extend its upper range to 60F as claimed by Stephenson. 
As it is, I find that I don't use my Warmlite bag when the temperatures are above 45°F-50°F at night, dependent upon relative humidity. I use a lighter weight un-insulated air mattress and a 1 lb down bag used as a comforter for those situations, as this is a much lighter, smaller and more comfortable solution at those warmer temperatures.
Misunderstood and incorrectly explained points from various other reviews.
I've heard it said by several reviewing the Warmlite bag online that the Warmlite is "heavy and bulky" for backpacking. If you don't sleep on an air mattress when camping, OK, you are right, but you'd be the minority.  If you sleep on an insulated air mattress, consider the following comparison, using a standard 64" girth Warmlite bag as the example.
Warmlight Weights in 64" girth
D.A.M. mattress 23 OZ (1 lb, 7 oz) and keep in mind it's got a crazy high R value, better than the best Exped backpacking mattresses. No mattress, weight with thin top only for 25+ F outside COMFORT rating – 50 oz (3 lb, 2 oz)No mattress, weight with thick top only, for -10+ F perhaps lower COMFORT rating – 62 oz (3 lb, 12 OZ)With D.A.M. mattress; with thin top for 25F, it's got a total weight of 4 lb, 9 oz.; with thick top for -10F, it's got a total weight of 5lb, 3 oz.
Comparing another two top shelf products to get similar ratings; using Western Mountaineering bags keeping to just square taper (not mummy to be fair) and Exped mattresses.
For mattress comparison, although this is more difficult, Exped DownMat Winterlite in medium wide – 21.7oz (1lb, 6oz) 1 oz lighter than Warmlite, but it is not as thick and not rated as low in temperature. For thin top comparison WM Ponderosa MF in 6'6" (15F absolute, around 25F comfort) – 2lb, 11oz (7 oz lighter than Warmlite, but no vapor barrier). For thick top comparison WM Bristlecone MF in 6'6" (-10F absolute, about 0F comfort) – 4lb, 3oz (7 oz heavier than Warmlite). So for the two WM bags with Exped mattress, the weights are; for +25F - 4lb, 1oz and for -10F – 5lb 10oz.
So as you can see, the weights of comparable systems for similar temps are similar. But do keep in mind that the WM system is without a vapor barrier. WM does offer a vapor barrier that weighs 4.5 oz. for $100.
The total weight of the Warmlite bags with both tops and D.A.M. mattress is 5lb, 11oz.  But this is a -60°F comfort rating and there are so few people that need such bags, it isn't worth discussing. Suffice it to say, that's a VERY reasonable weight for that cold a temperature rating. I'm not about to camp when it's that cold.
As for packable size, the best way to pack the system is to remove the D.A.M. from the bag and roll and pack it separately, just like you would do with any sleeping pad. The sleeping bag will then fit nicely in the large size (20L) eVent compression dry sack from Sea-to-Summit. It will fit into this stuff sack with either or both tops, although if you put both tops in, it's easier to take one of the tops off and put it in after the other top and bag bottom. This compresses all down to a 9" diameter and about a 14" long package with both tops with reasonable compression; about 12" long with just the thick top and about 10" long with just the thin top.
Bag with thin top in eVent compression sack
Bag with BOTH tops in eVent compression sack.  Still, it compresses down easily and is not very big at all.
This is no bigger than any other bag out there in the comparable temperature ratings. The D.A.M. itself will fit into a Sea-to-Summit XS 4 liter Ultra-Sil stuff sack, although I use the slightly larger small 6.5L size, as it has enough slop to fit the inflation bag, Microburst inflator with adapter and patch kit and still have a sloppy loose fit. If you try to pack the sleeping bag system with the DAM still inside it, then yes, it's going to be bulky and I don't recommend doing this.
DAM compared to Thermarest Xthem rolled up and ready for stuff sack.  While the Xtherm has a good R-value, keep in mind the DAM has a MUCH higher R-Value for not a lot more space.
The Xtherm is about 9" long in the photo and the DAM is about 11" long.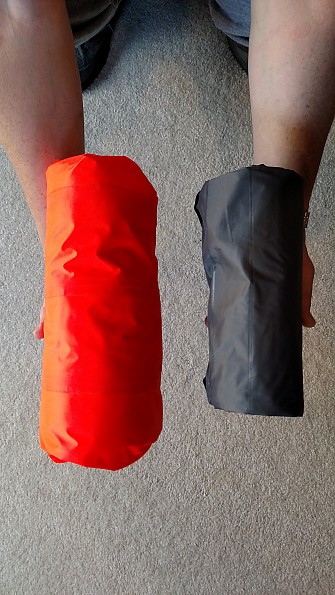 Both mattresses in their stuff sacks.  The DAM is in the blue sack with its large inflation bag and the Microburst inflator.  It fits quite loosely.
Finally, what about price? When you first look at the Warmlite in 64" girth (a popular size), you will put the Warmlite in the high price range in your mind with its $710 price tag. But consider it is the 850+ loft bag AND mattress, both insulated, capable of a VERY low temperature -60°F yet flexible enough to handle warmer temperatures to +50F and suddenly, you've got a bargain. (Stephenson says -60 to +60)  If you are a backpacker, you will have to buy a compression bag which is about $43 for the eVent bag I mentioned. Then if you want the powered inflator, (which you will) that's another $40.  Also, a small stuff sack for the mattress, which is another $13 in the high end ultra-sil material. And the final optional item will be a couple of large cloth laundry bags for storage, as Stephenson provides no storage bags.  The cost of these on Amazon is $7 each, for a total of $14.
So all told with extras that I added, that's $820, plus some shipping that I didn't include. So that makes for a bag that can cover temperature ranges from -60F to 50F in a COMFORT range.  To do that temperature range in other brands is going to require two different sleeping bags and a mattress, which is going to be WAY more money than the Warmlite system. Doing just a quick add up of the price of the two Western Mountaineering bags and the Exped mattress previously mentioned to do the same thing, I end up at $1,744.
Bottom line, it is less than half the price to cover that temperature range with a single Warmlite sleeping bag system than two high quality bags and mattress to cover the same temperature range.
One other thing to consider as a plus, although it's something we often overlook is noise. Many mattress/sleeping bag combinations are very noisy to sleep on. The only noise that the Warmlite makes is a slight crinkle from the vapor barrier, but this is a soft sound, not the loud scrunch of a sleeping bag on some mattresses.
Conclusion
The Stephenson Warmlite Triple bag is a top notch camping and backpacking sleep "system".  While an old design, it is still unique in the market, has a wonderfully comfortable mattress, and covers an extremely wide temperature range due to the dual tops design for a price that is very attractive if you consider the alternatives. Weight and compressibility of the bag and mattress are certainly comparable to anything else on the market today in this class.
Some may not like the built-in vapor barrier as it can make you feel sweaty and balmy, but it protects the bag from perspiration damage and loft loss. The mattress air valve is a bit clunky, but workable. Requires an extra compression bag from a third party for backpacking. Recommend using battery power pump for inflation, but the included "stuff sack" can be used. 
And let's not forget, made in America by Americans that are some really nice folks. There isn't much out there that can compare that I have found, if you can learn to deal with the vapor barrier.
Source: bought it new

Version reviewed: 76"
This is not just a sleeping bag. It is a complete, all-conditions sleep system.
Having looked and looked for a huge down bag to keep me warm and let me sleep on my side, roll around, etc., I finally gave in and ordered the custom-made 76" girth from Stephenson's. I had tested bags up to 66", the next largest from any decent manufacturer (i.e., Western Mountaineering). Still too tight for my liking.
The Stephenson's bag is amazing. Absolutely huge, I can snuggle down into it, and turn completely around inside. Fit and finish seem excellent, and with two tops and the DAM, the bag is capable of serving for all seasons, in the most extreme conditions. The vapor barrier liner assures that the down never gets damaged by sweat, and as a heavy perspirer, that is a good thing for me.
In the summer, I almost completely detach the thin top and use it as a blanket. The zippers, while very small, glide easily and never snag. The only down-side is that when you go to put a top onto the bottom, getting the zippers started can be difficult.
The DAM is super-thick, at least 4", and the most comfortable pad I have ever used. Because of its massive size, it does take awhile to inflate using the stuff sack as a bellows. However, the plug that connects the sack to the pad snaps in place pretty firmly, and stays connected while inflating. The company does not give a fixed rating for the down fill; rather, they buy the very best available. It is 820-890. Having owned many down bags, I can attest that the Stephenson's is filed with the best, lightest down.
I have not weighed the bag, in part because I don't want to know how much I am hauling around. However, I do know that this is the lightest a bag of this size could be; plus, you only need to carry the layers you need. There is no insulation on the bottom of the bag; the DAM slips into its own zippered pocket. No rolling off your pad at night! Plus, one purchase gives you a bag for all seasons, and a super-comfy DAM pad for all seasons. Considering that I would have had to buy three top-quality bags and a DAM to get the flexibility of the Stephenson's, the price is not out of line.
Design: semi-rectangular
Fill: highest quality down 820-890
Temperature Rating: 60 to -60 f.
Price Paid: $810

We go backpacking for three week stretches every summer. I remember when my parents bought their custom made zip together bags, and slipping in the bag from time to time WAS PURE BLISS.

I have now inherited their 30-year-old bags and me and my wife ABSOLUTELY LOVE THEM.

Vapor barrier technology was something new in the '70s and I never liked the clammy feeling of VPB shirts, but in the sleeping bag it is great.
Pros
ABSOLUTELY the best built bag
Roomy comfortable
The down filled mattress
This is the best sleeping bag EVER built. I have had Marmot, Sierra Designs and (when I was a poor college student) Slumberjack—none of these hold a candle to Stephenson's sleeping bags.
We go back country for three weeks every summer and my parents bought these custom made zip together bags for $1,000 way back in the '70s.  I used to sneak into them from time to time to EXPERIENCE PURE BLISS. Now my wife and I use them. We are both heavy and they are very roomy and we never have sore hips from sleeping on our sides.
Source: inherited from my parents

This is by far the best bag made anywhere. I have used this bag in temperatures down to -4 F. and was still so warm that I only zipped it up half way while totally naked in the bag. I can't imagine how cold a temperature this can keep down to, amazing.
Also, it is so roomy with a nice square toe and not the typical mummy toe, that you are very comfortable and after a day of hard hiking, the feet aren't cramped.
The down filled air mattress allows one to sleep on the most lumby ground, I once slept over a moss covered river bed, with total comfort.
The only disadvantage is the long length of time required to fill the mattress. If you are tired at the end of a long day and have to spend an hour inflating it is almost prohibitive. I have found it easier to carry an extra pound of weight and get a foot pump. I made a 2 hose adapter from clear pvc house I got at Home Depot for the pump and can now inflate it in about 1-2 minutes. It is worth the one pound of weight and the small amount of room out of the pack.
Finally the weight of the bag with the pump is still far less than the -30 F. bag I had from Slumberjack. It is still over a pound lighter.
Price Paid: $680

Your Review
Where to Buy
Help support this site by making your next gear purchase through one of the links above. Click a link, buy what you need, and the seller will contribute a portion of the purchase price to support Trailspace's independent gear reviews.
You May Like
Specs
(no Gender)
Price
Reviewers Paid: $810.00

Unisex
Price
Reviewers Paid: $680.00