Western Mountaineering Bison GWS

#4 in unisex Cold Weather Down Sleeping Bags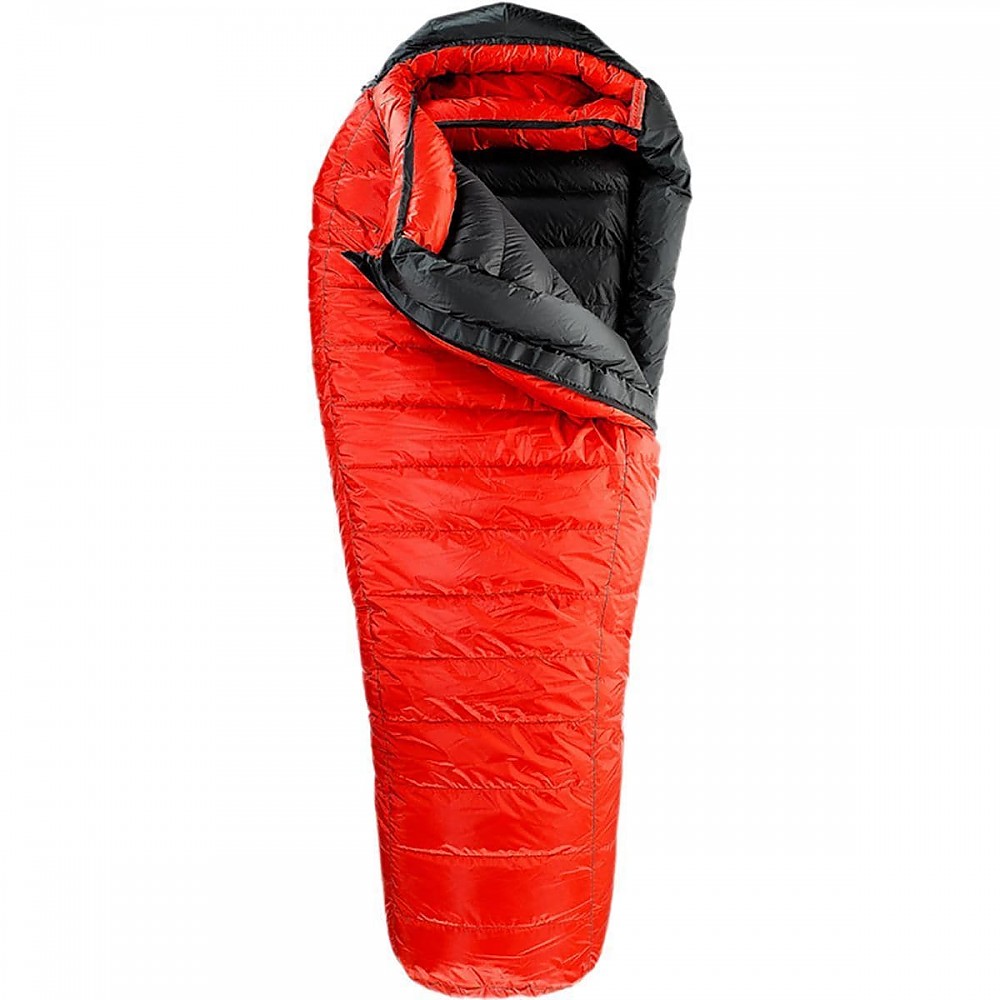 There's nothing wrong with a little overkill when you're serious about survival.
Pros
Quality construction
Lofty and super warm
I really like the red color!
Made in U.S.A.
Cons
Fills a lot of volume in a pack.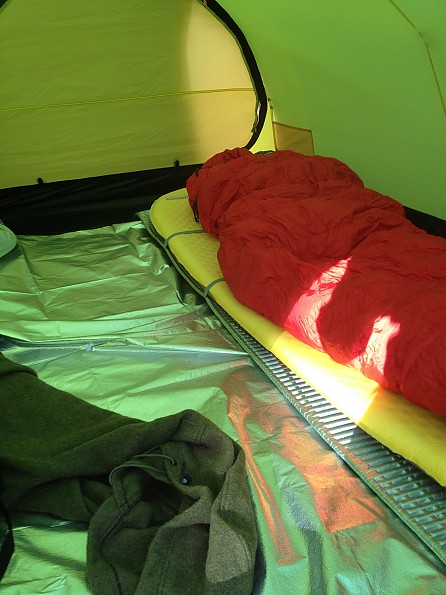 I bought this bag two years ago for dead-of-winter camping in the mountains of East Tennessee and Western North Carolina. I wanted an overkill bag and decided to go all the way. The coldest temps I'm likely to see are maybe -10° on Stratton Bald. The coldest I have actually experienced was around 0° and this bundle of joy handled that with aplomb.
I'm 5'9" and bought the regular 6 ft bag.  The zipper is well conceived, no issues there.  Easy in, easy out.
Depending on my mood and the trip, I switch back and forth between sleeping in a Hilleberg Keron 3 tent and my preferred and most often choice of a hammock. I appreciate the Gore Windstopper of this bag especially when hanging on a spine ridgetop in a cold north wind.
I have a son who has plans to move to Alaska to work as a bush pilot. I'm thinking I may give him this bag as part of a serious survival kit if he were to find himself in a tough spot. It could literally save his life. If he takes this bag I will most likely replace it with the Western Mountaineering Puma GWS rated at -25° which is still plenty for me.
The one and only drawback to the Bison is that even in a compression sack it just barely fits in my Mystery Ranch NICE 6500 sleeping bag compartment. The loft of this bad boy is incredible and it takes some work to get it packed up. In my mind it's not worth taking away one star because of packability. I knew going in that if you want maximum loft, maximum down, and maximum warmth...it's going to take up some room in the pack. 
If I give this bag to my son, I know I may regret it. I love the red color of the Bison. I'm not thrilled with the prospect of the blue Puma, even though I appreciate that it would be warm enough for me, yet somewhat easier to pack. 
Source: bought it new
Price Paid: I don't remember exact cost. Somewhere around $1000 from Moosejaw.

Incredible quality in materials and craftsmanship. Packs down very small and is very lightweight (under 5 lbs) for its temp rating of -40F. I have no doubt it will live up to its reputation when put to the test.
Pros
Lightweight
Excellent materials and craftsmanship
A WIDE mummy bag
Made in the USA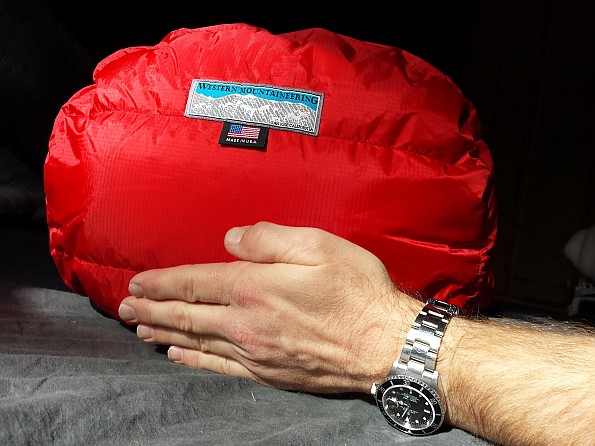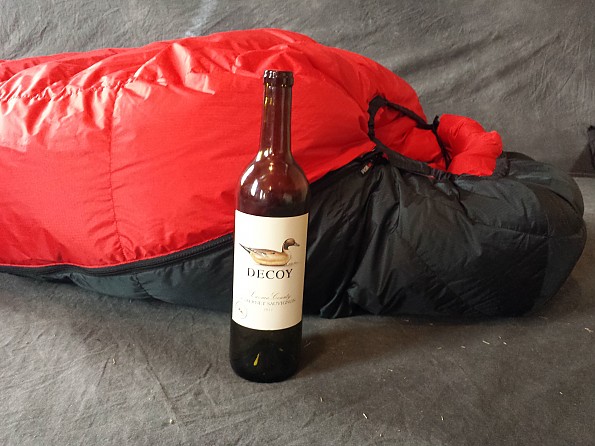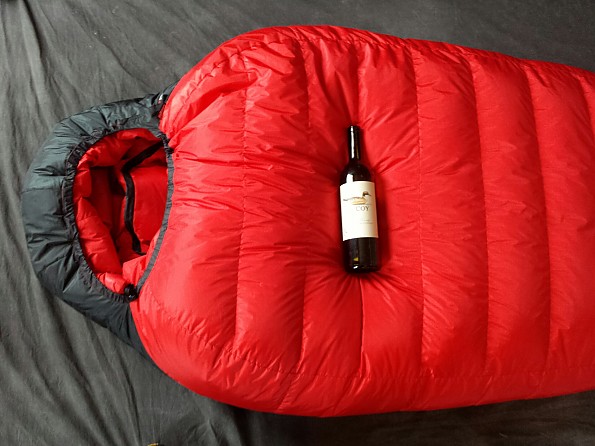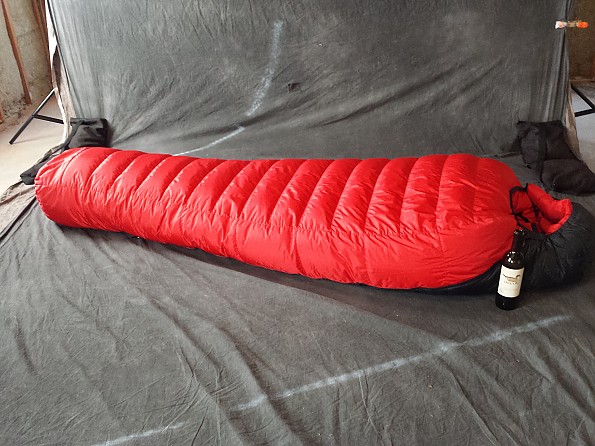 ***FEB. 3, 2015 UPDATE after field testing the Western Mountaineering Bison GWS******
So last night the temps got down to 23F here in Atlanta, so I set up my tent in the back yard and slept in the WM Bison GWS. WOW!!!  AWESOME BAG!!!!
I have added a few photos to show the loft of the bag using a wine bottle for scale and using my hand for scale at the end of the foot box. 
Anyway, the bag was super comfy as I expected, and I was able to sleep on my right and left sides and the bag did not turn with me which is what I wanted. Of course it was very warm, but not uncomfortably so. I left it unzipped (but still inside the bag) for most of the night , and I was toasty warm.  The hood is pretty large, so I was able to put my (smallish Sea to Summit) inflatable pillow in and it fit great.  
The Gore Windstopper shell seemed to breathe well, as I never felt like I was getting clammy skin or starting to sweat. In addition, I am very glad I got the GWS shell on this bag.  I'm not sure if the Bison is even available with the MF shell, but I DO like the fact the GWS shell seems more substantial and I believe it will be more durable in the long run over the life of this bag.
I had no cold spots at all and the warmth seemed very evenly distributed. Yes, there is some dead air space when I'm all zipped up inside, but I'm good with it, as I am a very warm sleeper and don't think it will be an issue for me.
I was a little concerned at first when I purchased this bag sight unseen, that the 10 inches of loft might be a little too much to be manageable even in my VE25 tent, but it was fine!!! I have not put the bag into its stuff sack yet, BUT the stuff sack is not that much larger than the one I have for my cheap 40F Kelty summer bag. So...no complaints at all on that note.
The design of the bag is very well thought out and one thing I happened to notice last night is the placement of the zipper. If you look at the second photo (the wine bottle standing on floor next to the hood) you can see how the zipper starts at the hood near where my jaw would be and then quickly slopes downward over my shoulder, and eventually winds up going most of the length of the bag just UNDERNEATH the edge of the bag, NOT along the side. A great design to keep the cold out. Of course, inside the bag, there is also a huge draft tube that covers the zipper internally, and I love that redundant design feature!!
This bag did come with the overfill option, so combined with Western Mountaineering's reputation of consistently giving all of their bags very conservative temp ratings, I'm more than confident in their -40F claim on this bag. 
I am now overall, even more confident in my purchase of this bag. I slept more comfortably last night in the Bison GWS  than in any other bag I have ever owned. I look forward to using this bag for many years and in conditions, much colder conditions than my 23F test run!! 
As many other reviewers have said about the WM Bison, the only downside, is it's very difficult to give up the comfort and warmth of this "cocoon" to take the 3am pee break :).
****END of UPDATE******  thanks for reading.

After reading hundreds of reviews and comparing specs, Western Mountaineering was the bag I kept coming back to over and over. Feathered Friends was a close contender, but a max 64" shoulder girth even in their long bags was ultimately the deal breaker for me. FF is actually slightly less expensive than WM.......BUT, I want a bag that not only keeps me warm, but that is comfortable (read:WIDE shoulder girth) for my 6'3", 250 lb body.
So I initially considered the WM Bristlecone with a nice 69" shoulder girth, but I wanted something rated a little colder, and honestly, I didn't care for the dark green as the only color option. That may sound petty, but if I'm spending $800 to $1000 on a bag, I want it exactly right in every way....no compromises at all, not even on the color.  
So, I found the PERFECT bag! It's the XXL WM Bison with the Gore Windstopper shell in bright red, BUT it's a special Xtra wide and Xtra long bag! The shoulder girth is 68" and man what a difference that makes in comfort! I'm a big guy and I like sleeping on my side. This is the first mummy bag I have ever been able to zip all the way up and not feel claustrophobic! Finally!!!
The hood is super lofty as is the entire bag. About 10 inches of loft. For its -40F rating, it packs down very small and is very light at less than 5 lbs. The anti-snag strip beside the zipper is a great feature.
This Xwide, Xlong bag is not even listed on the WM website, and apparently they make it exclusively for just one store in the entire US. The store is called The Mountaineer and it's located in upstate N.Y. near Lake Placid. It's a mom and pop business with EXCELLENT customer service. I too, am a small business owner and was happy to support these people and so glad I found them! I am not allowed to include their website address here in this review, but you can search the web and will find them quickly.
Expensive? Yes. Worth it? You bet! You get what you pay for.
I'm a big guy. I don't wear skinny jeans or any clothing marked "slim fit". Finally, a perfect down mummy bag for us big guys!!!!!
Source: bought it new
Price Paid: $1065

I got this bag at the end of Feb. 2011. I ordered it with overfill. I can't believe the loft it has, easily a full 12" all the way from head to toe. I will be using this bag in Gunnison, CO. mostly.
The craftsmanship on this bag is meticulous! The draft tube has stiffener tape to keep the zipper from getting stuck. The side block v baffles and the overfill don't let the down move, at all. The hood adjusts very tightly around the face area.
I got the 6'6" long version and I am about 5'10" 240 lbs. The fit is pretty good. I was a little worried about the Gore Windstopper material being water resistant, but it is all but totally waterproof, besides the only water the bag will incounter in below zero degree weather is tent condensation.
I'm looking forward to many years of use from this bag. By the way this bag gets hot fast! I would highly recommend this sleeping bag for anyone that is adventuring out in the extreme cold! Great stuff!!!
Price Paid: $865

Your Review
Where to Buy
Help support this site by making your next gear purchase through one of the links above. Click a link, buy what you need, and the seller will contribute a portion of the purchase price to support Trailspace's independent gear reviews.
You May Like
Specs
regular
long
Price
Historic Range: $664.97-$1,360.00
Reviewers Paid: $865.00-$1,065.00

Weight
4 lb 10 oz / 2095 g
4 lb 13 oz / 2180 g
Fill weight
2 lb 10 oz / 1200 g
2 lb 13 oz / 1275 g
Loft
10 in / 25.5 cm
10 in / 25.5 cm
Temperature rating
-40 F / -40 C
-40 F / -40 C
Fill
850 fill-power down
850 fill-power down
Shape
Mummy
Mummy
Max user height
6 ft 0 in / 180 cm
6 ft 6 in / 200 cm
Shoulder girth
64 in / 163 cm
64 in / 163 cm
Hip girth
55 in / 140 cm
55 in / 140 cm
Foot girth
39 in / 99 cm
39 in / 99 cm
Recently on Trailspace