Wilderness Logics Summer Series Under Quilt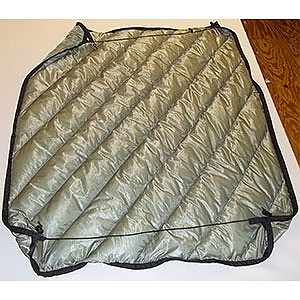 OUTSTANDING, sums up my thoughts about this quilt from Wilderness Logics. The Summer Series Under Quilt is really an outstanding value. And it is quite the versatile quilt as well. The SSUQ packs small and weighs less that a pound.

If you own a hammock and camp in temps above 40° I really don't think you can go wrong with this sweet under quilt, I recommend it enthusiastically to anyone who hikes with their hammock and anyone who naps in their back yard as well.
First off I have to say I did not purchase this quilt. I won it in a raffle when I first started hammocking. What can I say, I've been very fortunate when it comes to raffles conducted by the Palmetto State Hangers. And if I had not won this quilt I would have bought the set Marty and his textile wizards at Wilderness Logics produces. I had had a couple of conversations with him about this very quilt set in the weeks leading up to the Fall Sprawl yearly hammock hang, which was my first hammock outing.
Who needs an Under Quilt (UQ)? I haven't slept in a hammock in the woods without some sort of bottom insulation, and to those of you unfamiliar with hammock camping, the thin fabric of the hammock provides zero insulating value and the flow of air beneath the hammock acts very effectively as a cooling agent. Think over passes and bridges freezing before the roads and that's all you need to know!
An Under Cover (UC) or an Under Quilt Protector (UQP), is essentially a non-weight bearing hammock that hangs somewhat loosely and slightly below the hammock. The UC or UQP creates a loose seal around the perimeter of the hammock effectively creating a wind block and allows the body heat of the hanger to be somewhat retained in that small air pocket. But since there is no insulation present the degree of warmth added is minimal. Some report as much as a 15° boost to the UQ's rating and others have stuffed leaves, clothes plastic bags or even slightly inflated garbage bags for insulation, those were called Garlington insulators after the inventor.
I have used a coated tarp as an UQP comfortably to about 60° with minor breezes. But depending on the individual and humidity, a non-breathable UC or UQP can lead to a build up of warmth robbing moisture. Sleeping bags, better left to the more gymnastically inclined hangers, also offer limited insulation to the hammock hanger as the insulation is compressed to the point it offers little insulation value.
So who needs or who can benefit from an UQ? ANYONE that sleeps in a hammock! Yes, you can use pads, but those are also better left to the gymnast mentioned earlier.
So now that we now who need and UQ and why let's discuss when one might find the SSUQ a potential solution to their hammock insulation requirements. As I stated before, I always use some form of insulation, and since I really have no desire to sleep outside in 80° weather the SSUQ is in my pack if the forecast is between 75° and 35°.
Yes, that's right, I did say I use this UQ down to 35°. In cooler weather I always pack a space blanket of some size. I've personally slept pretty comfortably down to 24° with the SSUQ with a space blanket placed between the SSUQ and the hammock body using an 15° REI sleeping bag.
Would I recommend anyone head out on the ATi n December equipped solely with a SSUQ and a space blanket? Surely NOT! But I also believe in knowing how to stay warm in unexpected situations. And that night at 24° did not include the use of a hot water bottle. BTW, that night was in my back yard so a safe bail out was only about 30 feet from my hammock.
The SSUQ is a 2/3's UQ, meaning that it covers 2/3's of the hangers body. The SSUQ measures 34" wide and 46" in length. In cooler weather I place a sit pad in the bottom of my Top Quilt (TQ) to keep my feet and calves warm. I use a sit pad from Dutchware that weighs just over 1/2 an ounce and measures 15" x 11"x .19" and also use an REI inflatable sit pad when it's really cold that is slightly larger but weighs just over 4 ounces.
My SSUQ weighs 14.8 ounces with the stock stuff sack. I have rarely used it as I prefer to stuff the hammock, UQ, UQP (if used), TP, and bugnet into a dry bag which I place in the bottom of my pack.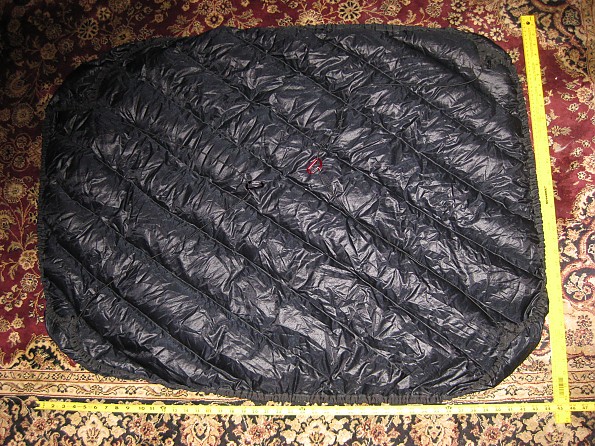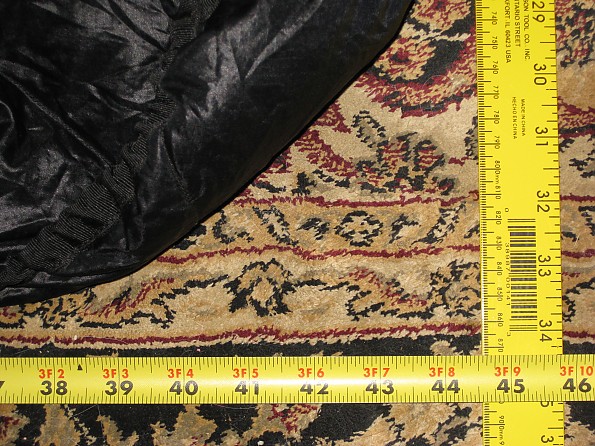 All the sides of the SSUQ are channeled with grosgrain to allow proper positioning and venting of the UQ. The long side channels allow the hanger to position the quilt vertically, I prefer to place the top of the quilt to the base of my neck as the pillow insulates my neck and head. The end channels allow the hanger to gently snug the ends to eliminate drafts from enter the quilt as stealing warmth in cool weather or to open the quilt to welcome cool air in to the quilt in warmer weather.
I always modify my quilts based on a recommendation by Sgt. Rock and Shug on Hammock Forums, in that I tie a sliding knot on a piece of shock cord that runs from each corner of the quilt to the quilt suspension lines that act as secondary tensioners in that they keep the quilt pulled lengthwise which prevents the quilt from bunching up on the suspension. When the quilt becomes bunched up air gaps are created minimizing the effectiveness of the quilt.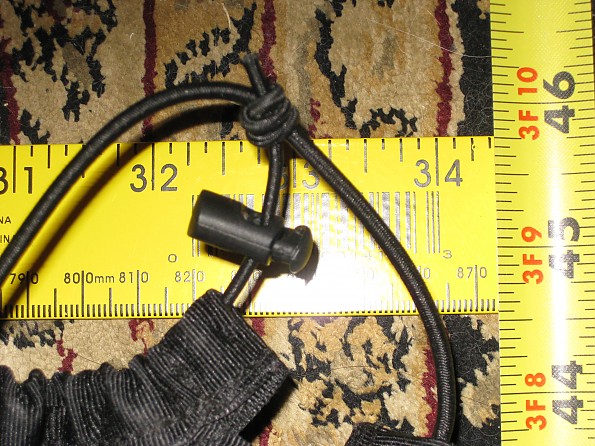 In the picture above you can see how I tied the ends of the end channel shock cord to the quilt suspension with a prussic knot which I can easily adjust from within the hammock with one hand holding the quilt suspension line and sliding the knot with the other until the desire tension is achieved.
I check the quilt's effective loft by reaching under the hammock and gently pressing the quilt to the hammock to make sure there are no overly tight or compressed areas which I would otherwise learn about in the wee hours of the morning waking to the annoying cold spot where no cold spots should exist.
Marty at Wilderness Logics is a great guy to talk to and every time I've spoken with him I left the conversation knowing two things. One, Marty genuinely intends to help his customers and is completely capable to do just that, and two, after every conversation with Marty I know more than when the conversation began.
While the down in my quilt is not treated with any water-resistant products I have never had an issue with water retention or loss of warmth during any outing. I do not know for sure, but if you wanted treated down I would guess Marty would be more than happy to custom make one for you.
The SSUQ packs easily into the stock stuff sack to about the size of a 1L Nalgene bottle or about 4"x11" using no compression aids or straps. Pictured below with a 16.9 ounce water bottle for reference.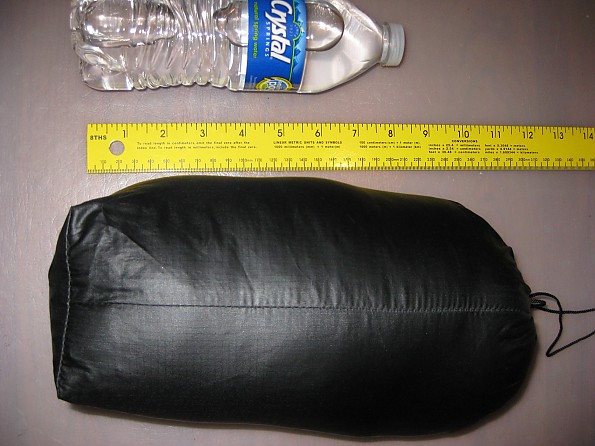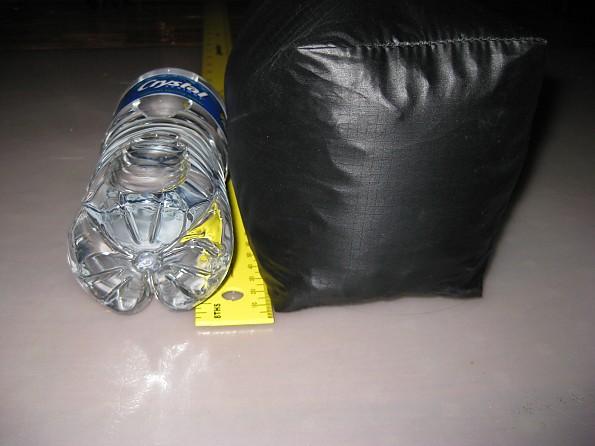 The loft of the SSUQ is about 2.5" and it is a sewn thru design meaning that there are no interior baffles to encapsulate and position the down or add weight to the quilt. The material is a ripstop 1.1 weight fabric. The SSUQ does shed a little down, but in the two years I've used it I have not noticed a decline in performance and I frequently use this quilt at home when I hang in my office.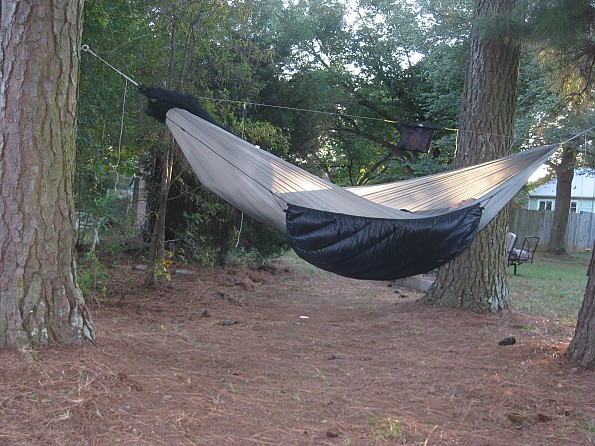 Here is the SSUQ on an Simply Light Designs Stream Liner Single Layer.
The SSUQ and more are available at wildernesslogics.com.
As I stated before I do enthusiastically encourage anyone who hikes with a hammock to try these light, durable and proven quilts from the great guys at Wilderness Logics. Now get out and go spend some time amongst the trees!
Source: received it as a sample, freebie, or prize (Won in a raffle by the Palmetto State Hangers)

Your Review
Where to Buy
Help support this site by making your next gear purchase through one of the links above. Click a link, buy what you need, and the seller will contribute a portion of the purchase price to support Trailspace's independent gear reviews.
You May Like
Specs
| | |
| --- | --- |
| Price | MSRP: $135.00 |
| Weight | 11 oz |
| Temp Rating | 45 deg F |
| Fill | 850+ goose down |
Recently on Trailspace