Xiaomi Power Bank 20000 mAh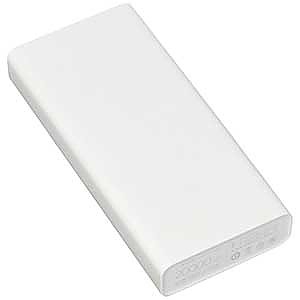 Very capable (but large and heavy) power bank with two-way QuickCharge support and dual USB output. Nice and simple design, but no case or pouch for carrying. Mostly useful for owners of power-greedy equipment, such as action cameras.
Pros
Very large capacity (est. 74 Wh gross), good for charging 2-3 tablets or 4-7 smartphones in row
QuickCharge 3.0 technology supported in both directions
Two USB outputs (up to 18W output)
Fully recharged in just 5-7 hours with QC-compatible wall charger
Simple and minimalistic design
Great value for money (in Chinese shops)
Cons
Bulky and heavy, prone to accidental damage
No carrying case or pouch included
Definite overkill for charging a smartphone in short trips
Little advantage over a pair of 10K power banks from the same brand
No economy slow charging mode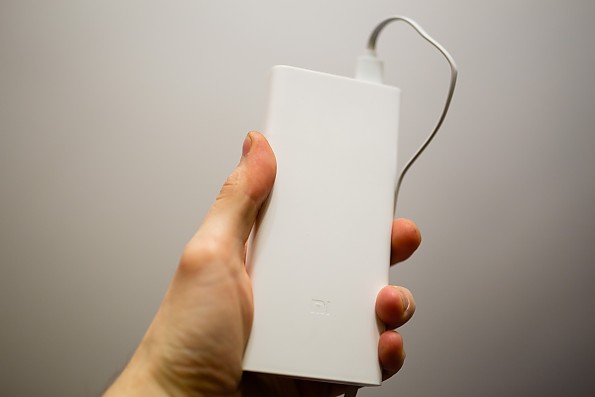 Background
In my outdoor trips I prefer avoiding the situations when I need a power socket for charging my electronic devices. There are many of them: smartphone, a couple of headlamps, health tracker, GPS navigator, DSLR camera, and every year this number grows. At some point it became impossible to store all the required energy in built-in and replaceable batteries, so I started carrying the power banks with removable 18650 Li-Ion batteries (I have a good stock of such batteries for powering the Chinese flashlights).

It was good until we started traveling with our child. Then my power requirements started growing further, as we spend much more time in campsites, not on our bicycles. My old power banks were underpowered for such use, and what's worse, they couldn't be recharged at campsites in reasonable time (e.g. a couple of hours). In the meantime my latest smartphone supports QuickCharge 2.0 technology which makes 1-hour charging possible, so I started looking for a matching power bank.
The idea behind the QuickCharge technology is raising the power transfer voltage in USB cable from 5V (as in usual USB) to 9V and even 12V. In such way a much greater power may be transferred through a typical USB cable without risk of melting it. Also sophisticated battery protection features are enabled, so it cannot explode or catch fire while being charged in very quick pace (down to 30-60 minutes versus several hours in pre-QC era). It's reported that quick charging doesn't affect the lifespan of batteries.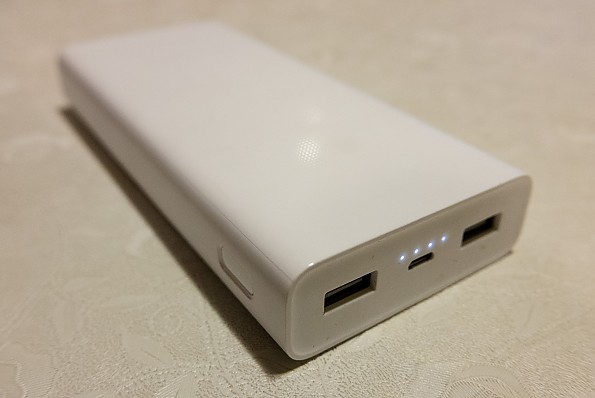 The Power Bank features 2 USB outputs, MicroUSB input, 4 status LEDs and a button for checking the charge level

In November 2017 I decided to buy the Mi Power Bank by Xiaomi as this is a major Chinese manufacturer of various hi-tech electronics with really nice design and price to quality ratio. There are various sizes of Mi Power Banks (5000, 10,000 and 20,000 mAh). The first two are equipped with proprietary slim Li-Po batteries, while the latter one features 6 pieces of non-replaceable 18650 batteries made by LG or Panasonic. 
Each model is equipped with 2-way QuickCharge technology and 1-2 USB outputs. The charging from the wall socket is performed via MicroUSB or USB Type-C port (in new models).
Features and Specs
I chose the biggest Power Bank over the more usual 10,000 model, as sometimes I need to charge BOTH the smartphone and 8.4" tablet PC. My Power Bank came in very simple package, including the device itself, short USB-MicroUSB cable and Chinese user manual. On the back there are some specifications:
Nominal capacity — 20,000 mAh at 3.7V (74 Wh).

Net capacity — 13,000 mAh at 5.1 V, 2.4 A.

Supported charging modes: 5V 2A, 9V 2A — 18 Watts max.

Supported discharging modes: 2x5.1V 2.4A, 9V 2A, 12V 1.5A — 18 Watts max.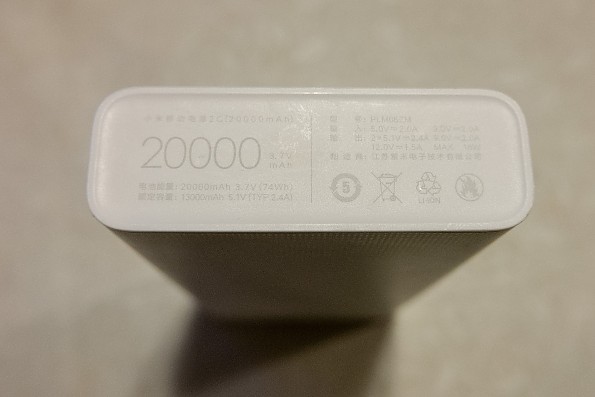 The Bank has two USB ports for charging the devices and a MicroUSB port for charging the bank itself. On the side there is a recessed button for checking the remaining charge which is displayed by means of 4 tiny LEDs on the front panel. The charge level is also continuously displayed while charging any device.
My Experience
The body of Power Bank looks and feels nice, as a solid block of quality plastic. Unfortunately there wasn't a pouch or carrying case in the kit. The Power Bank is heavy (360 grams / 12.7 oz) and bulky (150 x 70 x 25 mm / 5.9 x 2.75 x 1.0 in.), so carrying it in the pocket is not a good idea. Due to large weight, there is increasing risk of cracking the body by dropping it or hitting an obstacle (mine has a tiny crack on one edge, while it wasn't ever dropped, as far as I remember). The body is fully welded together, so replacing the batteries is not possible.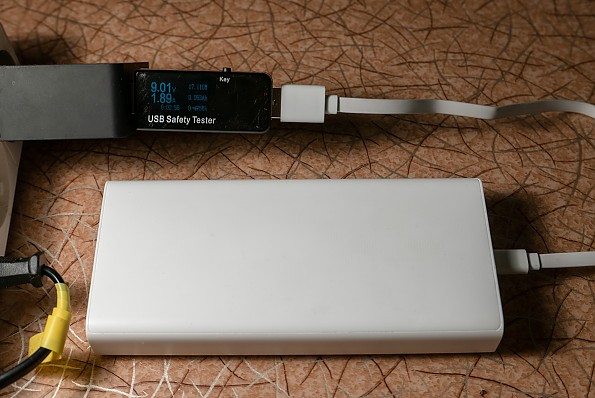 Changing the Power Bank at 17 Watts
The charging process starts immediately after connecting the receiving device. According to my USB power meter, the QuickCharge technology works properly, and the power bank itself as well as capable devices are charged really quickly. Of course you'll need a QC-capable wall charger if you want to charge the power bank in a few hours. At 18 Watts the fully depleted power bank may be completely recharged in 5-7 hours. That's really cool, as this device greatly simplifies the life away from power outlet: you don't need recharging it often due to high capacity, and in the meantime you don't need occupying the precious wall socket in cafe or campsite for too long.
Quite often I use this power bank at home, when I need working with depleted phone or tablet, and there is no power outlet nearby. With this bank I have a really large power source exactly where and when I need it. My experience with charging multiple devices (tablet, smartphone etc.) at once matches the rated power capacity. The manufacturer states that the net power capacity would be around 13,000 mAh due to inevitable thermal losses in batteries and power converters (as the voltage is converted two times during the charging: 3.7V at Power Bank battery — 5/9/12 V at cable — 4.2V at device battery).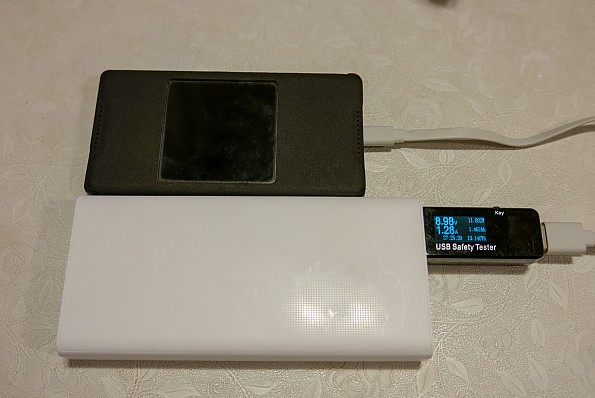 Charging the QC2.0-capable phone at 12 Watts

But there are downsides too: while this bank has enough power to recharge the tablet PC 2-3 times (and regular smartphone — about 4-7 times), it's too large and heavy to simply put it into the pocket. While carrying in backpack the plastic body will be scratched due to absence of any kind of protective bag. Also in many cases such power capabilities are not needed, as you don't consume the energy so quickly.
The power bank supplies a great amount of power, which in turn generates a lot of heat while charging. It would be nice if there was a "slow" economy charging mode (e.g. at 500 mA) for reducing the heat generation and subsequent power losses.
I start thinking that purchasing two 10000 mAh power banks from the same brand (such device resembles the shape of 5-inch smartphone) could be a more versatile choice:
2x10K banks have small disadvantage (about 20%) in total price, dimensions and weight, compared to 1x20K.

They may be recharged even much quickier (in about 3 hours) using the dual QC-capable wall charger.

In many cases a single 10000 mAh bank is more than enough, and it's possible to simply put it into the pocket, unlike the 20K bank.

10K banks have aluminum body (thus more shock-proof considering their little weight) and may come with carrying case.

In two 10K power banks there may be up to 4 USB ports in total.
Nevertheless the 20000 mAh Mi Bank is a good and reliable power source for your adventures away from the power socket. It's especially good for users of power-greedy equipment, such as a Tablet PC, action camera or even a small drone. The value for money was excellent when buying directly from China, but at Amazon the same model is much more expensive.
Note on Power Banks
Remember that the most effective way of storing the energy is using the native replacement batteries for your devices. One cannot simply take the energy from Power Bank and put it into the device, that's physically impossible. There will always be thermal losses in power bank's battery and DC-DC converter, then in cable, and finally in your device's charging IC and battery itself (which gets quite hot during charging). 
I like the approach of Xiaomi engineers who publish the net power capacity of their Power Banks, not only the profit-making gross values. In my case that's 13,000 mAh in your devices' batteries versus 20,000 mAh of energy initially stored in the Power bank itself.
Source: bought it new
Price Paid: 35 USD

Your Review
Where to Buy
Help support this site by making your next gear purchase through one of the links above. Click a link, buy what you need, and the seller will contribute a portion of the purchase price to support Trailspace's independent gear reviews.
You May Like
Specs
Price
MSRP: $49.70
Reviewers Paid: $35.00