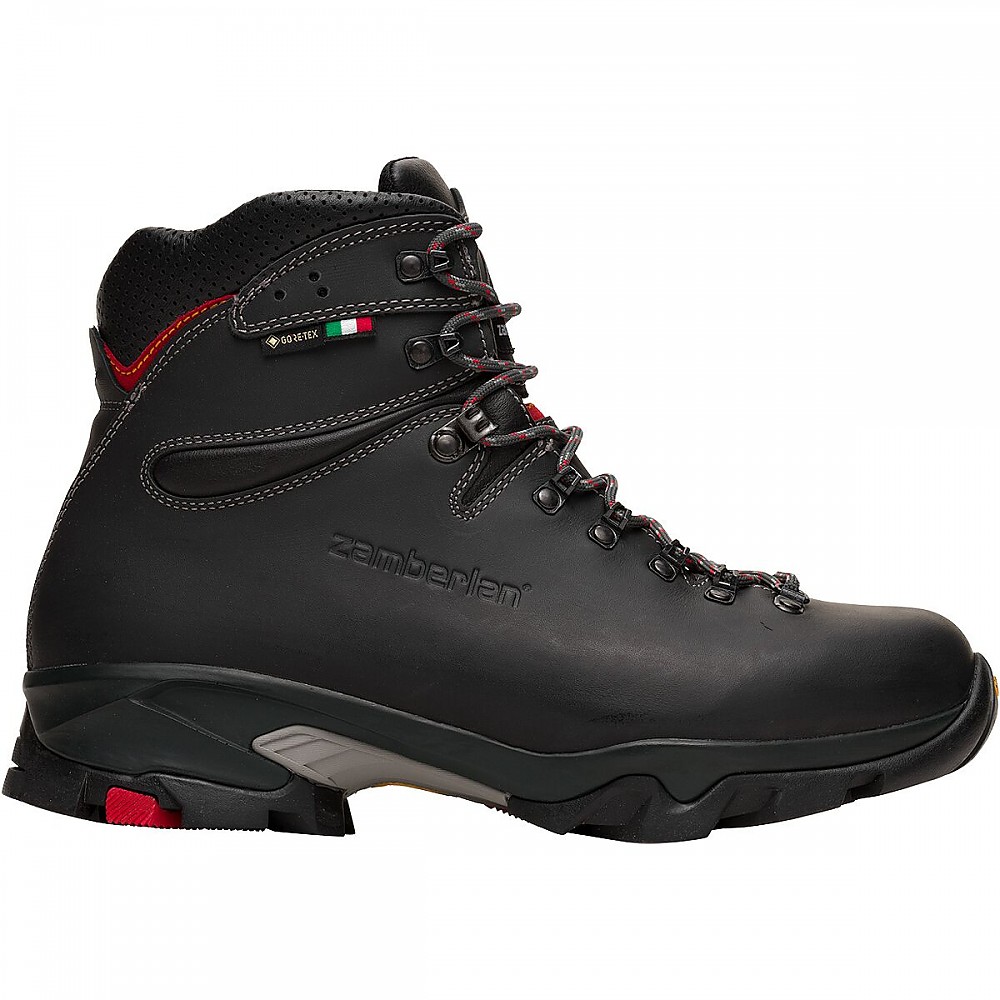 Specs
Men's
Price
Current Retail: $304.99-$325.00
Historic Range: $210.71-$325.00
Reviewers Paid: $280.00-$350.00

Weight
740 g

Women's
Price
Current Retail: $309.95-$325.00
Historic Range: $195.93-$325.00

Weight
660 g

Reviews
10

reviews

5-star:

5

4-star:

1

3-star:

1

2-star:

2

1-star:

1
Very good boot in dry weather.
Pros
Comfortable
Good support in sole and ankle
Cons
Slippery when wet
Needs a toe cap
Sole chunks off
Recently used these doing the Old Rag Loop in the Shenandoah National Forest. Very nice boot until the top of the hike. Boots lacked grip during the Rock Scramble and slippery (you think you're good and then nope!) on any rock that is wet.
Very good support carrying heavy loads. Toe of boot gets pretty gouged because of a lack of toe cap. I have noticed the Vibram sole chunking off, but I don't think it is affecting performance yet..
Experience
I'm comparing these boots to Arc'teryx, Alico, Meindl, Dunham, and Vasque.
Source: bought it new
Price Paid: $295

Very nice looking and extremely well made boot. As Julien mentioned in his review, there is ZERO break-in period for these boots. Made in Italy.
Pros
Made in Italy
Extremely comfortable
Waterproof GoreTex
Excellent softer rubber sole
These boots are so comfortable and so good looking that I wear them day-to-day quite a bit. The soles are some of the softer Vibrams I have ever worn. The softer soles mean very good shock absorption and excellent grip especially on slick smooth rocks.
There are so many brown boots out there, but I love that these are black. The only thing I didn't care for were the drab gray boot laces, so I replaced them with bright red and they look great! These are NOT summer boots! They are very very warm.
I paid $280 for these at REI (worth every penny) and then I scored a second pair at an REI garage sale a few months later for only $100.
The materials and the construction are INCREDIBLE!! Made in Italy!!!! Totally worth what I paid for them.
Highly recommended.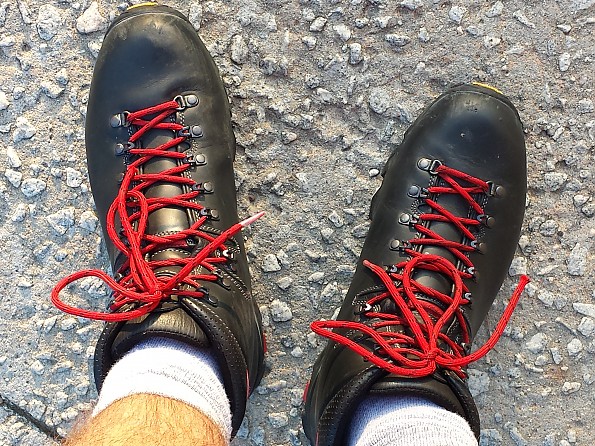 Source: bought it new
Price Paid: $280

Very comfy and waterproof, but poor sole construction.
Pros
Comfortable
Waterproof
Excellent upper leather durability
Like many others, I too have problems with chunks of sole falling off. When I put them on, most comfy boot ever had on. Very durable uppers, great looking, waterproof.
Took them on hard trips, noticed chunks missing out of soles, and nose of boot nearly broken off as well. Vibram is supposed to be extremely long lasting and durable. So I can only assume this is a QC issue.
I love these boots, but now need to get another pair. I want Zamberlan, but if they don't fix this issue (it seems it is common amongst many other customers too), I will have to switch to another boot.
Experience
Extensive experience with most all brands (Vasque, Scarpa, etc.)
Source: bought it new
Price Paid: $350

Extremely durable and reliable boot. Have worn for three years and have had few problems.
Pros
Dry
Comfortable
Extremely durable
Cons
The lace hooks do tend to bend but have never broken off the boot.
I would definitely recommend this boot. I've used it tree planting in thick brush and landscaping and they've lasted extremely well. They've been through mud, puddles, and many overnight hikes and my feet have stayed dry and completely comfortable.
The boot fits perfectly and has not rubbed in any places. It did take a bit of getting used to and wearing in though. They grip incredibly well. I've climbed rocky mountains and worked in rocky, wet surfaces and have never slipped and they've always been warm.
The only problem I have had with them is the lace hooks have bent a little and made it hard to fit the lace in to be tied up properly, but that was easily fixable. 
Source: bought it new
Price Paid: 300 Canadian

Best boots I've ever owned. These boots are comfortable, strong, and definitely waterproof. Great for hiking and backpacking.
The first time you wear these boots it's like learning to walk again. The soles are shaped differently in a way that rolls your foot and uses your ankle less. After wearing them a few times you don't even notice it anymore. This makes them great for people with ankle problems (my dad has a bad ankle from a motorbike accident and he has a pair and it's the only way he can walk long distances).
They fit nice on my wide foot and are extremely comfortable. I wore mine for a week around town before my first hike in them and have never had any blisters. My dad used his first hike to break them in and his feet were covered in blisters, but he has never got another one since.
They are extremely waterproof with both leather and Gortex. I recently hiked in constant drizzly rain for three days. Most people had Gortex boots on and by the end of the hike I was the only one with dry feet.
Overall a great boot.
Source: bought it new
Price Paid: $350 AUS

Best for backpacking on trails; however, I have used them off trail. If I was limited to one pair of boots or shoes, I would keep these. They are that good.
Pros
Craftmanship
Comfort
Resistance to moisture
Interior lining is a dream
Accepts Superfeet Green w/o changing fit
Cons
Leather requires care and cleaning.
A bit pricey (but the contstruction is first rate)
I wear a size 9 1/2 Lowe boot (Baffin) and this boot is also a size 9 1/2, so they seem true to size. Minimal break in and it accepts aftermarket footbeds. The boot has a slight rocker and it is a dream to walk in.  
I do clean and treat the leather after a muddy or snowy hike. I have used them on a two-night, early winter backpack in snow and mud. My feet were dry and warm. The leather and stitching are top notch. None of the stitches have unraveled. The soles are in great shape and I am very happy with the durability. 
In the three years I have owned them, they have been on 5 or 6 backpacking trips and several demanding day outings. I would buy these again.
Boots are a very personal item so I can not say they would fit every foot or meet the needs of every outdoor adventurer. If they fit and you have a niche for a medium duty boot and don't mind taking care of the leather, by all means get them. When I returned from an Afghanistan deployment, I bought these within an hour of arriving home. Guess I wanted to go hiking.
Source: bought it new
Price Paid: $290

I buy men's boots because I need an 11.5 M in women's and those are unavailable in most brands. My 10.5 size M Zamberlan 996 VIOZ GTX fit like a dream! No break in needed. I do wear with boot socks. Mainly use for hiking purposes. Love the Italian leather and inside cushioning.
Pros
Perfect comfortable fit
Buy at REI—near home
Cons
Price is high
Where can I find additional colored laces?
As I indicated I am a lady who needs to buy men's boots because of the sizing. In a shoe I buy 11.5. M. The 996 VIOZ GTX fit me like a tee sizing down to a 10.5 (EURO 45). I wear cotton boot socks and the boots fit like they are custom made for me.
In the past I wore Vasque boots, but they are not the same once China started making them.
Currently I hike and walk a 95 pound German Shepherd. The Vibram sole gives me great traction on all surfaces. I just hope in the future I can find the fancy red/gray laces again :)
Source: bought it new
Price Paid: $300

Fantastic fit. Most comfortable full leather boot I have ever had. But alarmingly prone to slipping on wet rocks.
Pros
Supreme comfort
Perfect support for heavier loads
Cons
Seemingly good grip then will SUDDENLY let go on wet rock!!!
I bought these for winter hiking mostly, and found them to be superb for this. In the spring I wore them on a hike with my wife and noticed that they would slip without warning on smooth rock if even slightly wet.
I do not mean the typical tendency to slip from wet conditions. I mean a solid feeling grip that would suddenly and unexpectedly let go.
I would have figured I was just having a sloppy day. But we later passed someone with the same boots who asked if mine were slippery. He was having the exact same experience. We were not on our rears all day or anything like that, but we both noticed a significant tendency for the boot to just slip on wet rock more easily than other boots.
I sent them to Zamberlan USA who I believe honestly tested them and feel that they are just fine. I strongly disagree. It is too bad.
I tried them twice more with the exact same result — great feel and sudden slips when even slightly wet. Now I will use them on snow/ice only. They work great with Microspikes and small crampons.
These boots have been around for a while, and owners are not apparently dropping like flies. But I would absolutely not recommend these except for snow conditions (where the rubber compound is not critical) or absolutely dry conditions, where they grab quite well.
Source: bought it used

Very good backpacking boot.
Pros
No break-in period
Good ankle support
Cons
More heavy than synthetics but....
Leather maintenance
No break-in period for me. 

With a liner and good wool sock, it is like wearing slipper.

Stong lacing.

Nice overall grip.

I use them in warm/cold condition (5°C to 12°C) and I was very comfortable and dry. Late I will add a winter review.

Nice support with a 70 pounds backpack. 20 km hike and no blisters.
Source: bought it new
Price Paid: 300 $ CAN

While these boots look and feel great, they have proven useless in my case. After only four walks, I looked at the soles only to see that great chunks of the sole on both boots had broken off. I cannot understand how a boot of this price can have such poorly constructed soles that they fall apart like this after less than a month.
Cons
Completely useless soles that fall apart within a month of purchase
These are boots that are clearly well made in terms of the upper. One piece of hand made Italian leather. They look and feel great.
However, there is clearly a problem with quality control with the Vibram soles. They are very chunky and thus seem to be prone to have pieces snapping off. After only my fourth time in the boots, I looked at the soles only to see that there was a huge piece of the sole gouged out of one boot, and several smaller pieces missing on the other boot. I also noticed that there was already considerable wear to the soles despite them being less than a month old.
The hikes I have completed are by no means lengthy or particularly demanding on boots, so it is very disappointing that a product this expensive should start falling apart in this way. The last hike I did was across rocky terrain, but the boots of my companions held up perfectly well while mine did not, despite being significantly more expensive.
Source: bought it new
Price Paid: 225 AUD

You May Like
Recently on Trailspace