Zpacks Arc Zip 54L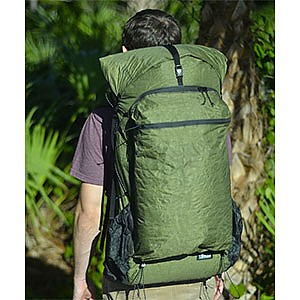 On your way to being an ultralight hiker? Try the ZPacks Arc Zip Ultralight Backpack. A versatile and tough ultralight backpack that weighs only 20 ounces!
Pros
Light
Adjustable
Versatile
Looks good
Cons
Expensive
Concern areas for wear
Must purchase some items as additional accessories
Usually a wait for shipping
I have been on a mission to lighten the overall load of my gear. Figured the best place for me to start was with my pack. Before trying to shave weight I used an Osprey Atmos 50. I liked having all of the different places to store gear, the hip belt pockets, and most of all the fit was great! There were several other things that I really liked about my Osprey but it weighed 4 pounds. I knew if I was going to get my base weight down it had to go.
So, after plugging away online for hours, days, and eventually weeks, I bit the bullet and made my purchase from ZPacks.
MY Specs
5'11'' tall

155 pounds

32 inch waist

Thin build
MY Pack Specs
The pack I purchased was the ZPacks Arc Zip 54L. My color selection was all gray with black accents. The torso height selection was Medium (21 inches), and the belt length I selected was Medium (30 inches and up). I added to roll-top closure as an extra. 
Manufacturers Specs (Directly from their website)
Total Volume: 54 Liters / 3,300 cubic inches

- 20 ounces

(567 grams)

Main Body Volume: About 39 Liters / 2,400 cubic inches

Body dimensions: 6.5" x 12.5" x 30"  (16.5 cm x 31.8 cm x 76 cm)

The side pockets account for 5 Liters / 300 cubic inches included in the total volume.

The center pocket measures 12.5" wide x 2.5" deep x 19" tall (31.8cm x 6.3 cm x 48 cm), and accounts for about 10 Liters / 600 cubic inches of the total volume.

The pack is constructed from tough 2.92 oz/sqyd Cuben Hybrid fabric. This material is Cuben Fiber on the inside with a protective layer of 50 denier Polyester on the outside.
Testing
I have taken this pack on 5 or 6 overnight trips as well as one weekend trip. I may not be able to speak too much about its longevity, but I feel that I can provide some useful information after my time with this pack so far.
The most weight I had in this pack at one time was 25 pounds.
The weather was clear and warm on the days I was out. We did have the usual dew soaked mornings but did not hit any real rain.
For the most part I was on established trails and used existing campsites. No bushwhacking!
I have taken this pack off and put it on quite a bit just playing with it, and with the camping trips. I have also laid it on everything from wet grass and wet sand, to stone and wood.
I am not hard on any of my gear. I always watch where I set things, am careful with how I store items, and generally go all O.C.D. to take care of my gear on and off the trail.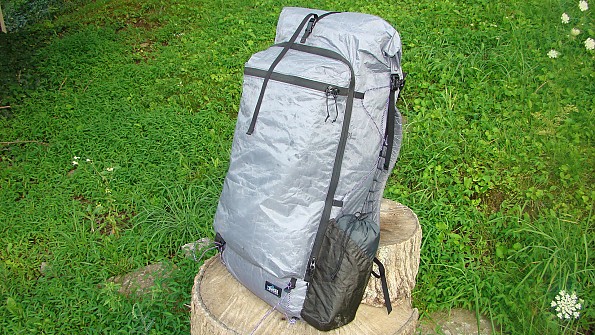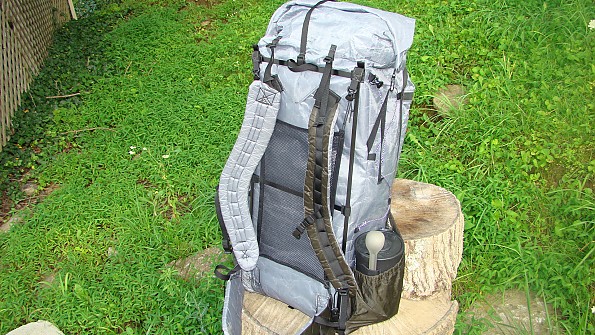 Fit/Comfort
The sizes that I ordered fit me great. The pack does not move around and is snug when loaded with 25 pounds and secured with the straps.
All of the straps make adjusting the fit a breeze. They have plenty of extra length to allow for additional layers. The buckles are not as big as what you find on an Osprey pack but still seem to be great at holding securely to keep the fit where you want it.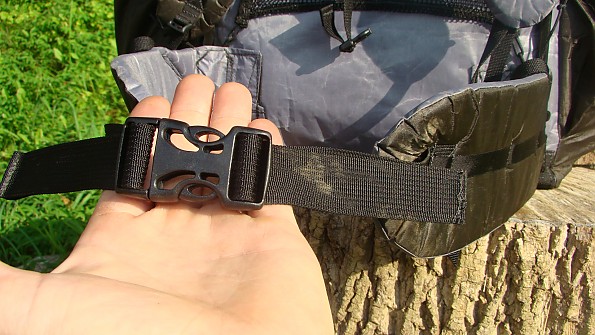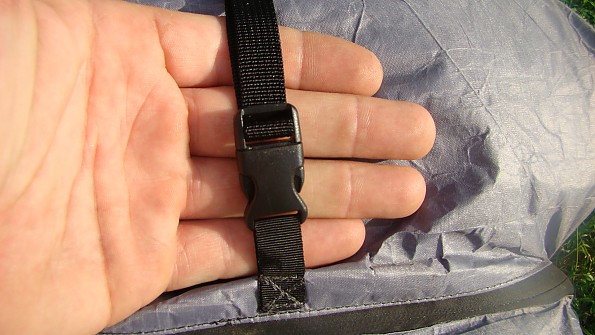 The padding for the shoulder straps and waist belt are only 3/8'' thick but still very comfortable with my 25-pound load. You can purchase an additional lumbar pad for the waist belt that will add padding and push the pack away from your back a little more to improve ventilation to your back.
Side compression straps, 2 internal horizontal compression straps, base straps and a top strap work together in securing your load, and allow you to lash on extra items. The straps can be removed if not needed or replaced easily.
The external frame is ZPacks Patented Flexed Arc carbon fiber. The curve of the frame is adjustable to optimize air flow and fit. It does increase the space between your back and your pack but I really do not put an arc in it when I wear it. I feel comfortable without doing it. It will also help to increase the arc if you have some bulky items in your pack that poke you in the back.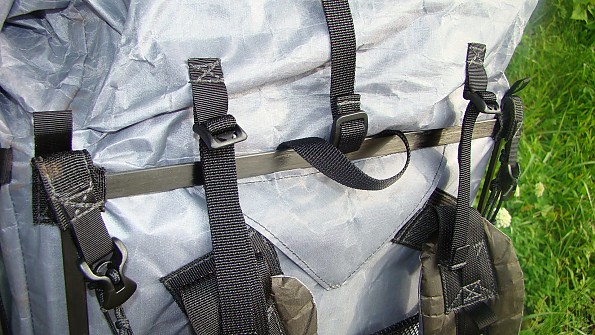 Capacity
I have found that packs in the 50L range seem to be the best fit for me and my needs. Anything smaller seems to not be enough and anything larger seems to be too much. The 54L Arc Zip has proven to be a great size for me. With all of my winter clothes and gear I still have a small amount of extra space for any last minute luxuries I want to add.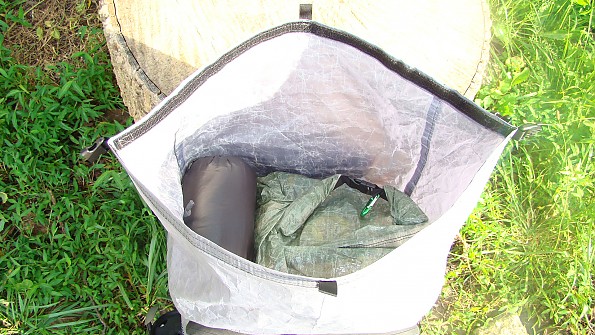 The 10L front zipper pocket uses a #5 waterproof zipper. For the purposes of the photos I stuffed this front pocket with my Arc'Teryx Beta AR Jacket and Arc'Teryx Beta AR Pants, along with my Mountain Hardwear ½ Zip Fleece Pullover. Could have probably shoved another fleece in it if I had too. It is massive.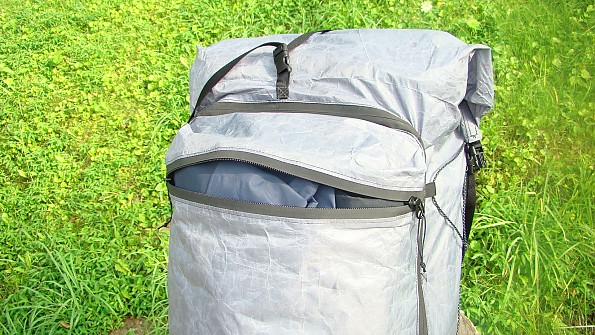 Two large side pockets have elastic at the top and a small ''v'' shaped drainage hole in the bottom. Slanted forward so you can access your water bottle. I find getting the bottle out is a lot easier than getting it back in. I wear my pack a bit high on the waist which could make the issue a bit worse for me.
My Therm-A-Rest NeoAir XLite fit great as did my 32 ounce Nalgene. The Jetboil Zip fit, but would work its way up and out after moving around for a while. Plus there was the chance of the lid popping off the Jetboil.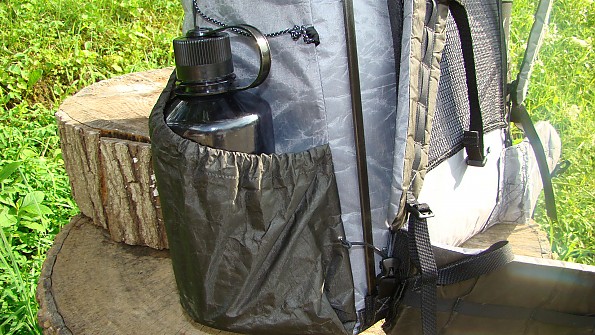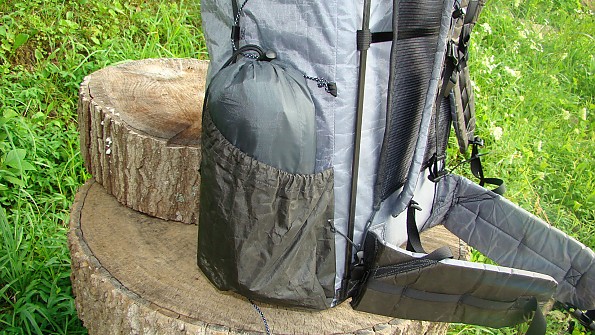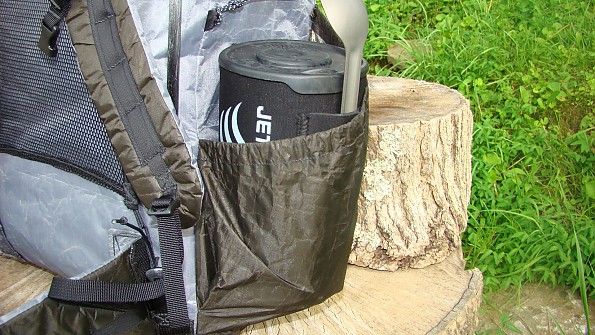 The side and bottom compression straps are made of a non-stretch Dyneema cord. They can also be used to secure longer, skinnier items like tent or trekking poles that you stand in the side pockets and secure with the side straps, or a small foam sleeping pad that can be secured with the bottom straps. The ZPacks LineLoc 3 Line Adjusters used on these straps make adjusting fast and simple. In the photo the pad I am using is too big for the straps on the bottom.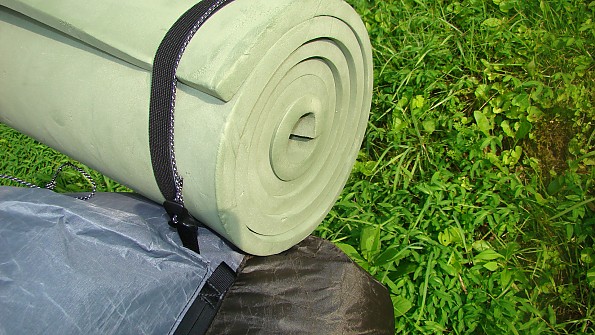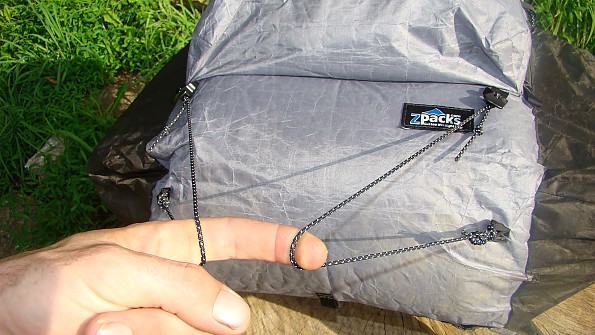 Organization & Accessibility
Access to the main compartment is through another #5 waterproof zipper at the front of the pack. It travels along the perimeter of the large outside pocket on three sides and folds towards the bottom of the pack to give a huge opening.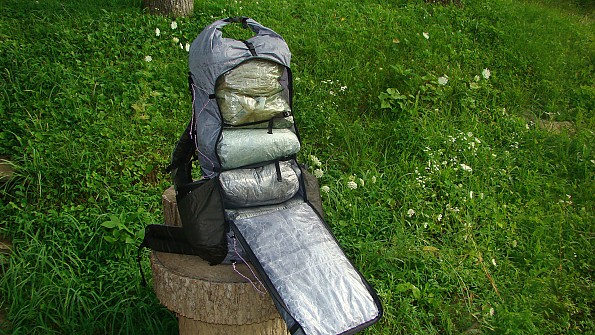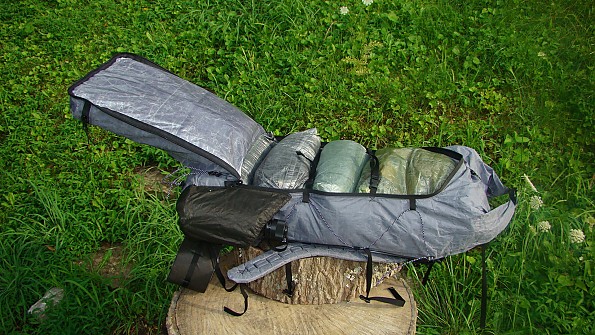 The top of the pack is normally sealed off. I however chose to have a Velcro roll-top closure added to mine for more access. It is an option that is offered on the website for an additional 5 bucks and is well worth it for me. I use it as my main access, just out of my own personal preference. It can be rolled, compressed and clipped together, or clipped down to the sides. They have put quick release buckles that allow you to configure it either way.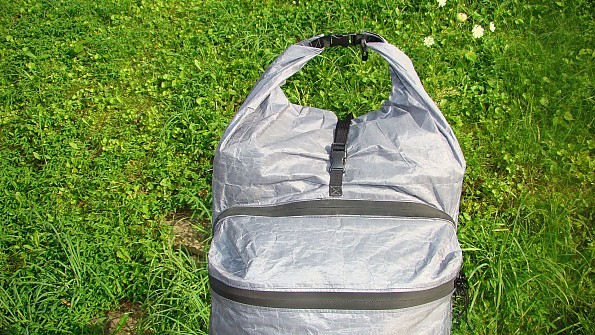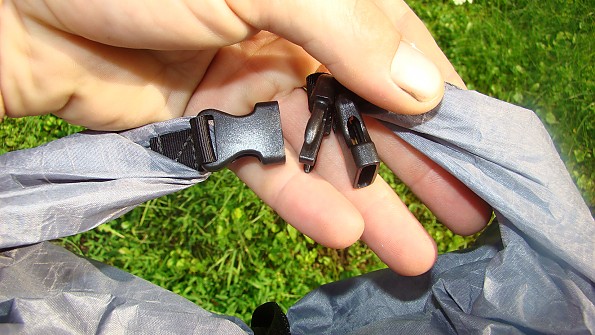 I keep most of my items neatly packed in sacks and bags so I do not have a real big need for multiple pockets. If you need more pockets ZPacks offers a variety of options for these packs. Items like belt and shoulder pouches that would help increase storage and organization.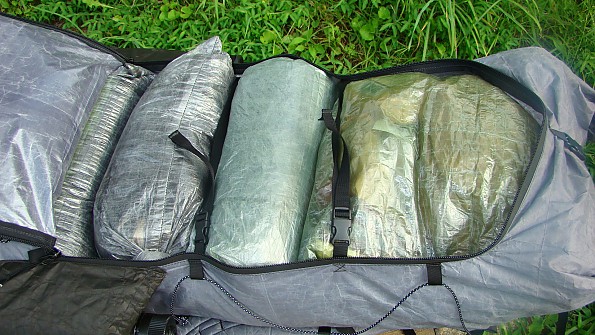 Construction & Durability
All of the material including the zippers, lines, and buckles are durable and holding up very well so far. The outside protective layer of the pack feels strong and has not punctured or torn.
The features, design, and layout of the pack shows that it is a well thought out backpack with lots of strengths and is easy to use.
All of the seams and attachment points are taped and the entire pack is highly water resistant but not waterproof. A pack cover is available. I have not tested the water resistance but I do have a cheap pack cover I use as well as ZPacks Cuben Fiber Roll-Top Dry Bags for my clothes and sleeping bag.
Couple of areas that I feel might cause concern in the future. First is the place where the carbon fiber frame is secured to the pack. I feel that constant adjustment, heavy loads, and excessive use could cause the tip of the carbon fiber to wear a hole through the sewn fabric. See the photo below and you will see the tip of the frame and how the material lays over it.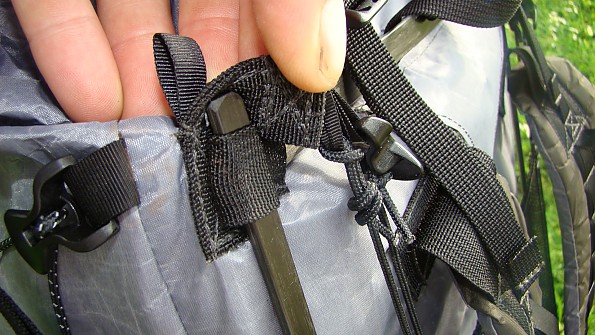 Another area that worries me is the very bottom of the pack. I would have liked a thicker more durable material to prevent the wear that usually happens in this area.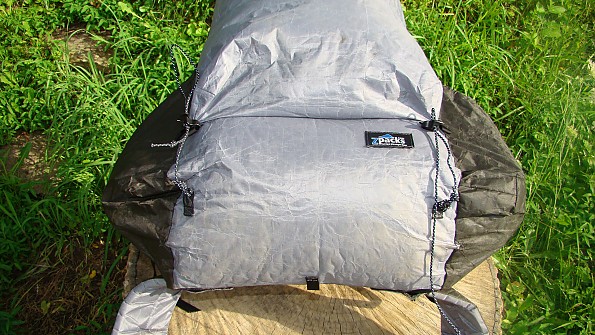 Most of the stitching looks great and they even incorporate a ''Z'' design on a lot of their attachment points which looks really cool.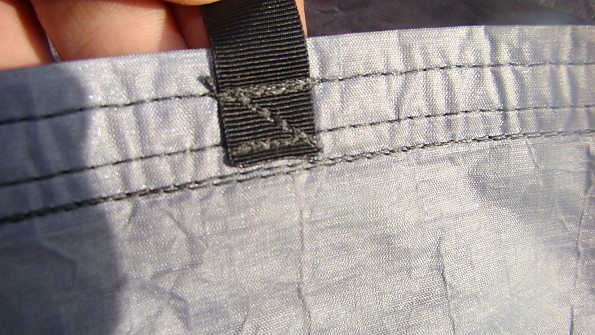 A couple of areas did look pretty sloppy with the stitching. Mainly the hip belt attachment. There are a few other areas where you can tell they probably had a problem with the sewing machine and had to go over the stitch multiple times. Other than a few clumps along the seams and some rough looking stitching, it seems to be a very strong.
This did not really bother me because I feel they did a good job of making sure it was secure. I am the only one who sees it anyway. But for the price some people expect absolute perfection. Do not expect to break out your magnifying glass, laser level, microscopes and other severe analytical devices and find nothing. It might have its flaws, but overall is a tough and reliable pack.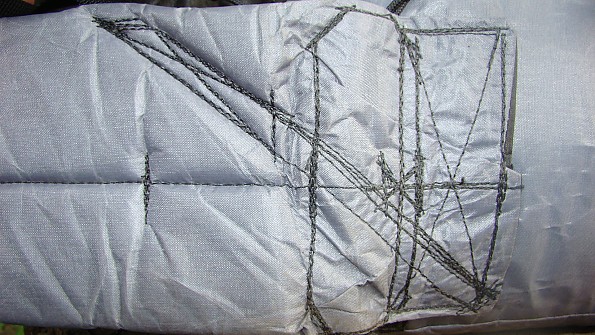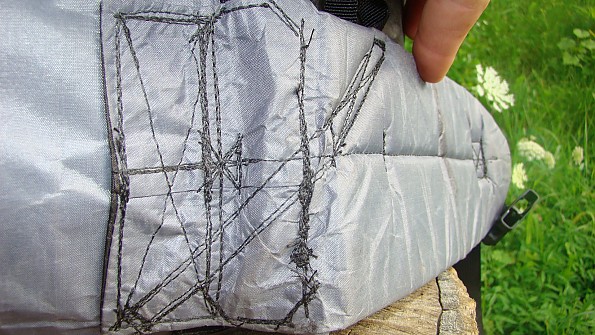 Other Features
Compatible with water bladders. A centrally located hydration port, between the top of the shoulder straps, allows you to extend a drinking tube over the left or right shoulder. There is a small bungee with cord lock to secure the mouth of the tube to either shoulder strap via the daisy chains on the shoulder straps.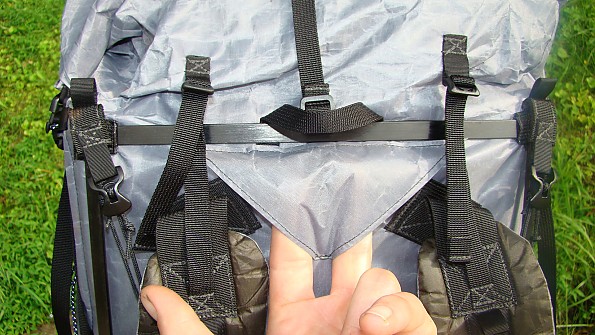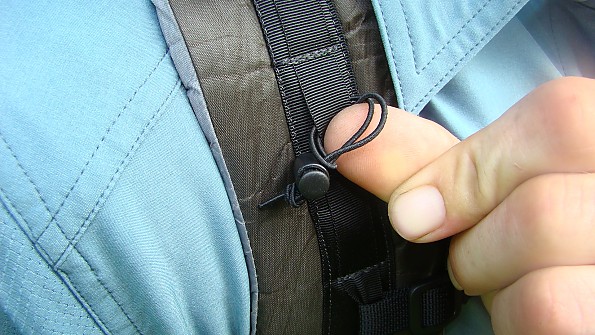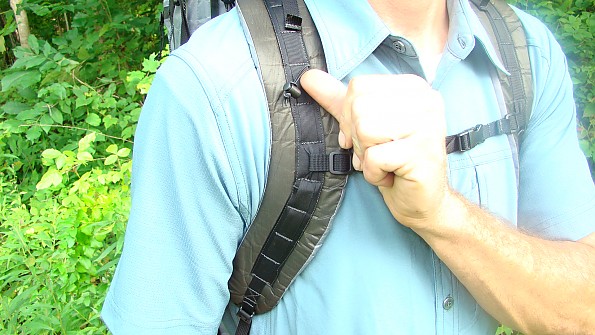 Daisy chains on the shoulder straps and hop belts are used to attach ZPacks accessories or other items. The sternum strap is help onto the shoulder straps using the daisy chain and can be moved for a better fit.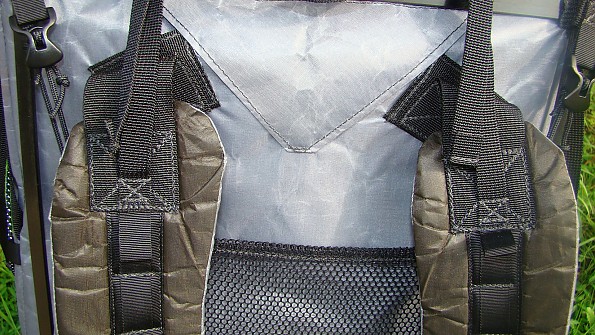 This pack comes in three different sizes and has several options available. ZPacks also will work with customers on special or custom requests. Some of the options available for an additional charge, or even some of the standard options that are include, were once requests made by people just like us. Now, ZPacks offers these options to everyone. What could you think up? Customize your own pack and it could become a permanent part of the ZPacks design! Awesome!
My Final Thoughts
So far I could not be happier with this pack and would not hesitate to recommend it to anyone who is looking to seriously lighten their load. The guys at ZPacks make their gear right here in the U.S.A. and I like knowing that I helped support that! They are wonderful at customer service and have always treated me right. If you want to try a great ultralight pack. Try the ZPacks ArcZip Backpack!
Source: bought it new
Price Paid: $333

Your Review
Where to Buy
Help support this site by making your next gear purchase through one of the links above. Click a link, buy what you need, and the seller will contribute a portion of the purchase price to support Trailspace's independent gear reviews.
You May Like
Specs
total
main body
Price
Reviewers Paid: $333.00

Weight
20 oz / 567 g

Volume
54 L / 3,300 cu in
39 L / 2,400 cu in
Dimensions
6.5 x 12.5 x 30 in / 16.5 x 31.8 x 76 cm