2008 Tubbs Romp To Stomp Out Breast Cancer Events
Tubbs Snowshoe has announced the schedule for the 7th annual national snowshoe series, the 2007/08 Tubbs Snowshoes Romp To Stomp Out Breast Cancer, to benefit local affiliates of Susan G. Komen for the Cure. This year's series will be held in five key locations across the United States, and also debuts in Canada in both Collingwood, Ontario, and Montreal, Quebec, where all funds will be donated to the Canadian Breast Cancer Fund.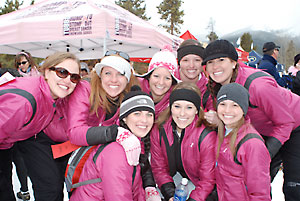 2008 Event Series Schedule
January 26: Mountain Creek Resort (Vernon, N.J.)
February 2: Mountain Dell (Salt Lake City, Utah)
February 9: Stratton Mountain Resort (Stratton, Vt.)
February 23: White River West Sno Park (Mt. Hood, Ore.)
March 8: Frisco Nordic Center (Frisco, Colo.)
Tubbs, which has enjoyed 300 percent growth in its women's snowshoe business over the last five years, will donate proceeds and all pledges from the U.S. event series to local affiliates of Susan G. Komen for the Cure, which include Vermont/New Hampshire, Denver Metro, Salt Lake City, SW Washington/Oregon, and North Jersey. Tubbs will also donate $5 from the sale of every pair of new women's Wilderness Series snowshoes during the 2007/08 season to further the fight against breast cancer. In 2007, Tubbs donated over $170,000 to Susan G. Komen for the Cure and its local affiliates and has targeted $250,000 as a goal for this winter season.

Open to all abilities, the Tubbs Snowshoe Romp To Stomp Out Breast Cancer Series will consist of an easy three- or five-kilometer snowshoe walk and a three-kilometer fun race on modern, lightweight and easy-to-use snowshoes. The pre-event registration fee, which includes a goodie bag and t shirt, is $25 for adults; event day registration is $30.

Participants are challenged to raise pledges from friends, family members and businesses, with all dollars raised going to selected local affiliates of Susan G. Komen for the Cure. Participants who have collected pledges will be eligible for raffle prizes by Tubbs and other Series sponsors, including Columbia Sportswear Company, Green Mountain Coffee Roasters, Eastern Mountain Sports, Optic Nerve, Princeton Tec, Go-Lite, Cabot Cheese, plus other regional and local partners.

The grand prize, an all expense paid, week long snowshoeing trip for two to the Canadian Rockies, will be furnished by Country Walkers, to the single largest fundraiser over the entire Series.

"Through the Romp To Stomp Out Breast Cancer Series we hope to accomplish three things: to heighten people's knowledge and awareness of breast cancer detection and prevention, to support the fight against this disease which is the leading cause of cancer deaths in U.S. women age 40-49, and to introduce women to the health, fitness and fun benefits of snowshoeing through fun and exciting events" said Kathy Murphy, General Manager of Tubbs Snowshoes.

Celebrating its 25th anniversary, Susan G. Komen for the Cure is a national organization, founded in 1982, whose main mission is to eradicate breast cancer as a life-threatening disease by advancing research, education, and screening. Tubbs partnered with the local affiliates of Susan G. Komen for the Cure with the idea of helping to raise dollars for continued research and to bring more awareness of breast cancer through the marketing of their women's specific snowshoe product and by organizing snowshoe events across the country.

Tubbs brings awareness of this program to the consumer by utilizing hangtags and in-store signage on all women's products, as well as hosts women's specific clinics at retail partner sites across the U.S. Tubbs was the first in the industry to design and market women's-specific snowshoes for trail walking, day hiking and backcountry exploration and continues to improve women's specific products annually.

New for 07/08, the Wilderness Series is all new, featuring the biomechanically designed Fit-Step women's specific frame shape, patented 'step in' 180 binding and stainless steel Talon Crampon system for secure traction in all types of terrain and snow conditions, available in two women's models.

To register or make a pledge to support Susan G. Komen for the Cure visit www.tubbsromptostomp.com.