CamelBak Announces Entire Bottle Line Now BPA-Free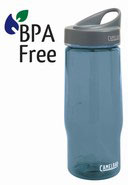 CamelBak Products, LLC, announced Thursday that it has converted its entire line of polycarbonate re-usable water bottles to a new material that is 100% free of bisphenol-A (BPA) and phthalates. CamelBak has teamed with an innovative U.S.-based supplier to produce a bottle made from an entirely new material, Eastman Tritan copolyester. This means that now the entire line of CamelBak bottles are BPA-Free, including the CamelBak Better Bottle, Podium Bottle and Performance Bottle. The Better Bottle with Classic Cap is now available at retailers like REI, and the Better Bottle with Bite Valve will be shipping to retailers from the company's distribution center next week.
"Consumers have been asking for a BPA-free alternative with the durability, clarity and vibrant color of polycarbonate bottles," said Sally McCoy, CamelBak CEO. "We're very happy to be the first company to give consumers an entire line of BPA-Free bottles."
In the face of environmental concerns, many people have switched to re-usable bottles, although many of these bottles contain BPA and Phthalates. While there is a great degree of conflicting information about the safety of BPA, the consumer demand was enough for CamelBak to develop an alternative. The company challenged its development team to improve its popular line of water bottles used by athletes, outdoorsmen, military personnel and millions of others.
The result is a CamelBak Better Bottle that is BPA/Phthalate-free, allowing people to make an immediate positive impact on the environment while feeling confident that they're using the best re-usable bottle in the marketplace.
The CamelBak Better Bottle
Launched in 2006, the CamelBak Better Bottle represents a new standard of performance and convenience in re-usable water bottles. Available in fourteen colors in sizes of .5 liter, .75 liter and 1 liter, this innovative product is available with the self-sealing CamelBak Big Bite Valve, which offers easy, spill-proof sipping for active and on-the-go-consumers. The Better Bottle is also available with a Classic Cap in .5 liter, .75 liter, and 1 liter sizes.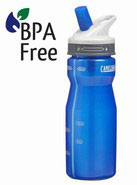 The CamelBak Performance Bottle
Launched in 2007, the CamelBak Performance Bottle represents a breakthrough hydration solution for athletes on the go. It features squeezable sides for an adjustable flow rate and the patented Big Bite Valve with positive shut-off technology for leak-proof transport. The Big Bite Valve also allows athletes to drink without lifting their eyes from the road or trail.
The CamelBak Podium Bottle
Launched in 2008, the CamelBak Podium Bottle is designed specifically for cycling and features the high flow rate, self-sealing Jet Valve. Rather than opening and closing a traditional valve, the squeezable Podium Bottle allows immediate and no-look sipping or squirting, and the Jet Valve self-seals to ensure a splatter-free ride.