Nalgene Helps California City Eliminate Bottled Water
Nalgene and the City of Davis, California, have announced their partnership in the Nalgene-City of Davis Reusable Water Bottle Initiative. The partnership marks the first in Nalgene's nationwide Nalgene Community Sustainability Program, created to help municipalities and cities across the country reduce their carbon footprints by making small changes at the local level such as using reusable water bottles in place of single-serving bottled water.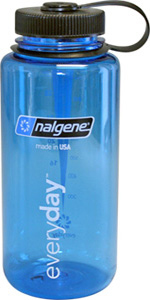 In fall of 2007, the City of Davis adopted citywide restrictions on the purchase of single serving sizes of bottled water as part of its overall efforts to reduce waste and greenhouse gas emissions associated with the production, shipping and recycling of single servings of bottled water.
"The City of Davis has demonstrated a serious commitment to environmental sustainability. We understand that environmental change can be successful on many levels, both large and small. We encourage all of our employees and citizens to finds ways to reduce the community's carbon footprint. Eliminating individual serving water bottles is one way," said Bill Emlen, City Manager. "We're very excited to partner with a company like Nalgene who shares these goals and beliefs with us."
To aid in the city's commitment to reduce its use of single-serving bottled water, Nalgene will donate reusable water bottles to employees and community members in the City of Davis. Additional bottles will be available to community members to purchase with proceeds of each bottle going towards supporting the City's sustainability programs.
"We're all about helping people and communities make small changes that can have a large impact," said Nalgene Senior Business Manager, Eric Hansen. "Our hope here is to create a strong and successful program in the City of Davis that can be mirrored throughout the country, showing other municipalities what they can be doing to help reduce their environmental impact."
Nalgene will look to expand its Nalgene Community Sustainability Program in cities across the country and is expected to make several announcements throughout the fall about upcoming partnerships.
Municipalities that are interested in applying to become a part of the Nalgene Community Sustainability Program can email cbudney@cerconebrown.com or lcox@cerconebrown.com to find out how their community can become involved.