The soon-to-be-released CameBak ShredBak, a softshell vest with an integrated, removable, inner hydration layer, was the most interesting new product I saw at Outdoor Retailer Winter Market in January 2009.
Like many, I'm already a devotee of hydration reservoirs and packs for their convenience when hiking, backpacking, biking, and cross-country skiing. I also heard some very positive feedback from individuals who had the opportunity to test the ShredBak while skiing and riding at an Outdoor Retailer demo day in January.
So, I was eager to see how the pioneering piece would perform on the slopes when I got my hands on a sample in late-winter/early-spring 2009.
Construction
The ShredBak is CamelBak's second piece of "hydration-integrated apparel," following the RaceBak cycling hydration baselayer the company introduced in fall 2008. The VeloBak, a short-sleeve, integrated-hydration cycling jersey, will be introduced later this year.
The ShredBak's outer softshell vest (100% polyester) is soft and stretchy with a fleecy interior lining. The waist has a drawcord with toggles for tightening. A small chest pocket on the left allows access to your reservoir's bite valve.
Two zippered outer pockets and two open inner ones give you plenty of room to stow energy bars, a camera, phone, and other small items. If you need any significant gear storage, you'll need a pack instead.
The second component of the ShredBak is an inner, mesh, compression vest (75% polymide, 25% elastane) that attaches to buttons inside the outer vest via four loops. It zips up in the front, and the back has a reservoir compartment, with removable pad, to hold a 72-ounce Omega Reservoir (included). The reservoir's insulated tube threads out the top of the inner vest and directly into the exterior vest's left chest pocket, from which you can easily access the bite valve.
Men's and women's models come in black or white, both with a pattern on the back, and starting with my initial impression, I thought the outer shell looked and felt quite comfortable and was fairly styling.
The ShredBak appears to be well constructed, and CamelBak's popular Omega Reservoir has already been well tried and tested.
Fit
According to CamelBak, the ShredBak is designed as a winter mid-layer to be worn over a baselayer, with the option of using it as a spring outer layer. It's offered in fives men's sizes (S-XXL, fit chests 35"-50") and five women's sizes (XS-XL, fit chests 31"-44.5"), a sizable range for both genders.
I tested a women's medium, fitting exactly in the middle of medium size measurements, and I immediately noticed that the inner vest was snug, very snug. This is coming from someone who already was wearing a sports bra.
However, the compression fit is where CamelBak's big idea for "wearable hydration" comes into play. According to CamelBak, the inner compression vest is designed to encapsulate the reservoir, supporting and stabilizing the water weight on your back, while being low profile, aerodynamic, stable, and user-friendly for riding lifts.
So, the close fit is essential to CamelBak's concept of truly wearing your hydration.
Unlike the outer vest with its drawcord, you cannot adjust the inner vest at all. So, you'll either like the fit of ShredBak's inner compression vest over your baselayer, or you won't.
Sometimes I did, other times I didn't. The inner vest's tight fit occasionally bordered on constricting, particularly when I wore it on cold days, skiing hard for several hours, with a fleece top squeezed underneath. (CamelBak means it when they say the ShredBak is designed to fit over a baselayer.) This was my one recurring issue with the piece, and a potential deal breaker.
In comparison, the outer vest had an excellent fit; it was comfortable and roomy, but not baggy, with a nice, soft stretch. Alone it makes for a very nice softshell vest that can be layered over a base- and a mid-layer and worn as a mid- or outer layer.
Function
In all fairness, while the insert's overly snug fit was a nagging issue at times, I also had long spells when I completely forgot I was wearing the ShredBak, until I leaned back on the chairlift. If the compression fit is good for you, the ShredBak's functionality will be too, with a few considerations to keep in mind.
While the ShredBak is lower-profile than an exterior hydration pack, wearing it underneath a shell can give you a resemblance to Quasimodo, without a hydration pack as visible evidence for your deformity. If you're vain, you may want to avoid restroom mirrors.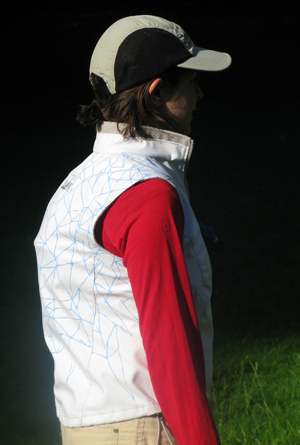 I initially worried about the bite valve opening inside the chest pocket and silently soaking me with cold water, but this never happened. The valve stayed secure. The bite valve's location makes it easily accessible, without an outside tube getting in the way. It was nice to be able to zip everything out of the way when done, then access it again easily.
While CamelBak's RaceBak is designed for cycling in warmer temperatures, the ShredBak obviously is designed for skiing and riding in winter conditions, i.e. colder temperatures. If you tend to run cold or it's a brutal day, wearing 72 ounces of water against your back will not help you stay warm, though you will help keep your water from freezing. To combat this, you can fill your reservoir with warm water, but that can be unappealing for drinking and the water will eventually cool off anyway.
As noted above, the ShredBak is designed to be worn over a baselayer. Wearing a softshell with a fleecy inner surface and a mesh inner vest that's filled with water, you'll be trading off some room for inner insulation for the convenience and performance of a wearable hydration vest. For some individuals the trade-off will be worth it. If you run warm, are continuously moving, and want your water easily accessible and your clothes and hydration system streamlined and low profile, the ShredBak is definitely worth a look. But, if you're a cold-blooded bundler or frequently out in very cold temps, this garment probably is not for you, at least not in the depths of winter.
I preferred the ShredBak as an outer layer on warm days, versus as a mid-layer in winter, and thought it best suited for bluebird, high-octane days, when it could really shine.
Value
Here is where the buyers and non-buyers will be separated.
The ShredBak will retail for $200. That $200 gets you a very nice softshell vest, the inner, mesh compression vest, and a 72-ounce (2.1-liter) Omega hydration reservoir with 37" Big Bite Valve and Ergo HydroLock.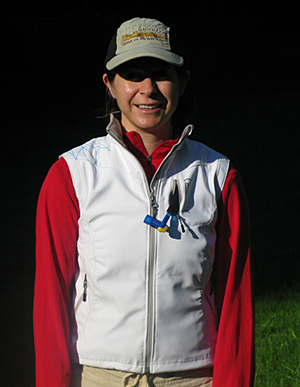 For comparison's sake, a softshell vest can cost $60 to $150. CamelBak hydration packs range from $45 to more than $100, with a basic CamelBak Classic 70-ounce hydration pack retailing for $45. However, a standard hydration pack, though it may offer more carrying capacity and other features, will not carry your water weight as securely or as well as the ShredBak. That's the big difference.
As I sat in different base lodges or on chairlifts wearing my rather styling, integrated-hydration vest, I couldn't help but notice the many hydration packs that other skiers and riders around me, from preschoolers to expert backcountry skiers, were wearing. Most of them seemed satisfied with their set-ups, often from CamelBak. So, I had to wonder if I—or any of them—really needed a fancy, integrated-hydration vest for skiing, no matter how good it looked or how well it performed.
So, is such a highly specialized product worth it? That's the $200 question.
The CamelBak ShredBak can excel on the winter slopes for certain athletes in certain conditions. But, for those who want or need their gear to do double or triple duty it's not as versatile as having a hydration pack for hiking, biking, and other outdoor pursuits in various conditions. If you're already a multi-sport outdoorsperson, who has a hydration pack or two lying around that you think are "good enough," the ShredBak probably is not for you. You won't get the same level of aerodynamic stability and performance as from a ShredBak (provided it fits), but you'll still stay hydrated and probably won't care.
If you don't mind a compression fit over your baselayer, are a serious skier or rider who wants an integrated, hydration setup on the slopes — more streamlined and lower profile than a separate hydration pack — and don't need to carry gear or wear lots of extra insulation, the ShredBak's performance edge and convenience may be worth $200.
Value is a personal judgment: if you think something is worth $200, then it is. If you don't, then it isn't.
Conclusion
Despite my concerns over the inner vest's tight fit and the piece's versatility and value, I'm still very intrigued by my ShredBak. The piece has great potential, was more comfortable than a hydration pack at times (provided I wasn't cold and didn't try to layer), and hey, it looks pretty cool too.
Ultimately the ShredBak is a specialty item and its value will depend on your outdoor activities, performance needs and wants, and discretionary income.
So, is the ShredBak necessary? No, but I can name a lot of other outdoor gear that isn't strictly necessary either.
Is it nice to have? Yes.
When those beautiful, bluebird days hit next spring, I'll be trying my ShredBak out on the slopes again.
Weight:
Medium ShredBak vest: 410 g (men's); 370 g (women's)
Insert: 33 g
Complete reservoir: 145 g
Complete ShredBak with water: 2,510 g (men's); 2,470 g (women's)
MSRP: $200
Available: Fall 2009