2010 Tubbs Romp to Stomp out Breast Cancer Snowshoe Series
Aiming to top last year's 4,150 participants and more than $200K contributed to the Susan G. Komen for the Cure and the Canadian Breast Cancer Foundation, the Tubbs Romp to Stomp Out Breast Cancer Snowshoe Series is lining up seven events in North America for 2010. Anticipating another successful season, 2010 will mark Tubbs's donation of more than a million dollar in the fight against breast cancer.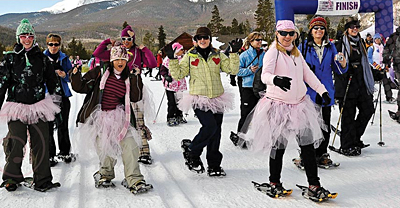 The 2010 Romp to Stomp Snowshoe Series is now open and participants can take advantage of the special Early Bird rate saving them up to $15. With winter right around the corner, the Romp to Stomp Snowshoe Series offers a fun, family-friendly way to help fight breast cancer beyond breast cancer awareness month.
In the USA, participants choose from a 3k or 5k snowshoe walk or a 3k snowshoe race in New Jersey, Vermont, Utah, Washington, Oregon, or Colorado; and the Ontario, Canada Romp offers a 3k snowshoe walk or a 5k snowshoe race. The cost for early online registration is $25 per adult ($15 for kids) or $40 for onsite registration ($30 for kids and available at most sites). Each event will feature goodie bags for all participants, a sweepstakes, a breast cancer survivor tribute, and a grand prize awarded to the single largest individual fundraiser.
"The Romp to Stomp Out Breast Cancer is a fabulous excuse to get outdoors in the middle of winter and raise money for a great cause at the same time" said Alyson Ruby, captain of Romp to Stomp team P-Ruby and a past series top fundraiser. "I didn't really know what to expect when I became involved with the event in 2004 as a person who was very new to the sport of snowshoeing and had only recently become a part of a family battling breast cancer. Over the past two years as my family's battle became bigger so did our team and our donations. It has been, and will continue to be, an honor to be a part of this wonderful event."

2010 Dates/sites:
January 23: Mountain Creek Resort, Vernon, New Jersey
January 30: Stratton Mountain Resort, Stratton, Vermont
February 6: Mountain Dell Golf Course, Salt Lake City, Utah
February 20: The Summit at Snoqualmie Nordic Center, Washington
February 20: Scenic Caves, Town of the Blue Mountains, Ontario
February 27: White River West Sno Park, Mt Hood, Oregon
March 6: Frisco Nordic Center, Frisco, Colorado

For more information or to register on the Tubbs Romp to Stomp Out Breast Cancer Snowshoe Series, visit www.tubbsromptostomp.com.