Issue with Black Diamond Xenos ice clipper slots
It has come to Black Diamond's attention that the construction of some of the Ice Clipper slots on their 2009 Xenos harnesses are not satisfactory and may become unstitched during use. Black Diamond became aware of this at the same time many users did, just as the ice season kicked into high gear in the last couple of weeks.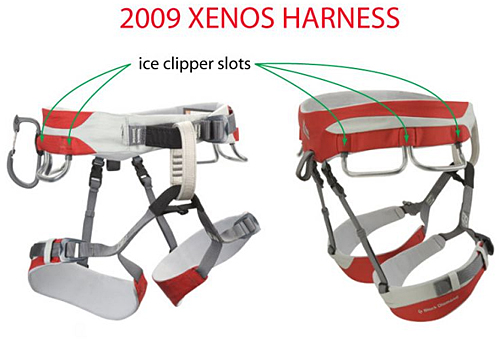 During recent lab and field-testing, it appears that approximately one out of the six slots found on any individual Xenos harness may be affected and unfortunately it is not something users can inspect for or visually see.
This is NOT A CUSTOMER SAFETY ISSUE, as it won't affect the harnesses' ability to hold falls—it's a performance and durability issue that Black Diamond is not happy with and wants to resolve as quickly and efficiently as possible.
The solution?
Send your Xenos in to Black Diamond and they will take care of you. The company will be replacing the waist belt of any Xenos harness starting in late January. But due to limited initial quantities of replacement waist belts, Black Diamond cannot guarantee immediate turn around. Unfortunately, it may push past the ice season before users get a replacement.
If you want to keep using your Xenos through the rest of the ice season, simply back-up the Ice Clipper slot with the black rubber keeper strap that comes with the Ice Clipper. Wrap the keeper strap completely around the waist belt and you're good to go until you're ready to send the Xenos in to Black Diamond.
If/when you decide to send your Xenos harness in, please include your return address and contact information. You can send the Xenos directly to:
Black Diamond Warranty
2084 East, 3900 South
Salt Lake City, UTAH 84124
warranty@bdel.com

You can also choose to return it through your Black Diamond retailer.
Black Diamond sincerely apologizes and will do all it can to get users' Xenos harnesses back as soon as possible. If you have any questions, please send Black Diamond an email at: warranty@bdel.com.