Flow Meter at a glance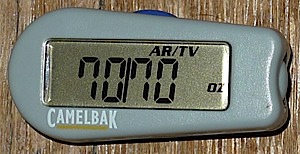 Benefits

Easy-to-use
Accurate
Multi-sport

Limitations

Must be permanently attached to reservoir tube
Not for use in freezing temperatures (below 35°F)
Hydration reservoirs and bite valves make it easier for hikers and athletes to stay hydrated during exercise. But one of the biggest complaints that people have about them is that you can't see how much water you have left in your backpack without taking it off. This compromises the purpose and convenience of carrying a hydration system because people don't drink enough when they're afraid of running out.
To address this problem, CamelBak has introduced a clever new device called a Flow Meter that measures how much water you have left and your rate of consumption. It takes the guesswork out of staying hydrated while exercising and provides the opportunity for anyone to assess his or her fluid replacement needs.
Trail runners, mountain bikers, and hikers can all benefit from the Flow Meter.
How it works
The CamelBak Flow Meter consists of a digital computer and a flow sensor that is inserted into, or comes as part of, your hydration tube. The flow sensor looks like a miniature generator turbine. It spins as you suck water past it, letting the Flow Meter determine how much water you've consumed.
The ends of the flow sensor are barbed and should form a watertight seal, as long as they fit snugly with your hydration hosing. Once attached, the Flow Meter snaps into the Flow Sensor and records your usage data.
You can buy the Flow Meter separately and splice it into the drinking tube of an existing hydration system, two to eight inches from the bite valve, or get one that is pre-installed with the CamelBak Omega Deluxe 70 oz. Hydration Reservoir, no assembly required.
Using the Flow Meter
Programming the Flow Meter is easy, but you need to carefully read the directions first. Due to space limitations on the digital meter display, CamelBak uses two and three letter function (AC, ET, AG, TV, PHG) and unit (KG, OZ) abbreviations to label the different metrics tracked. While the function abbreviations may not be immediately intuitive, they are easy to remember once you start to use the Flow Meter.
The Flow Meter has two limitations to consider before users buy and install a unit onto their existing hydration set-ups. First, CamelBak advises against using it with non-water fluids. If you choose to use it with sports drinks, the company recommends you thoroughly clean the system after every use.
Second, with an operating range of 35° to 122°F (2° to 50°C), it is not designed for use at or below freezing temperatures. So, don't buy one for winter outings. The Flow Meter is designed for three-season activities, preferably with drinking water.
Simplest-use scenario
Basic setup requires that you enter a fluid unit of measure (ounces or liters) and the total volume (TV) of water added to your hydration bladder. For accuracy, be sure to add the exact volume of fluid added, not the total capacity of your reservoir.
If that's all the information you specify, the Flow Meter will measure and display the amount consumed (AC) as you drink from your hydration hose and the amount remaining out of the total volume (AR/TV).
Advanced programming
More advanced options are available that help you estimate how much water you need to consume per hour, track your consumption rate, and estimate when you will run out of water (ETE = estimated time to empty).
The personal hydration goal (PHG) is a computer-generated value that provides a suggested hourly consumption rate to help you stay hydrated during exercise. PHG may differ by individual based on type of activity, age, weight, elevation, temperature, humidity, medical conditions, and so on, but this provides a good baseline for estimating one's hydration needs.
For example, when I entered my body weight (195 lbs), the Flow Meter calculated my PHG to be 24 ounces an hour. This is pretty close to my actual rate of water consumption per hour on strenuous day hikes and backpacking trips in moderate temperatures and humidity. I'd probably increase it to 32 ounces for hot summer days though.
Hydration system compatibility
If you buy the standalone version of the Flow Meter and try to integrate it with a hydration hose from another manufacturer, there is a good chance that they won't be compatible.
For example, I tried to push the hydration hose of a Platypus hydration reservoir onto the flow sensor barbs, without success. The Platypus hose width is not large enough to fit, no matter how hard you push.
While CamelBak says that the Flow Meter is compatible with its own hydration hoses, installing the Flow Meter on one is still a struggle. Plus, once you get it on, you won't be able to twist it off without cutting the hose lengthwise to remove it. It's a really tight fit.
Given the hassle of cutting and splicing tubing to install a standalone Flow Meter, you should seriously consider purchasing the version where it comes pre-installed on a CamelBak Omega Deluxe 70 oz. Hydration Reservoir. A 100-ounce version of the system is also available.
Conclusion
When I was given the CamelBak Flow Meter to evaluate, I was skeptical about its utility. But after testing it, I found it useful for monitoring my water consumption and hydration rate on strenuous hikes in the mountains.
The Flow Meter is clearly useful for competitive endurance athletes such as runners and cyclists who need to carefully monitor their hydration rates. In addition, it is beneficial for recreational users who need assistance in calculating their baseline water consumption rate and monitoring their fluid replacement uptake.
However, I think you need to be a pretty serious athlete to pay the extra $30 for this device. Most of us have enough sense to drink when we're thirsty, without the need for a hydration system attachment like the Flow Meter.
Product Specifications

Flow Meter

Weight: 0.9 ounces (meter, sensor, and battery)
Dimensions: 2.5 x 1 inches (meter); 1.25 inches long (sensor)
Fluid Sensor and Digital Computer
Display and CR2032 Lithium Battery
Installation and operating instructions
MSRP: $30

Omega Deluxe Reservoir with Flow Meter, 70 oz

Omega Deluxe Reservoir with HydroGuard Antimicrobial
Flow Meter
Quick disconnect with auto-shutoff
Ergo HydroLock Valve
MSRP: $58